The Taxi dropped us off at Luton Airport at 6:30am having had to go via the motorway as roads were icy. Check in was painless, just a 10 minute queue. This time the magic archway let me through without my cerec fillings setting off the alarms
We made our way to the cafe at the far corner that sell breakfast baps for £5.99, however, instead of them having one sausage, one egg and a rasher of bacon in as before, one could only now chose one of either "2 eggs" or "1 sausage" or "3 rashers of bacon". The full English looked better value at £7.99 but coffees were extra but you can refill your cup.
Now let me see, how many times can one refill your cup waiting for a Thomson's flight to be on time (last time it was 3
)
With just breakfast finished and a 15 minute sit down we were being called to the gate at 7.45am
I could see our plane outside being loaded a 737-300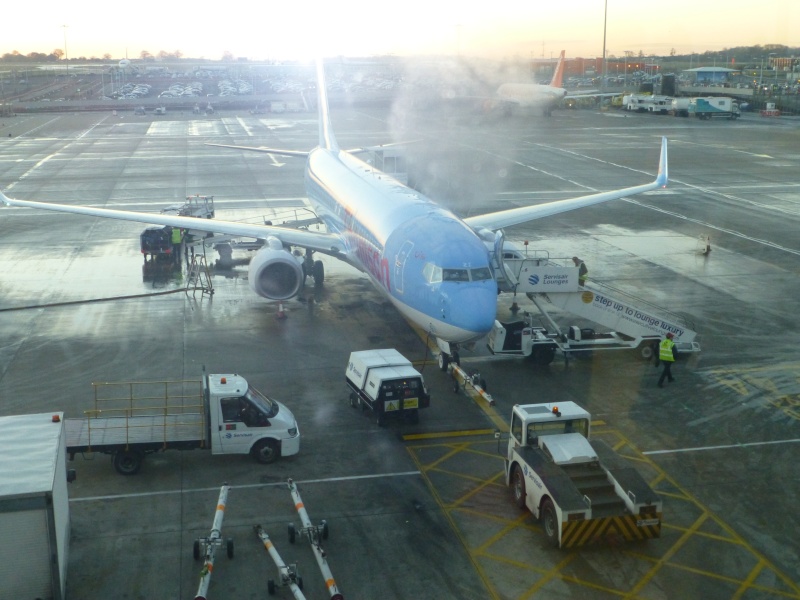 the sun was just coming up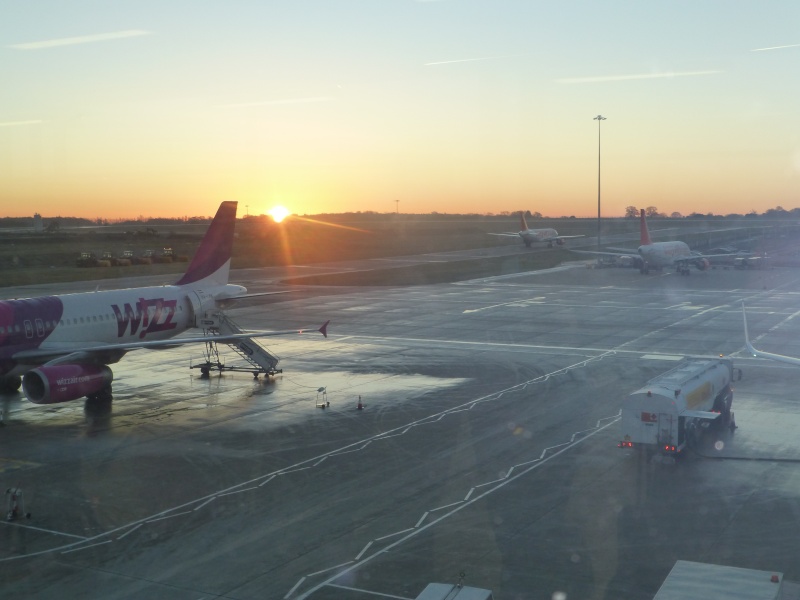 Soon we were allowed on board, nicely fitted out with leather seats
and plenty of legroom, a lot better than the Shackleton bomber like plane used by Small Planet on the last holiday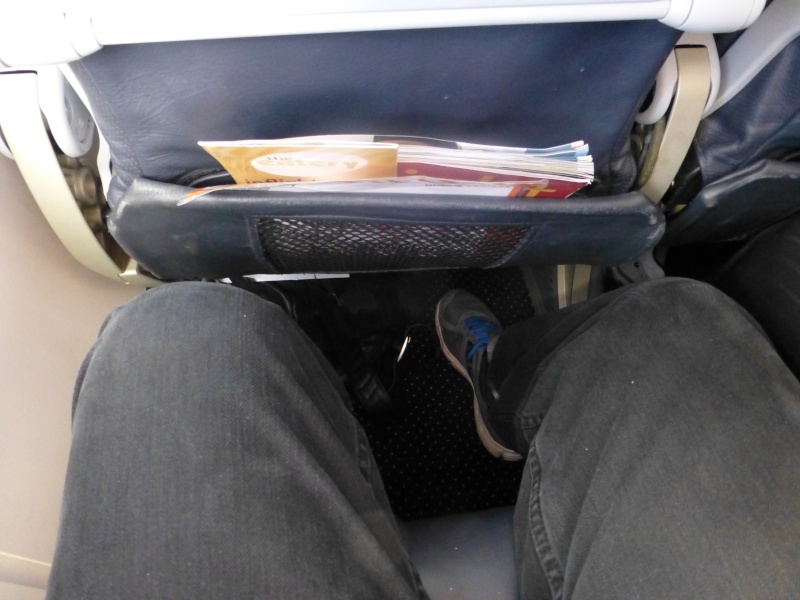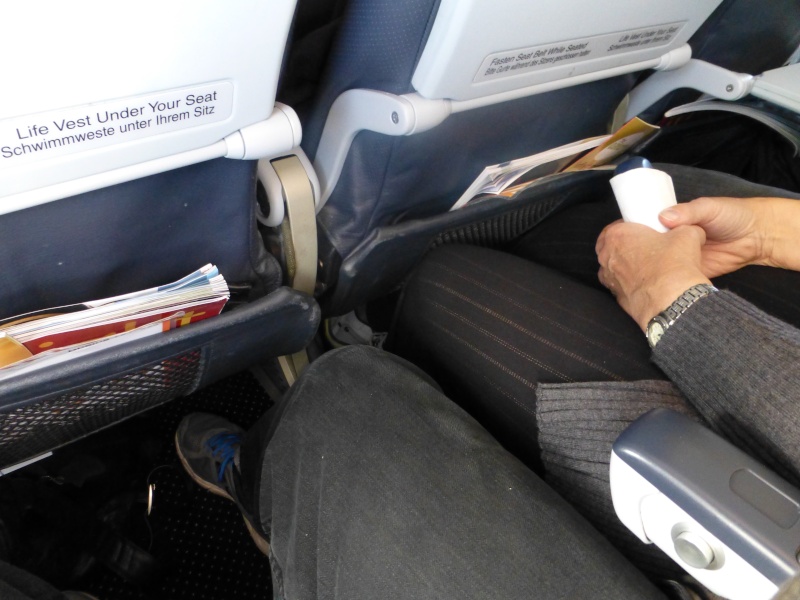 About 8.15am we were taxiing out, Ladies and Gentleman we appreciate many of you have flown before but we ask you to put papers and magazines down during the safety procedures as not all planes are the same, then up pops that annoying kid on TV telling you exactly the same thing as before I won't go into the Donald Duck impression
However the planes wheels left the runway on time to the second at 8.30am (the rest of the plane went with them) impressed Thomson's
Now, you can no longer pre book meals on the Thomson short haul flights, so as Daryn would be buying, we had to try out the menu on behalf of MF despite having had a breakfast (things one has to do for MF)
notice the champagne prices Beeech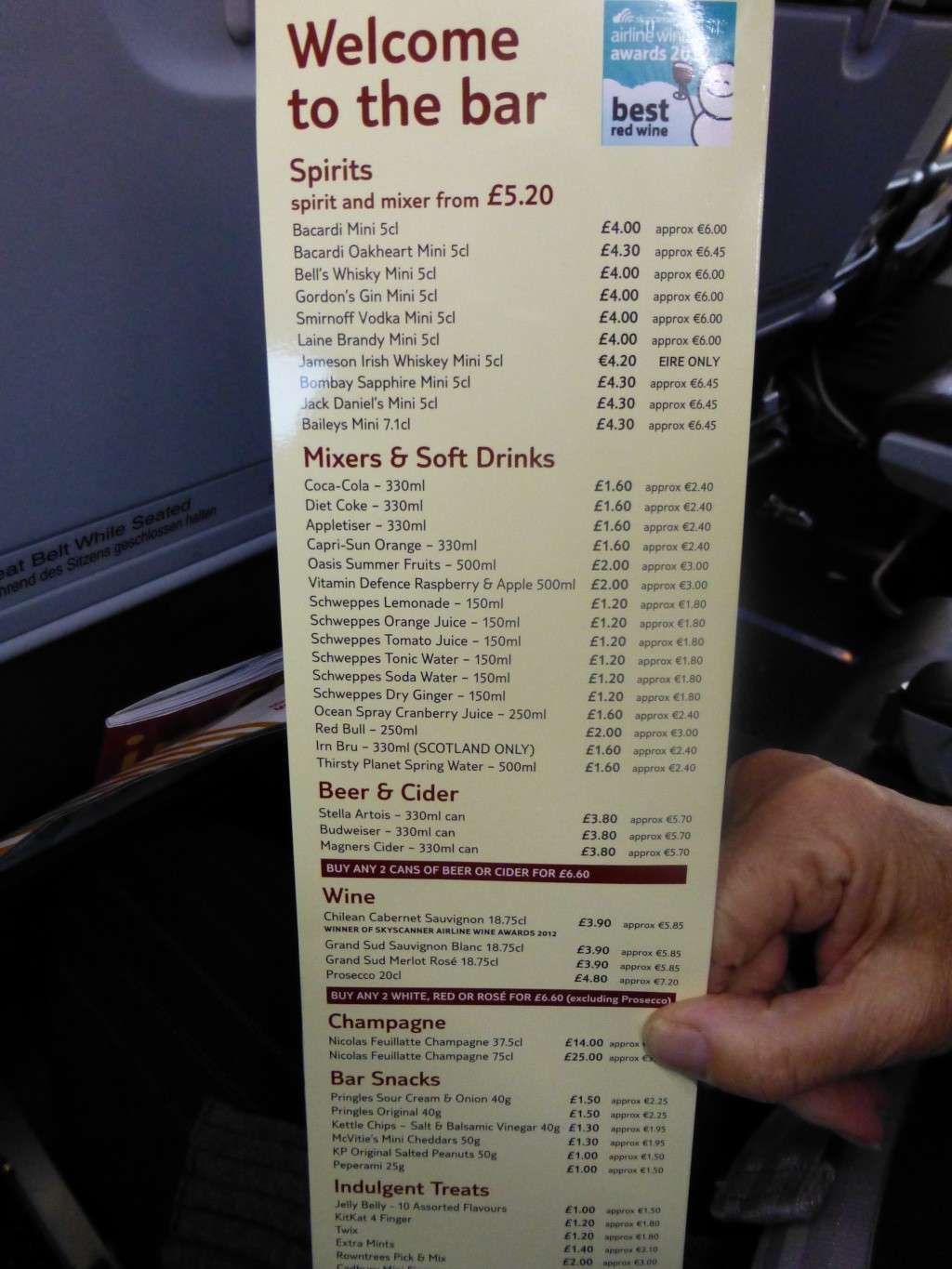 One lady hostess took orders for food within 10minutes of levelling out, I chose the bacon roll (as Mrs Db said that it would be ages coming round as they had to do the whole plane) and Mrs Db had the tomato and cheese Panini, with coffees total price was £12.60, 60p more than two pre ordered meal of the past
PS don't sit near the front of the plane if you want your meals to turn up a bit later, as ours arrived within 20 minutes
My turned out to be a pre cooked bacon roll heated up in a microwave, disappointing 3/10 but the coffee was much better
Mrs Db said her Panini was nice and I would have enjoyed it much better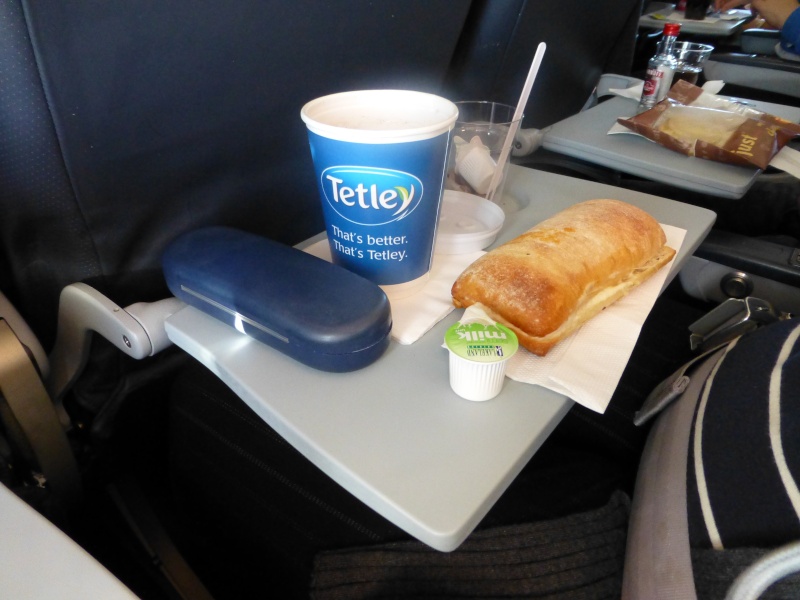 more on the meals coming back, as we try different things and give our verdict
So it was sit back and relax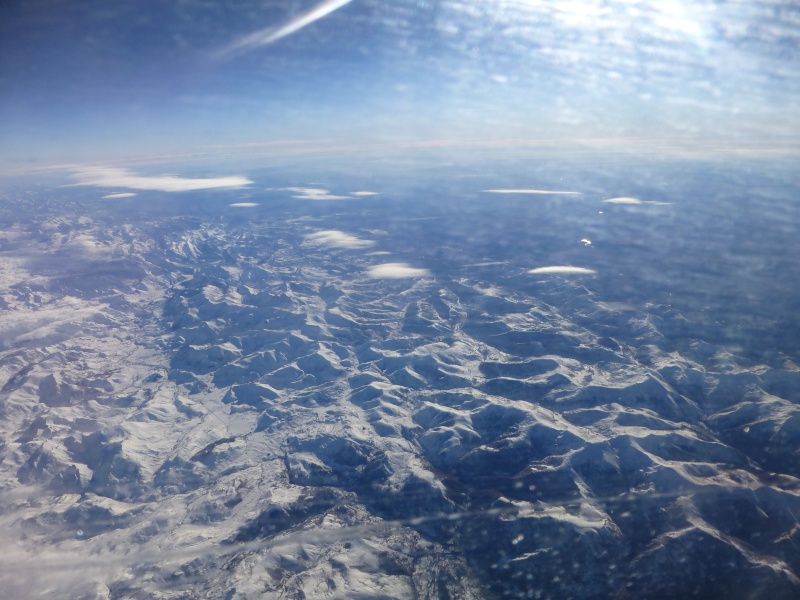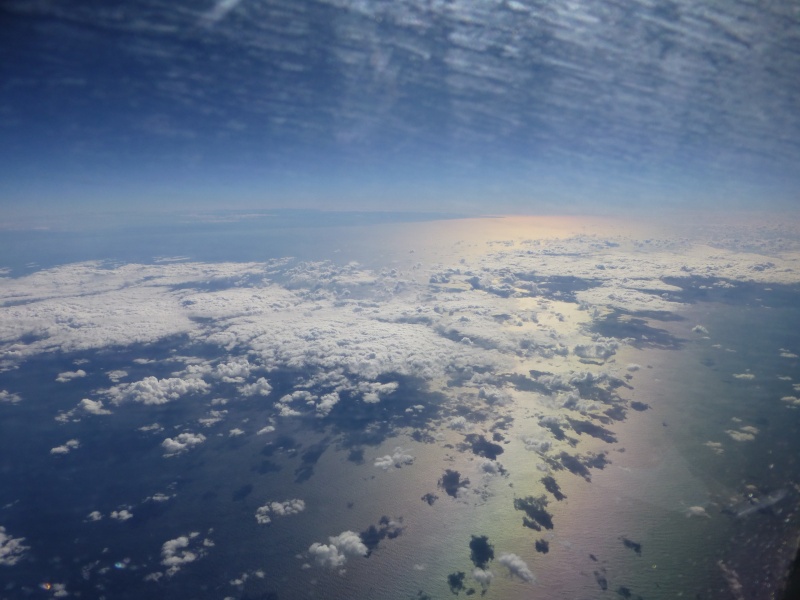 3 hours and 20 minutes later, we were flying over the Island
and down passed Puerto Del Carmen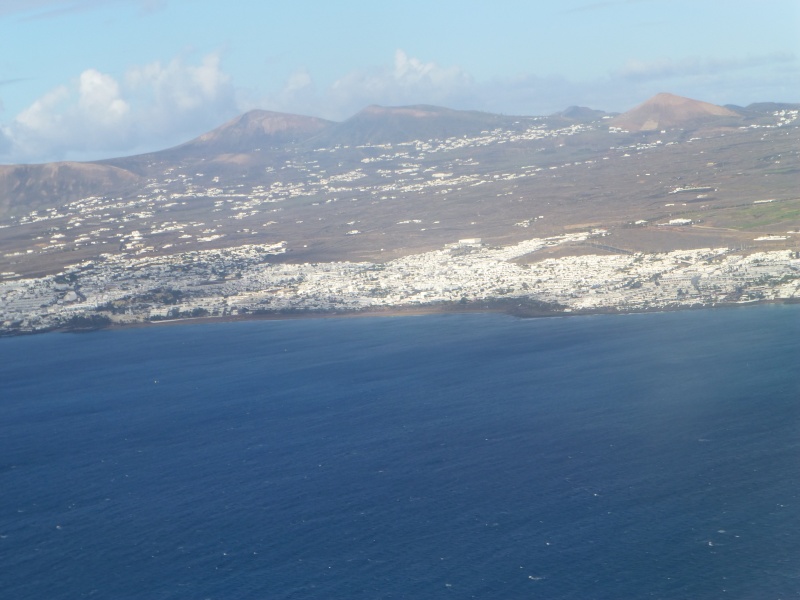 pilot to crew, positions for landing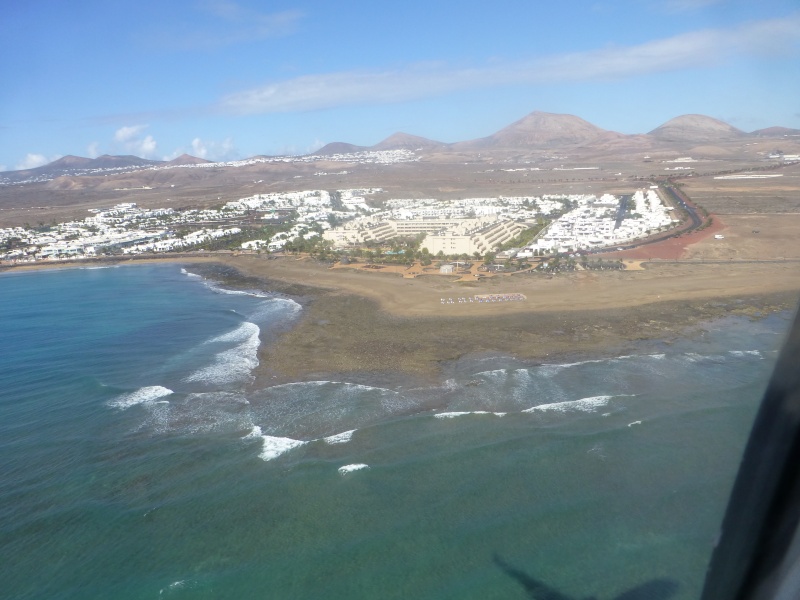 The Thomson crew had done well and landing was 4 minutes early
So along to carousel 6 to collect our luggage, hmm must have been 15 minutes before the carousel started up and we eventually got our cases and proceeded outside to the reps.
Mr and Mrs Delboy going to Pueblo Marinero, Playa Blanca Miss,
"Would you wait over there", pointing to a spot, "we don't have a coach yet"
half an hour passed and Delboy was getting itchy fingers wanting to take pictures.
"Behave", said Mrs Db, "their doing their best". "Well I bet they didn't expect their plane to be on time", I replied, looking at the taxi's outside that could take us away from this hassle. Eventually after another 10 minutes we were told to go outside and upstairs to a new coach bay, the old one now seems abandoned.
We found our coach, not many people on ours and a rep flipped between coaches counting numbers. After about 15 minutes we were told our reps meeting would be held at 11.00am tomorrow and Antonio our driver would ensure we got to the hotel, as she would not be coming with us.
Well, we only stopped at one other hotel and were soon at the Pueblo Marinero
On checking in, we were given our key, "we both know that room", said a delighted Mrs Db. "Oh is that the same room as we had before", I said. "Best room", Mrs Db said and the receptionist nodded and agreed "best room".
The porter took our cases and we followed him up to our room
I walked out on to the balcony, wow this was our view for a fortnight
Will do a separate hotel review
Mrs Db had time to sort of unpack and it was about 3.30pm and we hadn't eaten since half nine
so we decided to go to Lani's snack bar at the side of the marina for burger and chips
The fish were still there from two years ago and some were much bigger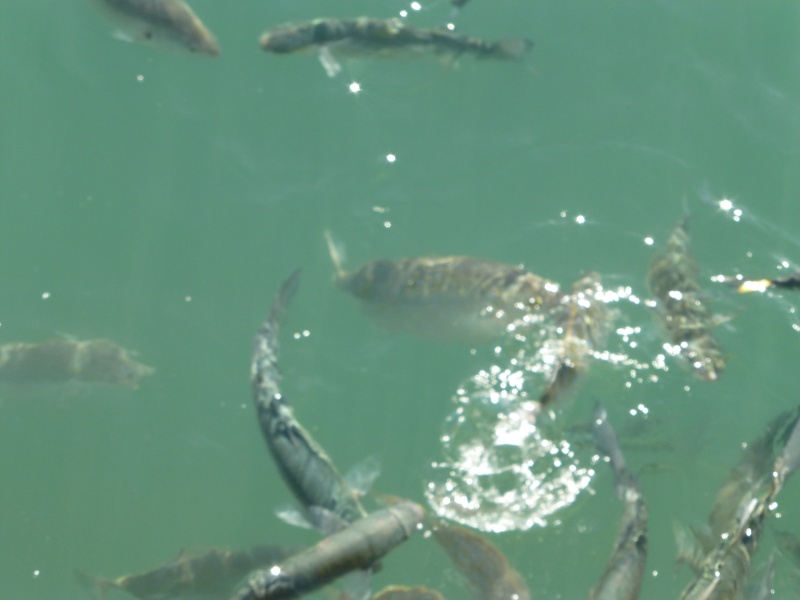 the waiter said that they eat anything even peppers and onions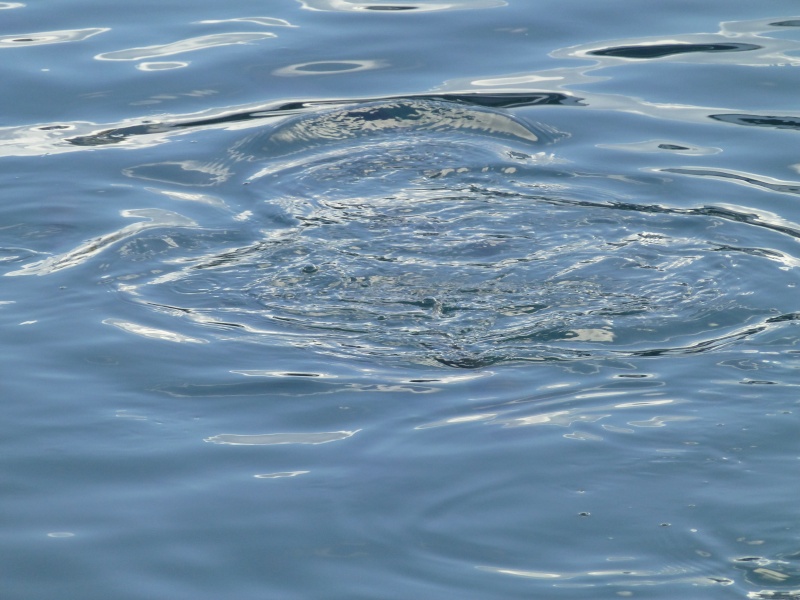 and some of my chips, didn't do the picture of the burgers but one of the pint
you're not allowed to fish in the marina and there are hundreds of these fish, some must weigh 20 lbs, outside the marina where you can fish, you don't see one of them
we had a quick walk along to the beach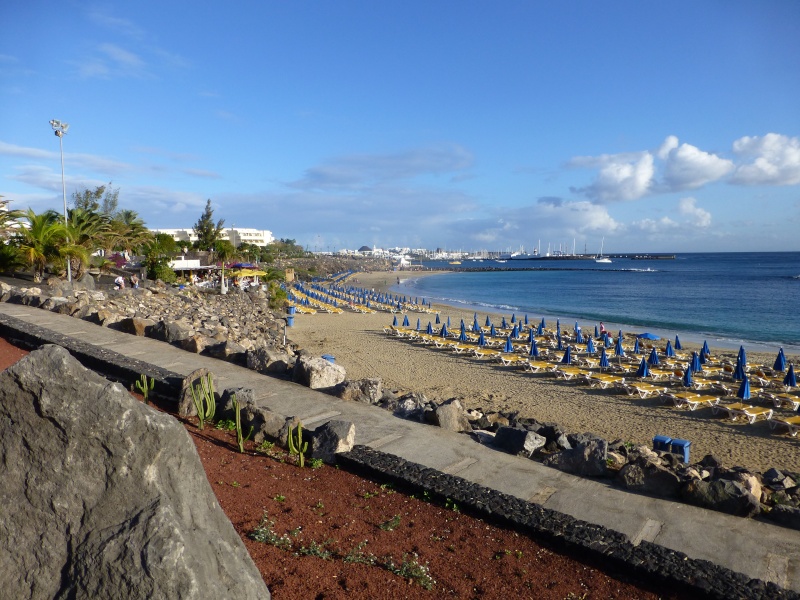 then back to the room, sunset was around 6.00pm darkness came about 6.45 pm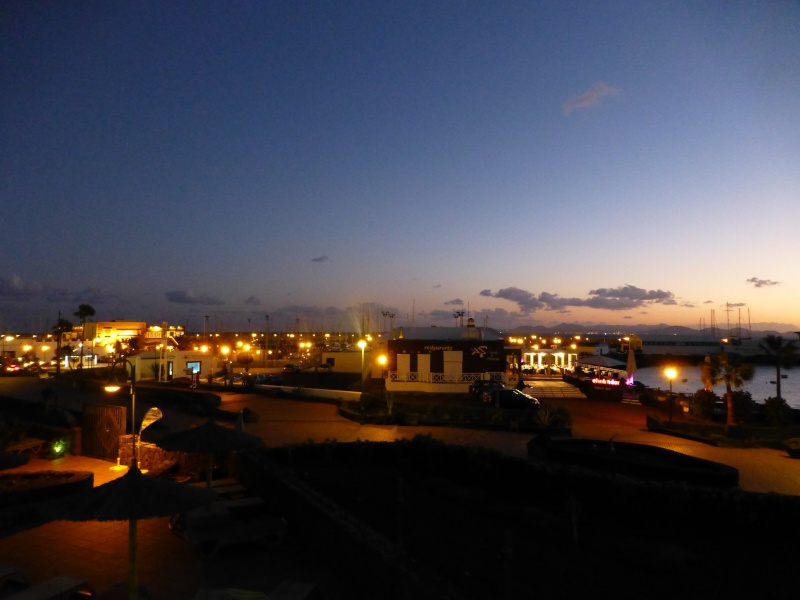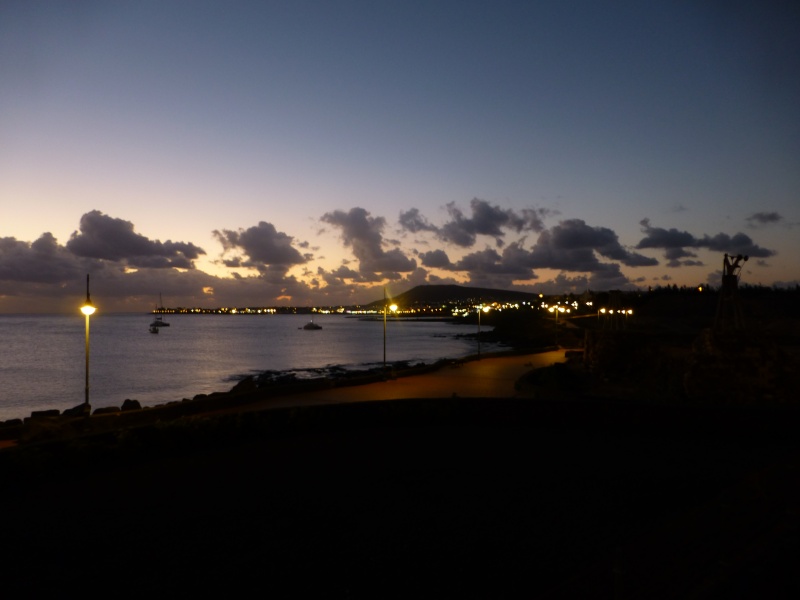 missed the sunset, getting some groceries in for our breakfast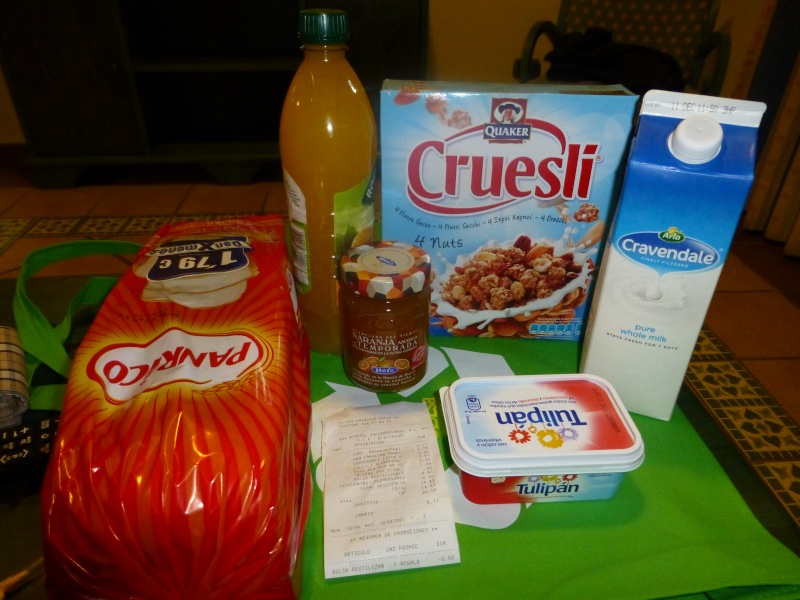 we buy Cravendale milk there, because all the local stuff doesn't last a day and sometimes even goes off before you buy it, although the date on the carton is fine. Cravendale being British is processed to last but expensive.
For cereal at home, we normally have Alpen, we have tried several mueslis' off the supermarket shelves in Playa blanca but usually tastes like the bottom of a bird cage. Saw this Cruesli, was it a cross between cr#p and muesli ? it was made by Quaker (dads) and we found it ok
Anyway, it was late evening and we decided to walk to town to our favourite Mexican restaurant
We found the price of house wine had gone up, two years ago the house red was 10 euros, now 11.50 euros. The menu had got wider choice and did a lot more other food but we stuck to the Mexican section
I had Burritto Panco, a sort of cheesy chicken in a roll but I had trouble eating all mine, can't understand why
Whilst Mrs Db had Taco Buffalo Bill, which had a mixture of beef and chicken in different wraps
On the bill is now a 7% tax on top, so in general I felt eating out had gone up by 10% in the two years
by ten oclock the shops had all closed and the town went very quiet afterwards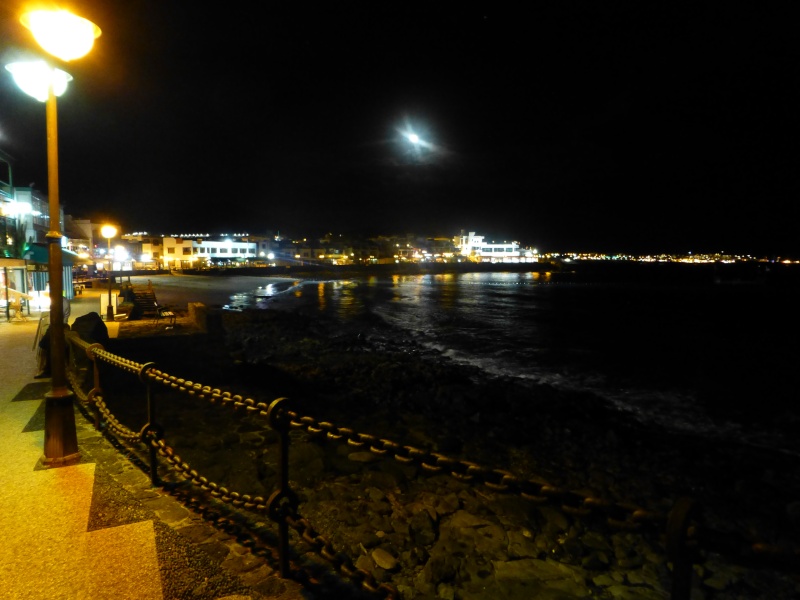 would it be a good day tomorrow
So the next morning the weather was looking good
so it was breakfast on the balcony
starting with the Cruesli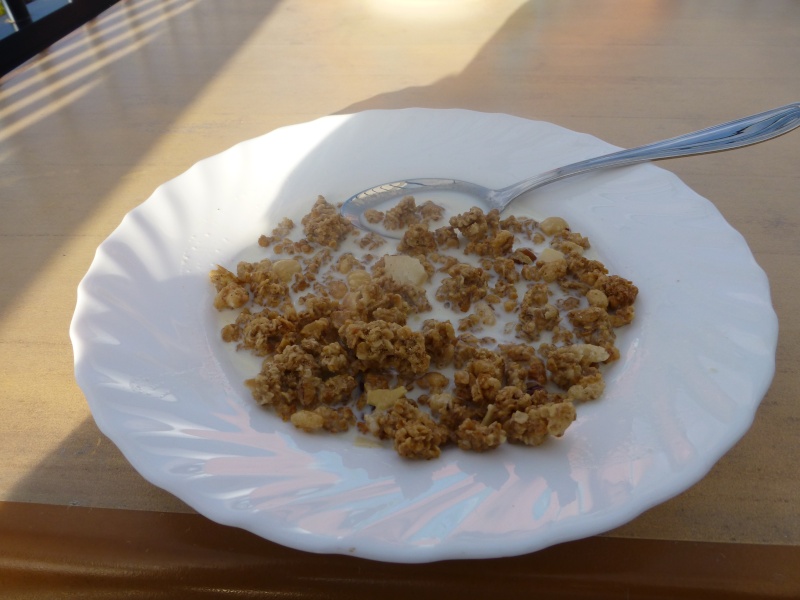 followed by toast and marmalade, it was so pleasant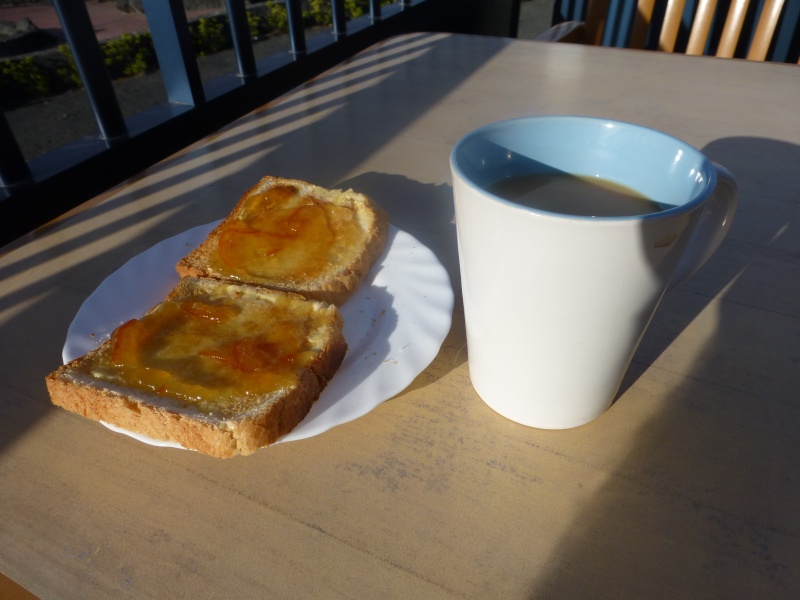 so no choice, it had to be the beach, the rep meeting was 11.00am but sorry we weren't going to waste our day listening to bedding trips

no storm this year forecast

at the back was the Hotel Princessa Yaiza probably the best Hotel on the Island and priced accordingly
The Hotel run the beach and beach beds, the cost was 3 euro's per chair and 3 euro's for the parasol but didn't need one this time of the year
They have also a cafe on top which is convenient with toilets if you use their restaurant facilities or you pay 40c
I had a Spanish omelette, which had egg and potato at 5 euros which was bland and couldn't think of anything to put on it to make it taste better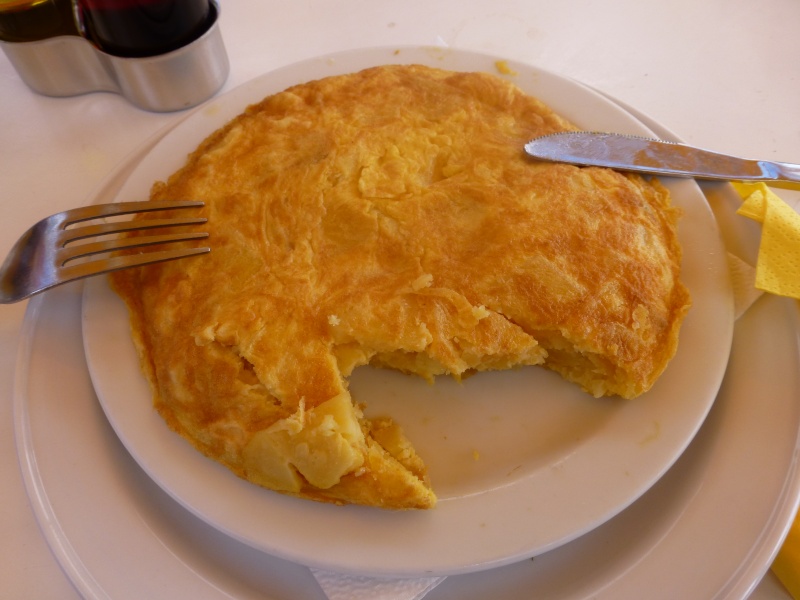 Mrs Db had a tuna salad for 6 euro's but no sauce with it, which put me off the choice, they did have tomato sauce and mayonnaise on the side
but not the same as a proper sauce. The quality given became apparent, when others produced better stuff at cheaper prices. They are clearly geared up to give food fast for a large number of customers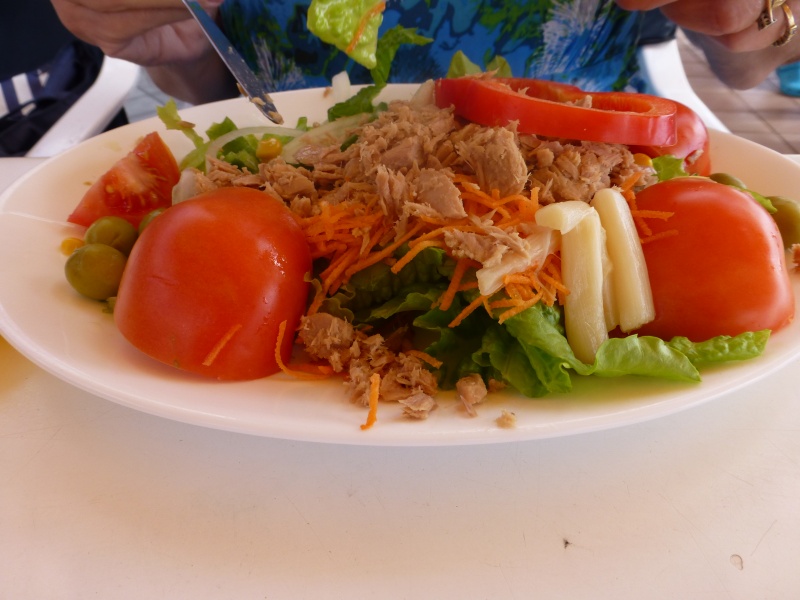 a nice day though but on the way back we did some more shopping
Honey Rum included, to drink on the balcony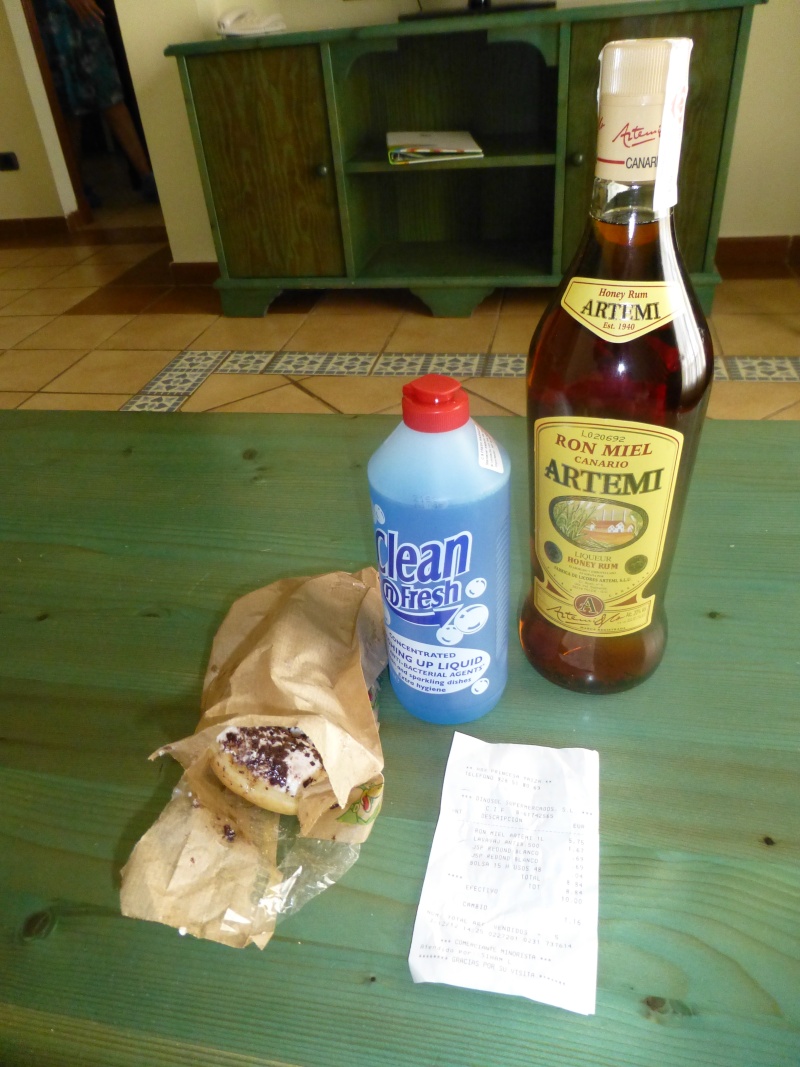 and some other washing up stuff
Soon it was evening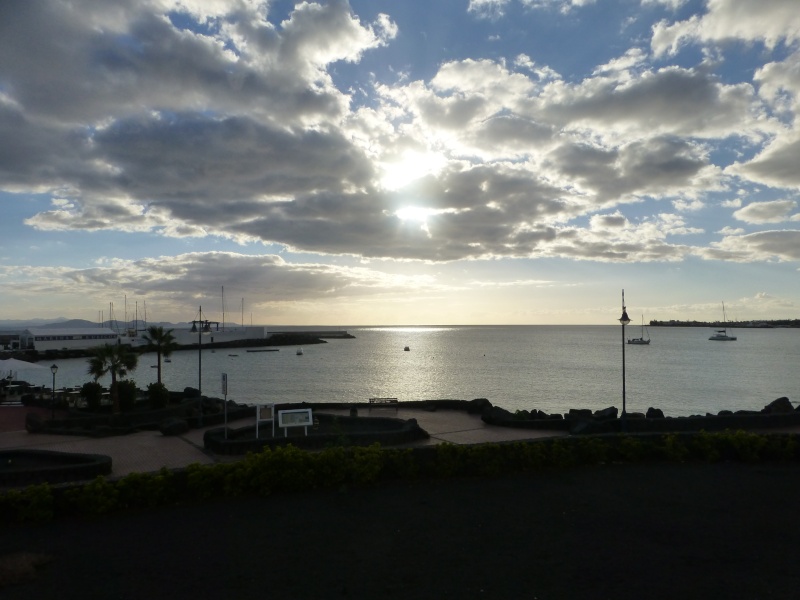 and those sunsets from the balcony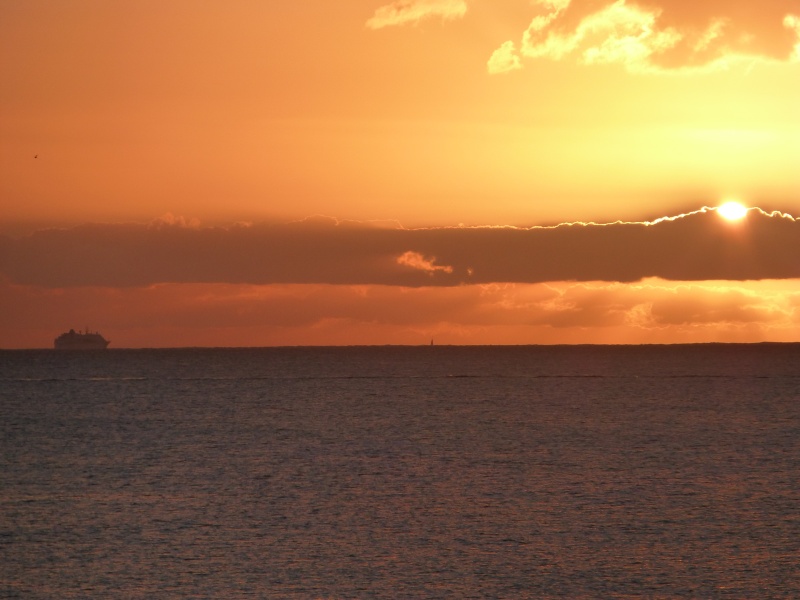 another glass Mrs Db ?
Later that evening, we headed to our favourite restaurant of 2 years ago Sidreria Area
I had sirloin steak, done medium with Rochefort sauce without veg (my choice)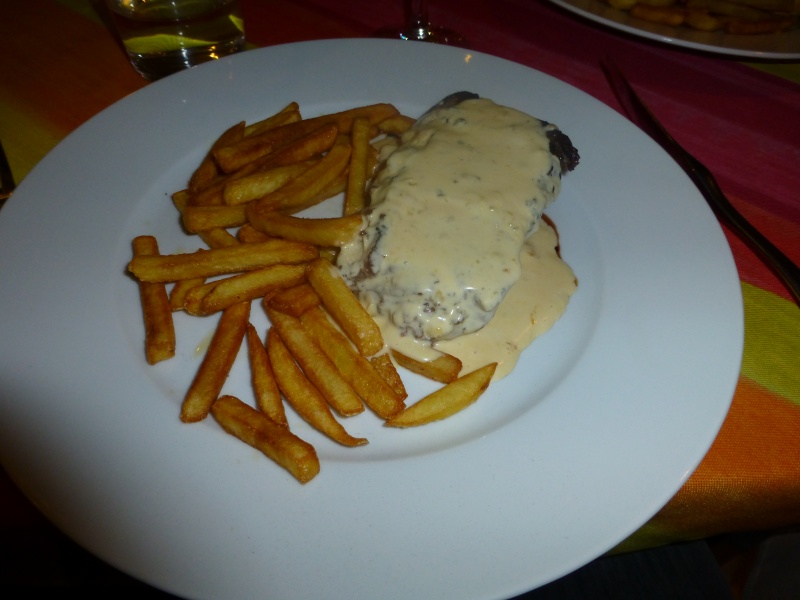 whilst Mrs Db had chicken stroganoff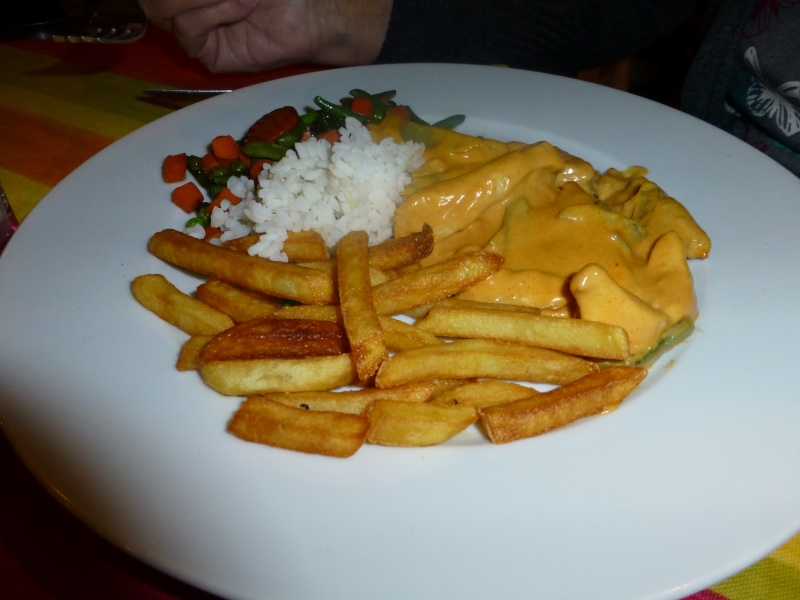 mine turned out rare, which I can eat but it ended up a rare string which was uncuttable with the knife. I wasn't asked how my steak was until the end (when it was obvious) but I turned down the offer of the remaining steak being refried. Mrs Db's was fine but because of a previous year success, we decided we would give them another try but later discovered they were no longer competitive and their house red was also 12.50 euro's
so another day over
Tuesday the 4th, another nice morning and a friend drops in to see what breakfast was on offer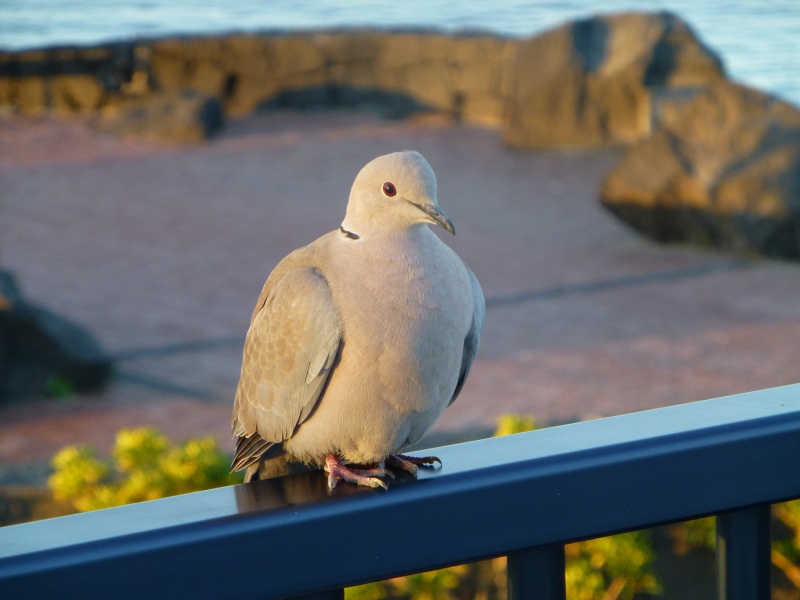 clear blue skies, doh guess another beach day again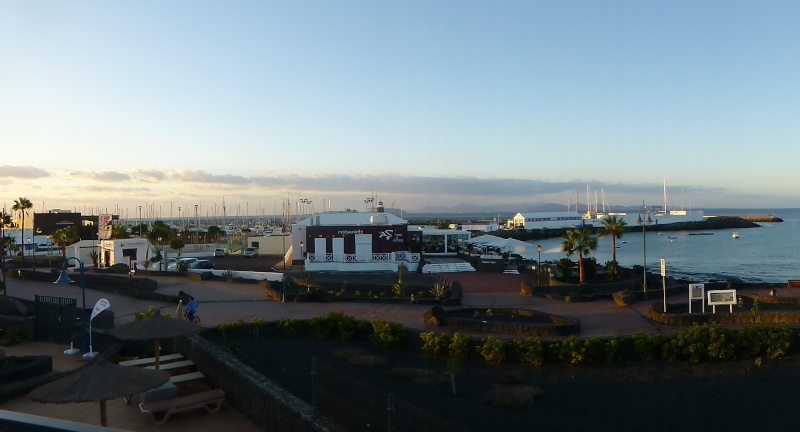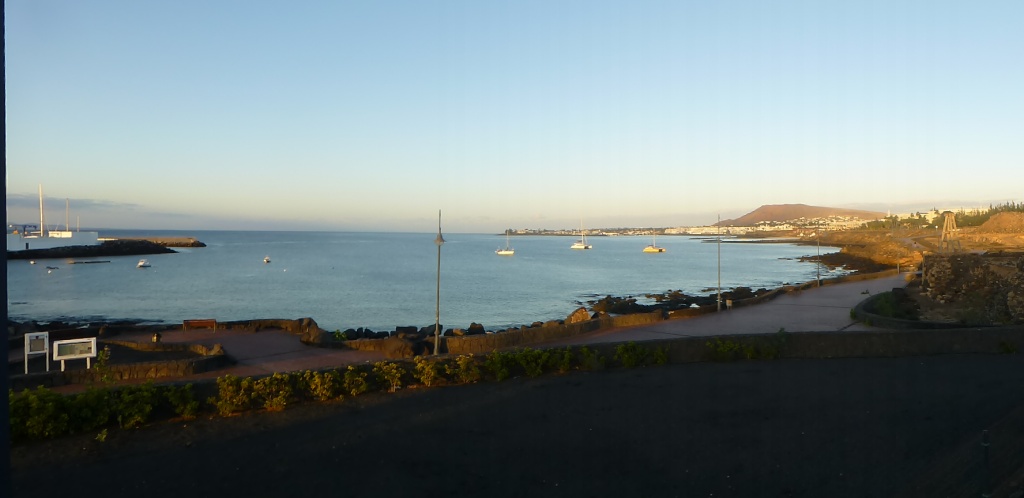 so beach bag packed
so it was "bend the beach like Beckham" photo with Fuerteventura in the distance

where have all the sparrows in Britain gone, it was asked, well their out here sunning themselves
a lovely day was had by all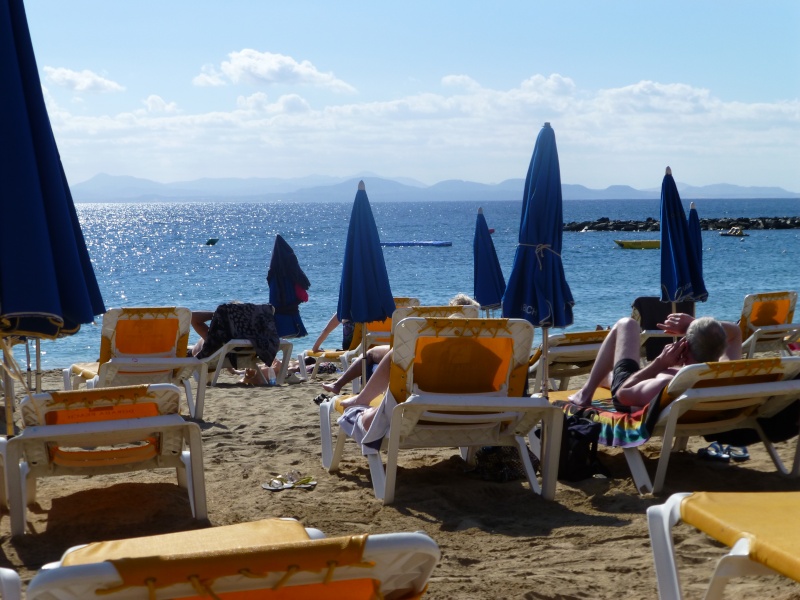 then it was back to the balcony to watch the sun go down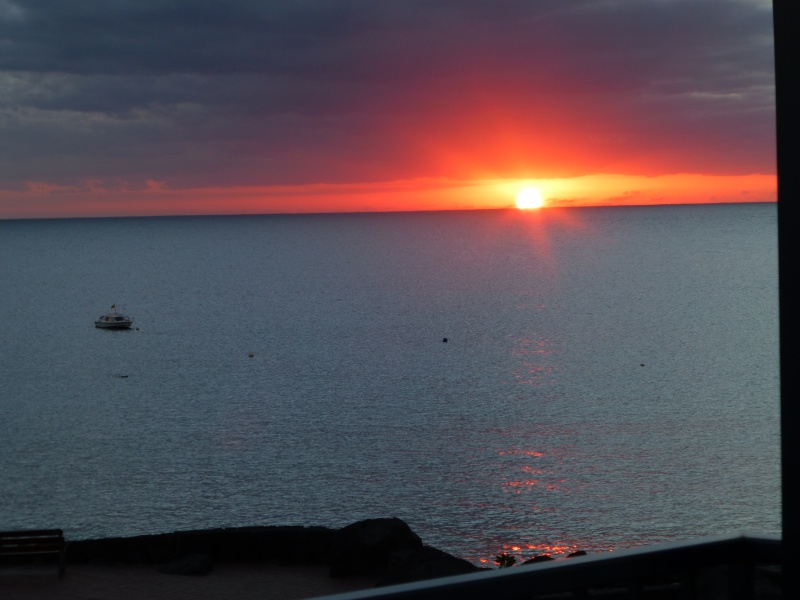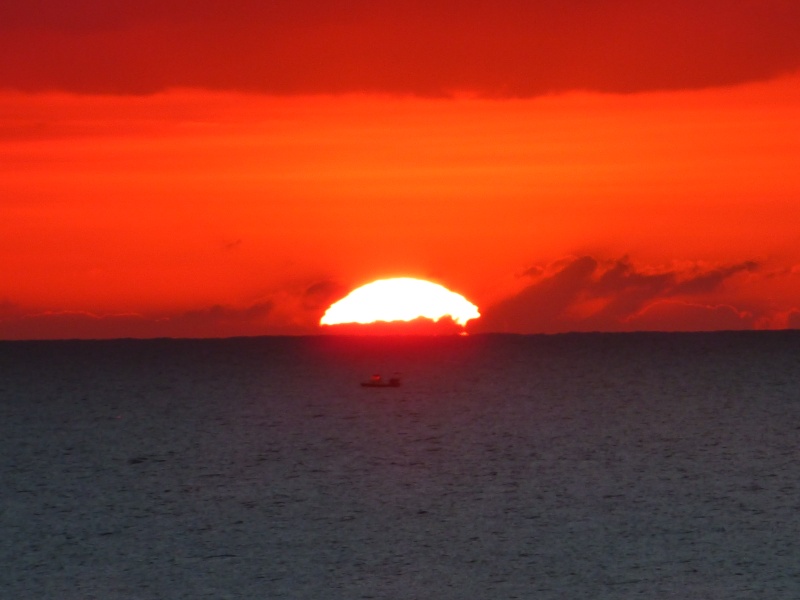 The previous evening, we had spotted two restaurants that were rather full, so we thought we would give one a try. However, when we got there, again they were full, so we said, for tonight we would go back to the Mexican place and try one of the two restaurants a bit earlier tomorrow. On the way up the high st, we spotted another Mexican restaurant, so we thought we give it a try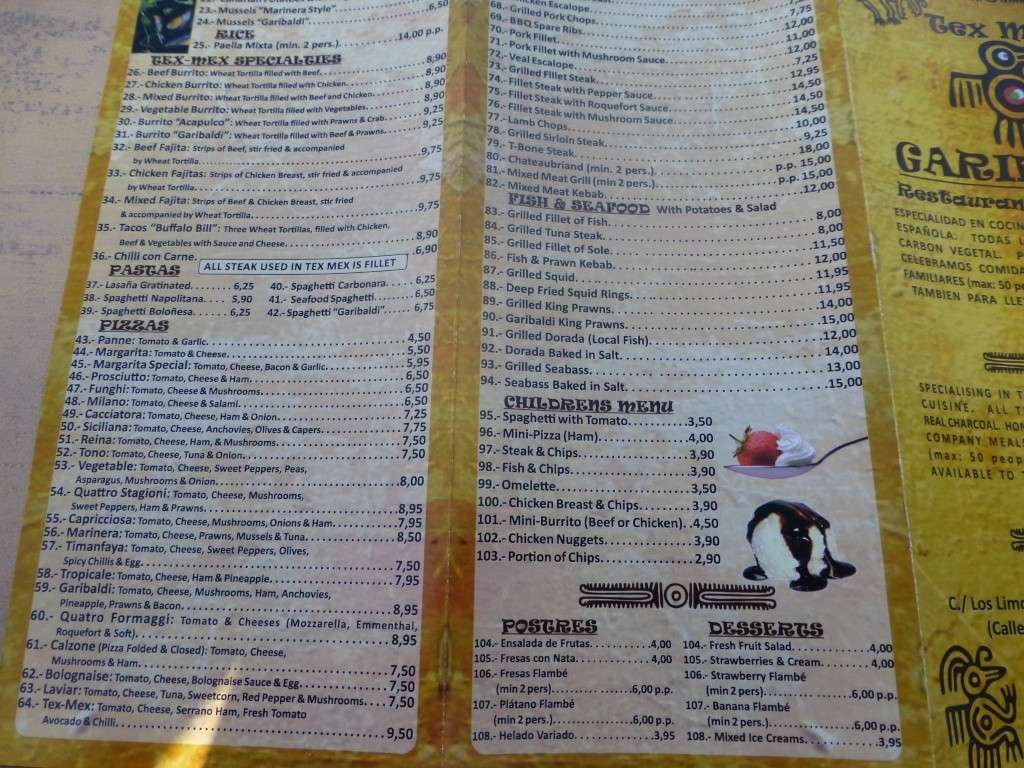 It had only opened in July, with a Mexican theme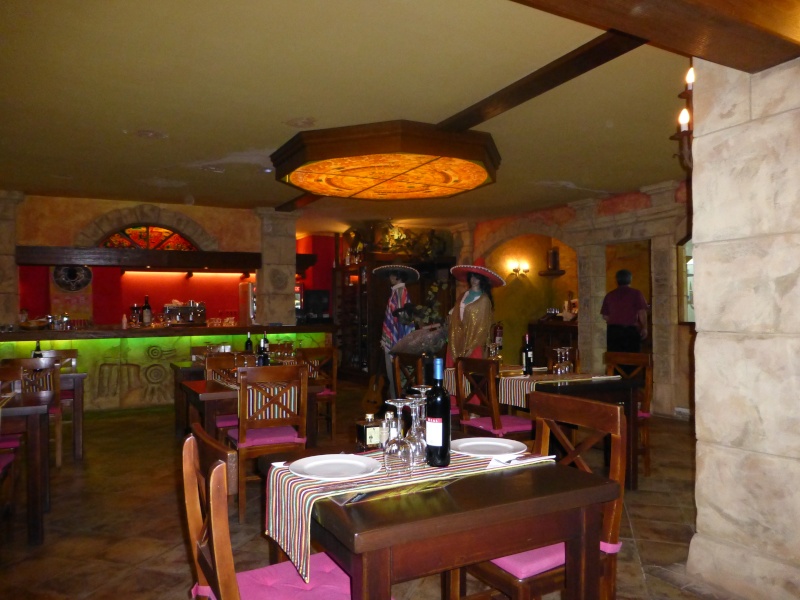 There were only four other young girls eating at one other table
The owner was very attentive, probably over attentive
The girls had a good time and tried on all the hats taken from the dummies whilst one strummed a guitar for a group photo. The owner took the photos. I said to Mrs Db, perhaps we should join in for a forum photo, "I don't think so", she timidly said.
Anyway I had this Buffalo Bill meal, which was not as full as Mrs Db's a day or so ago
Whilst Mrs Db had the Fajitas but wasn't impressed (and we saw better later)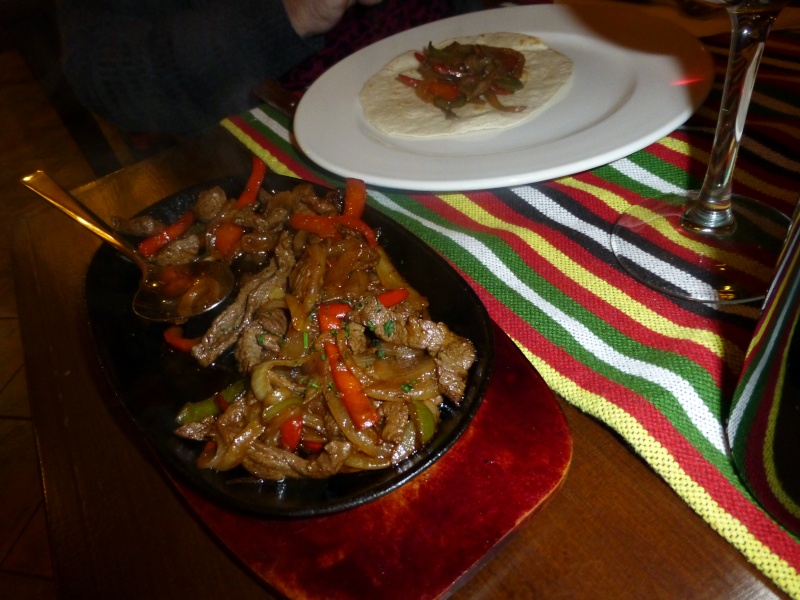 The owner twice asked Mrs Db, if I was a good husband, not sure whether that was the first signs of dementia but Mrs Db gave him the right answer twice. I did say, I would come back to try his ribs but never did.
He gave us a free pudding
an entertaining evening would have been good with more people
Anyway, Wednesday and Saturday's are market days in Playa Blanca and today was Wednesday
So Mrs Db was going to do some kindling on the balcony whilst I investigate what all this market fever is about, that everyone seems to have here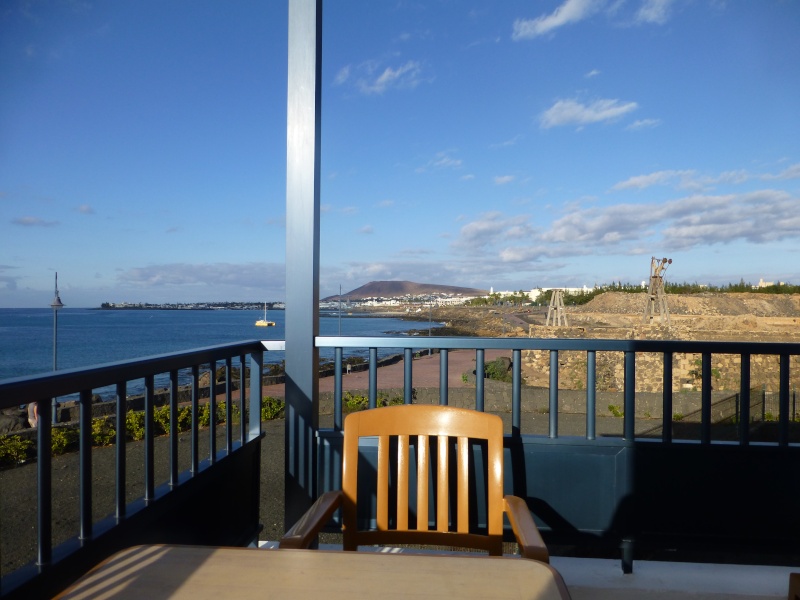 An early morning chartered fishing boat goes out, I had a pre look around the marina and spotted one notice saying blue marlin fishing. Hmm blue marlin I thought, as I looked further on the ad, there were pictures of lots of big fish caught but not one was a blue marlin, funny that, if your advertising blue marlin that blue marlin picture should be the number one picture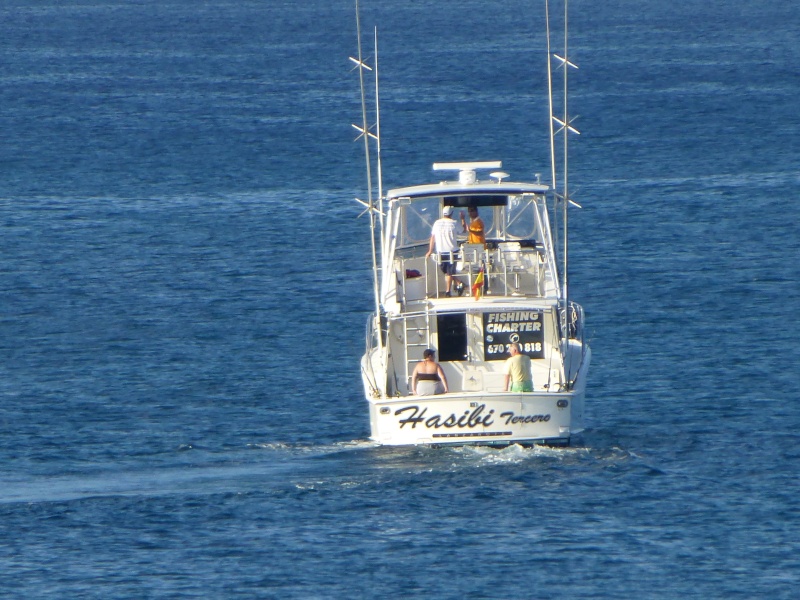 So it was off down to the marina to find the market, bus trips run from Puerto del Carmen on market days
I was early so not too many people about but I can tell you it does get crowded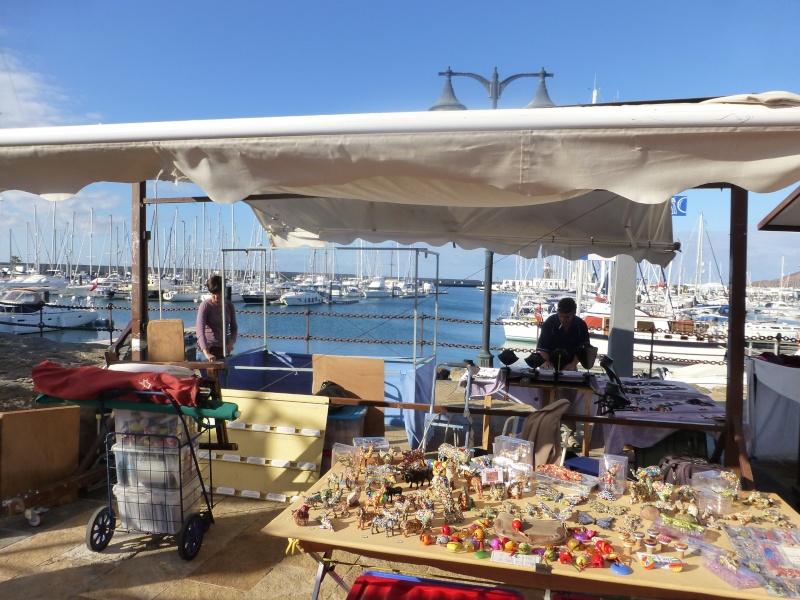 plenty of colour about, jewellery, handbags galore
belts and tee shirts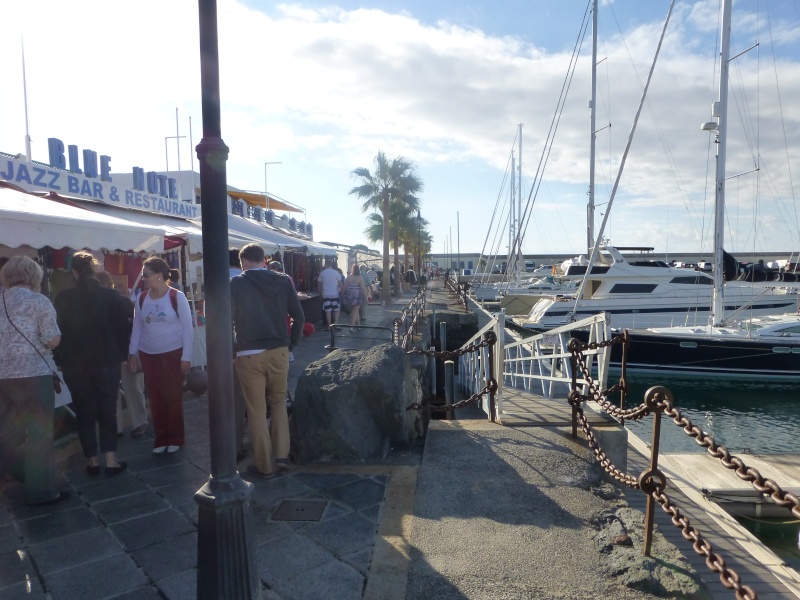 all with the backdrop of a picturesque marina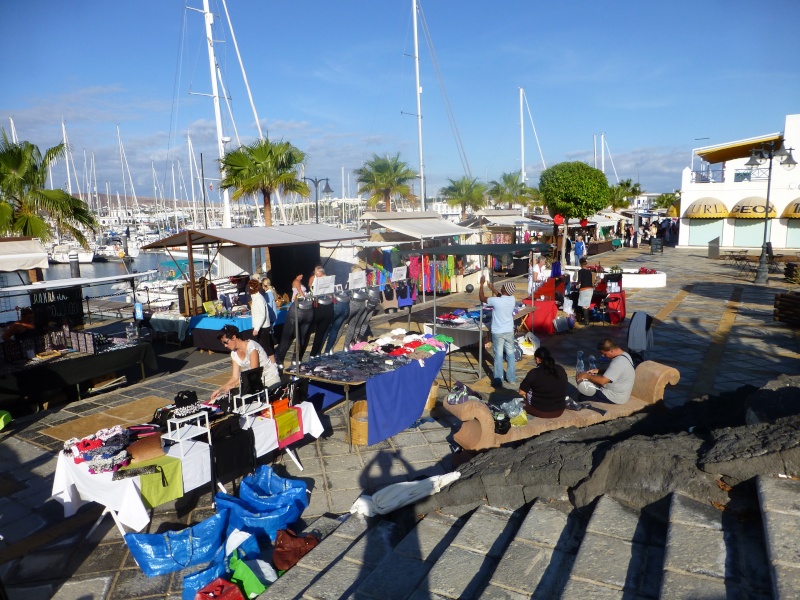 I tried to capture the atmosphere of the place
but it was impossible to show the market in one picture
its just too big and goes into every recess of the marina
the marina is very picturesque and worth a visit
but for me it was time to get back to Mrs Db, who would be itching to get back to the beach
but via the scenic route of course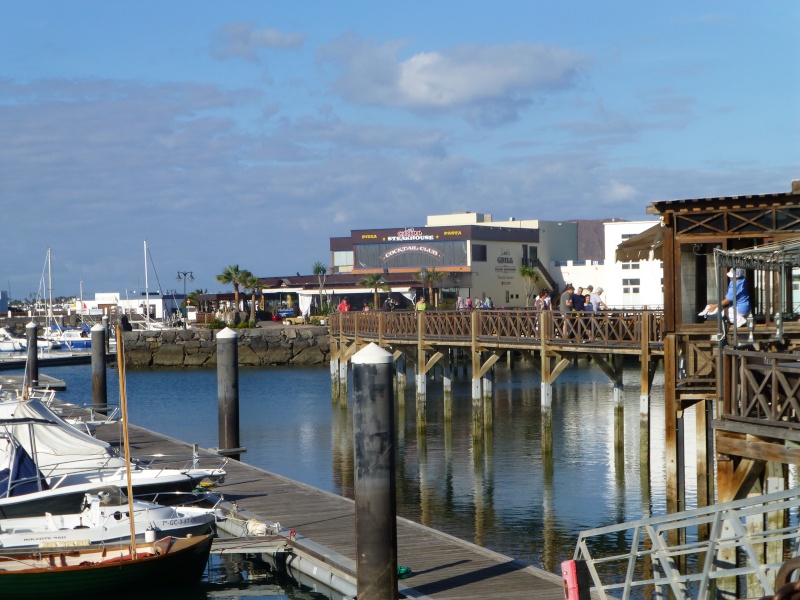 more people just arriving
I will come back to the market on later visit to show how busy it gets and Mrs Db comes with me to buy a new bag
so its off to the beach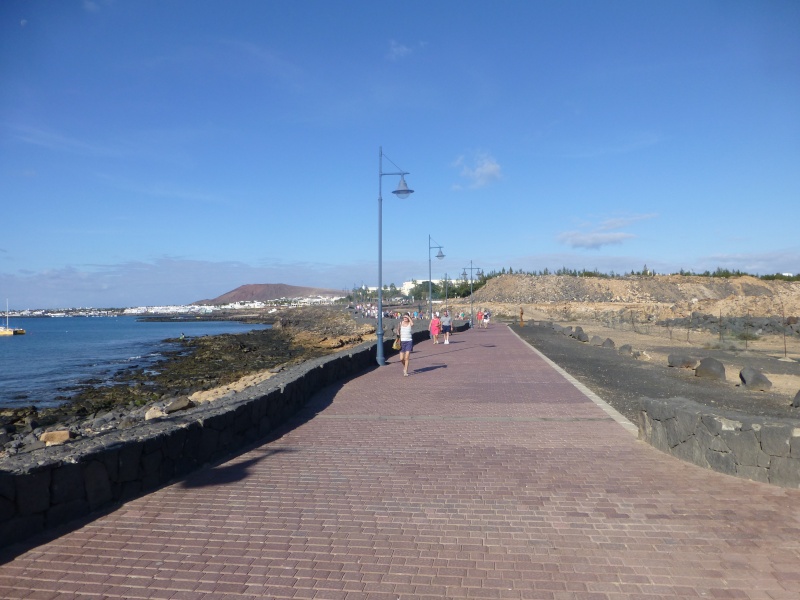 along the route, next to some old salt drying fans, there were a couple of guys posing as statues
put a coin in their tray and they would give you some entertainment
This guy was good as a cowboy, motionless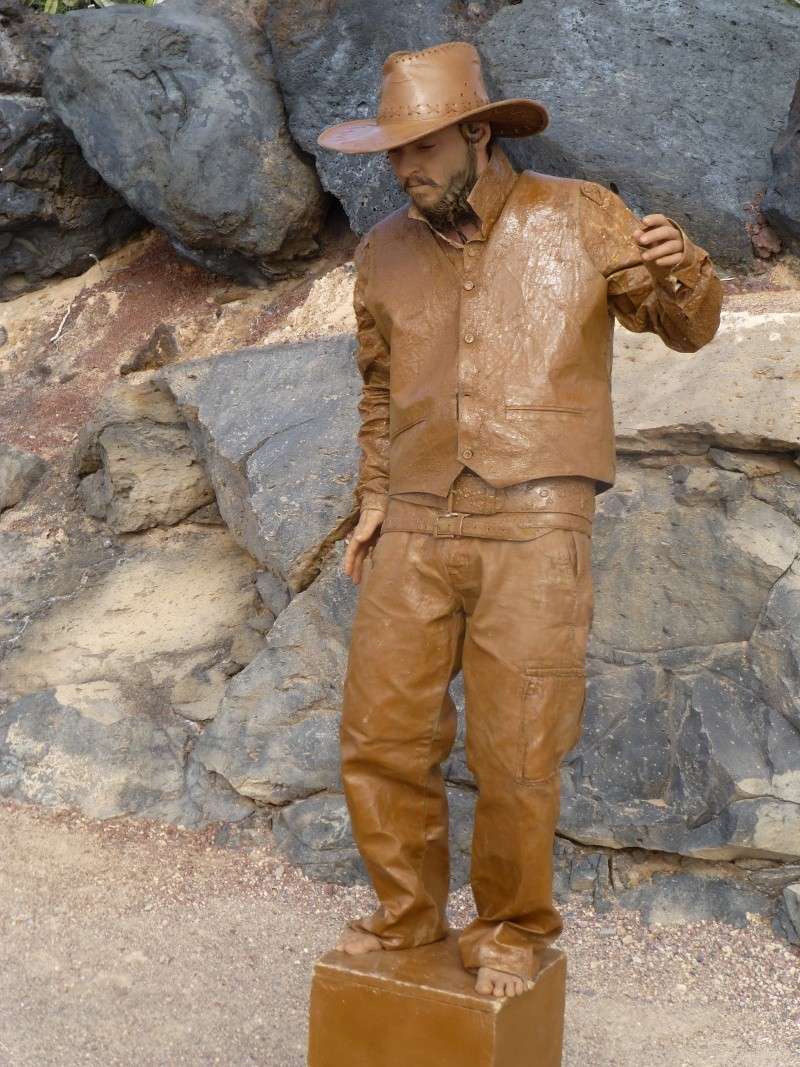 if you put a coin in his tray, he would draw is gun
so on the beach looking toward Fuerteventura with the island of Lobos on the left
Lunchtime, I tried the Caesar Salad at the Yaiza Cafe at the back ... 7 euro's, what did the Romans ever do for us
but always the days have an ending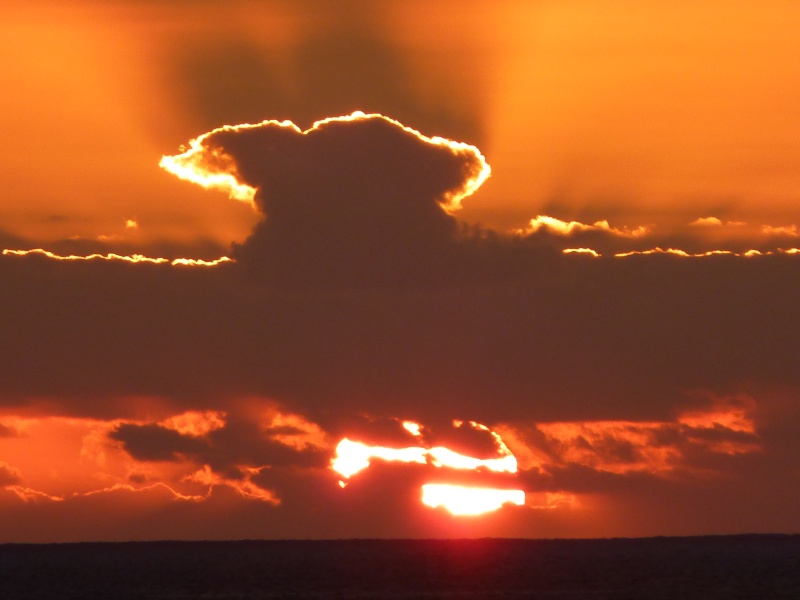 and we finally got into one of those two busy restaurants, The Volcan de Timanfays and found out why they were crowded, house wine was only 9.25 a bottle and fillet steak 12.95, mine was topped with Rochefort sauce.. delicious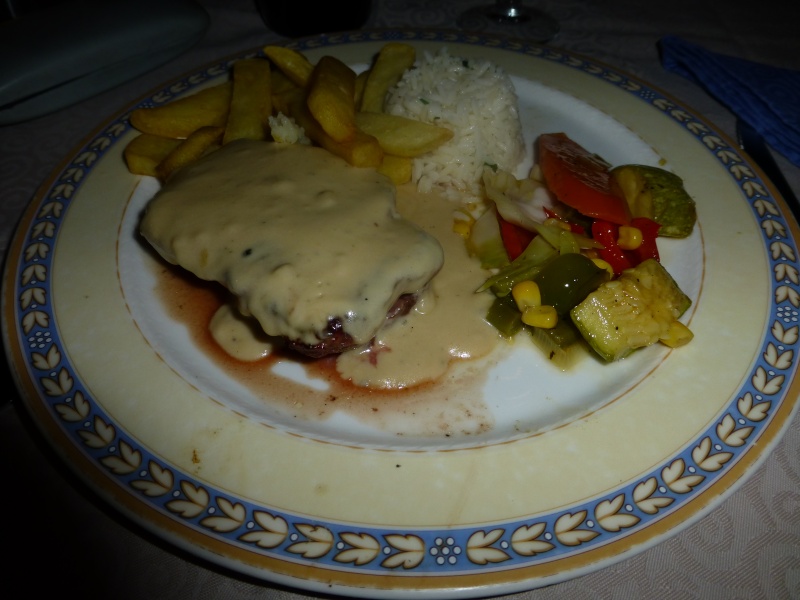 ##########################################################################################
The walk from the Rubicon Marina to the Lighthouse
https://majorcaforum.forumotion.com/t9263-canary-islands-lanzarote-playa-blanca-2012-walk-from-rubicon-marina-to-the-lighthouse
##########################################################################################
So after a long soak, we decided we didn't want to walk another 20 minutes to the town's restaurant, so we decided to eat in Lani's on the marina
evening can be chilly, so we decided to stay inside just to make sure the food kept warm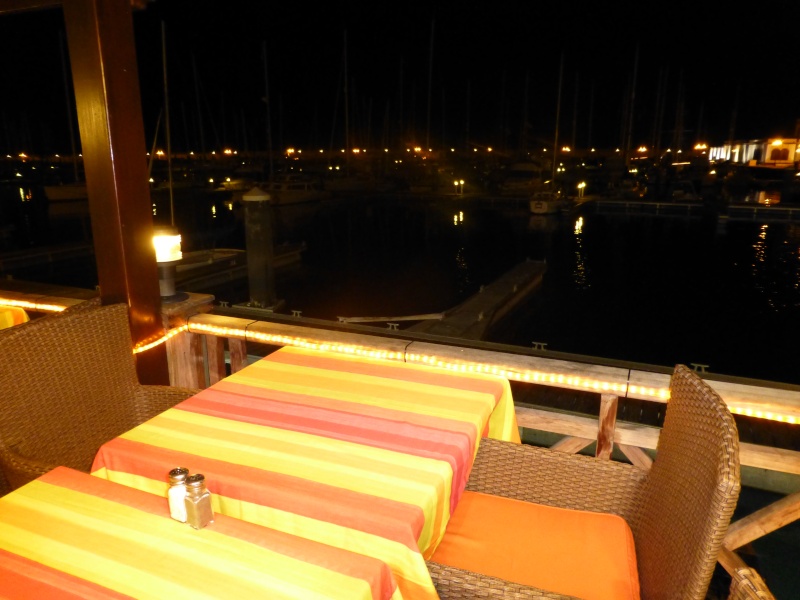 The menu, I ordered ribs at 11.50 (and there was two of them)
Mrs Db had kebabs
house red was 11.50 but you have to have a bread roll that cost a euro each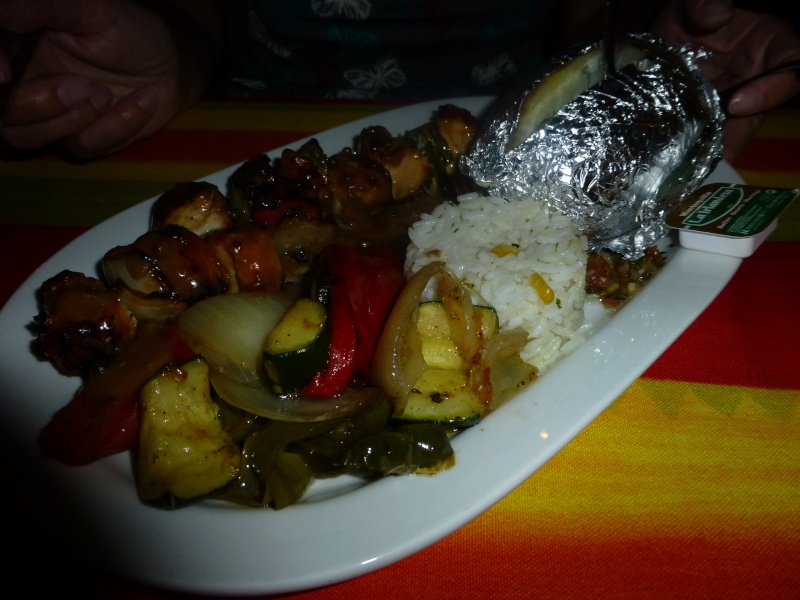 coffee's were around 2 euro's here but a nice setting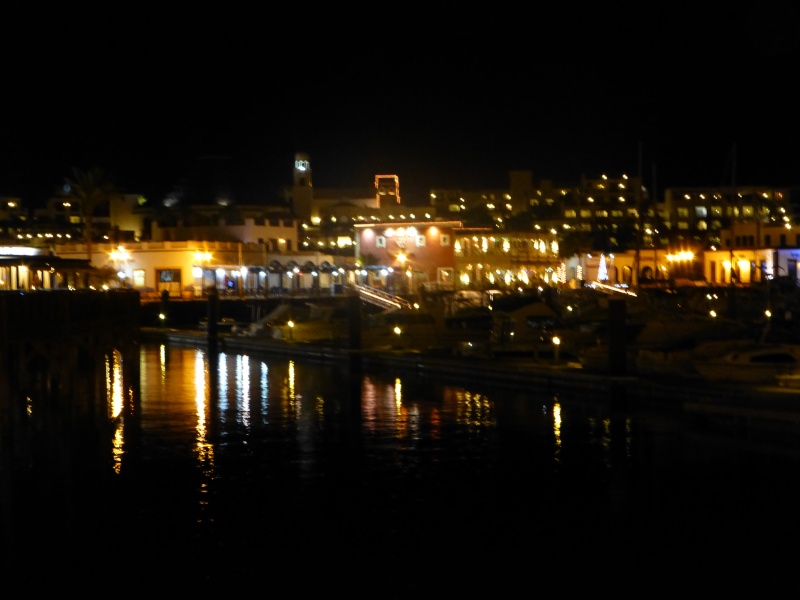 but tomorrow's another day, what would the weather bring, as we stepped outside the restaurant it started raining but we were only a hop and a skip from our apartments. There you are Mrs Db, i told you, a mackerel sky and the rain was really tipping down as we got in and would have got soaked walking from the town
########################################################################################
The Northern tour
https://majorcaforum.forumotion.com/t9264-canary-islands-lanzarote-playa-blanca-2012-the-northern-tour
########################################################################################
Well the next day was a cloudy morning, so I popped around the marina, to see what boats were about, whilst Mrs Db was happy kindling on the balcony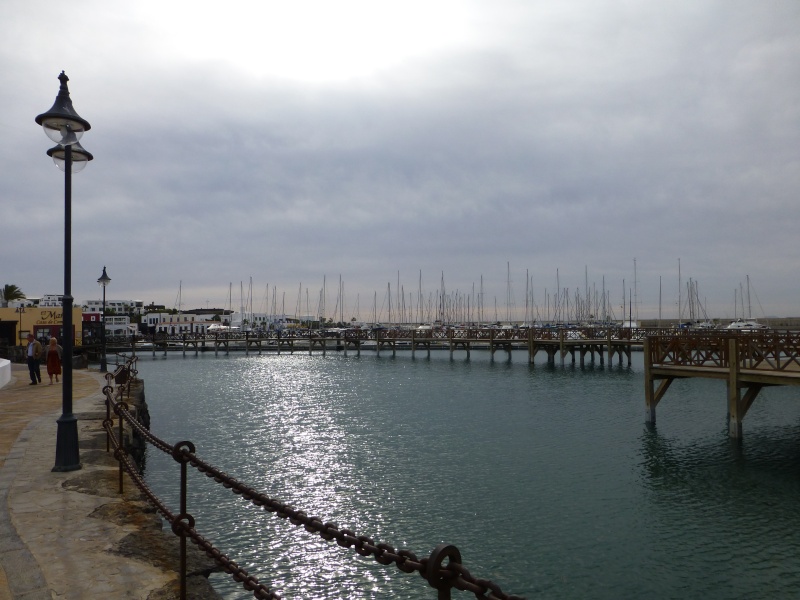 fed a few fish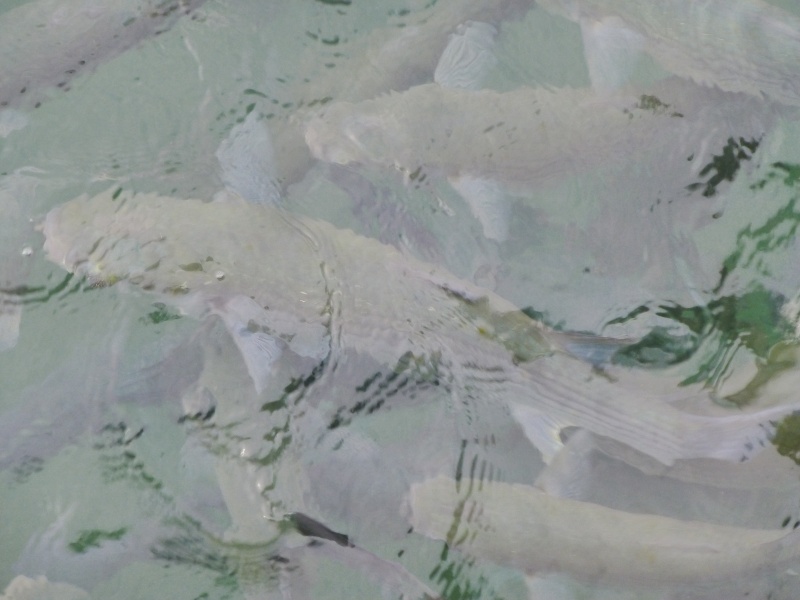 found some interesting boats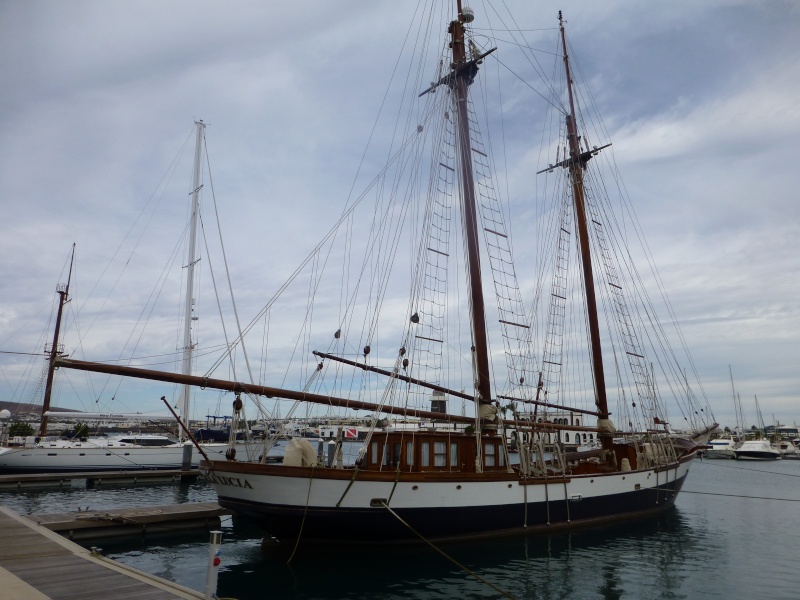 and went right to the end of the marina and took this picture, I don't know what you camera buffs think but I think the eye sees a slightly larger picture
However, going to test the ability of the camera in the same spot, these restaurants are 20 odd minutes walk away and therefore a mile away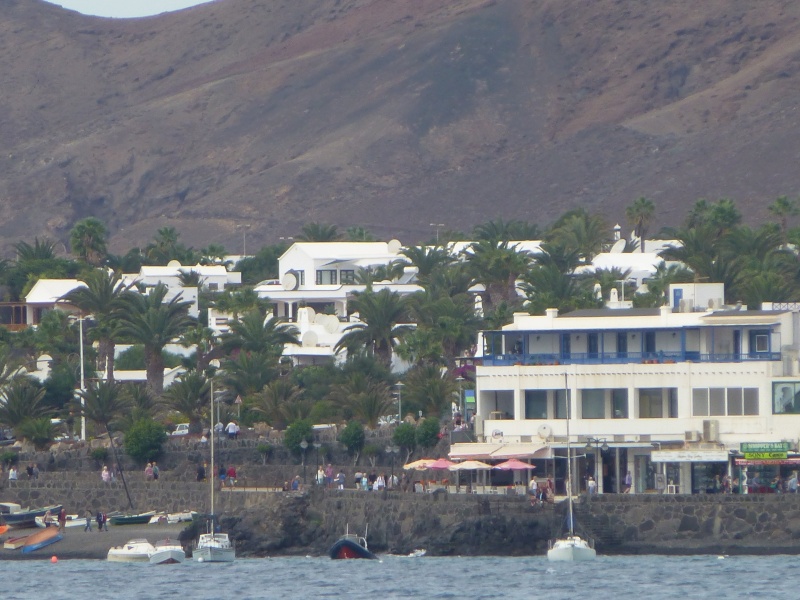 but you can see the people and restaurant names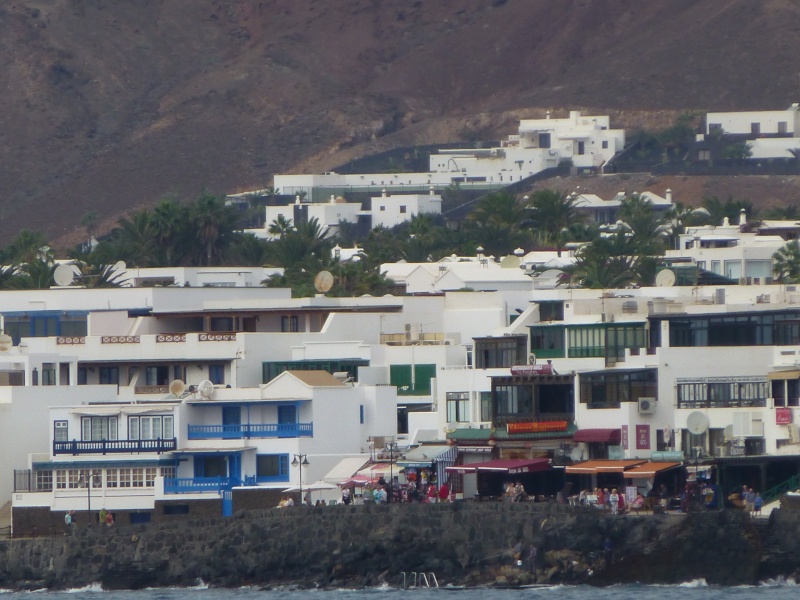 so quite impressed really as that is what I always wanted from a camera
I'll show you my efforts of Fuerteventura from the balcony which must be 5 miles away later on, but having the difficulty of getting the right light to fall on the island
anyway near lunchtime the sun came out
and decided to take Mrs Db for a romantic lunch around the marina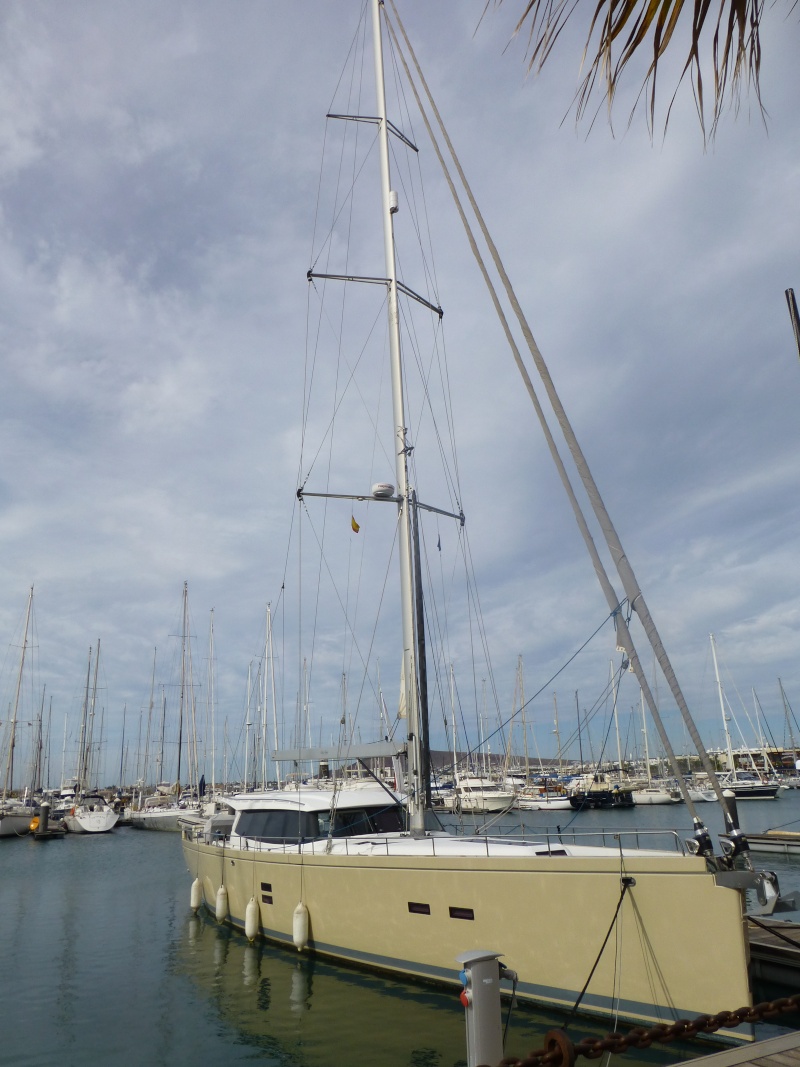 anyway beers (the large one) was 3.5 euro's down here but 3 euro's in most other places in PB, Mrs Db cop out one was 2.5 euro's (normally 2 elsewhere)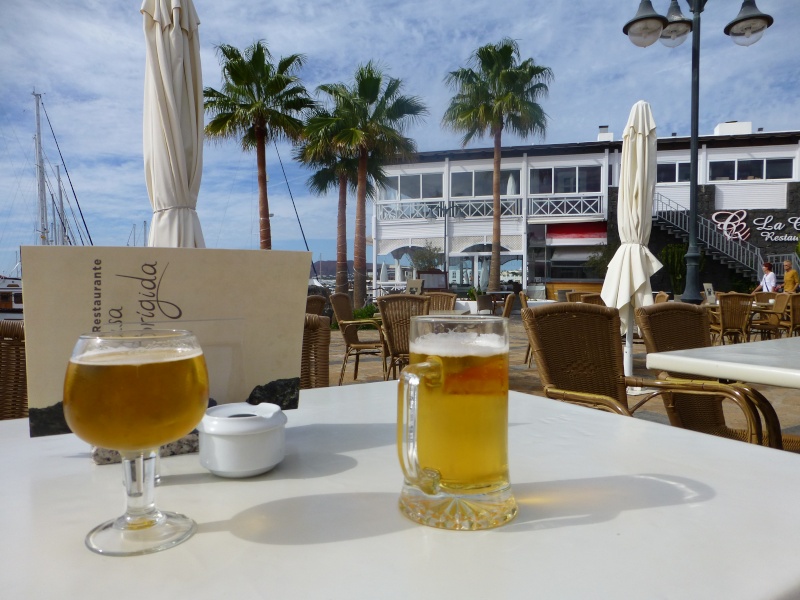 Then came lunch, all this for 5 euro's, just goes to show its better value and cooked to order rather than the cafe above the beach
So here we were with the sun shining, a pint, a fryup and Bryan Adams singing "Everything I do, I do for you", it couldn't be more romantic could it
Mrs Db... Mrs Db
I even bought some cake for afternoon tea on the balcony
"What a strange tasting cake", I said to Mrs Db, Mrs Db had a bite of hers, "Is it ok", she said, "Yes, I have tasted this flavour before but I can't think what cake it was". Mrs Db had another bite, "Most pecuilar, I know mould on a slice of bread", i replied
ughh
I took a photo of the packet and cake just incase we got food posioning, Hyperdino Supermarket
Oh well, perhaps romance another day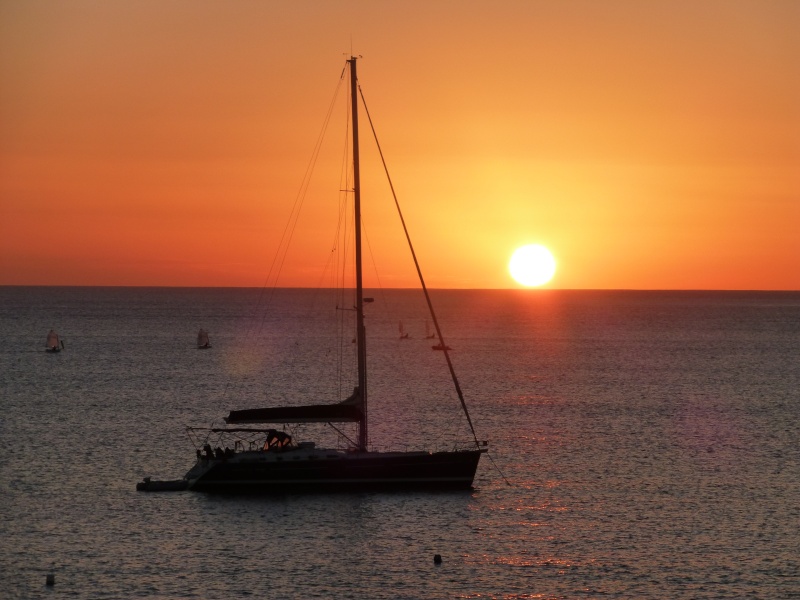 now where is that bottle of honey rum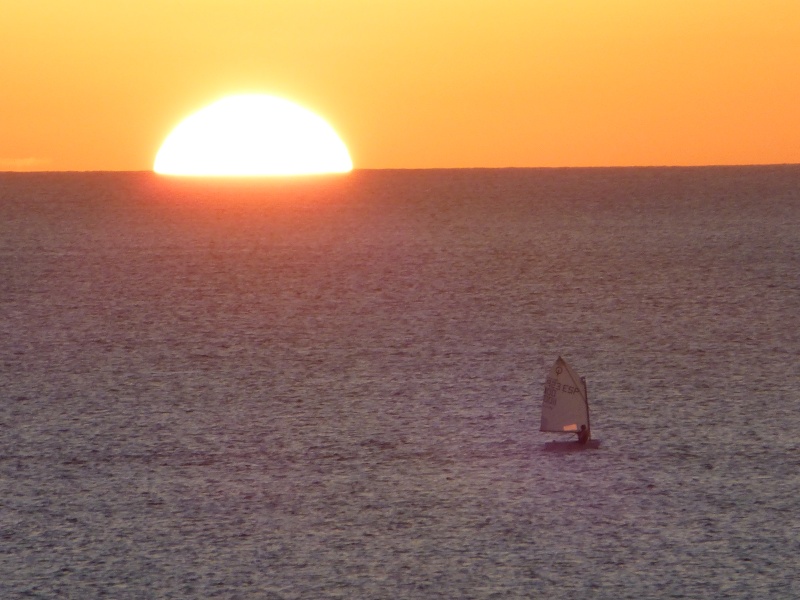 ##########################################################################################
Walk for Papagaya to the Rubicon Marina
https://majorcaforum.forumotion.com/t9265-canary-islands-lanzarote-playa-blanca-2012-walk-from-papagaya-to-the-rubicon-marina
##########################################################################################
Well to shorten the story a bit, having had some wonderful mornings like this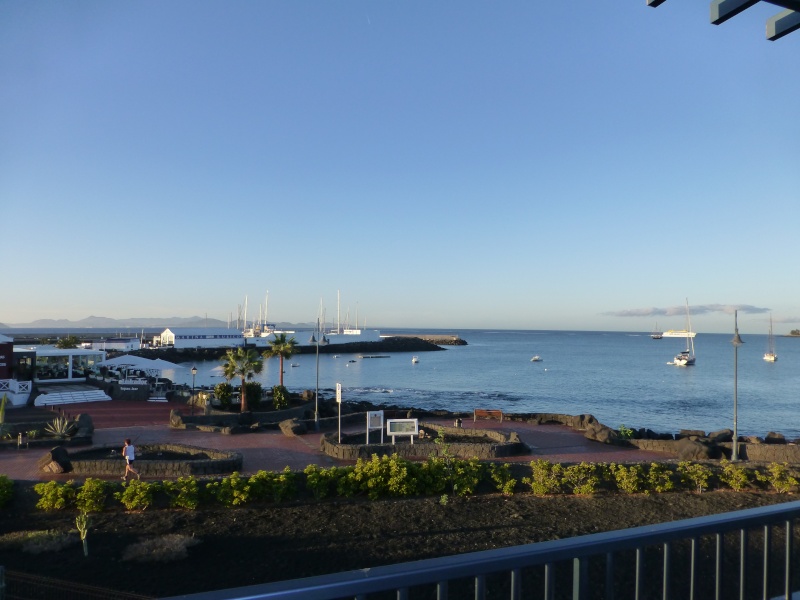 days like this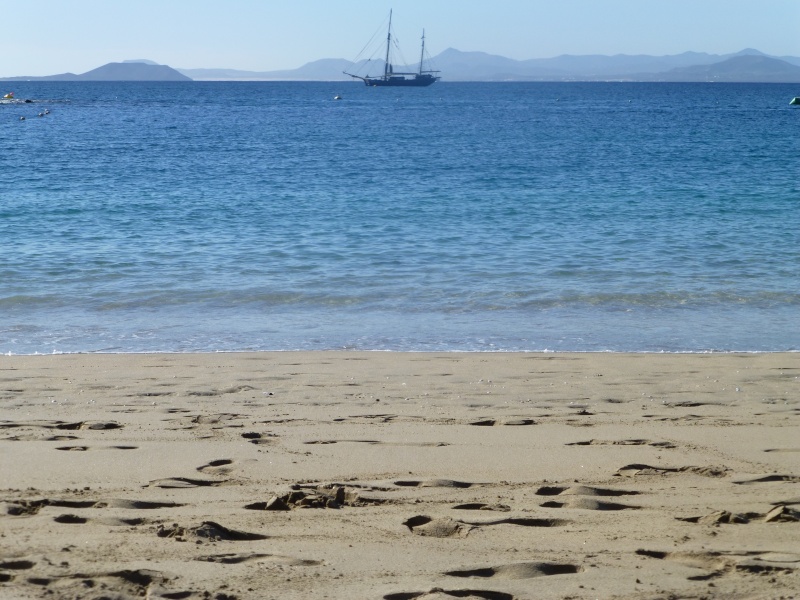 and evenings like this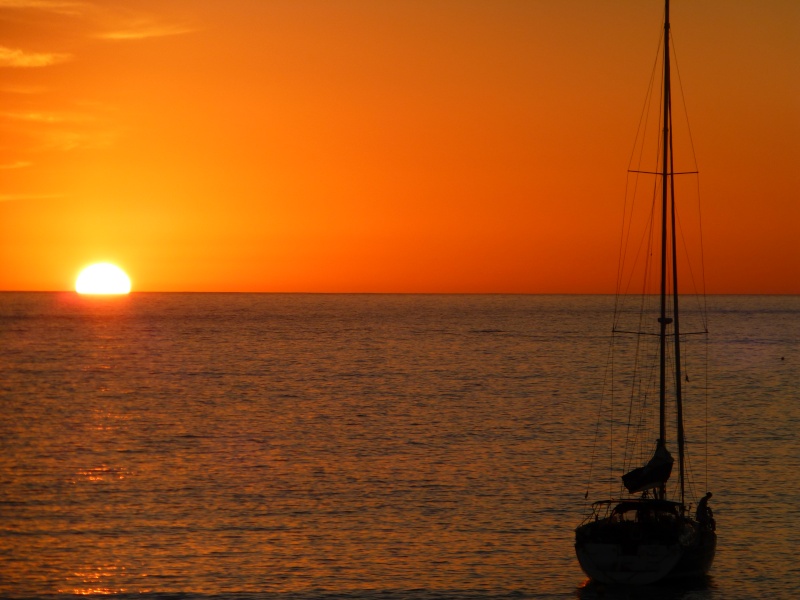 It wasn't hard to abandon the idea of a coach trip around Fuerteventura, perhaps another time, which more or less gave us thoughts on where to have our last three meals
but having had meals like this baby lamb from The Volcano del Timanfaya restaurant, which was the equivalent of eating about 5 lamb shanks in one go.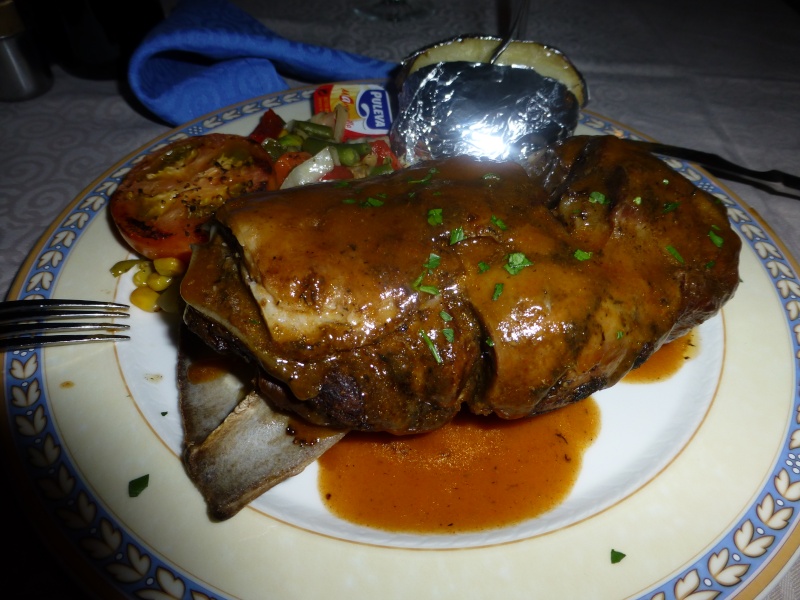 "how was you lamb" the waiter asked, well it was like "death by
chocolate
lamb", I replied, absolutely full. It was easy to decided they would be our last night's choice.
The evenings were a lot warmer than the previous week, so Mrs Db always wanted to spend one meal at the side of the marina, so Lani's got our penultimate vote.
which left us for tonights choice, Mrs Db had a nice meal of chicken in almonds at the Tipco Cannero, which I fancied, so tonight that would fill that slot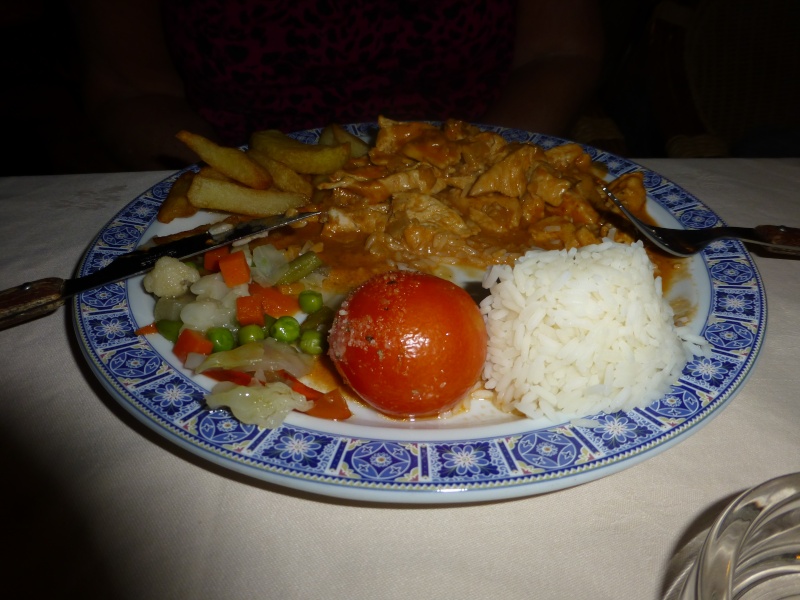 however, as the tide came in
I had another of these at lunchtime, 4.5 euro's for a single and 6 eoro's for a double. Delboy always looking for that bargain
washed down with one of these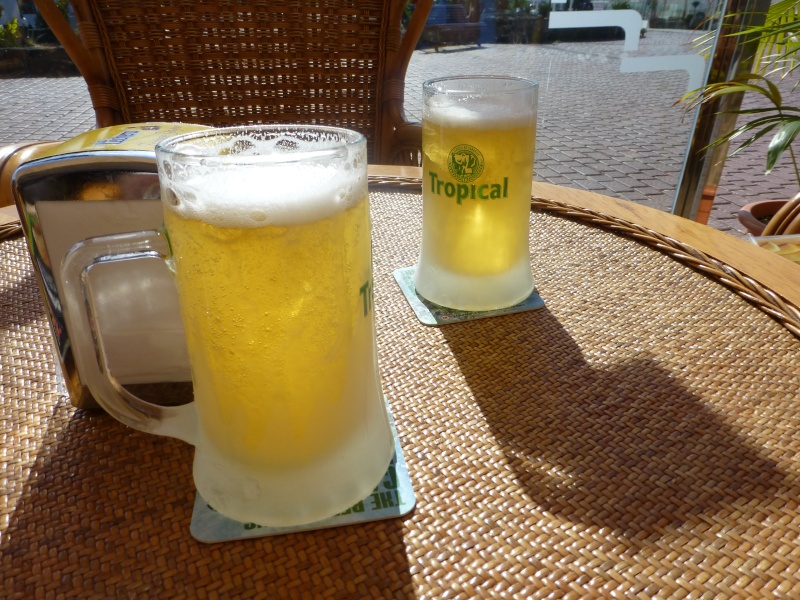 well come the evening, I was too hungry must have been a little under the weather
and the chicken in almonds were piled high, I had to leave some of it
The total bill was only 30 euro's and they only gave us a thimble each of honey rum, couldn't have spent enough.
So the penultimate day came around
and I was a lot more careful what I had for lunch
evening came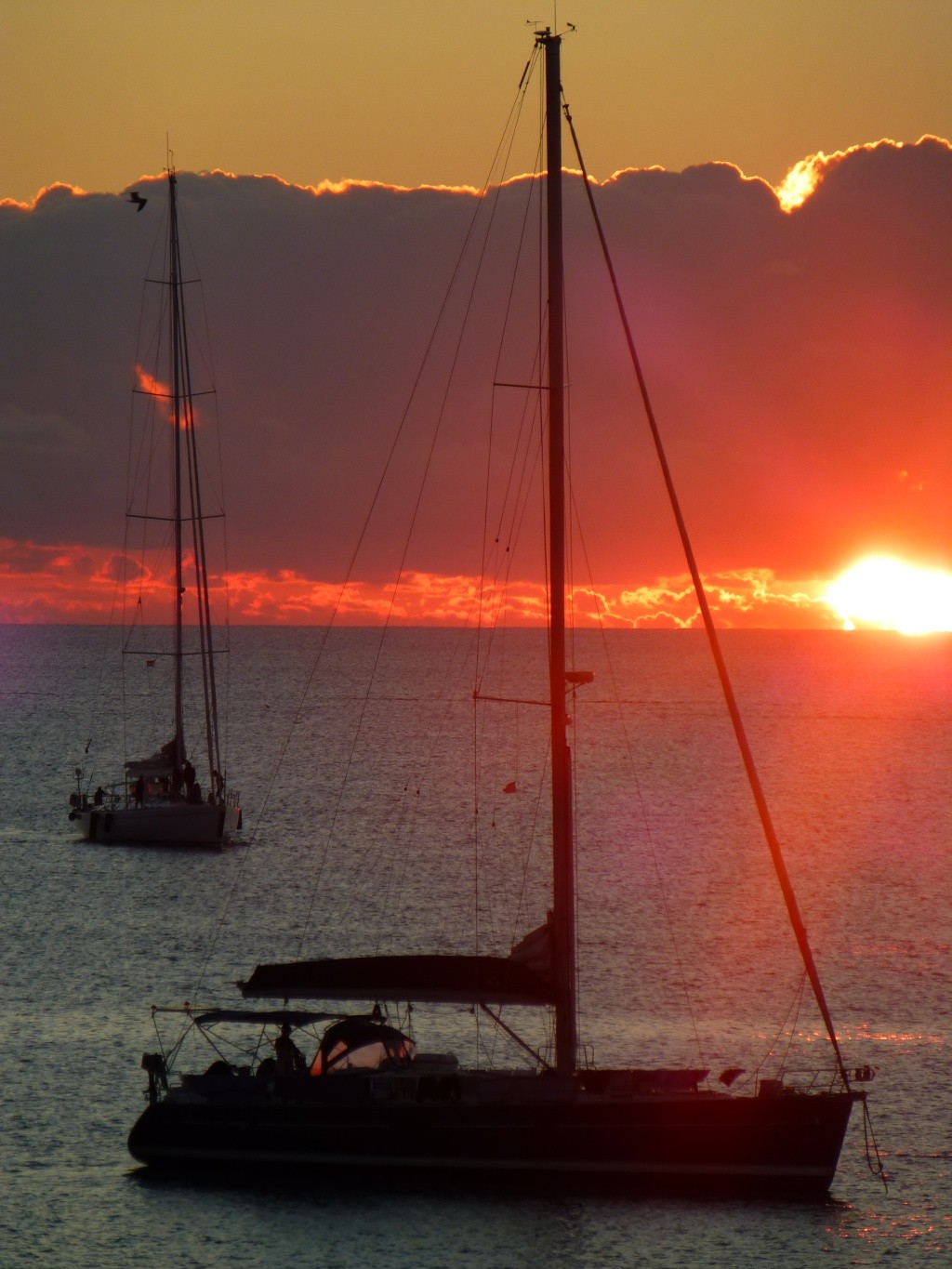 and Mrs Db had her wish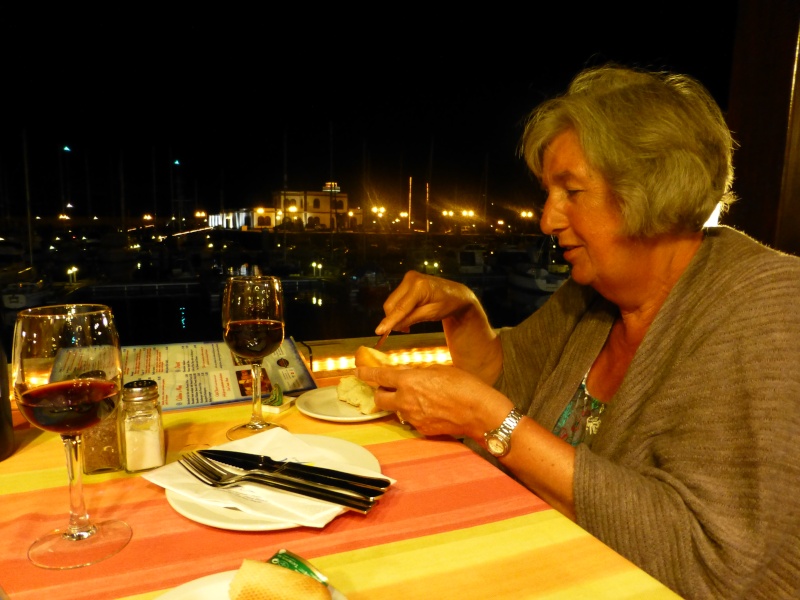 I had mixed kebabs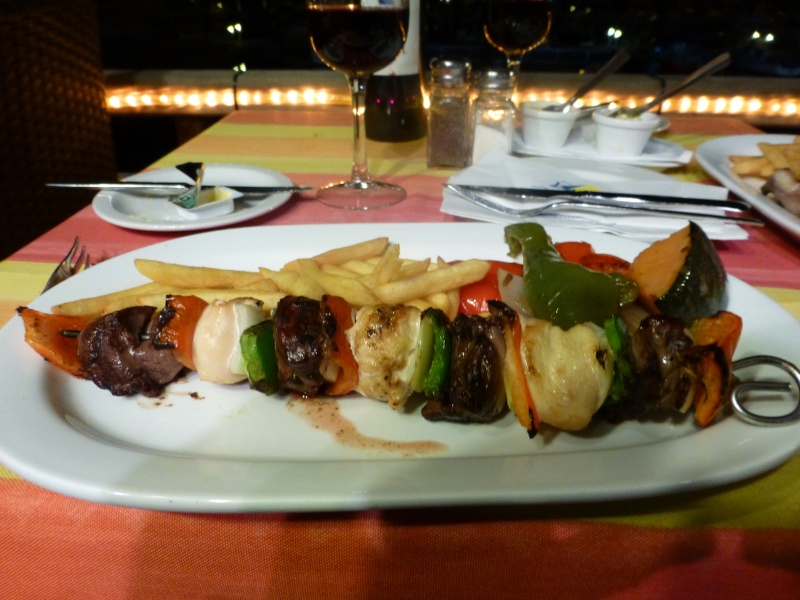 Mrs Db had pork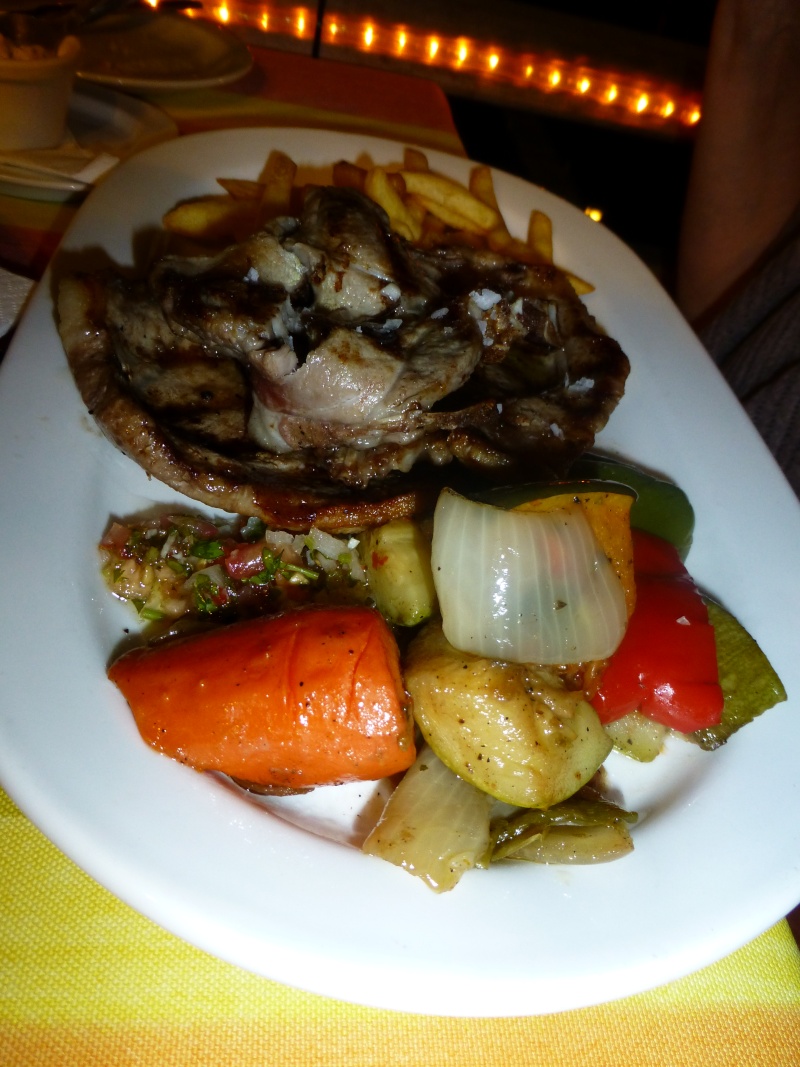 and a live soul singer sang in the background all over a glass of wine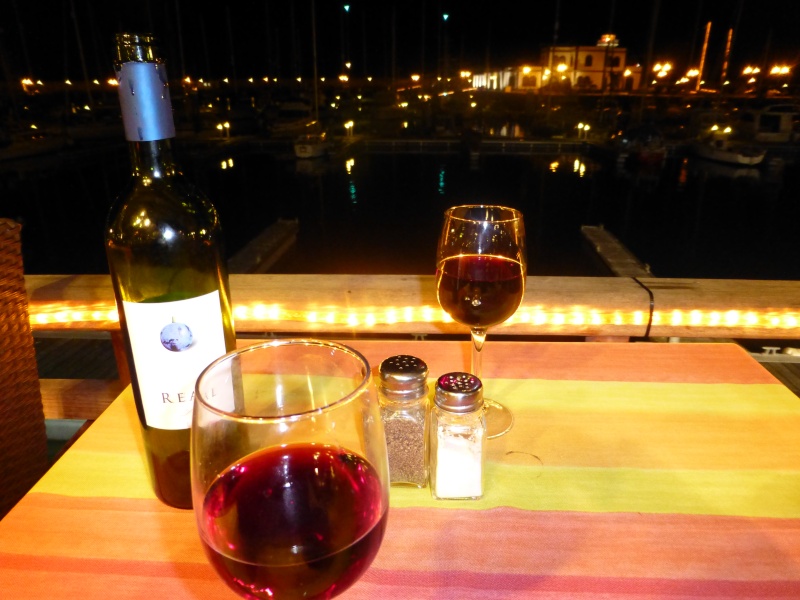 coffees came, a nice touch by Lani's, mine
and Mrs Db, who didn't want to drink her's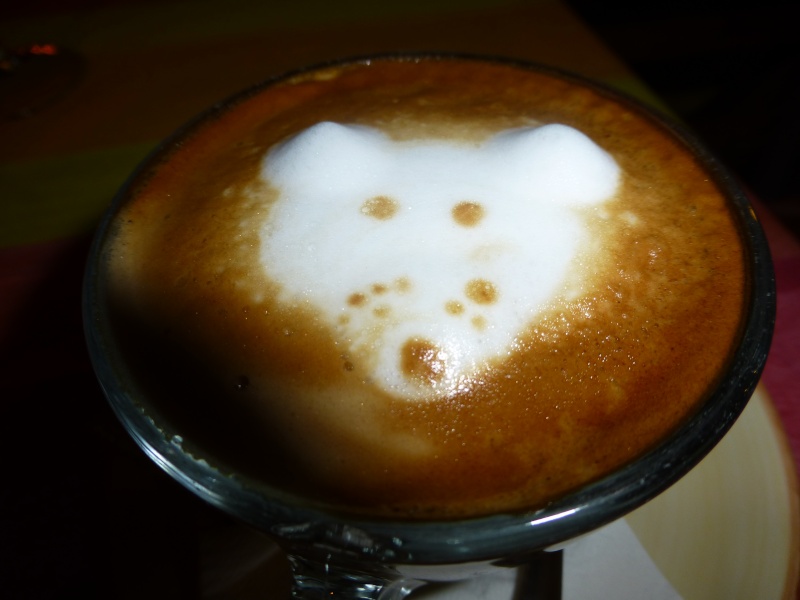 and it was Christmas
Could out last day top this, tune in tomorrow for the Christmas special
, no I will finish it when I can
The last morning we spent on the beach and it was threating to cloud over, so whilst the sun was out we decided to delay lunch, as it may be the last we would see of it this year. The decision was to go to the marina to eat when that time came. Annoyingly the clouds just would not gang up and it got to 2 o'clock and the sun would not quite go in
In the picture the beach was to the left and the marina to the right and the cloud couldn't decide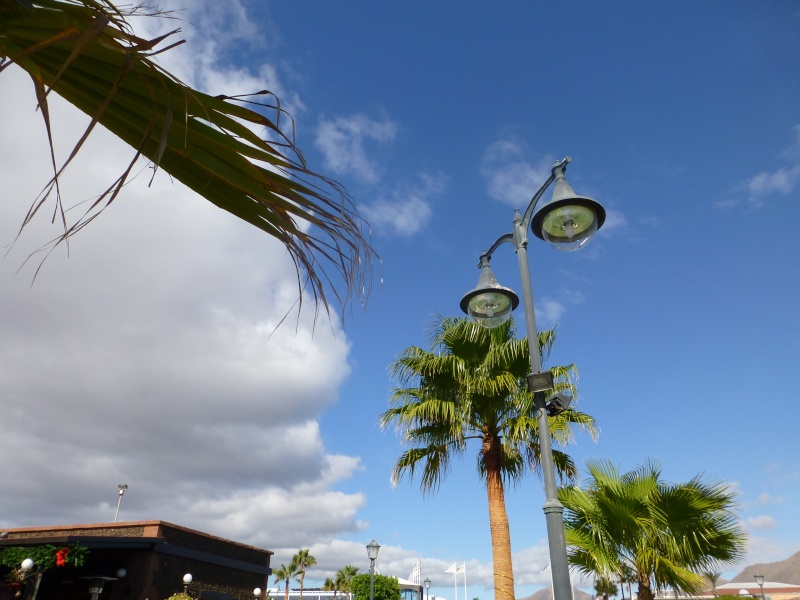 but my stomach did, it was a restaurant on the marina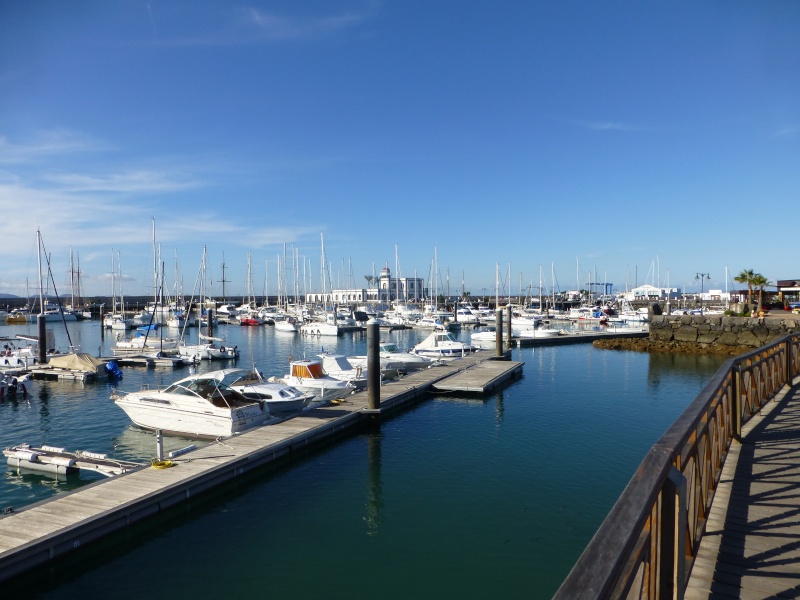 we picked Lani's snack bar whilst the clouds pick Fuerteventura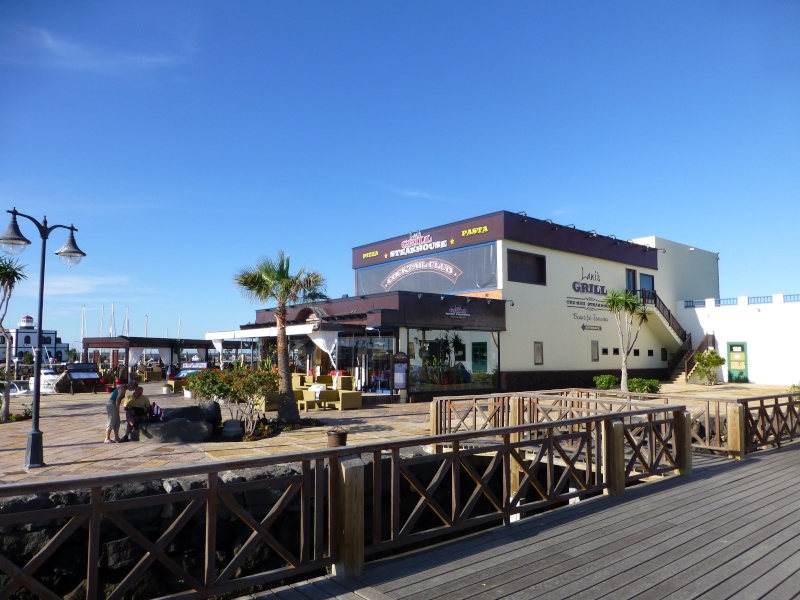 Well not wanting to look too fat for going home, I picked the healthy tuna sandwich, well and a few odd chips put on the side of the plate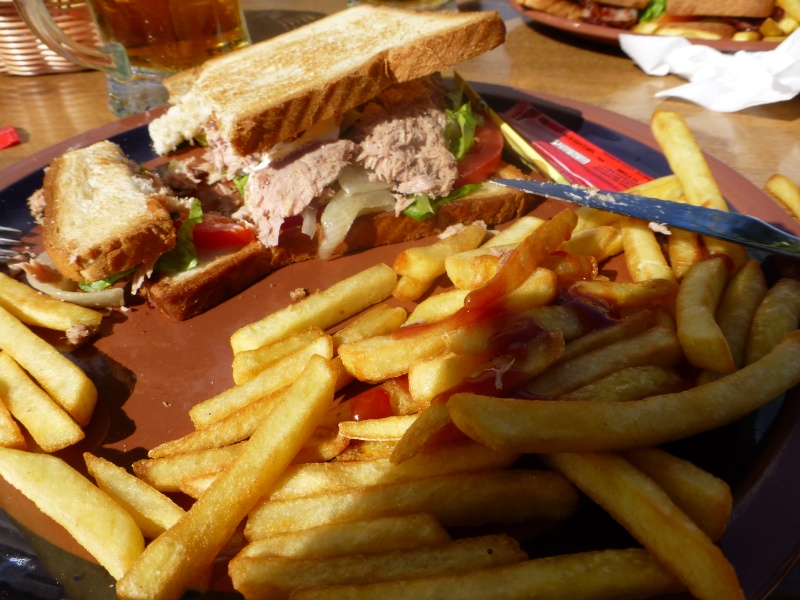 Mrs Db had unhealthy bacon in hers
although a lot of my chips went over the side to Jaws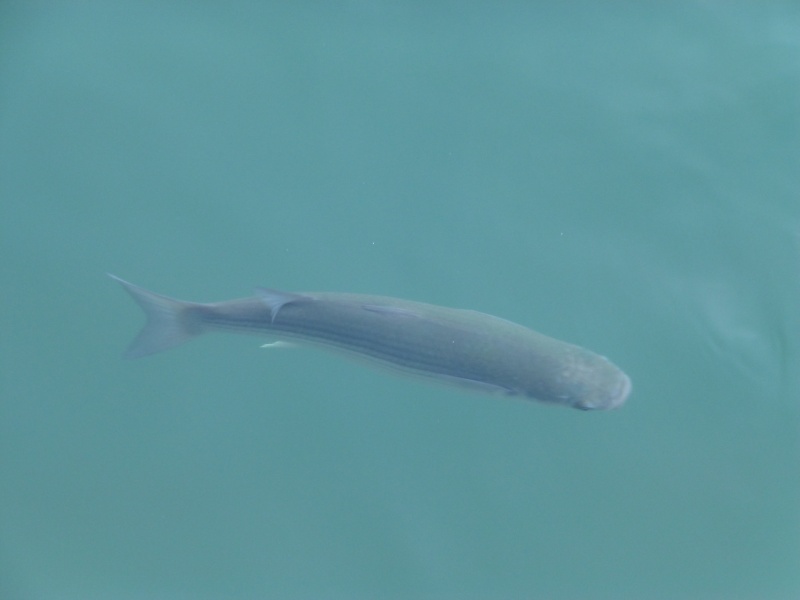 Mrs Db went to do some packing and I headed back to the beach to start a walk
##########################################################################################
The Walk into town
https://majorcaforum.forumotion.com/t9262-canary-islands-lanzarote-playa-blanca-2012-walk-from-dorada-beach-through-town
##########################################################################################
so for us it was our last sunset in Playa Blanca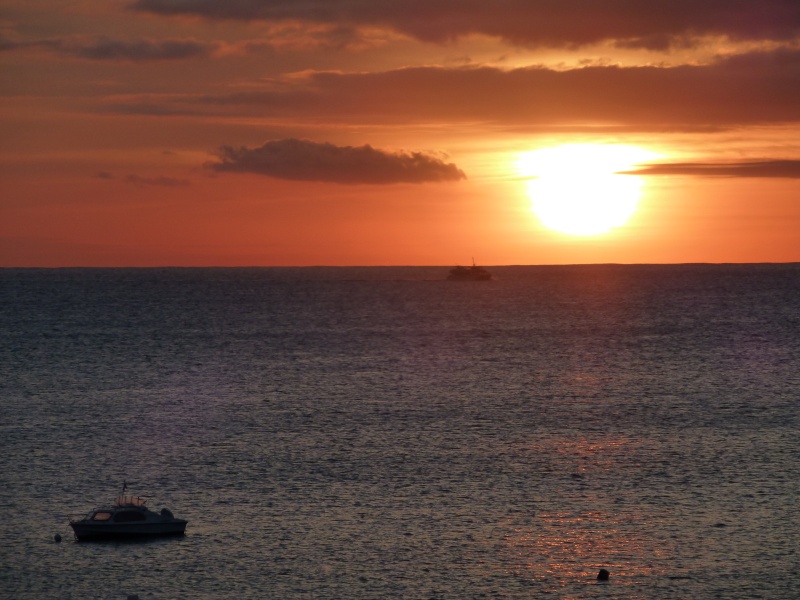 and surprisingly a new moon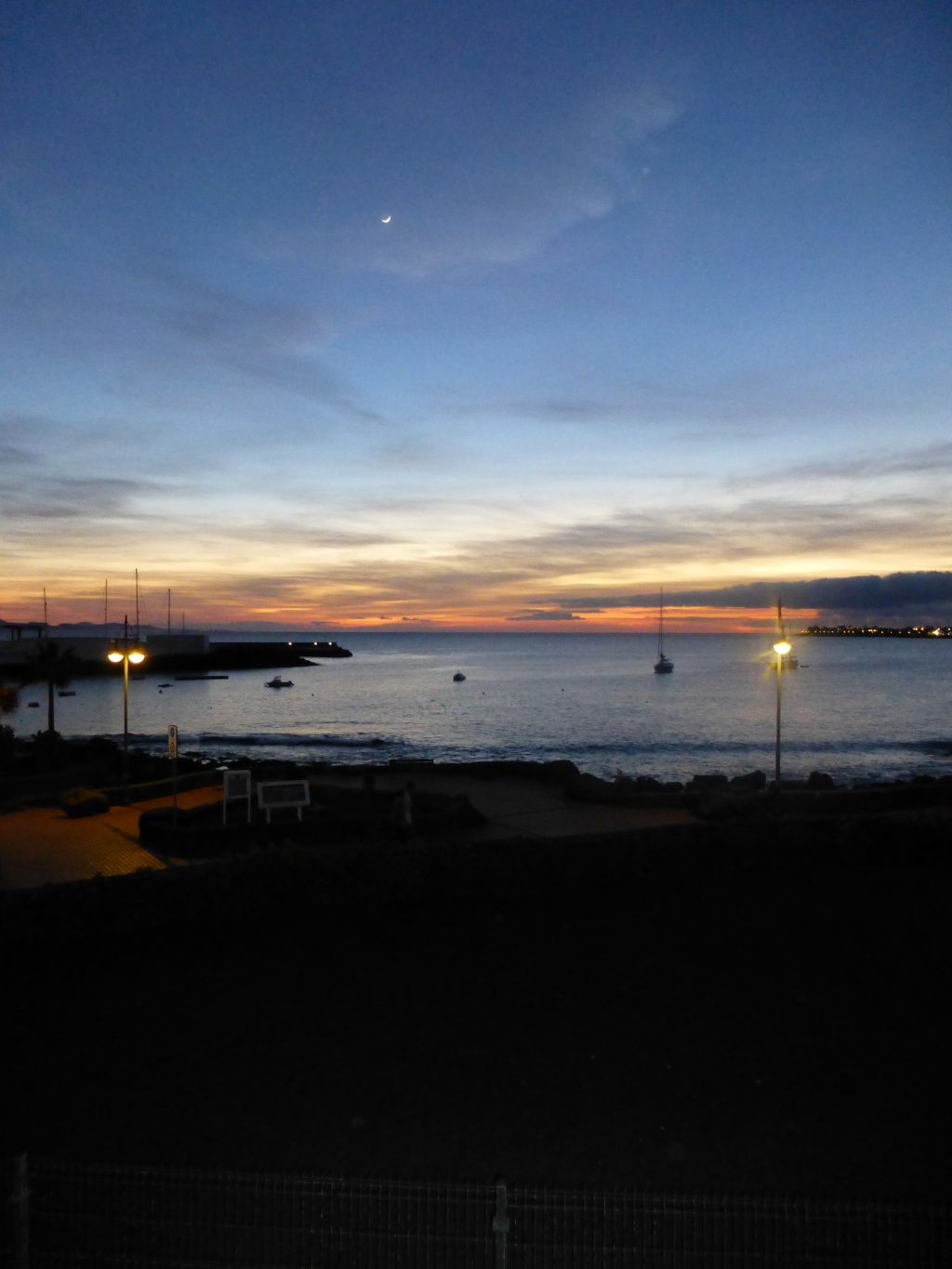 and Delboy and Mrs Db made our last walk to the harbour restaurants where the Timanfaya del Volcano was our final choice, I had the steak and Mrs Db joined me in the choice, we said over a glass or two of red, what a lovely holiday it had been.
The following morning
It was goodbye to the room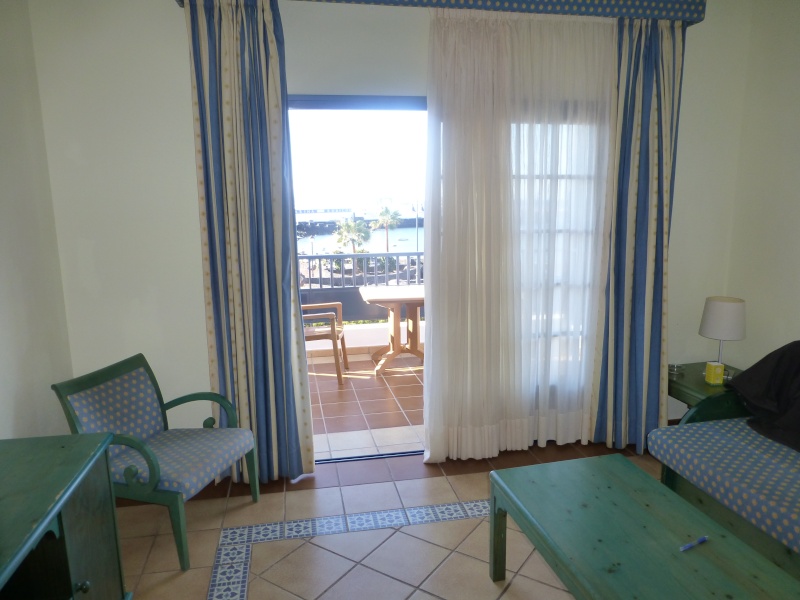 The plane took off on time
Now I was going to try the chicken sandwich at £3.90, it quite good but so would a Marks and Spencers one at that price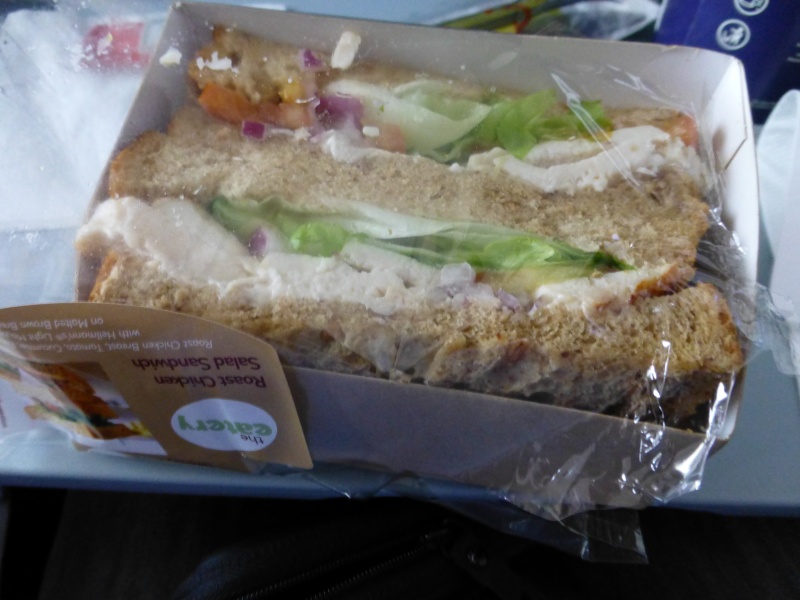 Mrs Db choice a Croque Monsieur (Cheese and ham toasted sandwich) at £3.90 and some chips at £2.50, less than 18 of them and I helped eat them.
Mrs Db said hers was very nice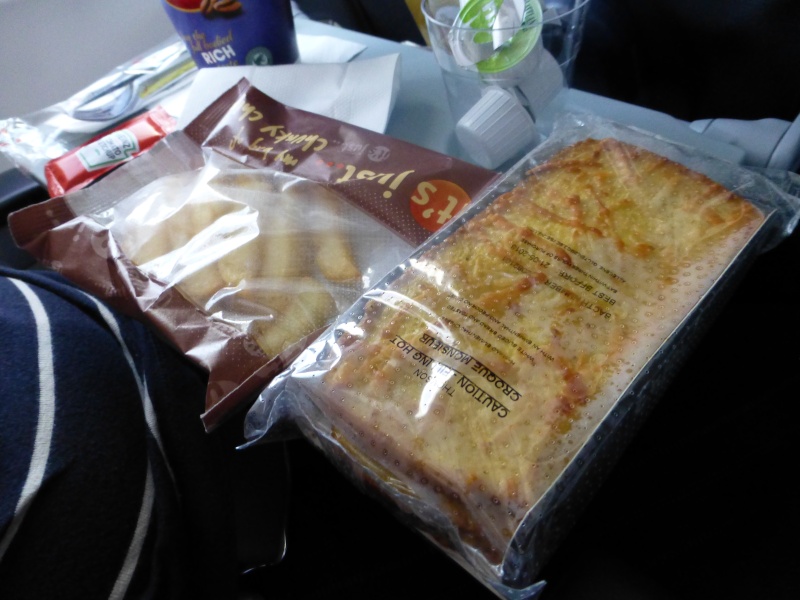 with coffee and tea, total bill £15.10, £3.10 more that the original preordered meals
it was then relax, as the sun set behind Mrs Db's elbow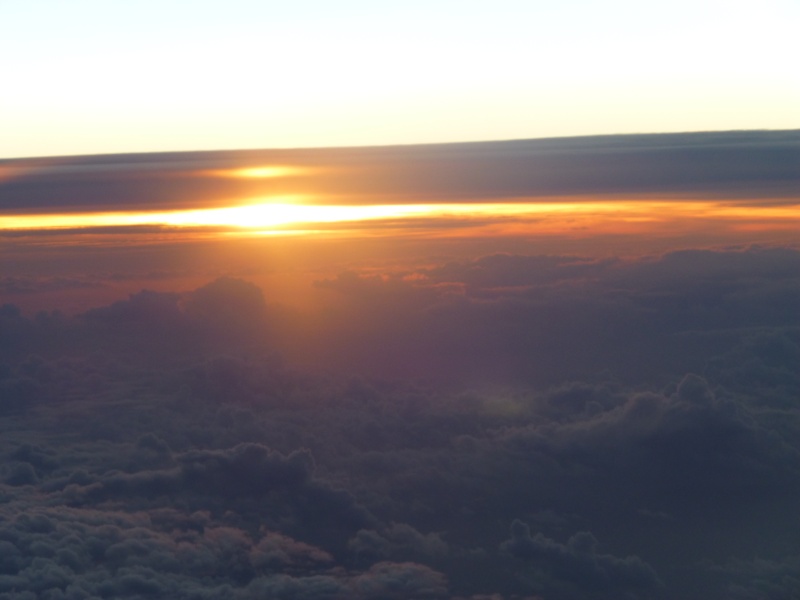 The plane landed on time
Hope you enjoyed our virtual holiday