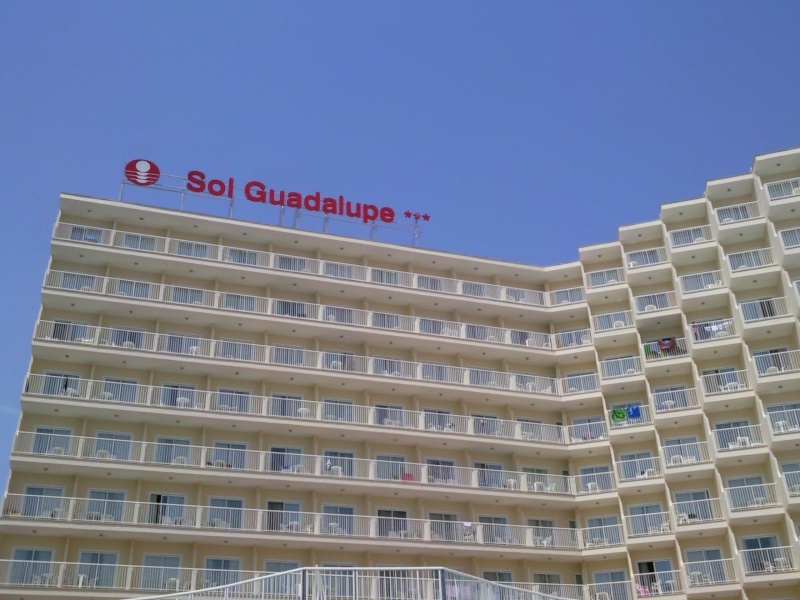 The Sol Gaudalupe is still my favourite hotel in Magalluf. I stayed there in 1986 as my first holiday abroad and it has just improved over the years with a new pool area, reception and restaurant. The staff are all very professional and polite.
POOL AREA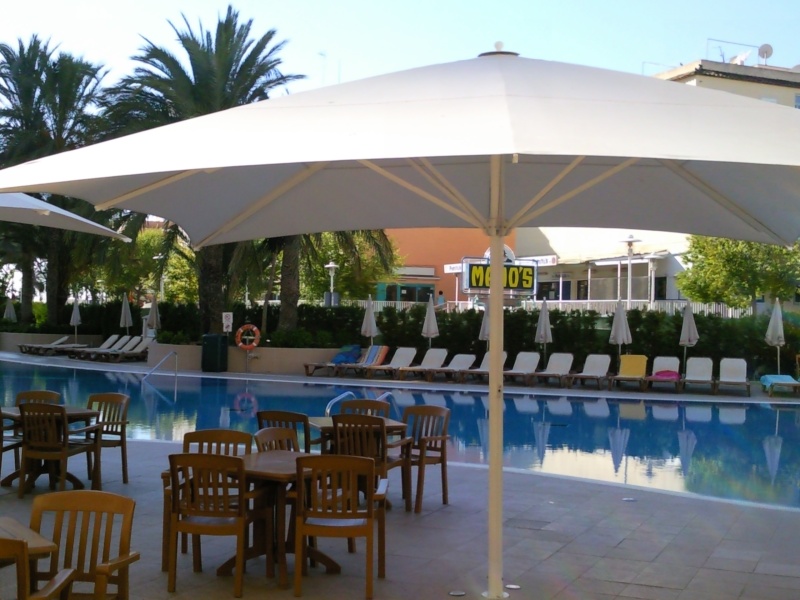 This year the hotel as well as the resort has been very quiet and as a result there was no need to get up at daftoclock in the morning for a sunbed, this picture is from August this year 2010 and was taken at about 9.30am just before we went for breakfast which was spot on. As you can see there is lots of beds available.
It looks really strange I have never known this happen before as its normally hectic .
The pool area at night is fantastic as it slowly changes colour I have this on video which I will post a link for you soon on youtube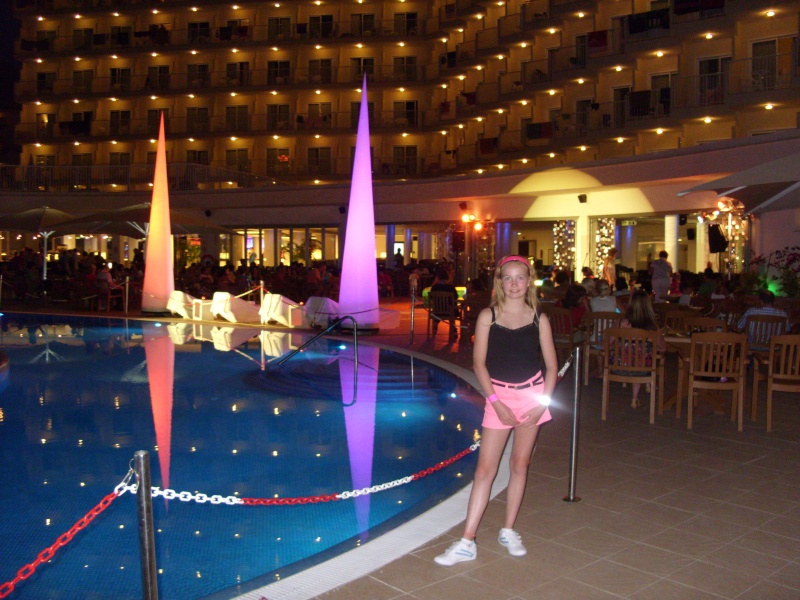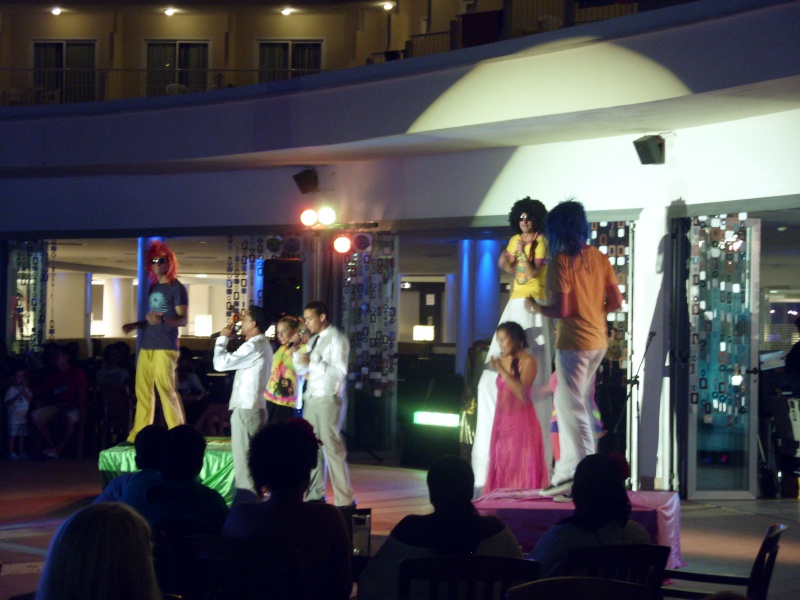 VIEW FROM OUR ROOM
Unfortunately we didnt get a pool view this year so were at the back of the hotel but it were not all bad as we good see the hills and had a sea view.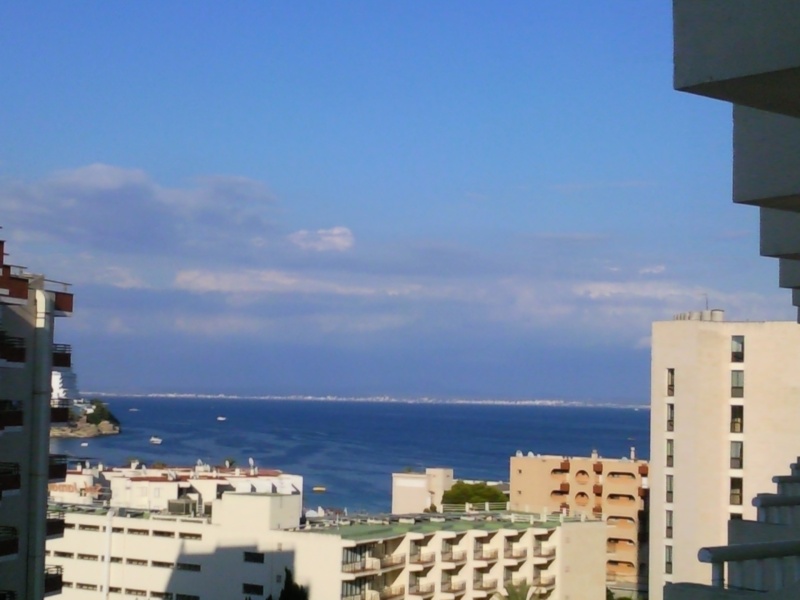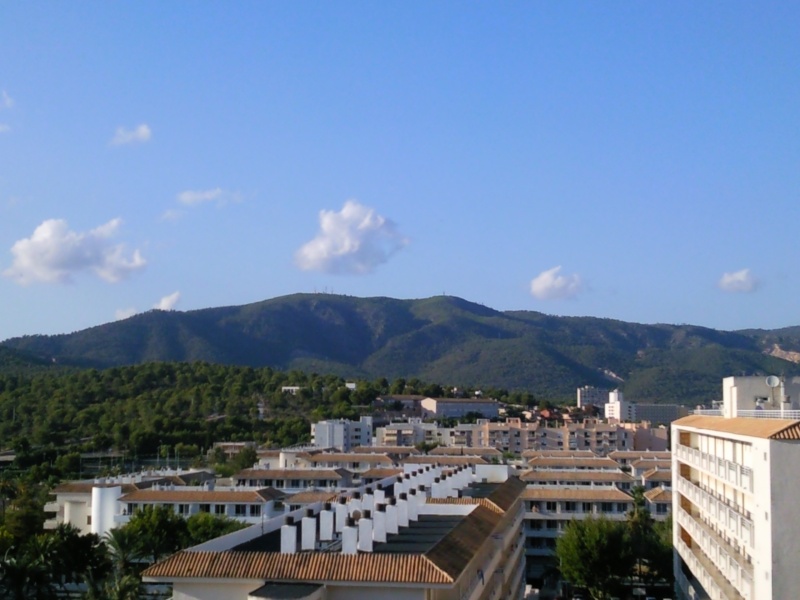 Here is my great friend Micks favourite apartments right opposite,hey we could shout at each other lol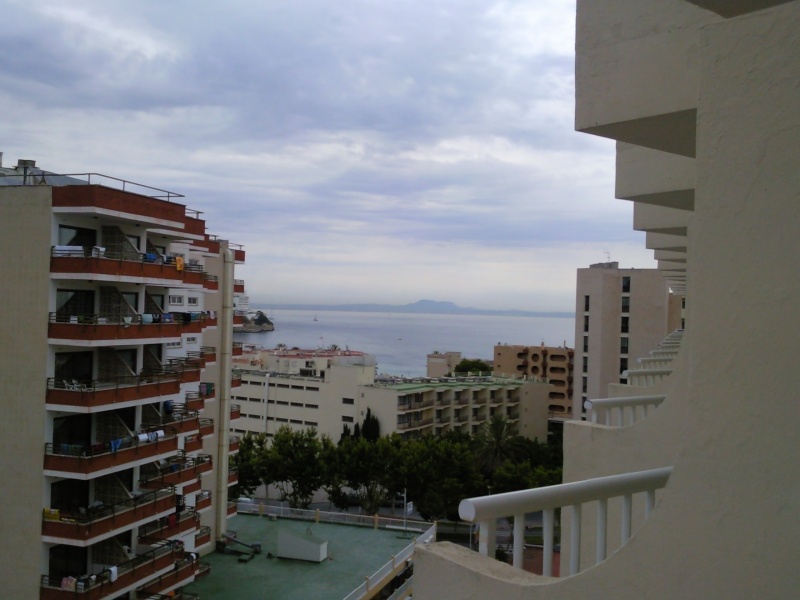 THE RECEPTION AREA
The reception area is just as impressive as the rest of the hotel. And having the added bonus of my wife and daughter standing there it makes it even more of an attractive area to be in.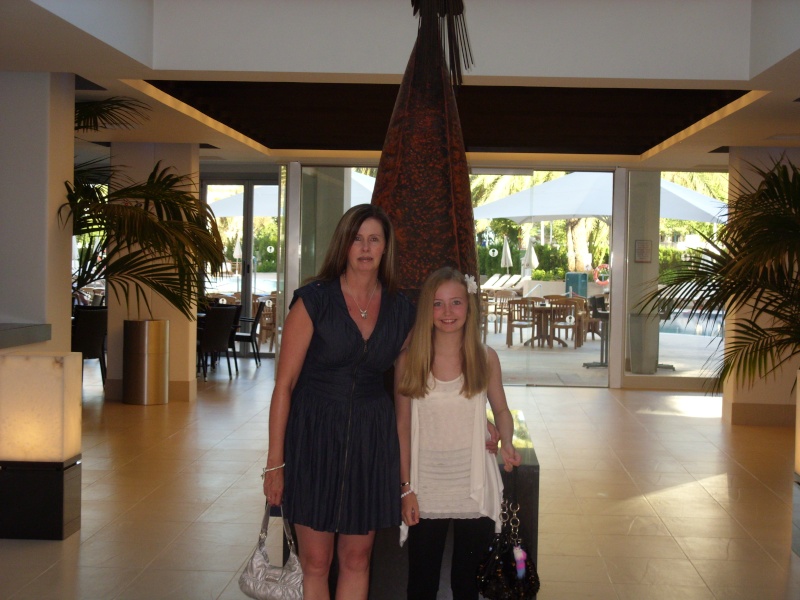 ROOMS
Now the rooms, although these are very tastefully decorated and modern and the the bathrooms are super clean with hairdryers fitted not that I need them lol I still feel like this is the bit of this hotel that lets it down, Im also sure that this is the reason this 3 star hotel has not made it to 4 star status as it beats any three and 4 star Ive been to in Spain. The rooms are tiny and when your a family of 3 and the get that 3rd bed in there its even more of a squeeze.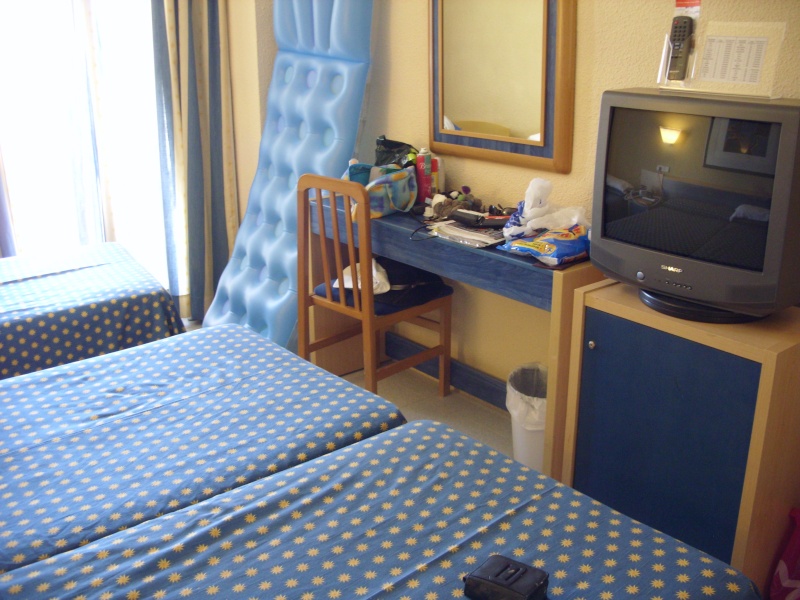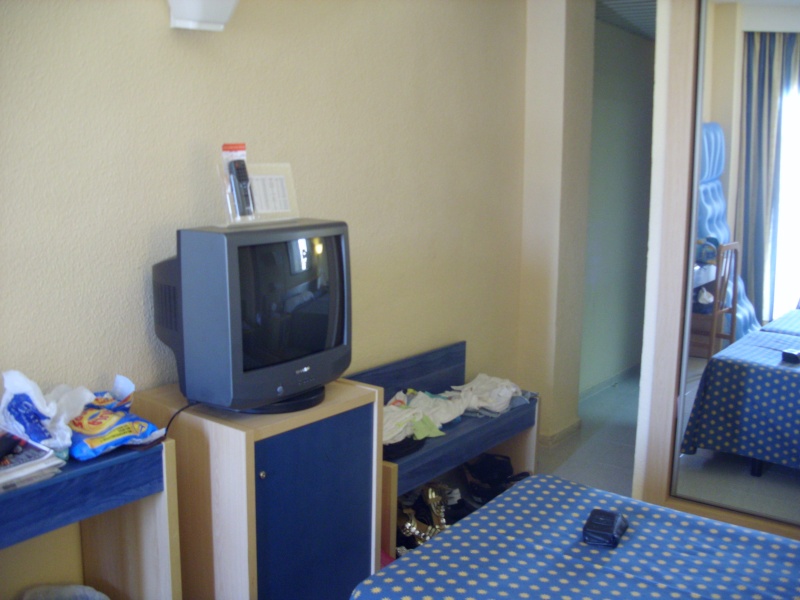 FOOD
Now in all the years Ive been going to this hotel the standard of the food has always been fantastic, honest Ive not had a bad meal there yet. They cater for everyone, you dont only get the full English breakfast with the chef standing there cooking them fresh eggs the way you like them, they cater for all nationalities ,there is cold meats, fruit, cakes and cereals. For Tea there was everything from a full English style meals to Italian pasta and pizzas, lots of fish dishes including the famous Spanish Paella there is always something for everyone and its always done to a very high standard, I wish I had taken a photo ,Ill fly out next week and get a few photo's if the wife will let me lol.
NIGHTLIFE IN THE HOTEL
The shows in the hotel were not really for me ,the entertainment team put there all into it and very good they were too, singing shows they done such as Grease and the horror show all the music was mimed but the dance routines were very good. They did have outside entertainers come in also the 70's show was good brilliant singers hitting them disco and motown hits ,(not mimed) really brilliant singers.
This hotel is ideal for anyone wanting comfy surrounding with brilliant meals at the more quite end of Magalluf situated on the flat so no hilly walks, its very close to the nightlife but not enough to disturb your sleep. One of my favourite old bars across the road is Manos and the lager was very nice and only €1.50 but there is 2 bars to this and only one was open again a first for me to see this at peak time. Woodys is next door and has really cheap internet much cheaper than the hotel again his lager was really nice at €1.50 and they have all the soaps on for you to catch up with as I know alot of folk love this.
WOULD I GO BACK
If I went to Magaluf then yes I would go back to this hotel I dont think you can go wrong, Magalluf is Magalluf and so every hotel sometimes gets rowdy kids but we never seen this due to there being cheaper accommodation around. There is an apartment block along side the Gaudalupe callled the Magamar Apartment that is a bit rowdy but you dont hear it from the hotel as there are no rooms facing it.
There is one thing that this hotel cannot control
The weather on our last day lol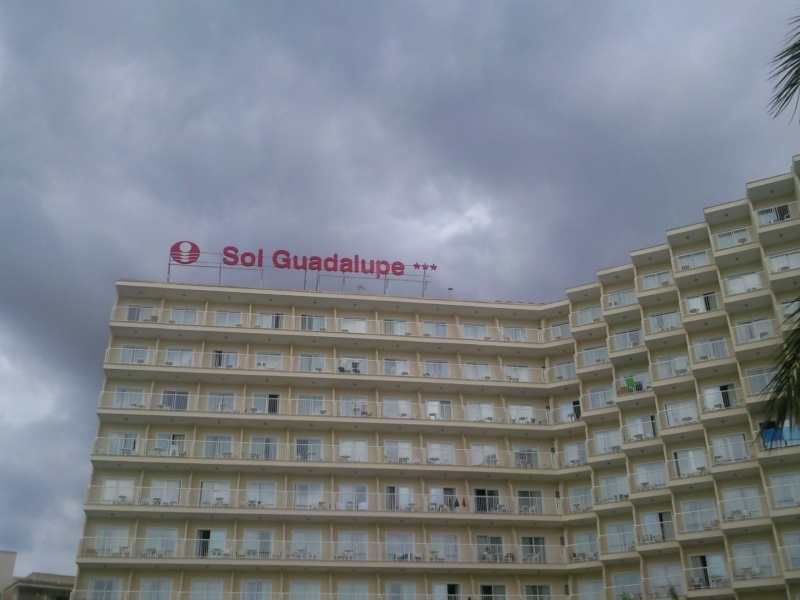 If I remember anything else I will add it later, I will also post a link to the small video I have of the hotel pool area, if anyone has any questions then Im always here to reply.