Sandown the Isle of Wight, to give you an idea of the place I have put 3 holiday breaks together to make a review.
The Isle of Wight is accessed from Southampton's Red Funnel ferry service to Cowes, or Wightlink also run from Portsmouth to Ryde and Lymington to Yarmouth also there is a hovercraft service to Ryde.
To go across with a car for a duration of a week or more will cost over £100, two or three days it will be cheaper. However, a lot of hotels have special rates with the ferry companies, which allow them to absorb the whole cost of the trip in the price of their rooms.
On a lovely day, there is nothing better to see the view over Sandown Bay
In the early 70's, this beach would have been packed with people sitting in deckchairs
However, since then, the packages abroad came along and now less people make the journey to IOW for their fortnights holiday and the day's of beach trays with tea and cakes from Brown's boating lake are all in the past, only the pitch and putt courses remain. One new addition is the new Dinosaur centre built more recently, showing some of the finds dug from the IOW cliffs
Now the beaches are almost deserted and the hotels in the town have suffered
A lot of the bigger hotels now rely on coach parties to fill the rooms and some of the hotel decor remain in the 60's
but a few like this hotel are making refurbishments
For us, we have seen all of the island and on a wet day its really what can we do to keep occupied
One place to visit is Ventnor Botantical Gardens
get the right months and hugh displays of flowers are on show, it is free to get in, one just has to pay for the car park

The Isle of Wight seem to have the right soil for growing hydrangeas


One year we took the MIL
a revisit a couple of years later and attendants are still puzzling what had happen to their pole

Carisbrooke Castle
steeped in history since the Romans times it was own by Richard de Redvers
It saw off the French in 1377 under Richard the II

Battlements were improved in readiness to see off the Spain Armada

and Charles II was held there before his execution
It later became the home of Princess Beatice daughter of Queen Victoria, who had Osbourne House built on the Isle of Wight
The is a couple of deep wells dug in the castles grounds, one is a childs delight as every 30 minutes one of a team of 6 donkeys is led into the well house to work a treadmill to raise a bucket of water
a demonstration is given of dropping a stone in to hear it plung into the water about 10 seconds later
all the donkeys are well cared for and only used twice a day and then put out in the fields

There is also another well near the ramparts, one can climb the ramparts I tried but got a soaking as it was a day of heavy rain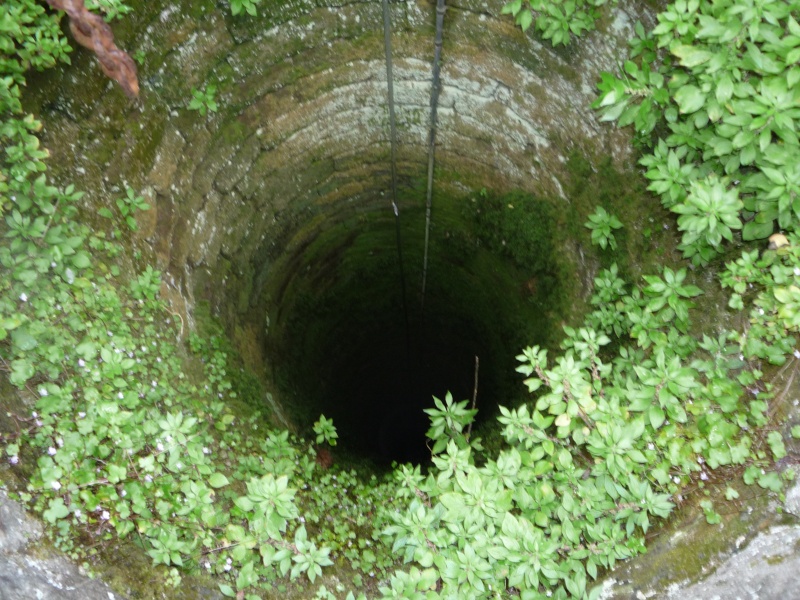 There is also a Princess Beatrice garden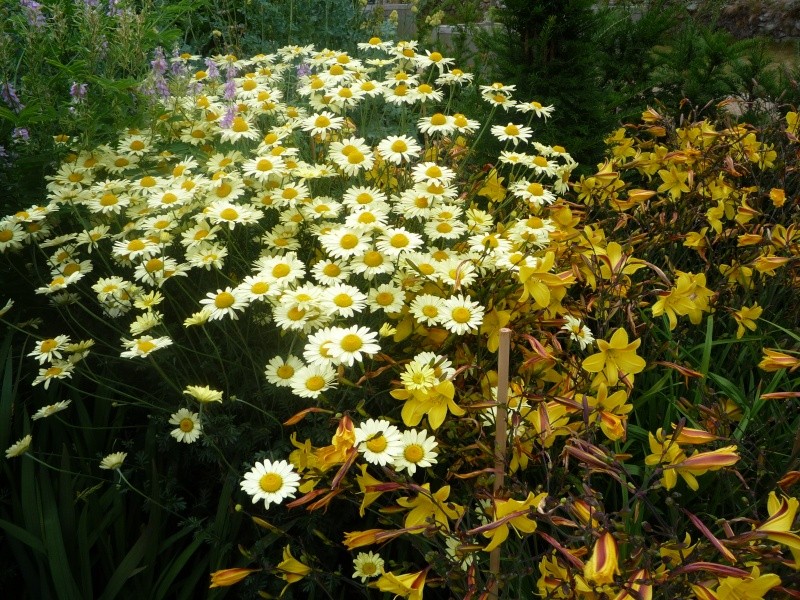 some pics of some of the flowers

but nothing sensational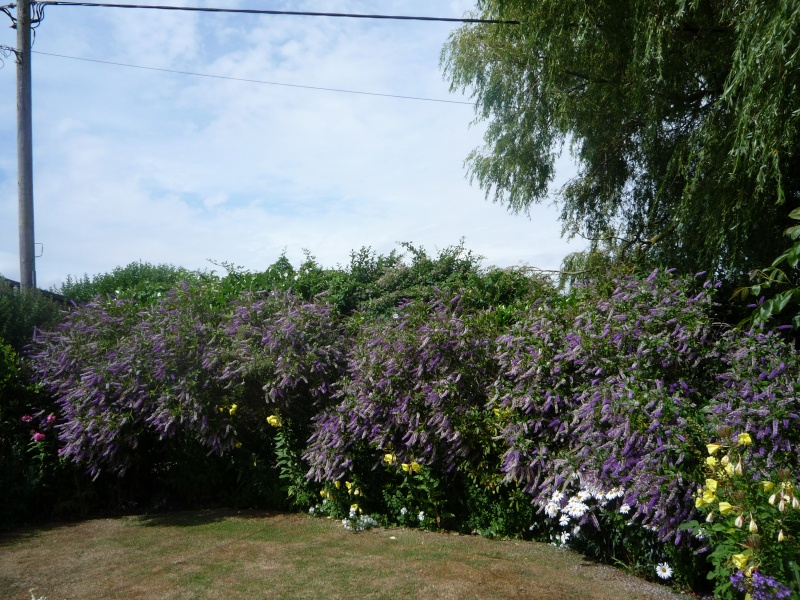 A return visit to Godshill
located in the centre of the Isle of wight, Godshill is a quaint village which is mainly behind its church
However, at the front of the church there used to be a few tea rooms and it also had a model village
But it has grown into a place with bric-a-brac shops, multi tea rooms selling cream teas and coach parties arriving by the hundred. This is the picture probably most photgraphed of Godshill

Butterfly world seems to have grown up from what was originally a garden nursery. They have a large greenhouse in which you have to pay about £6 each to get in
a brown one

The first year we were quite impressed, a green one  

There was also tropical birds fluttering about
with a few tropical flowers mixed in
Outside the butterfly house, there were large displays of flowers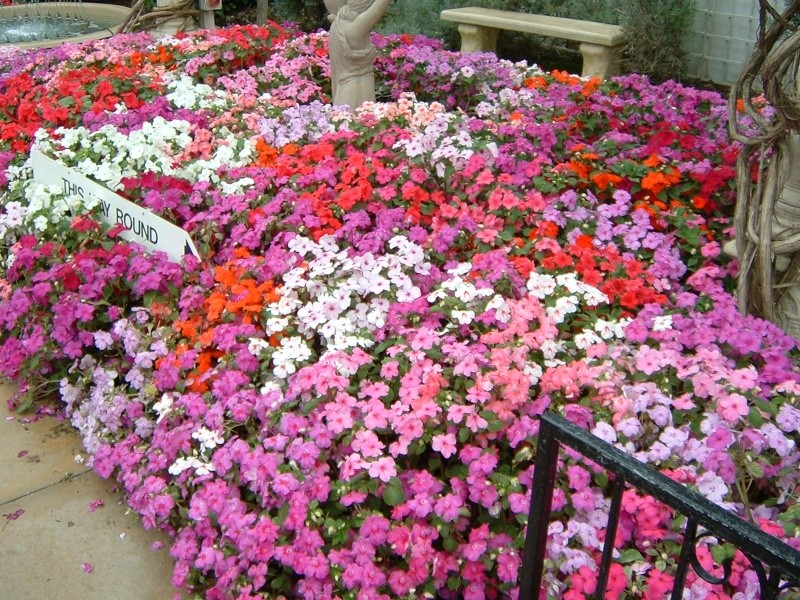 another section was a made up  Japanese garden
With a pond with hugh koi Carp, some were 40/ 50 lbs in weight

If you were lucky one could see them being feed at certain times of the day
another section had water jumping to music

of course they had a shop and a big Nursery to buy most things

I did buy a plant to take back but after putting it in the garden it died
Donkey Sanctuary
another day of rain had us visiting a donkey sanctuary which was free but one could give donations and they had a book shop

the donkeys were huddled together, and I didnt blame them
Alum Bay
Many years ago we went to alum bay which has cliffs of coloured sands, in those days you could buy you own tube and fill it with different colours. A return visit was a miserable day and going down to the bottom of the cliffs was impossible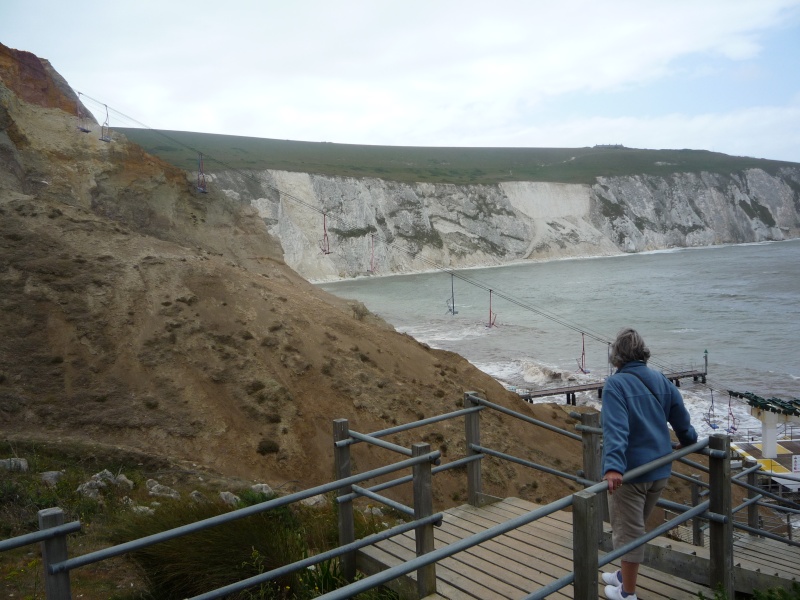 most things were closed including the chairlift. Teas were expensive and a couple of hugh emporiums selling bric-a-brac tat had been built. We weren't impressed and the car park, I think was a fiver
Walk to Shanklin
Sandown always had a lovely walk across the cliffs to the next resort called Shanklin. The walk started from a small lane off the main road

In the early days Sandown had a piece of land near the pier which was a little rundown and had a couple of amusement arcades based there. Now there are blocks of residential flats

The walk has also partly disappeared with the cliffs constantly eroding

eventually the walk will disappear forever

further along there is a small putting green, there was a large number of hotels but one by one they have been knocked down and houses have been build. All down to the falling demand of holidays on the island

Large houses with hugh gardens with emaculate lawns which everyone peered over to look at are creeping nearer the cliff edge

This area used to be a German beer keller with coloured lights and thigh slapping music
two the thirds of the way down there is a small cafe

but the cliff tops  beyond had completely fallen away and we had to go back on to the main road to get to Shanklin
Then there is a choice routes at this point,  to either go down to the promenade or carry on up the cliffs, we opted for the latter
quite an enjoyable walk, in the distance is the lift down the cliff, the only way down without a long walk to the beach

above here are various hotels
There is some places with a connection of the poet Keats along here as he spent some time in Shanklin
Again some of these hotels that used to have people having their annual two weeks there are now relying on the coach parties of pensioners

finally we stopped at the Shanklin Chime pub and listened to a Rolling Stones type group, whilst enjoying a well earned beer


Then it was a stop at the famous Crab Inn in the Shanklin High st, but we felt it was a bit rundown inside
and finally making our way back to Sandown, a very good evening

Walk to Monument
Another walk is on the Culver downs and Cliffs

a well worn path leading to the top of the cliffs

the monument you can see in the distance
some of the cliff edge is well eroded
and it's a long way down

at the top there are a couple of pubs, so we ordered lunch and beers at one

It was ploughman's all round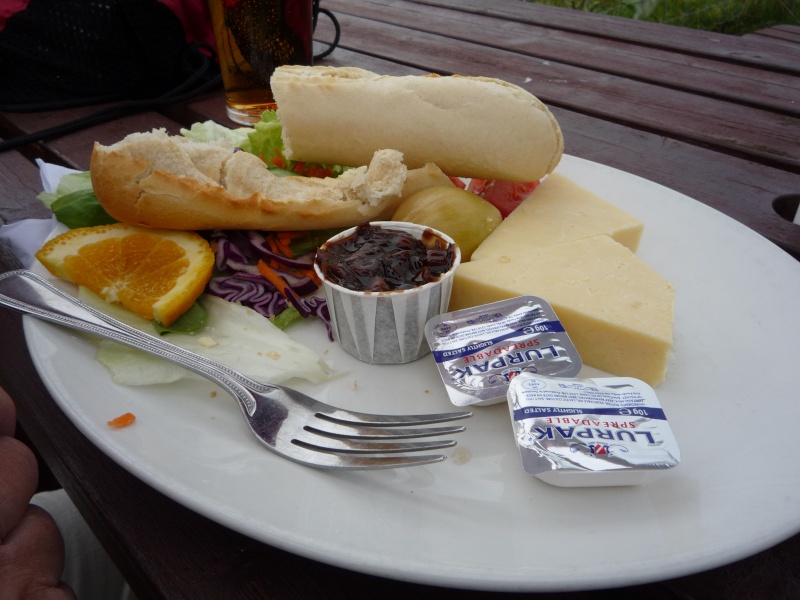 finally we reached the monument erected as a memorial to Charles Anderson Pelham 2nd Baron of Yarborough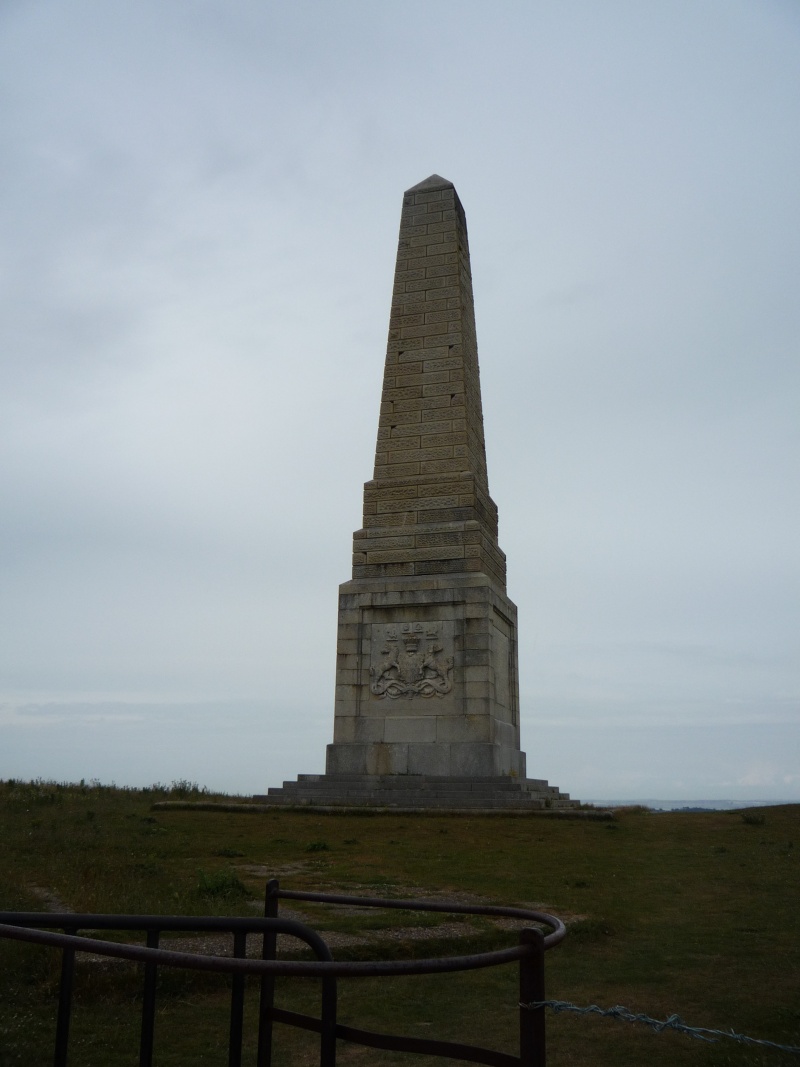 I have a lot more on the IOW which I might add later