Krabi Thailand
Well after our hectic 3 days in Bangkok we needed some rest and relaxation so it was off to Krabi for 10 days. Our flight was at 13:00 and we left the hotel at 11:15 it was only a 30min drive to the airport and once again with scheduled flights there were no queues for check in. We departed on time for our 1 hour flight to Krabi which is on the East coast of the Thailand/Malaysia peninsula. Krabi Airport is very compact and our flight was the only one arriving so baggage was off very quickly and our hotel minibus was there collect us and take us down to the resort of Ao Nang
On the day we arrived it was a bit overcast and we were disappointed as it had also been a but hazy in Bangkok but by the time we arrived at our hotel the sun was shining and we never really saw a cloud again.
We had agonized endlessly over the choice of our hotel and had taken a bit of a chance on a hotel the Phu Petra Resort Hotel that had only just opened and had no real feedback as such. Even the web site pictures were mock up and not real pictures.
Booking.com had the hotel at very good rates but I contacted the hotel direct and they gave us an exceptional rate as we were staying for 10 nights. It was also good to have direct contact with the hotel general manager prior to arriving as he had promised to make our stay a very special one.
Once again the check in was very relaxed, we were seated down and given a cold fruit cocktail and some flannels to freshen ourselves up. The hotel is actually quite compact and the rooms are all villa type scattered around the grounds of the hotel. There are plans to build a separate apartment style block but that has been put on hold until the economy picks up.
Our villa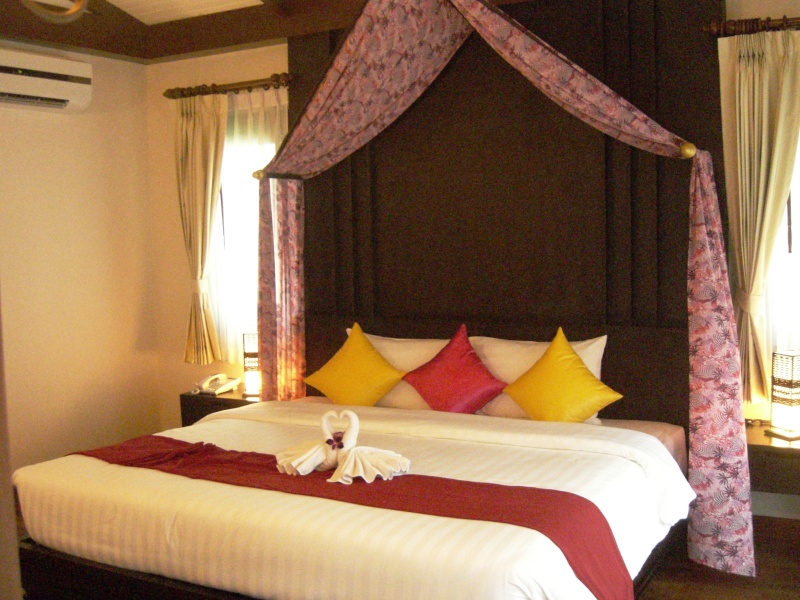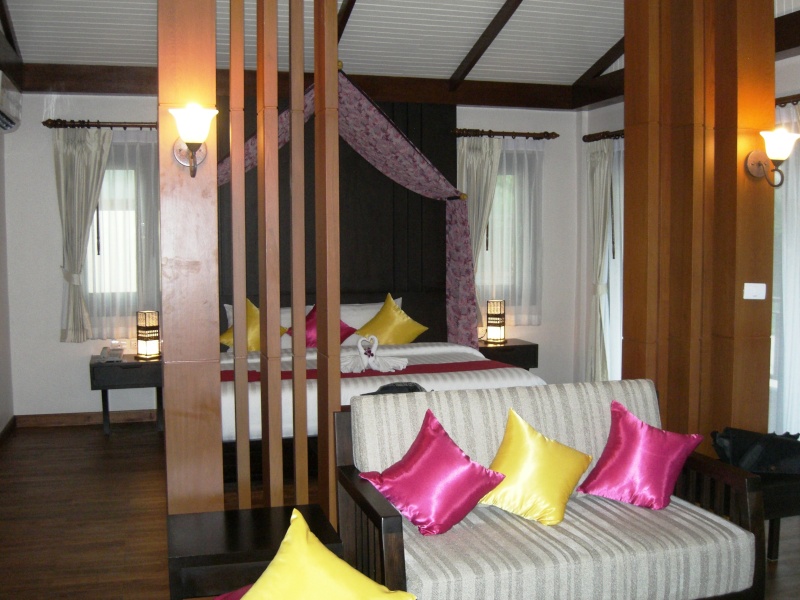 Our room/villa was very spacious and comfortable with a large living area.
The room also had a large fridge and bottled water was supplied daily. The hotel was very quiet and that was one of the reasons we chose it. It was about a 15-20 minute walk to the beach and the centre of Ao Nang. Once again we were on B&B basis and the breakfasts were OK. Quality of everything was fine just a bit limited on choice. The evening meals were absolutely delicious though. We had been given a couple of 50% of a meal for 2 vouchers so used them at the hotel but the price in the hotel was very reasonable given the quality of the food.
There were a couple of set menus each day as well as the a la carte.
We ate in the hotel on alternate nights heading into town on the other nights.
The hotel provided a taxi service into town and a collection from town every hour or so but as I said you could walk it in 15-20 minutes or get a Tuk Tuk for about 50p- £1 depending on your haggling skills.
All the staff at the hotel were extremely helpful and very polite (as are all Thai staff)
There was no form of entertainment in the hotel (thank god) and it was very laid back and peaceful. The pool was never crowded and there were always enough sunbeds.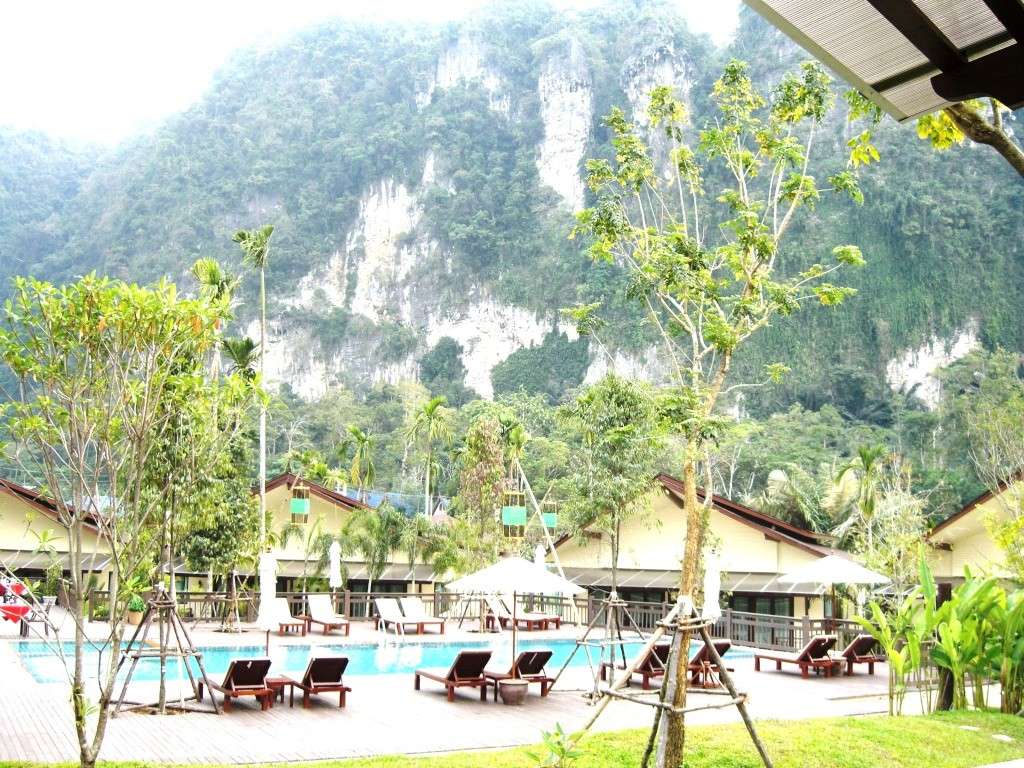 Ao Nang itself is a small resort which caters for all types of tourists, it is very family friendly and has very little of the seedy side you get in the likes of Phuket and Pataya. The centre is very busy with loads of bars and restaurants and in my opinion a bit too touristy and tacky. Once you head along the beach things get a bit quieter and nicer. There is a huge choice of restaurants offering all types of cuisine but almost all sell Thai food as well as their chosen other cuisine
There are loads of food stalls on the street as well as more organized cooperative type food centres, we ate at those a couple of times and again the food was sublime as well as dirt cheap. Our least favourite meal was at a more upmarket restaurant which was relatively expensive but the food and the service was average.
The quiet end of Ao Nang beach
Stopped off for a rest
Some of the mobile food stalls on the roadside Ithink lunch cost about 80P each plus £1.50 for 2 beers
I don't think they woud pass UK higene standards
The local petrol station
A sobering reminder of the tradgedy that struck on Boxing Day 2005
Once again we didn't do too much in the way of trips tending to take each day as it came and if we felt like doing something we would head out and see where we ended up. There are loads of boat trips to do if that is your thing with many islands to visit the most popular being James Bond Island as it is called which famously was in one of the James Bond films. We met a local bar owner who advised us on trips and in his opinion most were a rip off. Especially the ones to so called secluded island beaches where loads of trips would arrive at the same places at the same time. WE did a couple of boat trips. One to Railay Beach which is a small resort only accessible by boat.
The boats are all old wooden so called long tail boat which seat about 8-12 people and are driven by old diesel engines from vans and the like. The accelerator is a piece of string attached to the engine. There always seemed to be a couple of inches of water swilling around in the bottom of the boats as well. The boats come as far into the beach as possible but you still have to wade through a couple of feet of water to get on and off the boat. So shorts are essential.
Long tailed boats which are the main form of sea transport.
More Heath Robinson than Yamaha
Railay was quite nice as well, there are a few large expensive hotels mixed with an assortment of self catering properties as well as restaurants and bars. There are no roads there only pathways around the small resort. As always there are a few food stalls and shacks to stop off at and have a beer. It was worth a visit but I wouldn't personally want to stay there.
Some pics from a boat trip to Railay Bay
Stopped off here for lunch and a beer and onc again the food was amazing and so cheap.
We stopped at this bar for a few drinks it was full of old hippies, dropouts and backpackers. No chairs to sit on just rugs on the raised floor.
To sum up Thailand as a holiday destination, it is best to go from November to April when it is drier slightly cooler and less humid. It is cheapest to go during the summer but is the rainy season. It is more expensive to fly there than Europe but once you are there it is very cheap. The standard of accommodation is very high even the budget places would put many European hotels to shame. The food is to die for and if you are prepared to eat in the local shacks is unbelievably cheap. For the record myself and Mrs H had no stomach troubles whatsoever during our time there or indeed last time we visited the far east and ate at similar places.