Stoupa revisited in May 2010
Mrs Delboy and I went to Stoupa 15 years ago on a cheap last minute deal. It was our first Greek holiday and we stayed at the Lefkatron Hotel on a bed and breakfast basis.
During that stay we had a trip to Olympia and were shown where the flame for the Olympic Games is lit every four years. I will write a separate review on that trip.
We don't usually go back to the same place twice but we were very impressed by the friendly people and the laid back way of life in Greece and it converted us to see other Greek places.  For certain reasons we wanted to make sure we had a good holiday in May this year so we opted to return to Stoupa.
The volcanic eruption which then threaten closure of the airports on the morning of our flight left us unsure whether we would actually get away, but we did (airports closed 6 hours later)
Stoupa is an 1 ½ hours coach ride from Kalamata Airport and the road travels around many scenic mountains, the crow would probably take 15 minutes. We booked with Sunvil who were advertising a group of apartments in Stoupa for the first time in their brochure.  The tour company provided us with a taxi and the journey took less than an hour.
Now Greek people usually have basic accommodation but our apartment had been freshly painted and tiled and the furniture all matched and the fridge was new. The bed was IMO too firm. We had a west facing balcony but it was too hot to sit out in the early evening, even in May.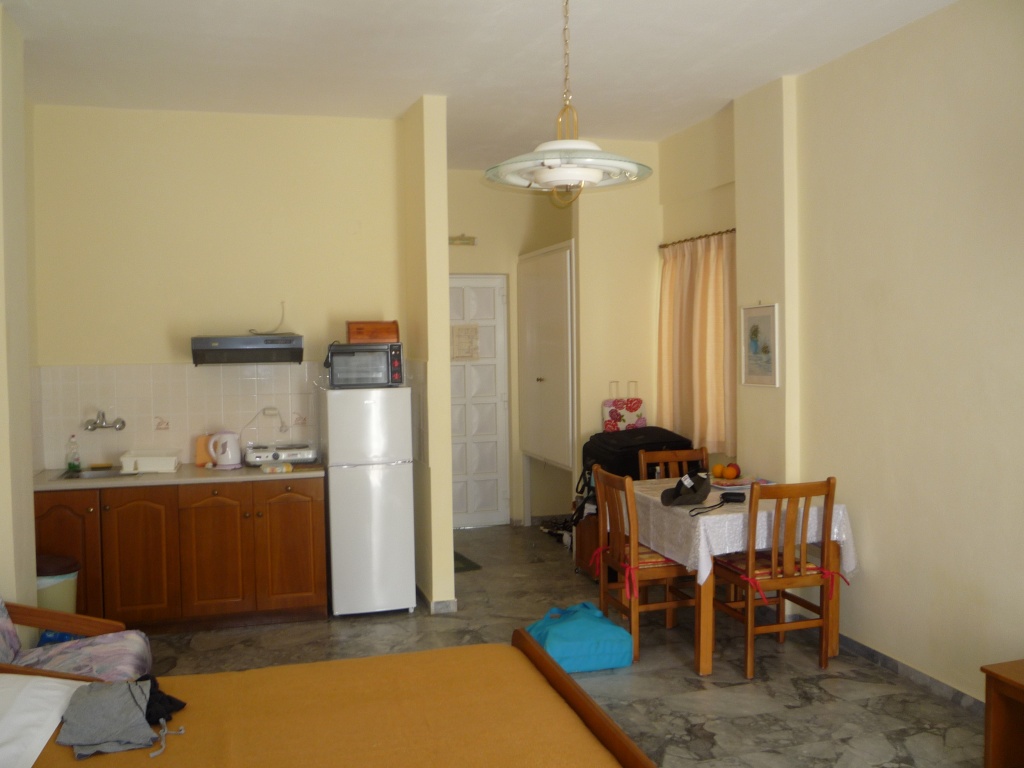 Walking around the resort, I am pleased to say, it had hardly changed in fifteen years. IMO, Stoupa is a time capsule amongst the Greek mountains, where prices of food and drink have remained reasonable. Fillet steak and chips with coleslaw was 10 euro's and lamb chops 7 euro's at our favourite restaurant Perasma.
Perasma Restaurant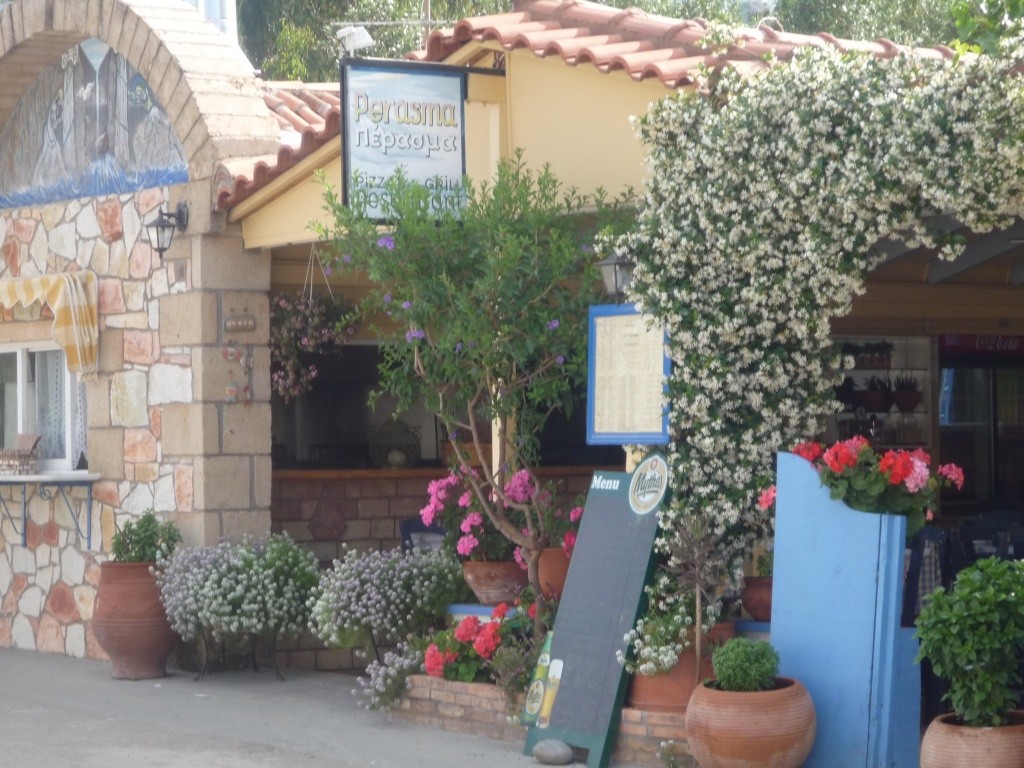 Most restaurants only differed by the odd euro in their food prices. House wine was local and came in ½ litres for 3 euro's and all the restaurants that we tried the wine in was very drinkable. Beer was around 2 ½ euro's.
Locally grown olives, drizzled on toast came as starters for free; in our favourite restaurant whilst others gave bread. When ordering the bill, customers were treated to a free liqueur or coffee. Generally, a table charge of around 2 euro's was added on the total bill.
Just a couple of random menu's I photograped
The Panorama  restaurant IMO had the best view of the mountains and Kalogria beach whilst we were eating.
Panorama Restaurant View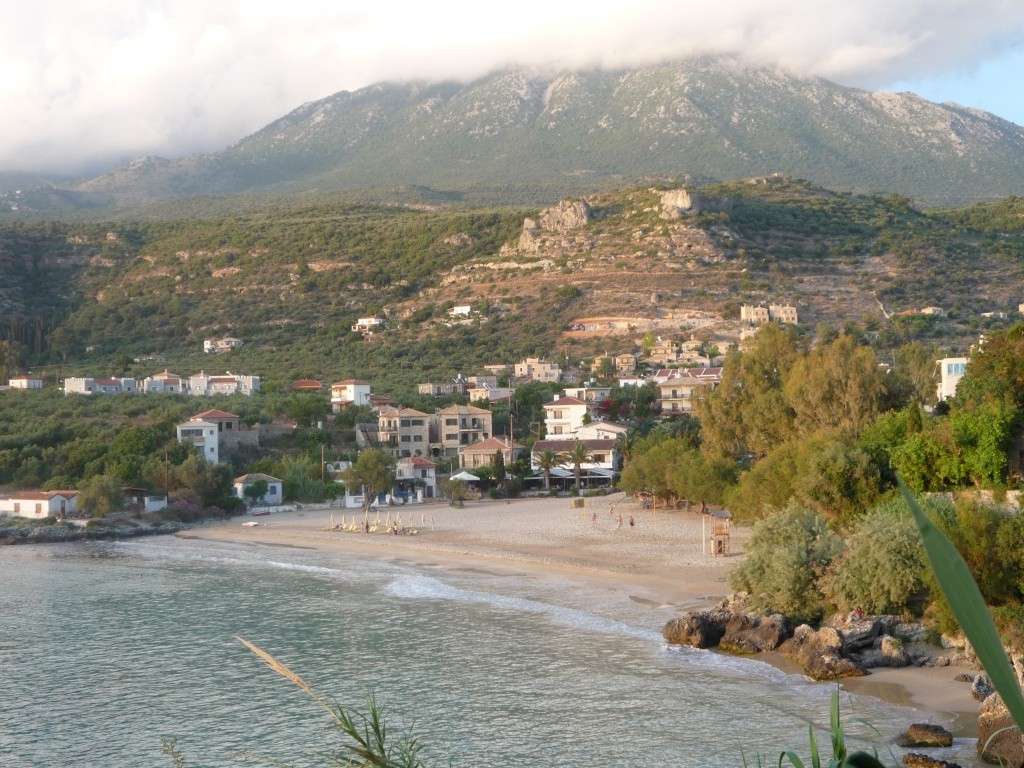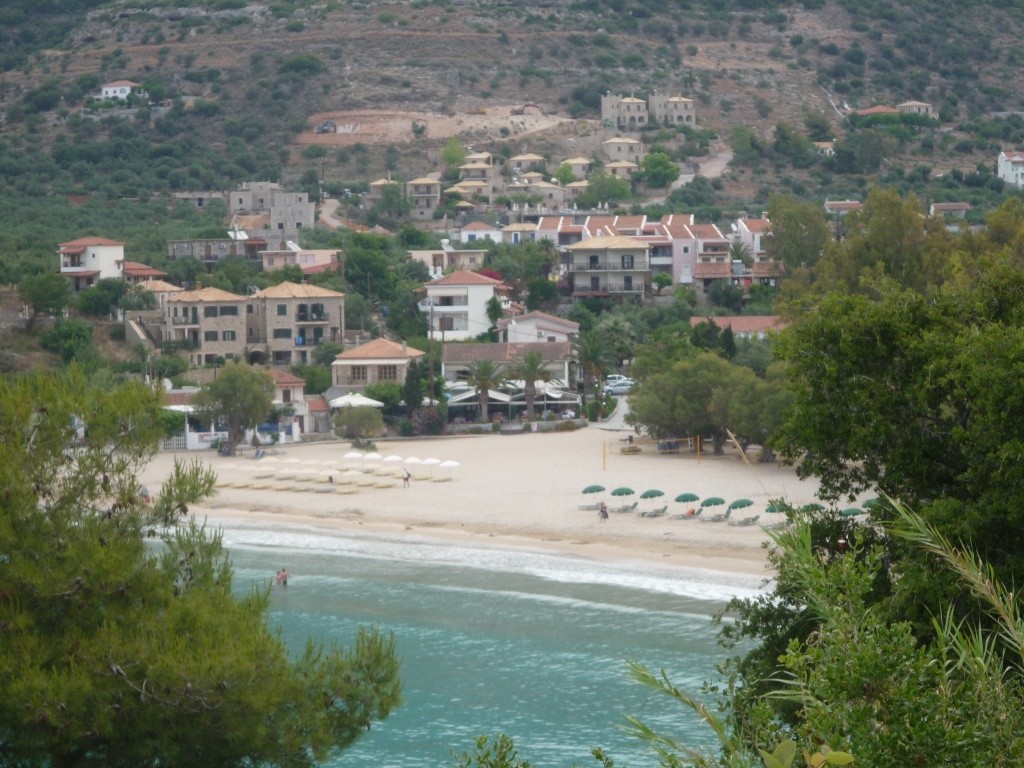 Whilst at the end of the town, a restaurant elevated from the promenade gave stunning views of the sunsets.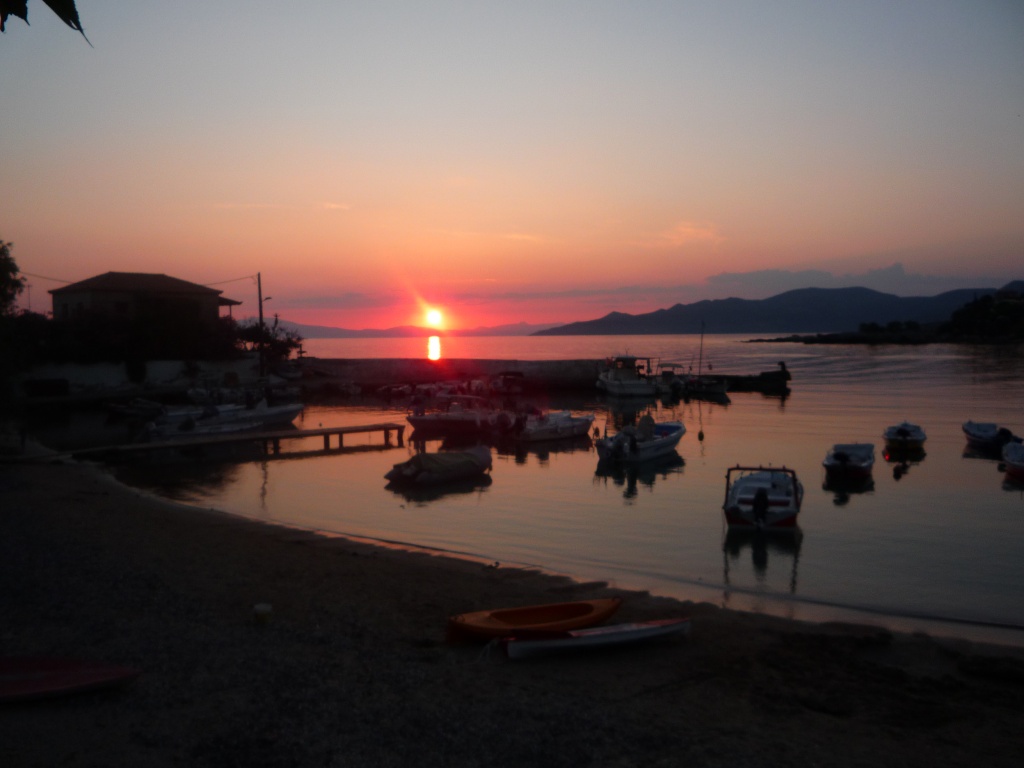 Stoupa has two beaches the first is the town beach and it has a promenade with restaurants and a few shops and a supermarket. The town's beach, at this moment of writing, has a small area fenced off, as turtles have laid eggs.
Town Beach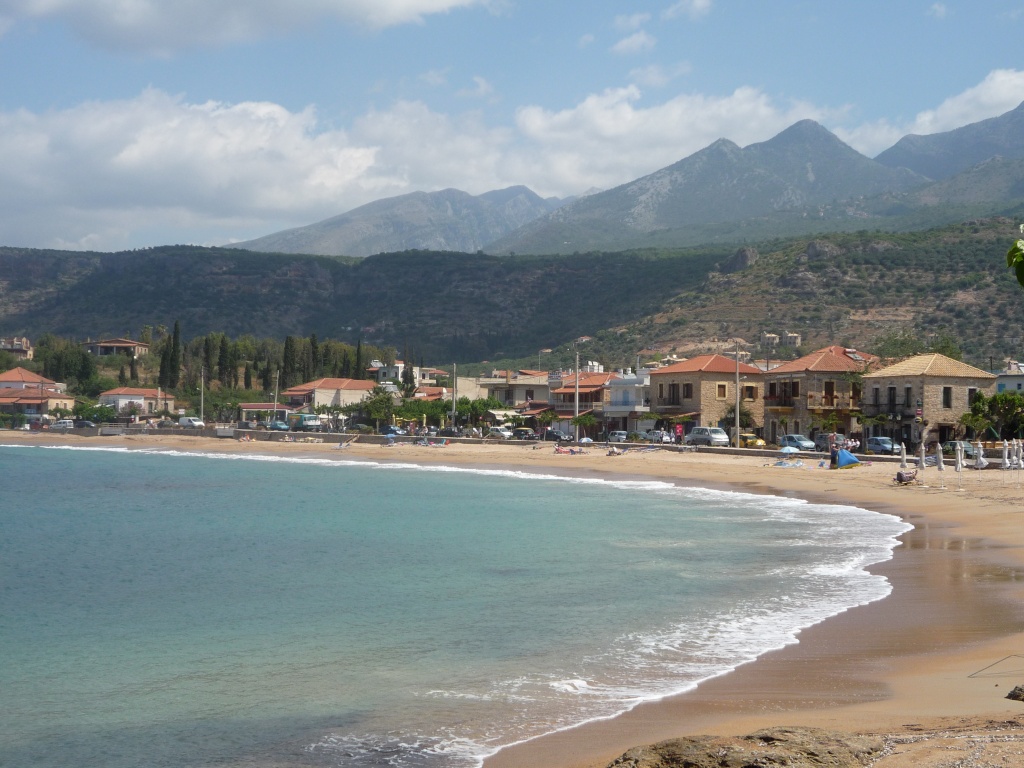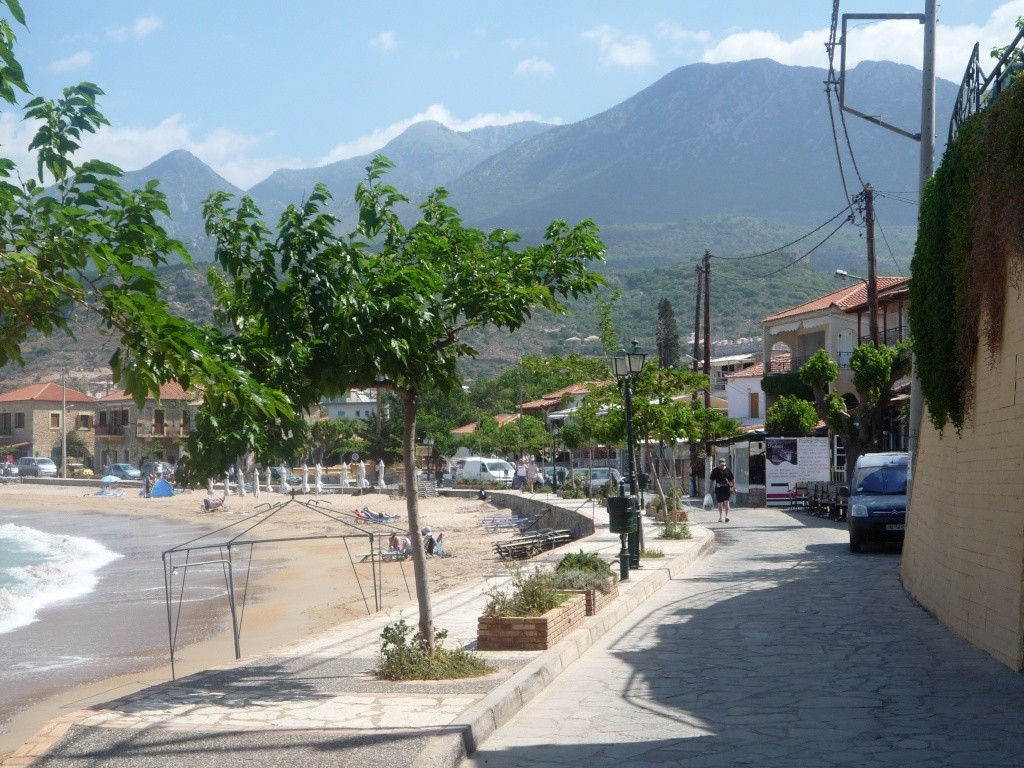 View of the town from the peninsular
The second beach Kalogria beach is much bigger and has several restaurants amongst the trees.  One restaurant run by Dimitri's called Prijipas had specials on each day, including a large beer for 2 euro's and was very popular with the regular brits, who holiday there each year. Two chairs and a parasol was 7 euro's on both beaches. There is a mountain spring which runs into the sea at this beach and the water is much colder than in the town
Kalogria Beach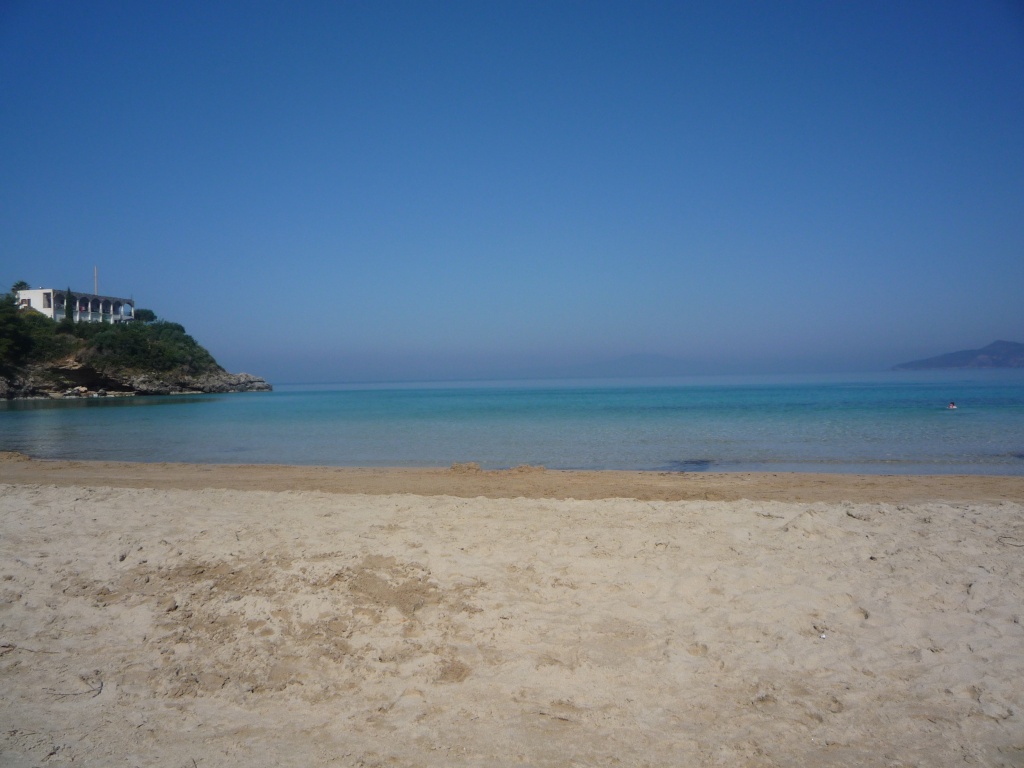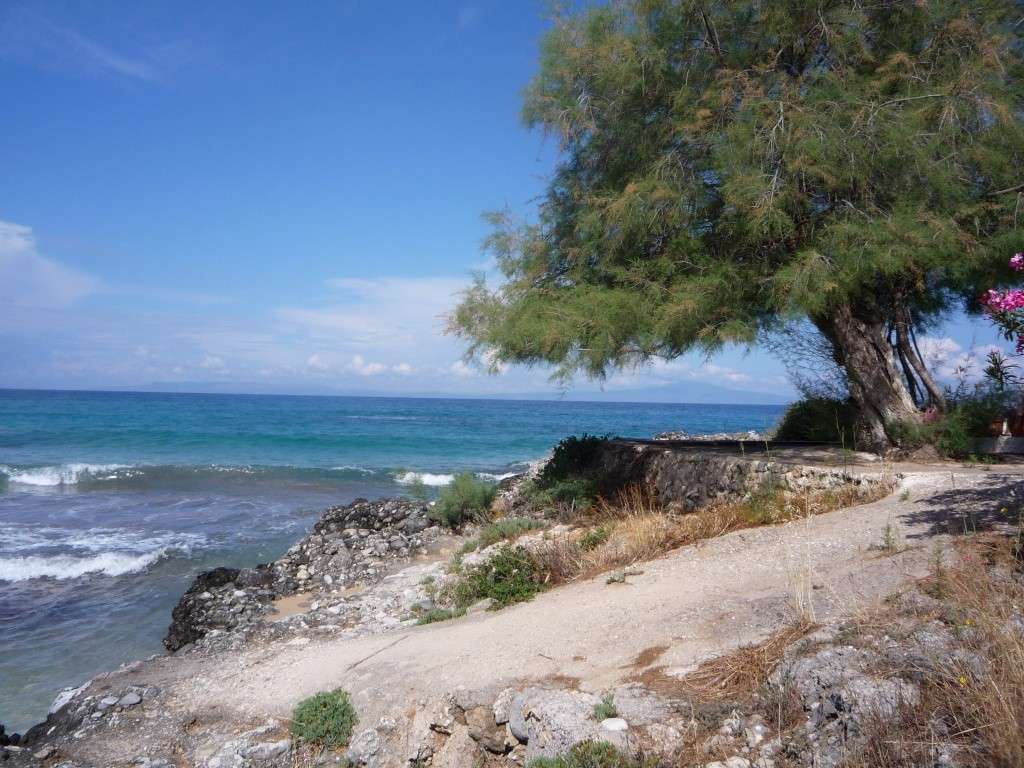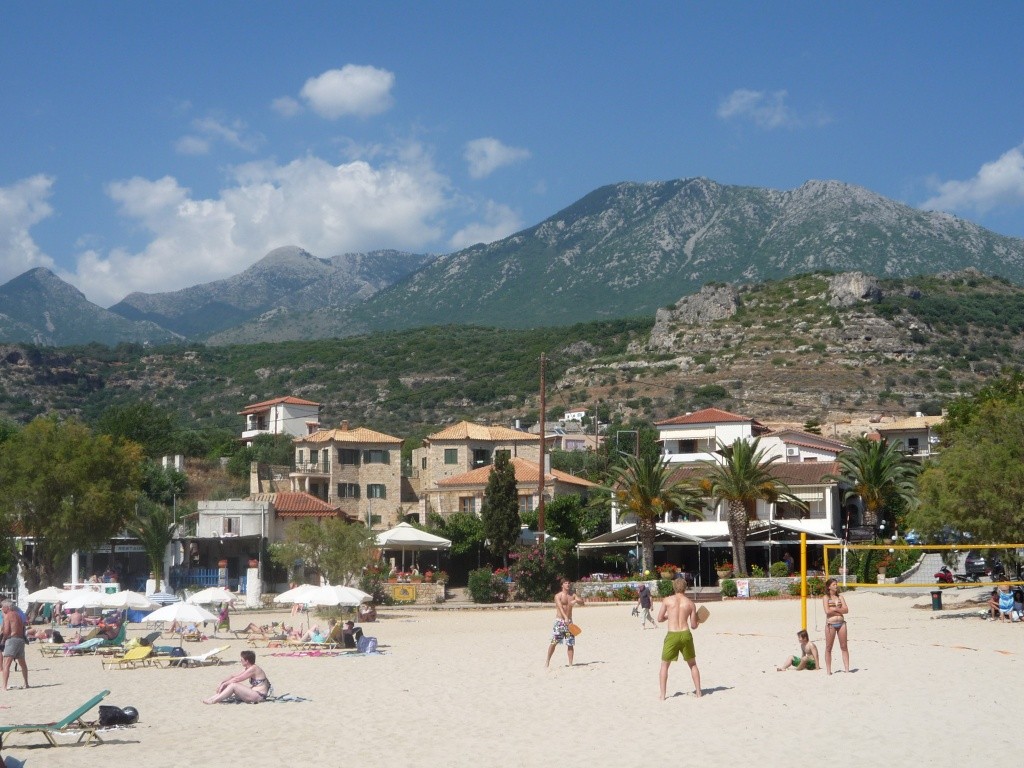 Until the end of June, a join in walk starts from the Lefkatron Hotel each Tuesday and all are welcome. On a cool day, there is also a coastal walk to the next town called Aghios Nikolaos which takes an hour each way and on arrival it has a lovely harbour and restaurants to relax in and have a beer.
The Walk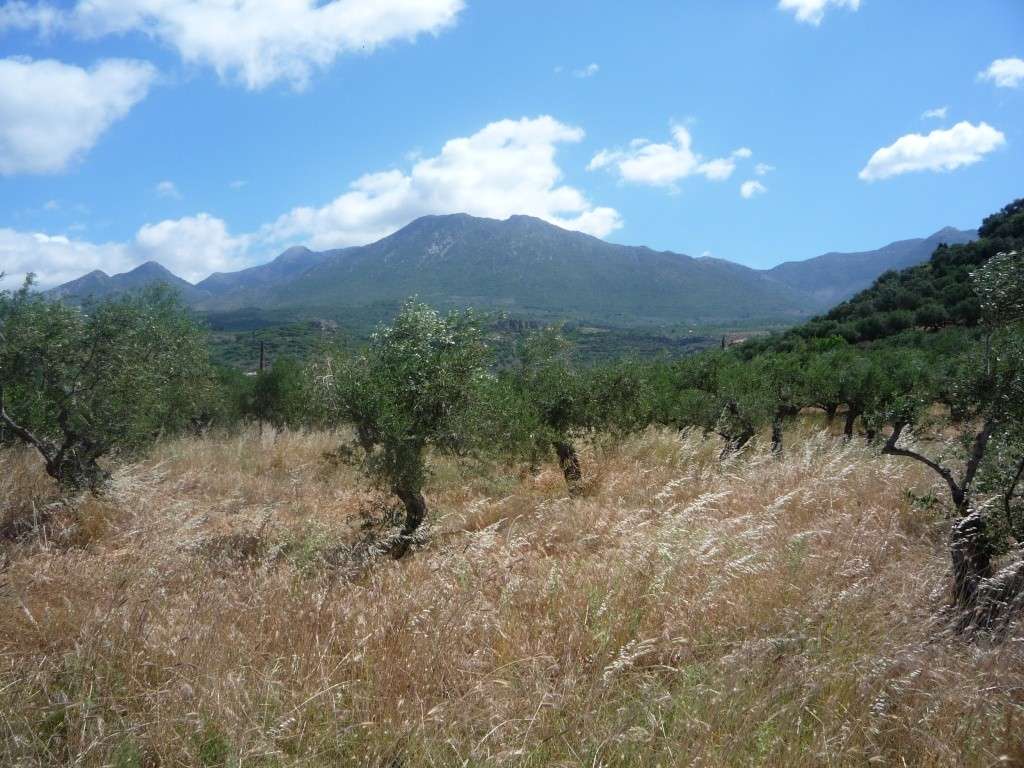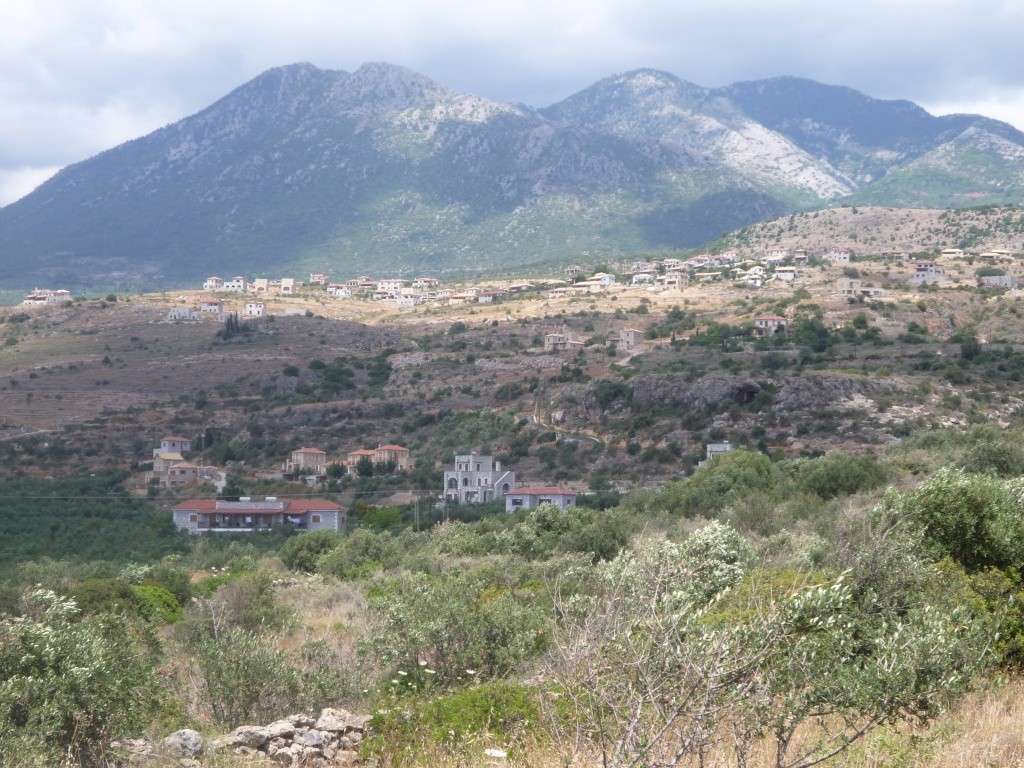 flowers on the way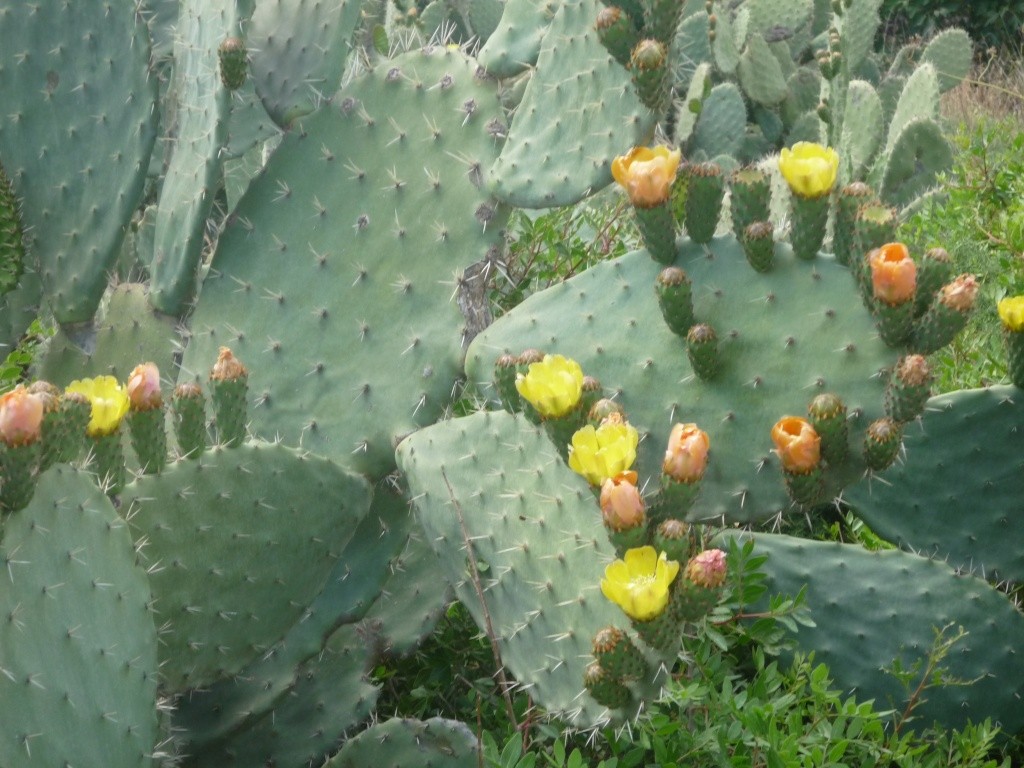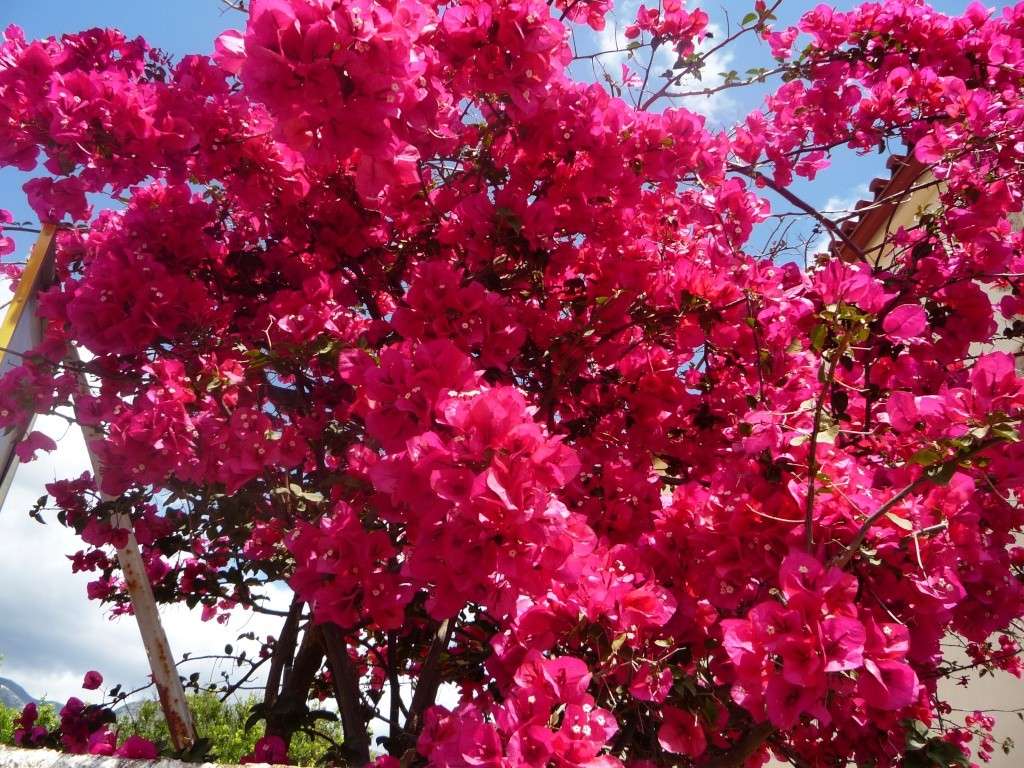 Aghios Nikolaos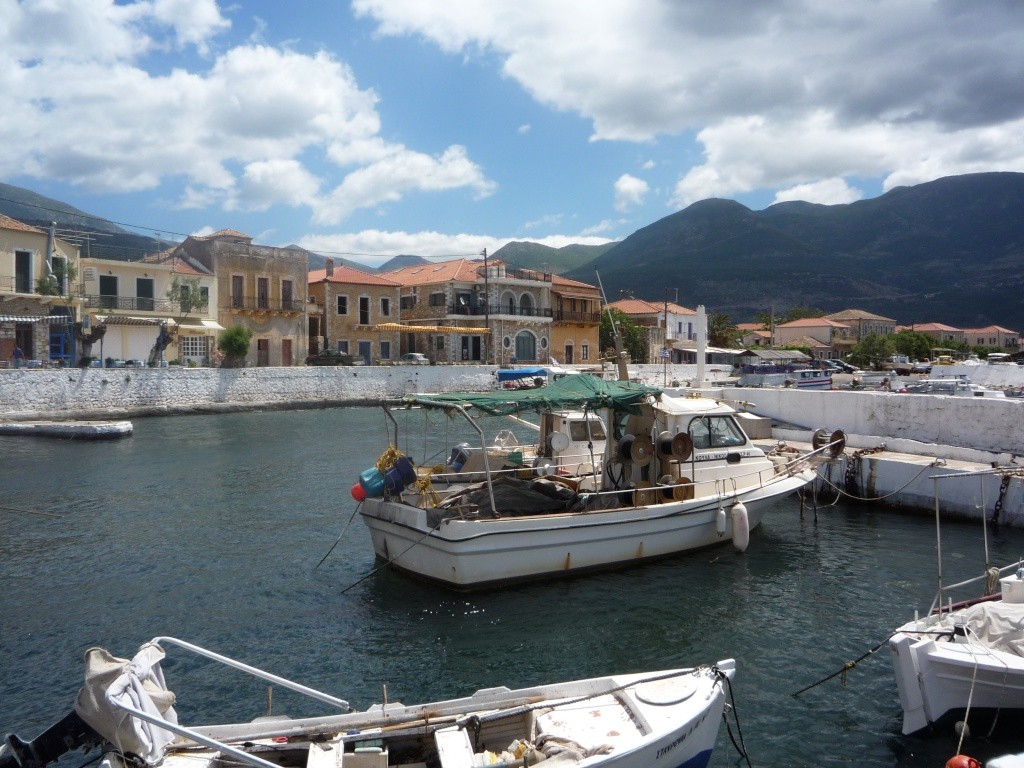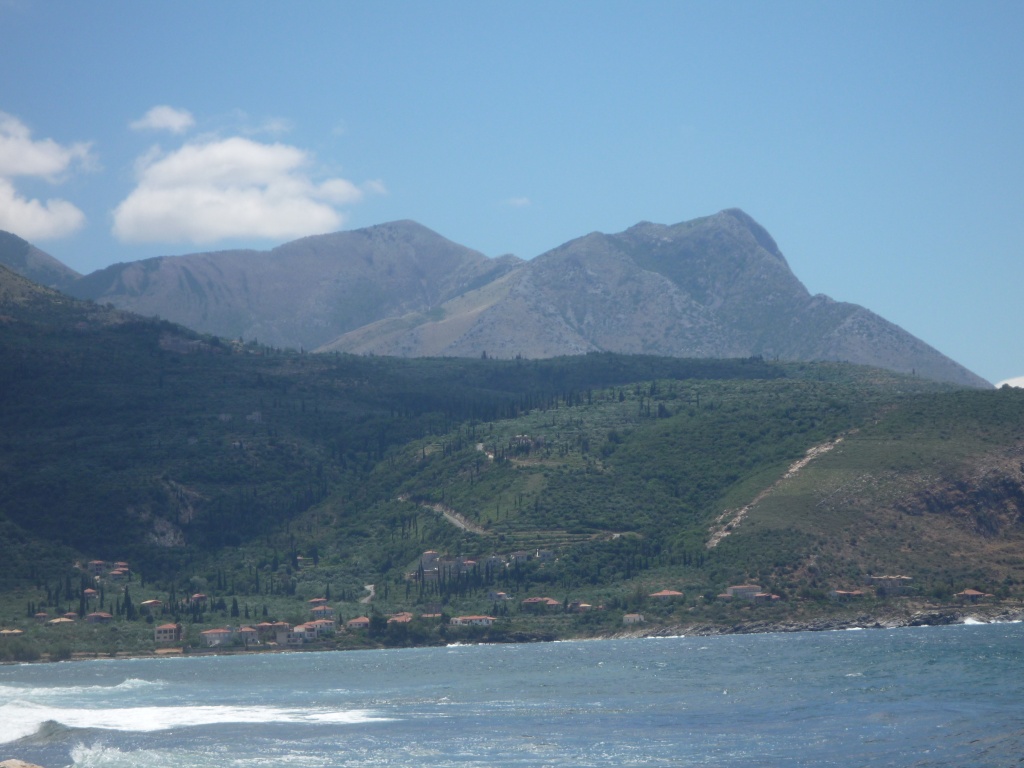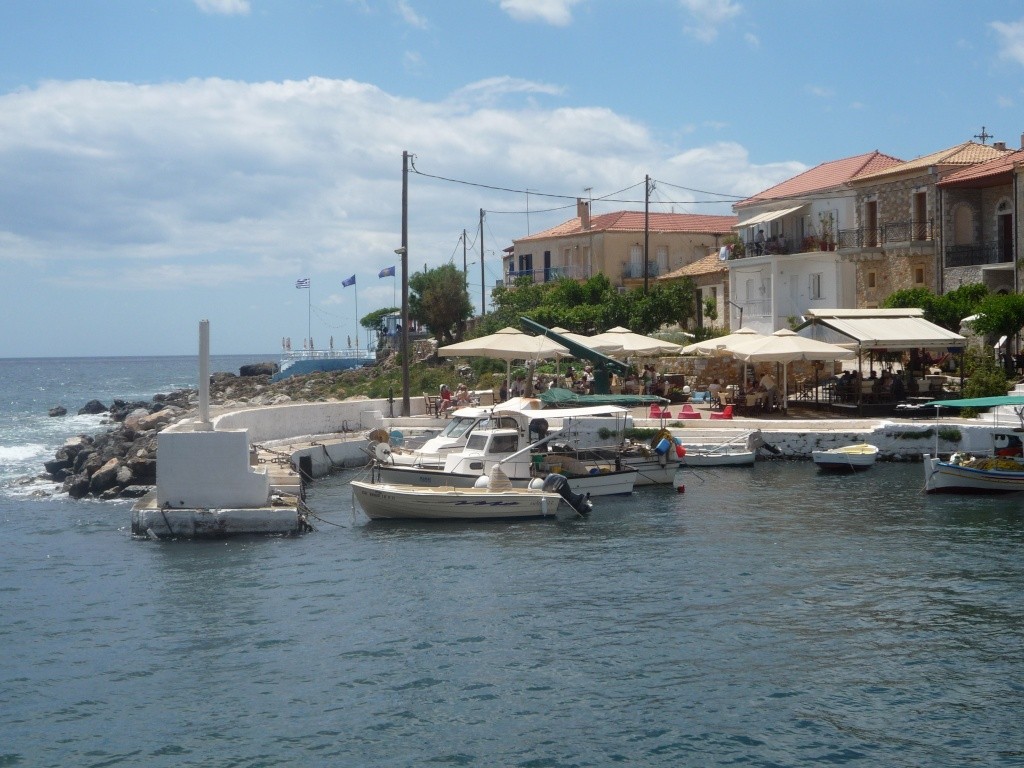 My reward for the walk, Tuna salad and a beer.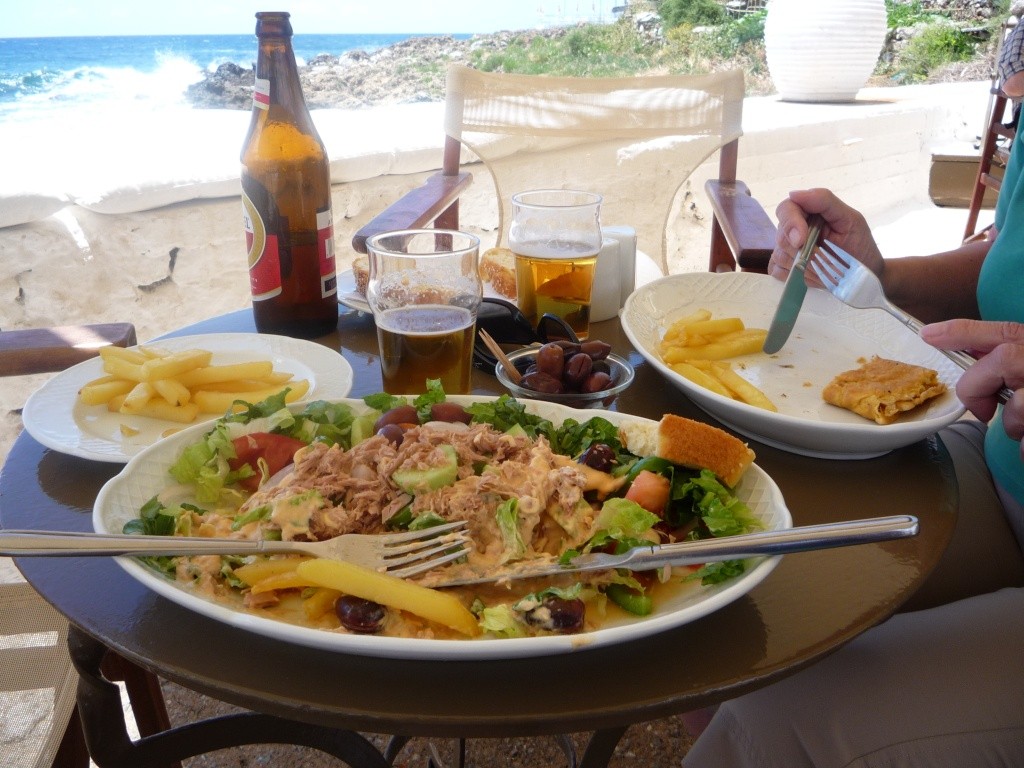 Summing up a place for beach lovers, relaxing with a book, walkers and eating out in the evening
PS see the resort live now on webcam up dates every few seconds double click on the webcam pictures to enlarge
http://www.zorbas.de/webcam/eindex.php