For those thinking of a winter destination but not long haul, Cape Verde may be an alternative to the Canaries. Cape Verde is a group of Islands one hour south of the Canaries and just off the west coast of Africa (Approx 5 hours fly time). Cape Verde's Island of Sal became the first Island to receive tourists via a package holiday, put together by RIU / Thomson companies. The Island was originally used as a refuelling base for South African Airways but after the discovery of their fantastic beaches it became an obvious choice for a holiday destination. Thomson's to this day are the only company to offer flights to these Islands. More recently the Island of Boa Vista has also been opened up by the RIU / Thomson duo. One can book a Thomson's flight only for the more adventurous to seek their own accommodation. There is another Company called Cape Verde Experience who also provides accommodation.
The Islands are within the Trade Winds which constantly blow and were used by the old sailing ships to get quickly to their trade destinations. These winds have also been responsible for constantly bringing sands from the Africa desert to Cape Verde and holiday makers will experience a permanent breeze on the beaches.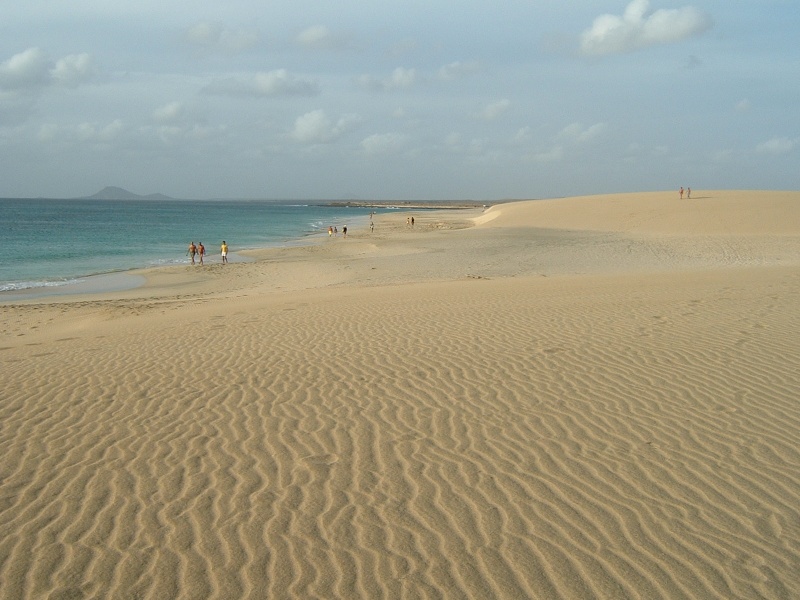 Cape Verde is still a third world country and Injections are recommended, your Doctor will advise you of which ones. Mosquitoes are about, so you will need to buy mosquito repellent before you go. Flies are in abundance and are attracted to outside food.
Mrs Delboy and I took one of the first trips with Thomson's to Sal in November 2007 people were saying see Cape Verde before it becomes too commercialised. Thomson's for the first year gave us a long Haul plane with extra leg room but I now believe it is regarded as short haul. We booked the all inclusive RIU Garopa which is linked to its sister hotel the RIU Funana. The two hotels are joined together by two separate receptions and are a complete mirror image of each other. The clients in each hotel use the same facilities except for the reception and the main dining hall in the evenings.
Speciality restaurants are booked and shared both hotel guests.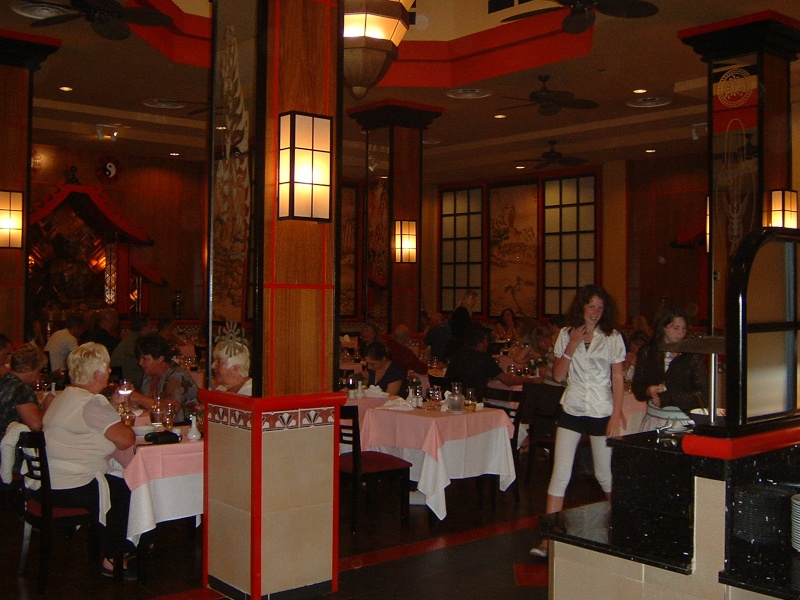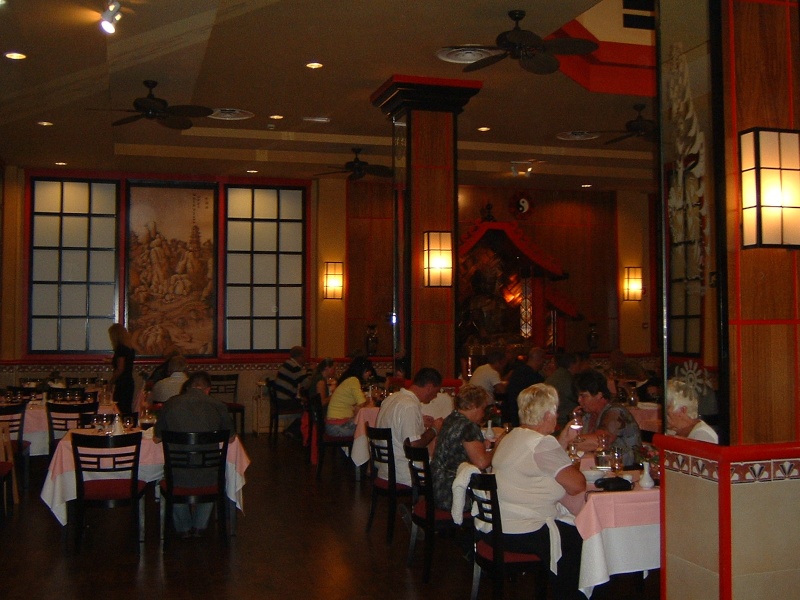 On arrival Thomson's did not have any coaches at that time so we were organised into mini buses. The short journey to the hotel apart from a scattering of houses was mind blowing it, was as if we had landed on the moon.
Arriving at the hotel, I said to Mrs Delboy, "This must be Moon Base Alpha", as it reminded me of Luke Skywalker home town in Star Wars.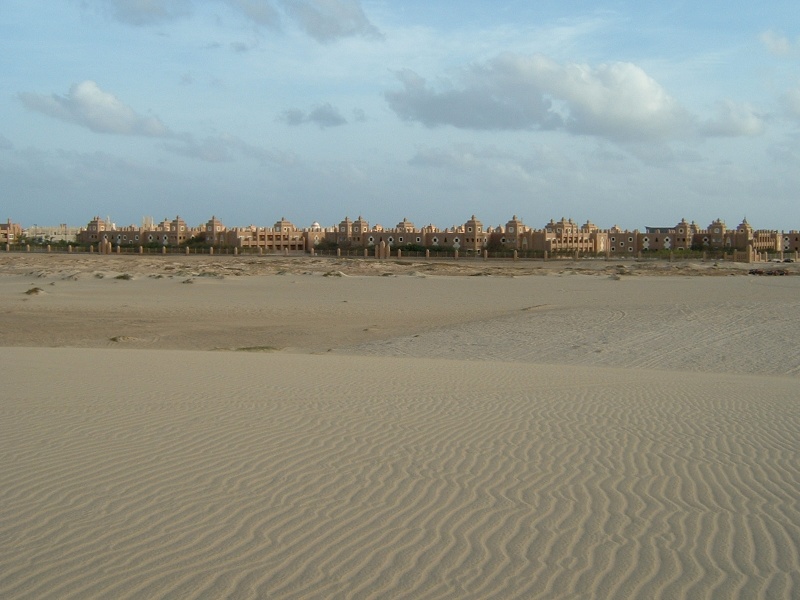 Once inside, it was like an Oasis of civilisation in the middle of the desert. The development was spread over several acres. We were allotted a very pleasant room about half way down the complex.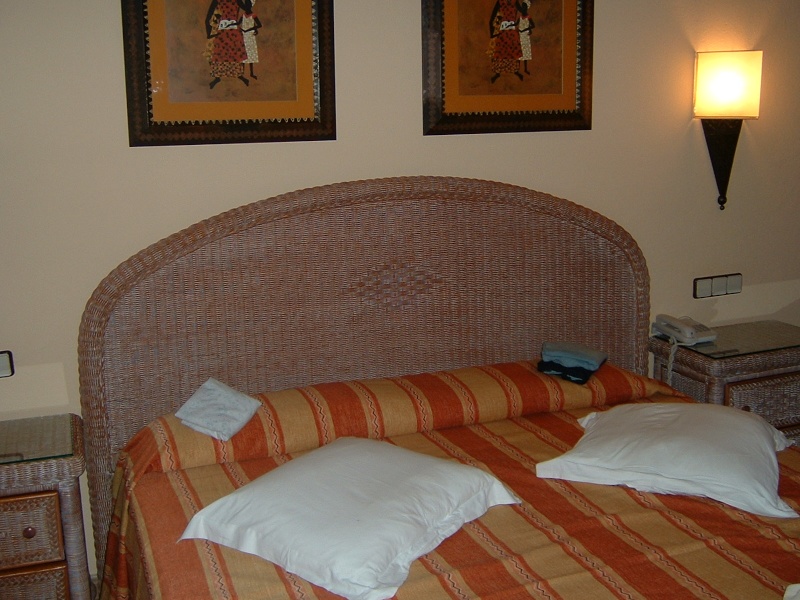 Development of land next door had already started, I assumed to build a further hotel but there were no noise problems for us. At the front of the hotel and beach end there were Security Guards checking the clientele as they went to and from the beach.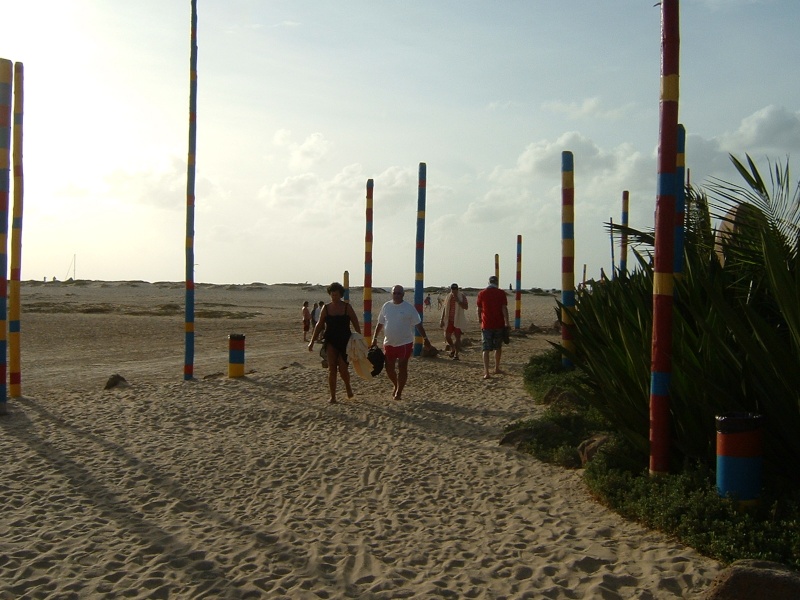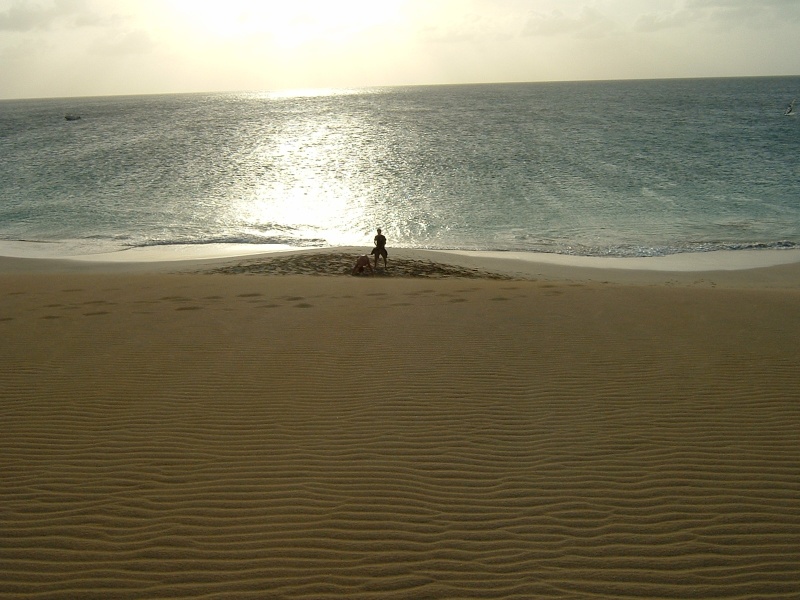 During the day all sorts of beach activities were taking place and I ended up playing football of all things. There were plenty of beach beds, placed in appropriate sheltered areas. Towels were often placed on beds early but staff one day, removed them and placed them in a pile, which gave me hours of entertainment as each offending couple appearing found their chairs were occupied by others unaware of what had happened. Drinks were freely available on the beach.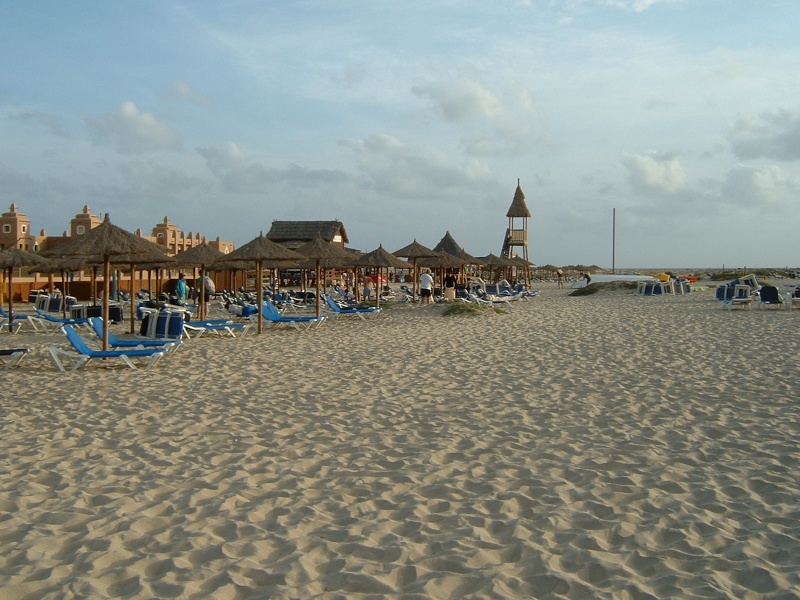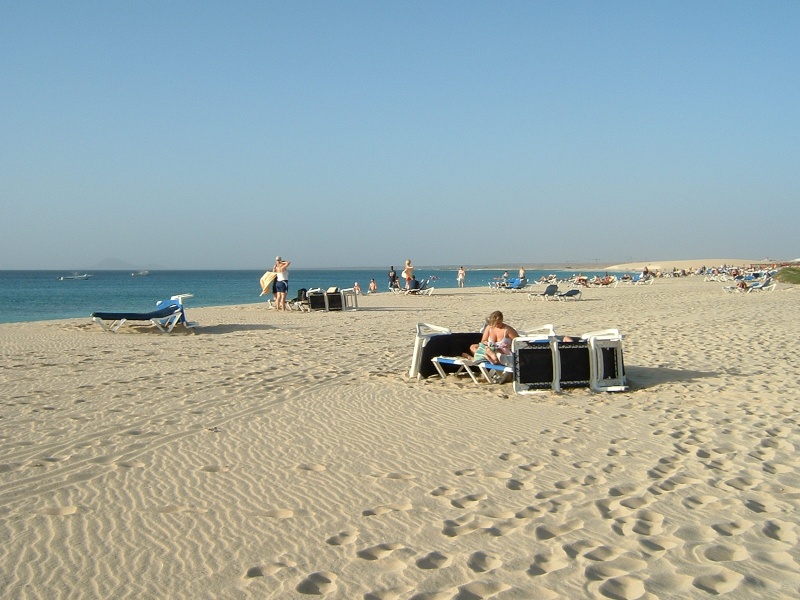 In the evening in November, the wind turned chilly, so cardigans were required. All outside windows in the entertainment areas and corridors in apartment blocks, had no glass in them. One such entertainment venue in which a singer appeared, had lots of these openings and we had to avoid sitting next to these places. The entertainment was put on by staff and they acted to recordings, but the first karaoke was good due to a holidaymaker exceptional impersonation of Rod Stewart.
Chilly windows with no glass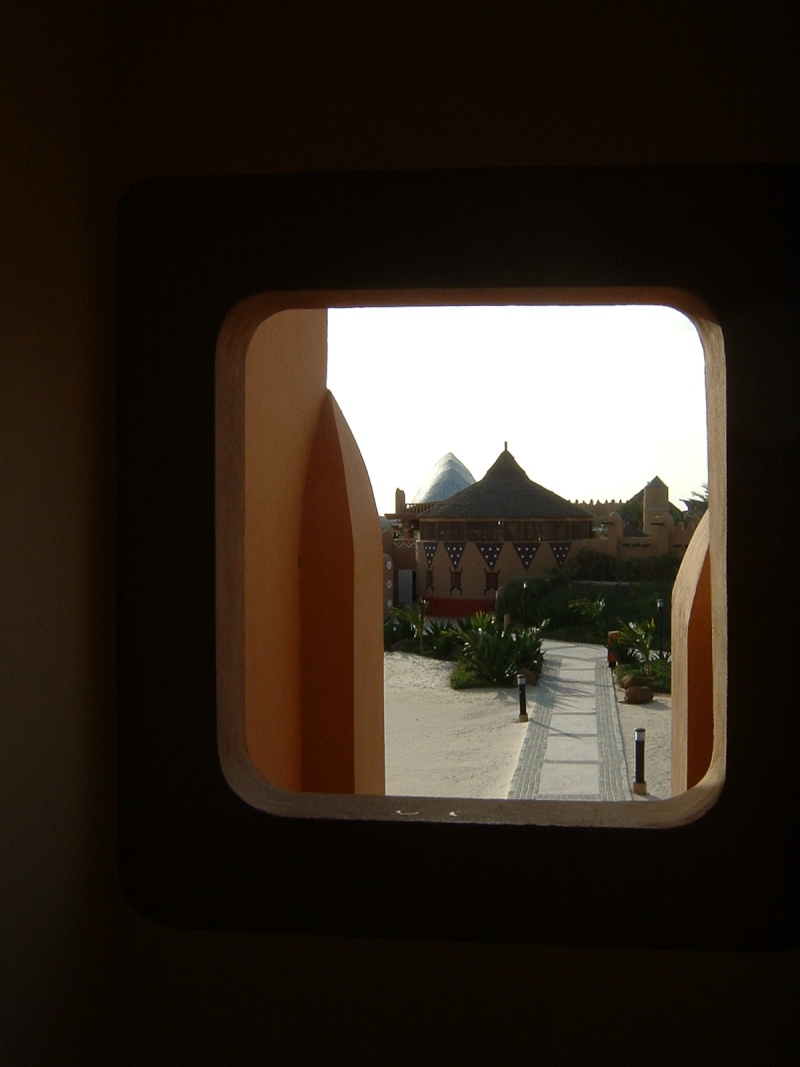 At the representative's meeting we were told that Santa Maria the main town 20 mins walk away was ok but we would be pestered by locals trying to get us into their shops. We were told several no's were required to be left alone, so we were put off by this and did not go into town. We were advised for our own safety not to go to the other end of the Island alone.
There was only one organised excursion (except a light aircraft flight to other Islands costing around 250 euro's each), that was a jeep safari which Mrs Delboy and I went on. To be truthful there is very little on the island to see. The tour included an exciting rough ride over the moon's surface to a local town. There we saw how poor the people were and how they carried water from a tap in the centre of town to their homes. A pack of poor hungry dogs followed us all around the town, snapping at one another to be top dog.
We were then taken to a salt lake, were one can float in the lake if one want to but it wasn't for me. Sal has got its name from Salt and all the old works still remain.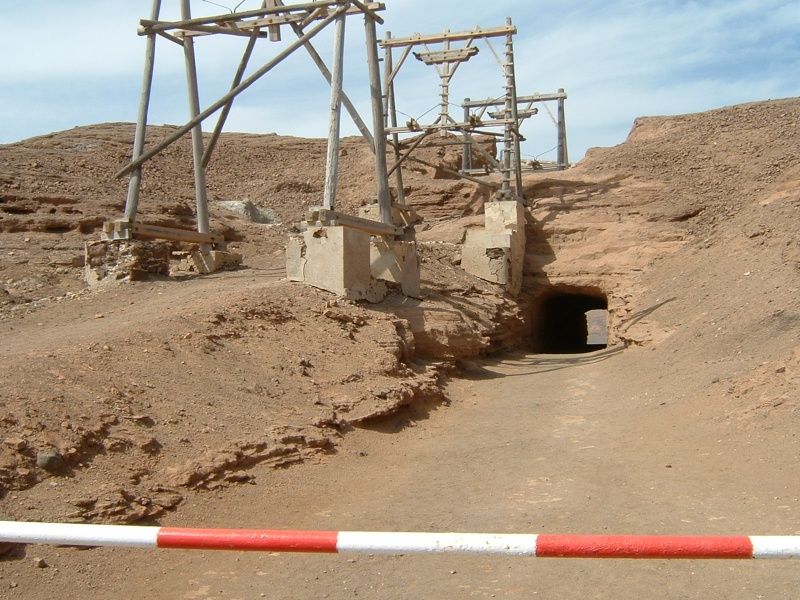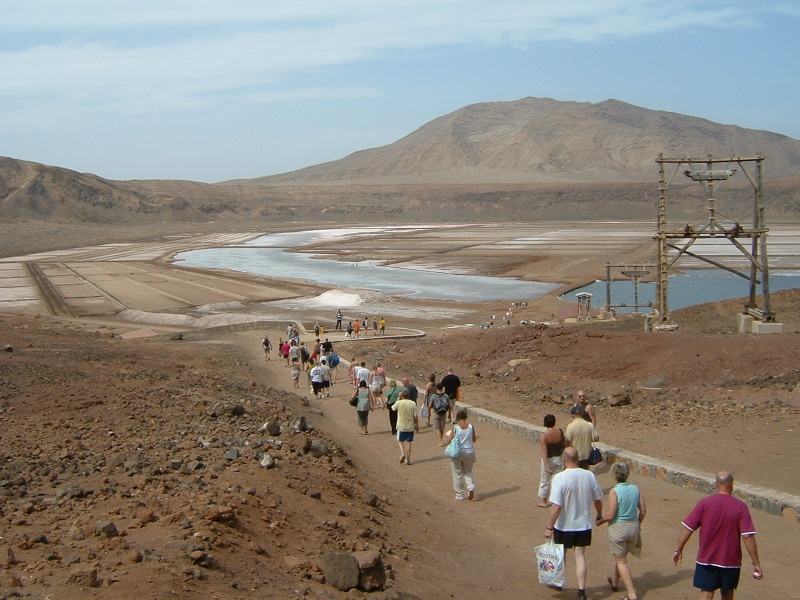 We were then taken to this plain where if you looked carefully you could see a mirage.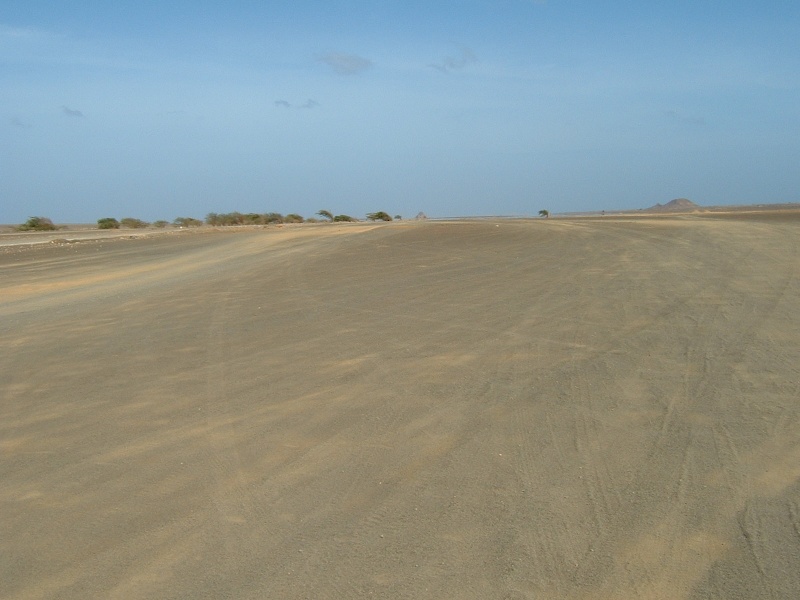 Finally it was a drink at an organised cafe and a trip to see the tide bashing into an inlet cave.
I understand this trip now will cost 64 euro's per person with Thomson's.
The food is the main restaurant IMO was not brilliant but the speciality restaurants gave us a personal service and better food. The African Speciality restaurant doubled up to make a lunchtime restaurant during the day, as it was nearest to the beach. During the afternoon very nice cakes were put out but this arrangement was spoilt for me by a large number of flies homing in on cakes which were inadequately covered.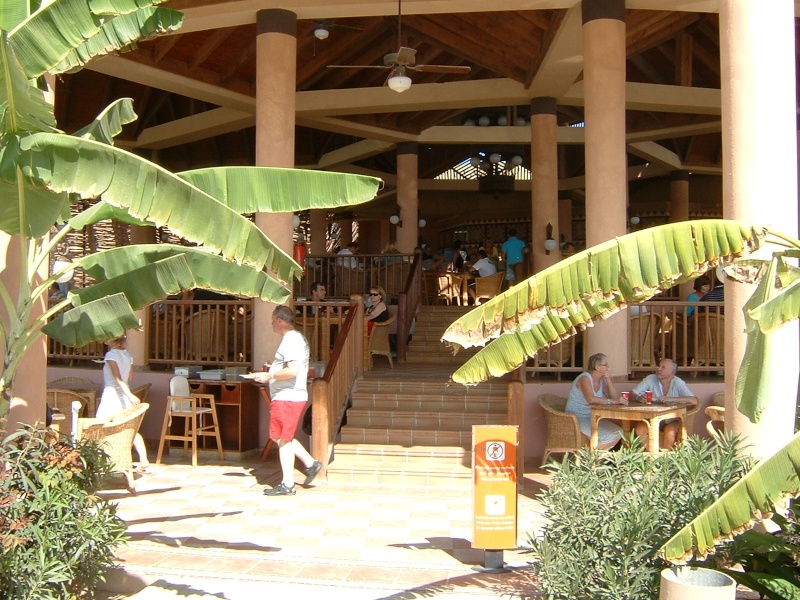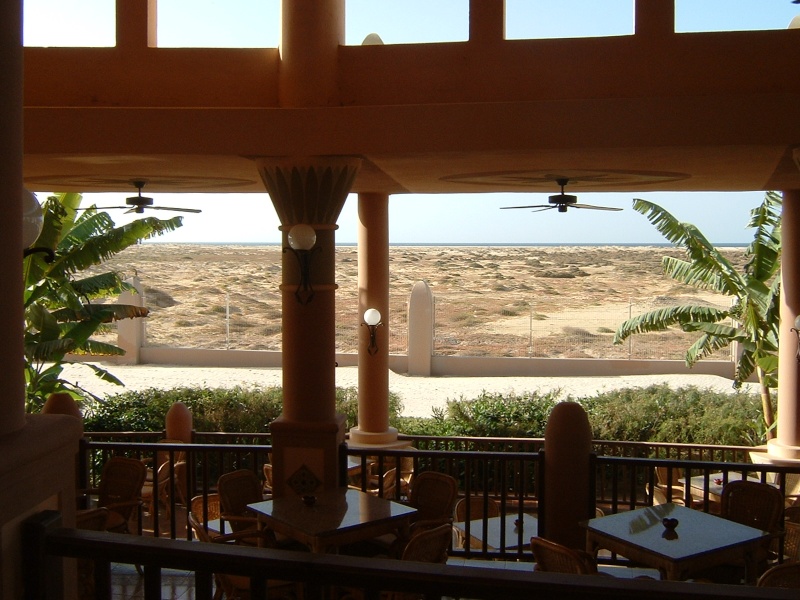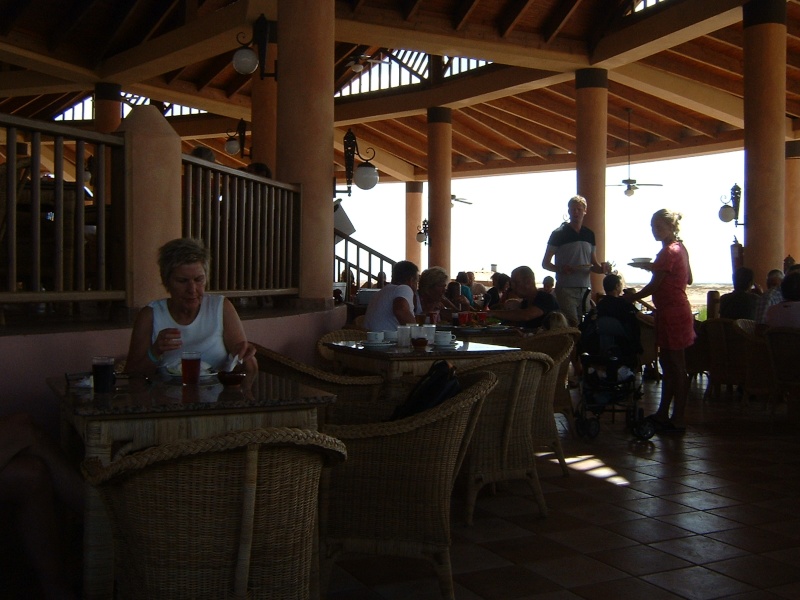 I have been reading there has been a nasty bug going around the Garopa in which clients have been suing Thomson's. I did get one dose of Monty Zoo mar's revenge myself and the beach, at that time was a long way from my apartment.
I treated my dilemma as a game of baseball, to try and make a home run, at the first base the nearest toilet was just inside the complex but everyone on the beach used them. Second base was the Africa bar which I managed to get passed. Third base was the swimming pool and that's as far as I dared and to my dismay my toilet did not have a lock it. I eventually did make home base and after taking Imodium everything was ok by evening session. (To start again....no I was fine)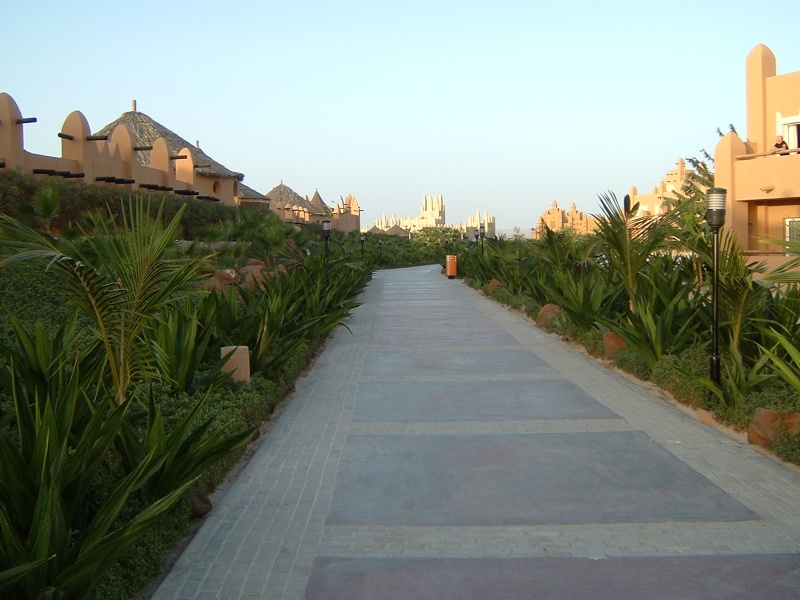 The sea is nearly always rough and does have currents so not to good for swimming but windsurfers do use it further along the beach.
It is said that Cape Verde will soon become the new Canaries and I think that is what the local people hope but IMO I see it becoming another Mexican Cancun with lines of all AI hotels.
Loads of cranes could be seen in the distance in 2007 for a big building programme but I have read in this current climate things have slowed down.
It you go take everything that you need e.g. sun tan lotion is 30 euro's in the hotels shops. Everything has to be imported so eating out, I have read, can also be extremely expensive unless you eat the basic local food.
Overall if you are looking for an all inclusive beach only holiday, it may be your scene