We decided to visit our friends, Andrew & Dee in Orpington, they used to have a bar near us in Arroyo de la Miel on the Costa del Sol as well. San picked me up after work at 5pm on Sunday, & I said to A & D, that we should be there by 7.30pm. A bit of slow traffic on the M11, where the A11 joins, but apart from that, not too much hassle. San turned the engine of the car off as we arrived at Orpington, at exactly 7.30pm. My mystic powers must be returning.
We had a quick chat & I got changed & we walked along Orpington High St. the the Ephesus Meze-wine bar & Med Restaurant www.ephesusrestaurant.co.uk For starters San had Ciabatta Garlic Bread, A & D had a Hot Meze Platter for 2 & I had Garlic Mushrooms. For main A & D shared a Chicken Shish, San had a Chicken Shish by herself, (I had to finish off a couple of chicken pieces),& I had a Meat Moussaka. The food was excellent, along with the service. With a bottle of red & a bottle of white wine, which we all drank out of a wine glass Daryn,
the bill came to just under £70, which I though was quite reasonable. :tup:
Me & Andrew, who to be fair was very under the weather with a cold.
San & Dee. Can you believe that Dee is 58!!
The ex bar owners reunited.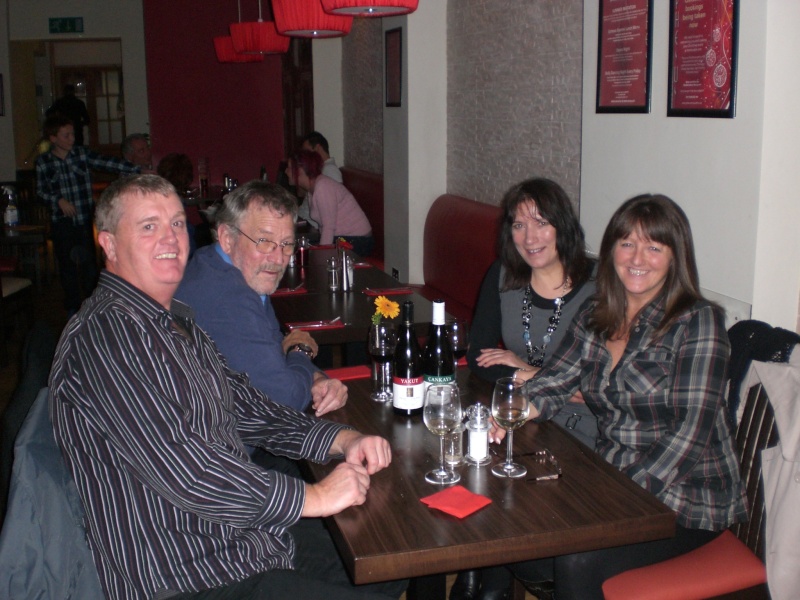 We then went back to their apartment, which is over the Orpington Conservative Club premises, as Andrew is the Steward of the club. Dee works as a PA in London. We had a couple of games of cribbage with a night cap, as Andrew used to run a crib league in Arroyo.
Me getting soundly beaten by Andrew in our game, even though I look happy, I have hardly ever beaten him.
Me getting soundly beaten by Dee in our game, I can see a pattern emerging here.
In the morning we said our goodbyes & we had a wander along Orpington High St. looking for a crib board for myself, but found this instead. Which has been well documented in another thread, with regards to the MF Golf Championship Trophy.
BTW, if anybody is interested, Andrew gave me a crib board. :-bd:
Maidstone blog to follow, which includes staying in a Hotel known locally as the toilet rolls, a fabulous Indian meal, & a surprise visit to an MF member captured on video. Don't miss it.