Well after the success of last years tournament, everyone was looking forward to this year event. The number of entries for this year had more than doubled. A picture of all those taking part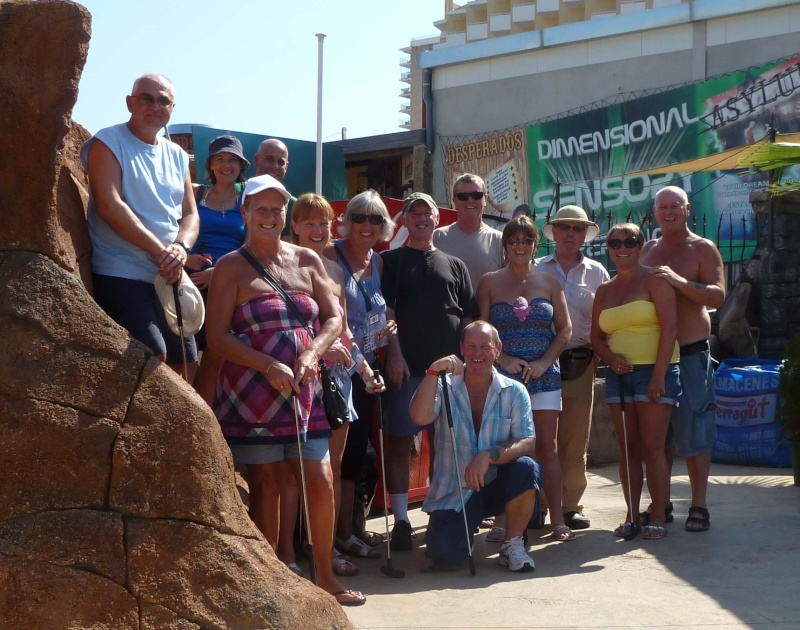 Clubs had to be sorts and Yozef managed to find one that just suited him to a T, but the kioskman had some disappointing news for him, as apparently Daryn had preordered it in case he was to play
The chosen course this year was the Glacier Valley course, a par 43 course , one of the trickiest courses set to test the golfer's to their limits

The first 4 to lead out were last years winner Sandra, Mick, Jan and Mark. Sandra proved the first hole a par 2 a bit of a problem going one over par
However Jan was the only one in the group of 4 to get par
The four then went on to hole 2, another par 2 hole and Jan leading the quartet, lines up her second shot
Mick at this point, is one over par, but gets ready to drive off (in Dads car if he loses)
Meanwhile, the second quartet of Mrs DB, Roamer, Ramblinman and Delboy get underway
Mrs DB leads of the second group and does a par 2 for the 1st hole
Roamer full of anticipation lines up a shot but gets one over par

As the groups move on to the next hole 3 (another par 2 hole) , the final group of Yozef, Jan, Debs, Don and Dads come on to the green
Debs had her hankerchief out unsure whether she was going to laugh or cry

A lot of concentration there from Don to make sure he didn't whack his toes

Yozef demostrates to us how he takes those low shots, using a club this time and not the camera
Jan looks on laughing and says, "I'm not making that same stupid mistake Yozef"

Dads wises up in hat made for the job, in what feels like 90 degs of heat

as the tournament continues, Mark begins to get into the swing of things
Whilst Rambinman supports a set of Lee Trevino shorts run up by Roamer from the Hotel curtains
Delboy keeps a foot in each hole

Whilst Roamer takes it all in her stride

Debs not far behind pictured from the overhead helicopter

After nine holes Sandra was join leader of her group with Mark both were on +4 over par, Mick was third in the group with +6 over par...
...whilst Jan after a disasterous 9 at the 8th hole was +8 over par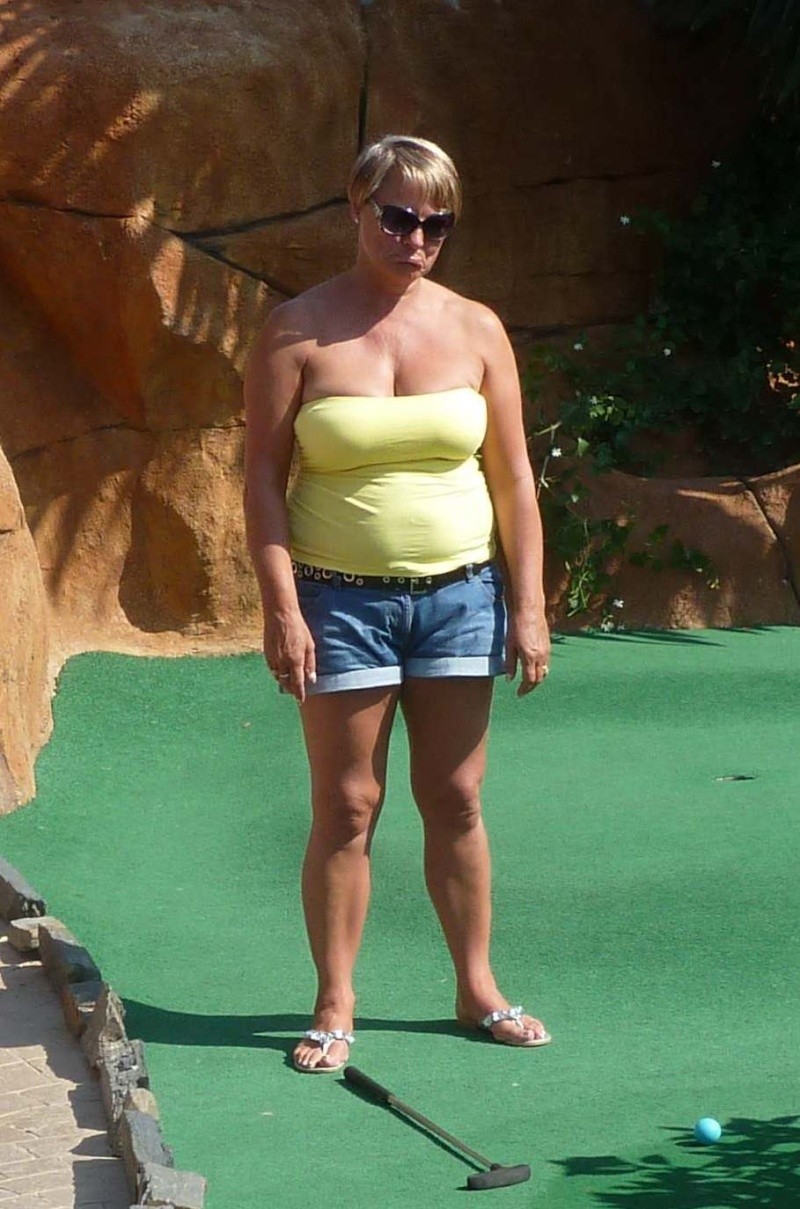 In second group after nine holes
Delboy was leading the group +1 over par, Mrs DB was +4, Roamer +5 and Ramblinman +7

and the final group, Don was leading with +1 over par, Debs 5, Dads +6, Yozef +8 and Jan +9
So on the inward nine the leader board looked like this
Don............................... +1 over par
Delboy........................... +1 over par
Last years Winner Sandra +4 over par
Mark...............................+4 over par
Mrs DB............................+4 over par
Are we treating this too seriously, well Don is, measuring the speed of the green with a camera, on our hole too!

So now on the inward leg, Sandra and Mark are putting one another in the picture
Dads lofts his shot in a bid to close down the leaders but still needing 2 shots to get on the podium
Mrs DB takes her shot, refusing to be put off by the big bum in the background
Mick on the next green is now worrying whether he will make the cut or just finish up being cut
With the glory almost over for Ramblinman, he is now thinking will the hotel notice the hole in the curtains

and Jan wishing she had made the cut in the golf, but not in the curtains
so now down to the last couple of holes, the groups start to come in

backs were hurting, picking up those balls out of the holes

yes almost over says Debs, I wonder how the girls are getting on, painting MF Towers
Mark still plugs away hoping for a podium spot

So with everybody home now, I think Don was totting up his scores but Jan was looking surprised

So after score cards had been checked Delboy proved to be the surprise winner
Yozef's Jan, after a second check of her card proved to be marked wrong, which is a shame as it may cause her to miss the cut next year.
There was talk of a new Cup being presented next year and San and my name being inscribed on it. The cup is going to be held in the MF Tower's trophy cabinet but arriving home and checking the petty cashbox to pay for it, there was only 2 old shillings and three Foster tops in it.
Daryn tells me having the cup inscribed will prove difficult, as his old compass set is too blunt and Mick is continually complaining that he will have to clean the trophy each week.
So anyway here are the final results
Delboy............................................. +1
Don................................................. +4
Mark................................................+6
Mick..................................................+8
Mrs DB..............................................+8
Dads................................................+10
San..................................................+12
Yozef................................................+13
Debs................................................+14
Roamer............................................+14
Jan (Y).............................................+15
Jan (M).............................................+16
Rablinman.........................................+16
So the final score sheets
Finally the 19th Hole
Thanks to Mark and Yozef for a large number of photos to make this