A lot of this stuff has been well documented by Shellsummer but will add my tuppence worth
The AquaSol from the outside

First of all the hotel has a staircase on the front with a ramp either side but the gradient of the ramps makes them IMO next to useless. I did manage to pull a case up one, wearing trainers but found I couldn't even walk up them in sandals

Once inside, the reception dealt with us very quickly and told us which block to go to, again more steps to go up to lounge and pool area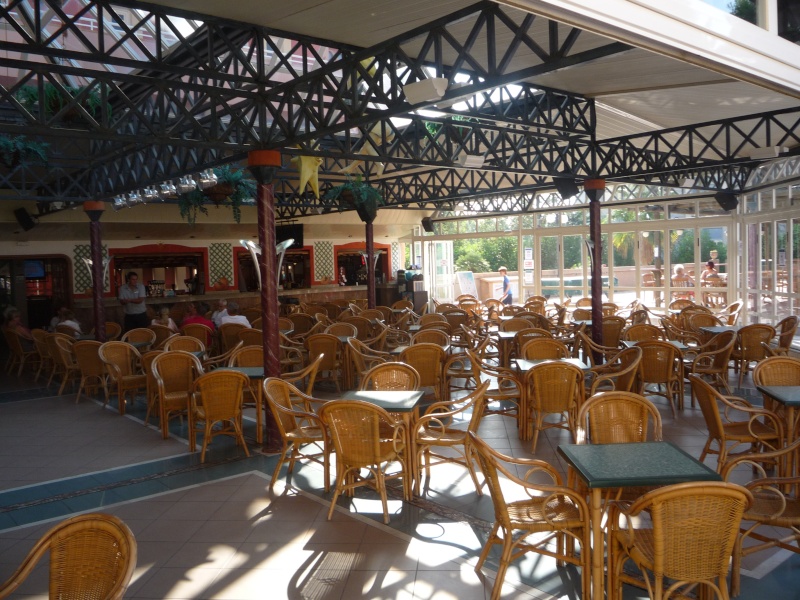 at the end of the pool, there were more steps to climb, the stairs in this photo have just been climbed.

a right turn for us and more

as we reached our block, although we were basement level, we had to go up more stairs
before we could go down to our room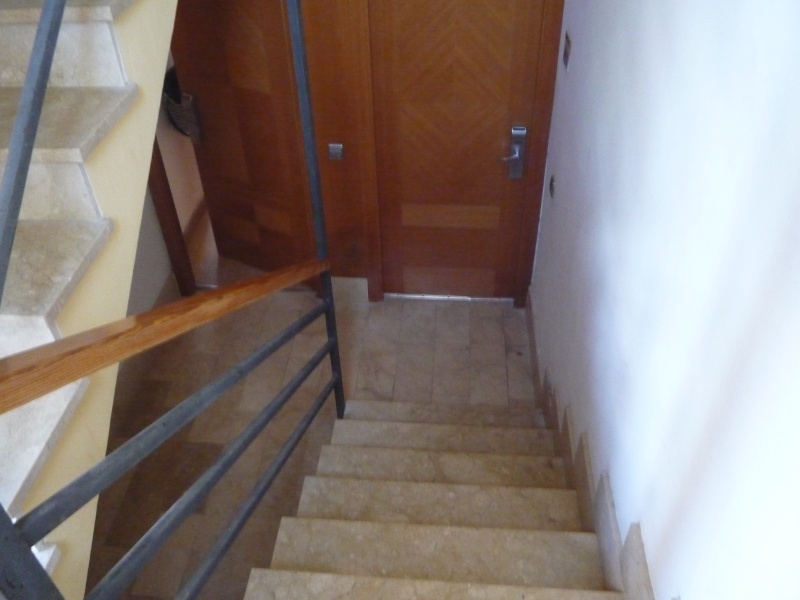 in the basement area it was scruffy using a kind work, no dirty and not a highly polished area that one would expect and the cupboard inside the well, when left open, left a lot to be desired. We had a cockroach in our bedroom when we first arrived and put it down to the cleaner leaving our room door open whilst cleaning the room. However, we did not get anymore / or experience any ant problems that had been reported by others.
I suspect basement rooms maybe more be prone to this. However a kid had dropped popcorn on the stairs halfway through our week and that remained there until we left

Now considering we were on the lower floor and others might be 6 floors up, IMO this place is unsuitable for disabled people as there are no lifts.

First impressions, outside the grounds were very well kept but the buildings themselves looked tired, I noticed one block around the swimming pool area had guttering that had come apart and a downpipe clearly broken and parted. The tired look can be seen it the pictures above
We were given a key card and once inside, pleasantly pleased as it had only been renovated last year, the key card operated the electrics, I forgot to try my B&Q pensioners card to see if it also worked. Lights annoyingly went out, as soon as you pulled the card out and the hall area was in darkness with no switch at the bottom of the stairs to light the place.
The bedroom had matching quilts and curtains and the floor was wooden throughout. However there was a plastic sheet protecting the matress that not comfortable to lie on, it was noisy when one turned and could make you feel hotter. There was aircon in both rooms and free to use but a returnable deposit of 20 euro's was required to obtain the remote. Also a small safe was in the room for 18 euro's a week plus additional 7 euro's deposit returnable with the key.
Bedrooms were now being cleaned every other day and towels and sheets were changed, this is a degrade since Shellsummer has been, as she had her room cleaned everyday.
There was a flat screen tv for hire but this was extra 3 euros a day or 15 euros a week plus an additional 5 euros returnable deposit for the remote.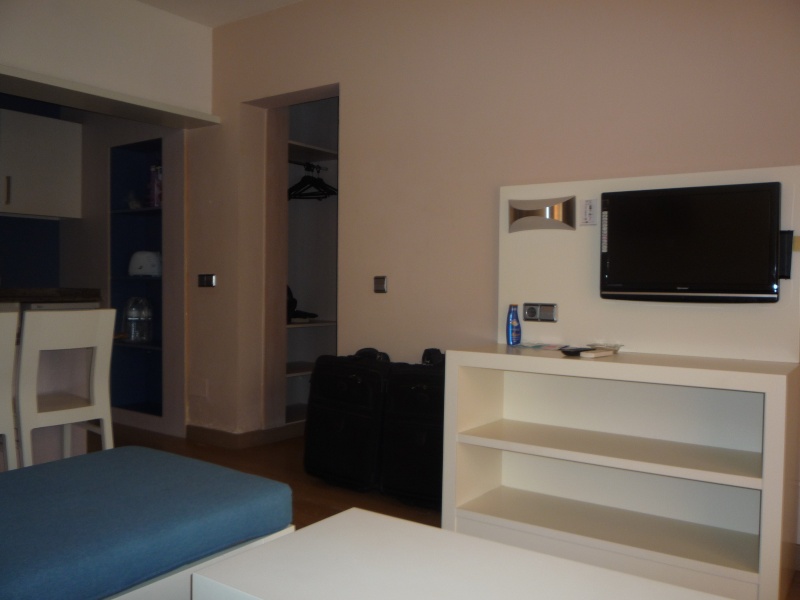 I thought I might get sky football and didn't read the small notice. The BBC 1 reception broke up quite often and IMO was not worth the 15 euro's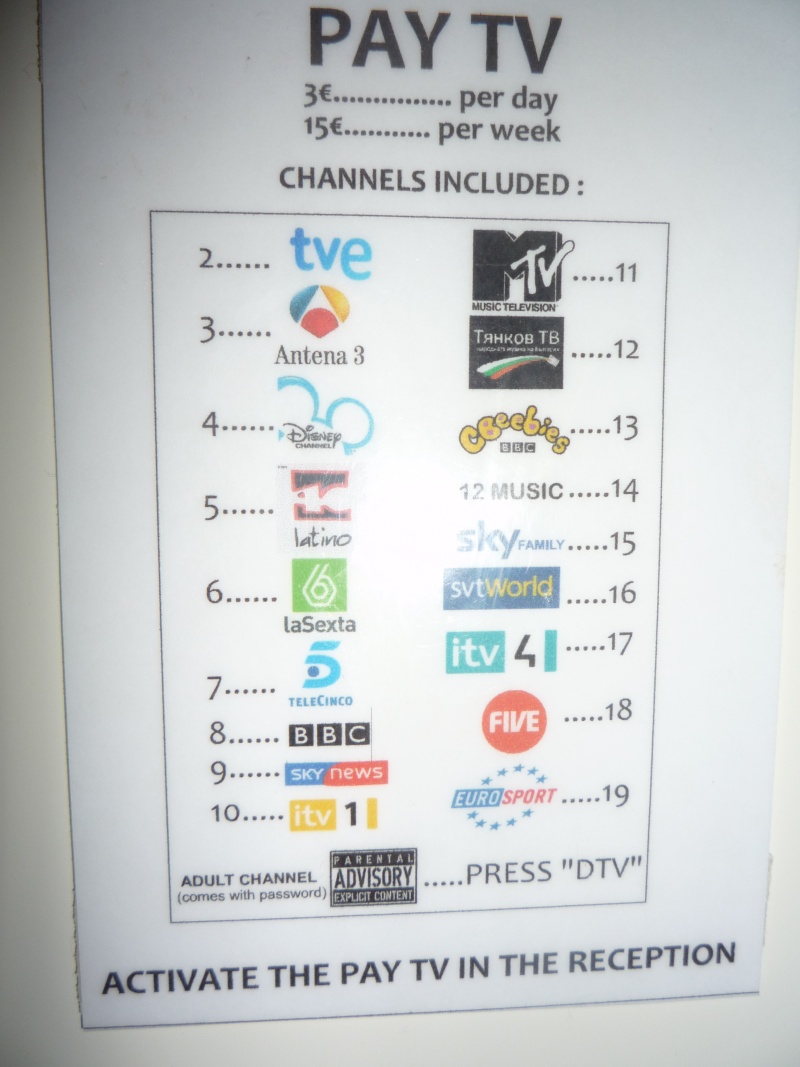 There was a nice lounge area but supplements may be due if there are only two of you
There was a fridge and cooker

and various cooking equipment
and cutlery
but the cups and glasses were ridiculously small and may be worth bringing/buying your own cups

we never used the oven

we had a toaster and kettle two items we like to have

we had a balcony that overlooked the well kept grounds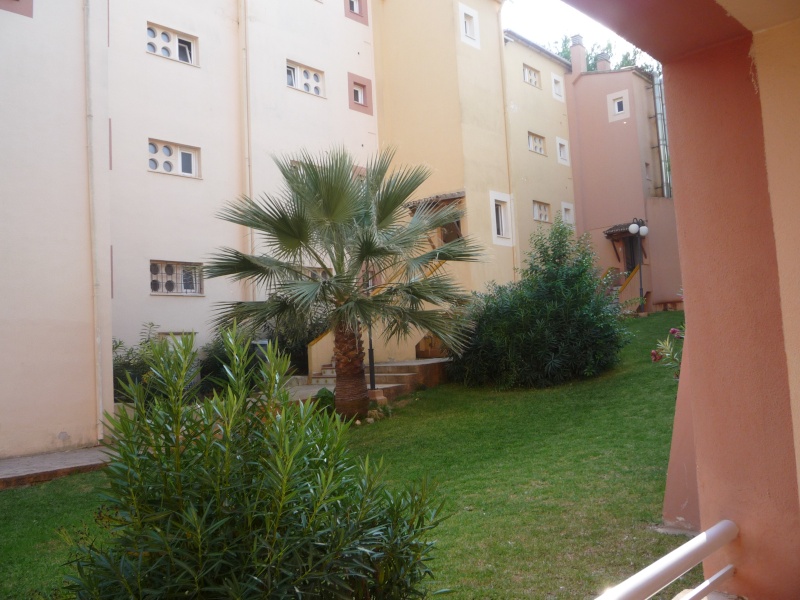 The bathroom had a bath/shower set up

The food we never tried it but here are some info on pictures that i took
The beer, as Summershell said, was 3.40 euro's a pint and I ordered two San Migeuls, despite being inside the bar area they were served in (hopefully) throw away plastic glasses but after the tasting it, both of us had grave doubts of it being SM
breakfast was priced at 7 euro's but I can't comment as I didnt have it, prices are at the very bottom of photo

Dining area


Breakfast had a choice of five different trays, if I remember correctly the egg was scrambled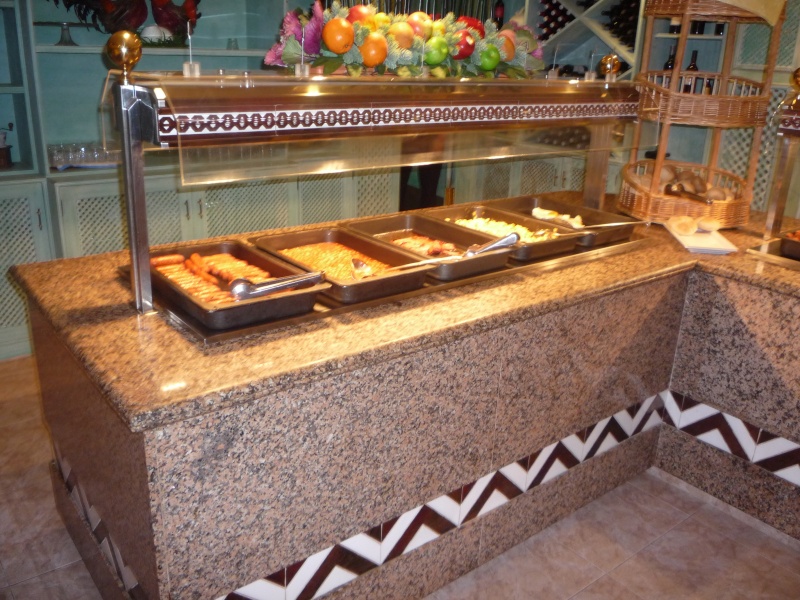 breakfast was freely available outside down the street for around 3.50/3.80 euro's without coffee

Internet was available at IMO at an outrageous price of 1 euro per 10mins or 6 euro's an hour

WIFI was not available, as not working and no price was given on asking

the hotel has an in house supermarket but as far as I could see nothing frozen, I only bought 5 litres of water at 2.50 euros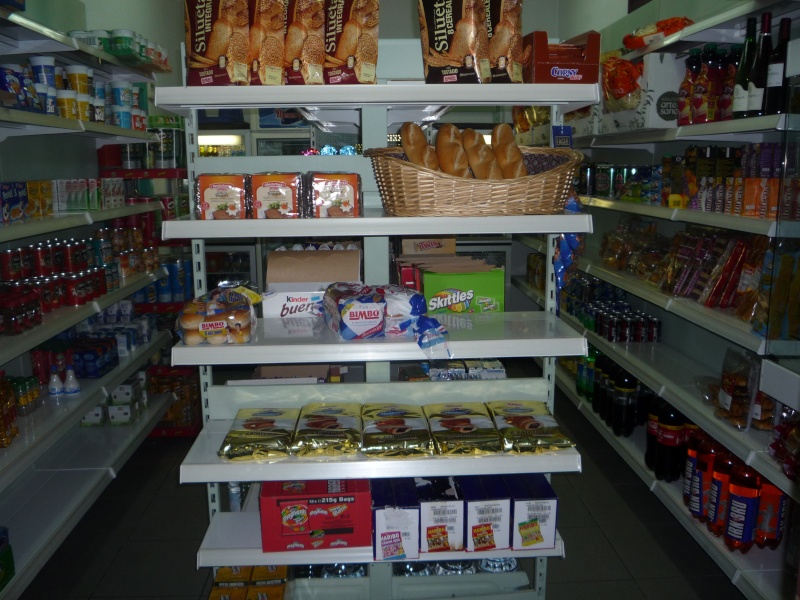 The swimming pool area had an smallish approximate 30 metre pool, with one end closed off for the kids

Sun beds were plentiful in October but still people were putting towels on them, however, as mentioned by Debs sunbeds are nearly all fix flat beds and only about four had head raisers and parasols were few and far between. However, in October there was some shade on one side from the buildings

these beds were saved and not taken up till 11 o'clock, an hour after we arrived
there was a machines room, I assume for kids but it also had a billards table in there as well

The entertainment was a Robbie Williams tribute, Lady Gaga tribute, Elvis Prestley tribute, a comedian/ cowboy act and a hypnotist, I do have photos of the entertainment advertisments if anybody wants to see them
I feel if you spent all day around the pool and purchased drink and food it, will cost far more than going outside to eat, even after paying the 10.80 for sunbeds on the beach with a parasol
this was bought for 5 euro's on the sea front at lunchtime

So I hope it gives people an idea of what to expect obviously let me know if further info is required.
Summing up, nicely furnished S/C accommodation, outside buildings and entertainment area looking tired, stairs no problem for us but didn't like the bed or the cockroach
Would we stay there again, yes but may look for somewhere better if it exists
PS no hairdryers or ironing boards were in the rooms