Well guess what we did in the day, yes well done we layed on the beach frazzling again, see the pattern emerging now? So after frying eggs on my belly, we decided to go to The Captain's Arms, for a couple drinks & a few games of pool at about 3.30. The photo below shows San breaking off, but somehow she has missed all the yellow & red balls & the cue ball nearly ended up in my crotch!!!! The look on her face is priceless.
I love going to this bar for a few drinks & a game of pool, but like most bars around they are unfortunately struggling. The next photo always makes me laugh, all the side panels are up & open, but the door is always shut. So should I go through it or around it????
Well we then moved on to the Piano Bar, which has been well documented in a lot of posts. Well the music was playing some great tunes, the beers were flowing, so just a little drinky or two, turned into a bit of a session. We left there at about 7.30, & said to each other, "Lets just have an hours sleep, & then get ready to go out." A fatal mistake as we woke up at 10pm, with San saying, "Michael, go out & get a takeaway?" What happened to equality???? So I said, "just give me five more minutes please my darling." 11.30pm I woke up, & couldn't be ar@@d to go out, so we had sandwiches & had an early night!!!!
Well feeling very refreshed we got up & went to the, now where was it, oh yes the beach again. So later we went back to the Apartment & got ready to go to the Restaurante Andalucia, which is a Tapas Bar opposite Benny Hill's, where they do a Menu del Dia for 6 euro's 50. San had a mixed salad to start with followed by chicken chips & a small salad, followed by ice cream. I had Gazpacho to start with, very nice, a steak with chips & a small salad also followed by ice cream. The bill with a bottle of wine came to just over 23 euro's, very good value IMO. We then had a bottle of Sangria in the Britannia Bar, which at 12 euro's was the dearest all holiday, but was very nice. We then wanted to go to the Green Parrot, to see DJ Gobsh@te, but we were informed that he had gone back to Blighty. So we went down the road to see Tracey, (ex of TT Flavours Bar last years meet up venue), all who worked there.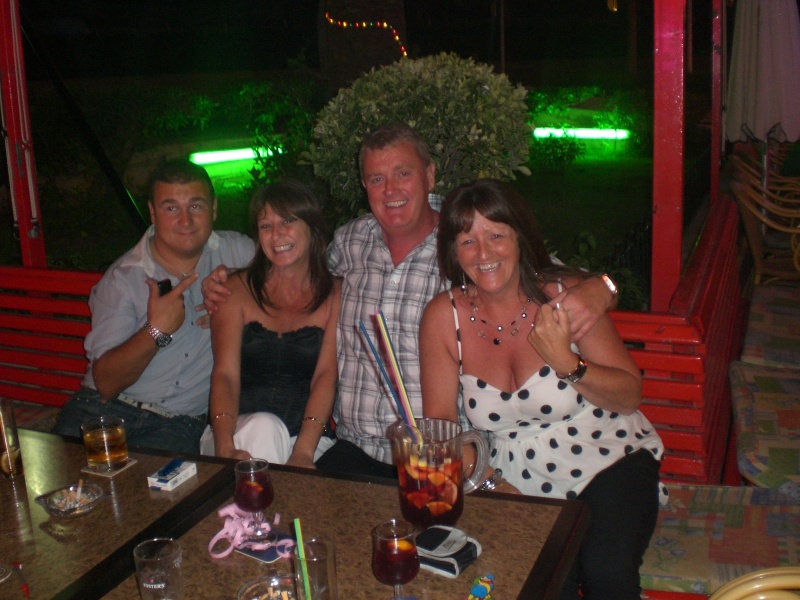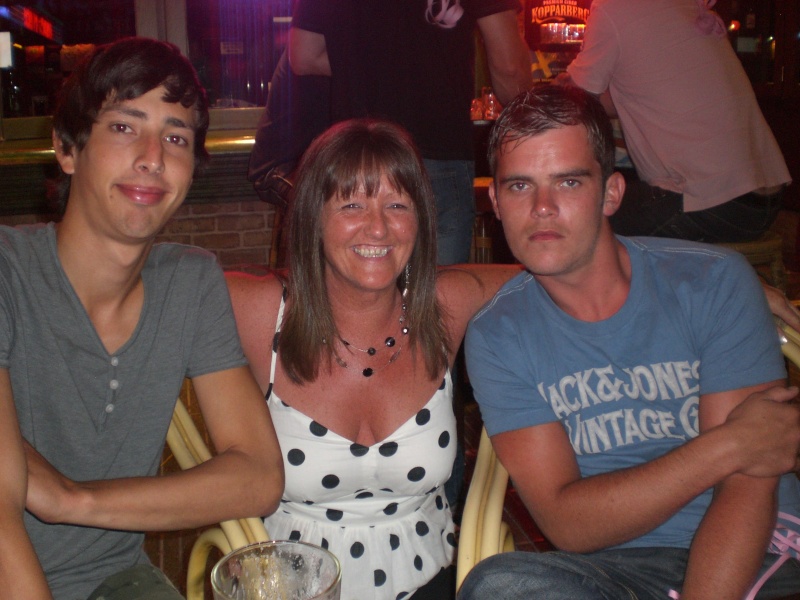 Well when we looked at the photo's the next day, I had to explain this one GULP!! I said I was just being friendly, cough cough.
Well the Jaegerbombs were flowing as well as the Sangria, so Tracey says, "Mick, are you & San coming to Panama Jacks with us, as Mano's was shutting", I think it was between 3am & 4am!! So off to Panama Jacks we went. Then to my horror, I realised that I had run out of money, I had spent over 100 euro's!! So we were brought a couple of drinks by a Scotsman!! Sorry H!! After a while I said to San, "There is a strange light outside, whats that all about?" Then I realised it was DAYBREAK!!!! Sorry about the state of us in the next few photo's!!So off we went back to the Apartment which we arrived at about 7.30 am!!!!
So guess what we got up at 4pm the next afternoon, we were very tired of course!!!! We text Deb's & Don, to see if they wanted to meet up for another curry that night. Don was well chuffed, as he loves a good Ruby. On the way to meet up with them we came across the
STAGE
outside of Baco's in BCM Square, hey Daryn?
We went back to Los Curries & had another great night, but a little less hectic due to our soiree the night/day before!!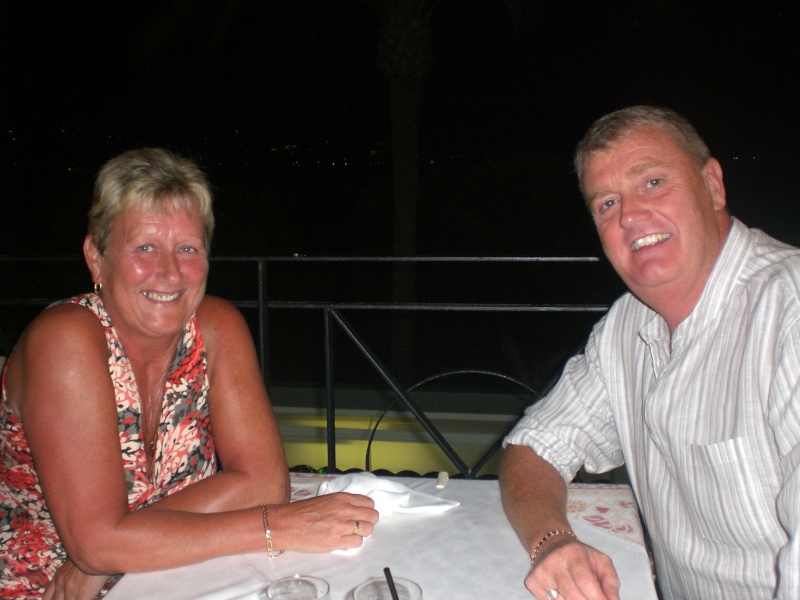 We then went to the Star Bar again, but me & San were struggling, so we said our goodbyes to Debs & Don, & went straight back to our Apartment. Not stopping for a nightcap or anything else Honest!!
The end of Part 2, possibly only 2 more parts left!!