A long time in coming be here it is. We landed at Palma at 8.50pm, about 20 minutes early, happy days we thought, how wrong we were proved. Got our case off the belt & went straight to the Resorthoppa check in desk, only to be informed that the coach was not back yet!!! We sat waiting for about 30 to 45 minutes, until the coach duly turned up. Got onto the coach & waited another 30 minutes or so waiting for another couple of people to join us. Off we set, now well past 10pm, going along the motorway towards Palma Nova/Magalluf, past Real Mallorca FC ground who were home that night, I believe they lost by the way!! Got to Palma Nova & that is where the driver got himself lost, as we went past Sol Mirlos/Tordos twice!! Finally got to our Apartments at 11.20 pm, with me saying to San, "That is it we won't be using them again, I just want to get to the resort." Anyway, we got into our room & went out for a few drinks to unwind, 3am I think we got in!! We text Deb's & Don, but they had just returned to their Apartment, & we made a date to meet up the next night. But when you wake up the next morning to this view, last night seemed a million miles away.
So after a day on the beach & chilling out we got ready to meet Deb's & Don. We met upstairs at Los Curries Indian Restaurant at the Marina Arcades in Palma Nova. They do a set meal for 8 euro's 50, which includes a starter & a chicken main with either rice or naan bread, & very nice it was to. Photo's in a bubble as previously seen. We had a few drinks at the Star bar as a nightcap, & met Marion, whose daughter used to be the Entertainment's lady at the Sol Mirlos/Tordos, but is now in the Canaries I believe. Then we left Deb's & Don to go back to their Apartment & so did we, after a great night with them.
After another day on the beach chilling out, a pattern is starting to emerge I think! We went for a Mexican at Chi Chi's Tex Mex on the Calle Martin Ros Garcia, adjacent to the Flamboyan Caribe, halfway up Cardiac Hill in Torrenova. We walked along the Paseo, as we didn't want to get mithered by the PR's all the way up the strip!! I would strongly recommend this Restaurant if you fancy a Chili or something Mexican, it is run by Chrissy (front of house) & Max (does the cooking). San had potato skins to start followed by a chili, & I had mushrooms in batter & a garlic dip, followed by a Southern Fried chicken with chips & a salad. I then pigged out on a dessert, which was to die for, & San nearly did as she didn't want any, but still ate half!!!! We had a bottle of wine with the meal, & had a complimentary tequila slammer on the house, with the bill coming to a very reasonable 34 euro's. We then met Deb's & Don again & went to Bar Canto's & the Orion Bar.
Canto's from the outside, sorry it is a bit dark.
The ladies loo's taken by San!!!!
We had 2 pints of Strongbow, a
jug
of Sangria for San & I can't remember what Deb's had!! I am not sure of the price as Don paid for these drinks. We then moved on to the Orion Bar, where we had the same again which came to just under 17 euro's.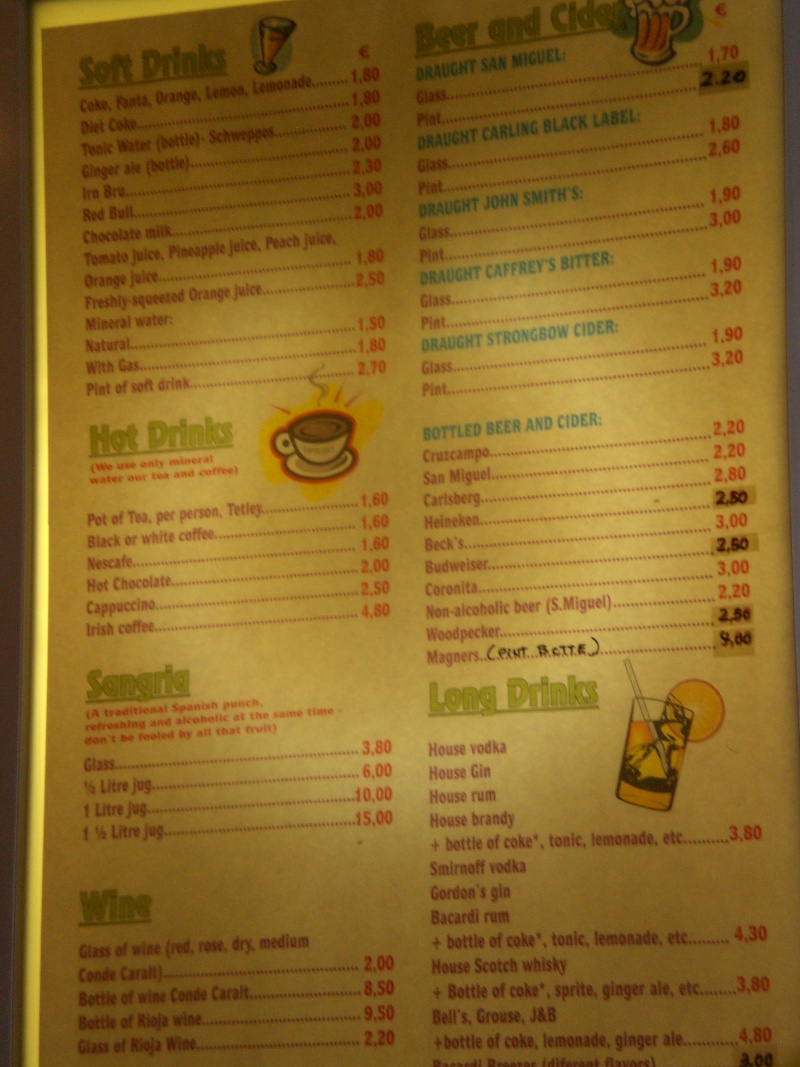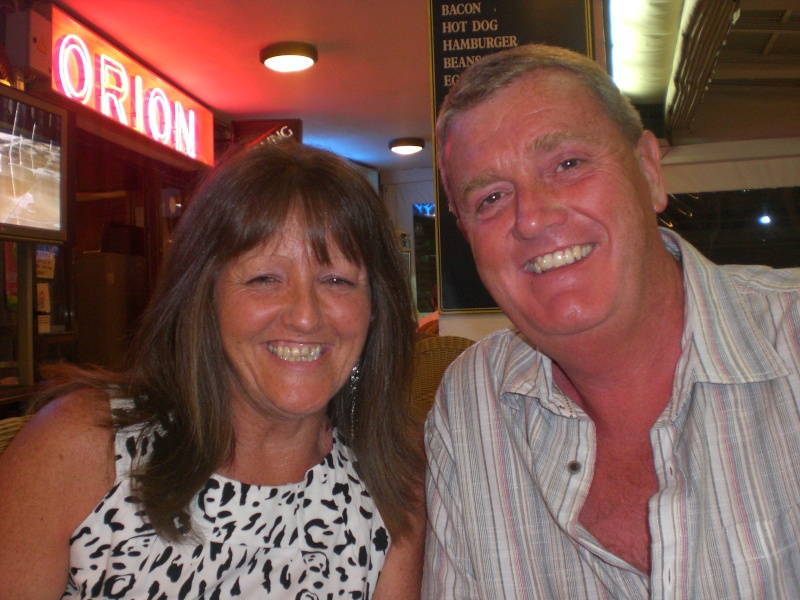 We then said farewell to Deb's & Don & strolled to the Plaza Cafe, where we had a night cap & met a couple of friends from Norway.
Well here endeth Part 1, with other parts to follow!!