Galley Bay - The Nitty Gritty
Some people like to know the fine detail and, as I am one of them, here is my interpretation of what I saw and often used.
The Resort: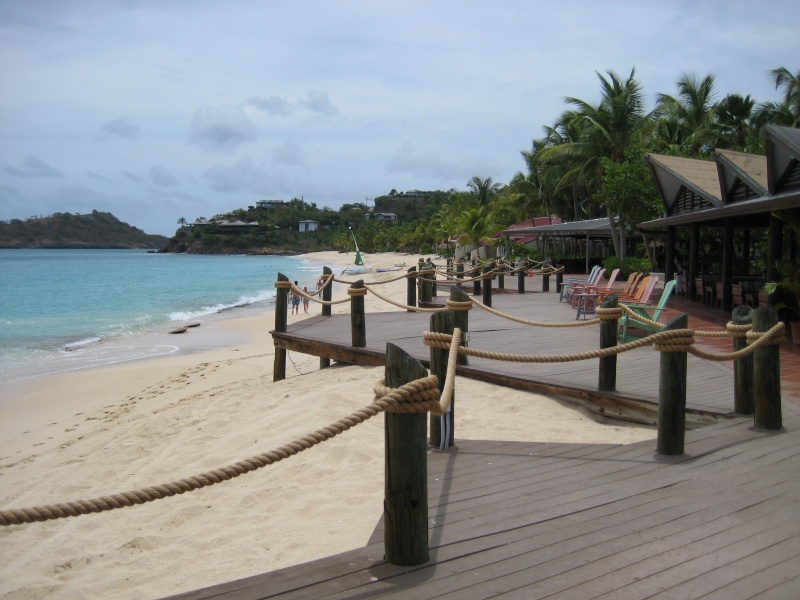 Built along a ¾ mile strip of sandy bay between two headlands that separate it from its neighbours. There is room for approximately 100 people and the accommodation blocks are no higher than one storey i.e.one room above the other. Many of the rooms are single level and I personally did not see any that had other rooms on both sides. It is located about 40 minutes from the airport just on the other side of the capital St Johns next to a village called 'Five Islands' where many of the Galley Bay staff live. The beach in front is large with fine sand and the gardens behind the rooms are very well maintained and have features such as a croquet lawn and a large lagoon and nature/jogging trails that amazingly did not seem to attract extra mosquitos or creepy crawlies. All in all it has a very visually attractive and relaxing feel about it.
Reception:
They have built their reception area on the mainland side of the lagoon and it is here they have their car park and taxi stop. To get to the main part of the hotel they take you by buggy across a little bridge and deliver you and your bags straight to your room. Everywhere is very well manicured and there is a ruin of an old but preserved sugar mill alongside where you sit and enjoy a cold towel and welcome drink if you want one. Most people have prepaid but they will probably ask for credit card details in case you want any of the few extras over and above the all-inclusive package like excursions and meal upgrades. The staff are very slick in the way they handle busy arrival periods so it should not take long. Obviously if you want a taxi during your stay this is where you go and some taxis choose to wait for rides in the car park. You can get there by asking for a buggy to take you from Guest Services.
Guest Services:
On the hotel side of the lagoon there is another 'main' entrance and just inside you will find guest services. It is usually manned by one to two staff and this is the main hub for most enquiries by guests.  It is not a huge area and the staff  know what they are talking about. Attached to it is a small shop/boutique selling souvenirs and summer clothes. It is also worth noting they sell essential non-prescription medications covering most holiday ailments plus American brand cigarettes. For information, if you want UK cigarettes take a taxi into Heritage Quay in town where you can get duty free prices with your passport.
Smoking Policy:
There is pressure from some non-smoking guests to get it banned but they have chosen a more equitable policy. This is that you can smoke outdoors and in the open sided bars (they all are) although they rely on your common sense to keep away from people 'choking' and 'pulling faces'. I do not smoke but my wife does and she had no problem from anyone. You are asked not to smoke in your room or in the dining area of restaurants which seems reasonable to me but there seemed no issue about having them on room balconies or patios.
Fogging:
The only other smoke people might notice is when the 'fog' the hotel once or twice a week. This happens in the early evening when the resort hopes most people are in their rooms getting ready for drinks and dinner. They drive a buggy around that sprays out a mix of smoke and bug repellent to kill off mosquitos and any other nasties. It is particularly necessary with the close proximity of standing water in the lagoon even though they try to keep that water moving with fountains. It works well and I got no bites from mosquitos. My wife had a few but a) she is a bug magnet and b) they were far fewer than other places we have stayed. It works well but try not to inhale the fumes!
The Beach: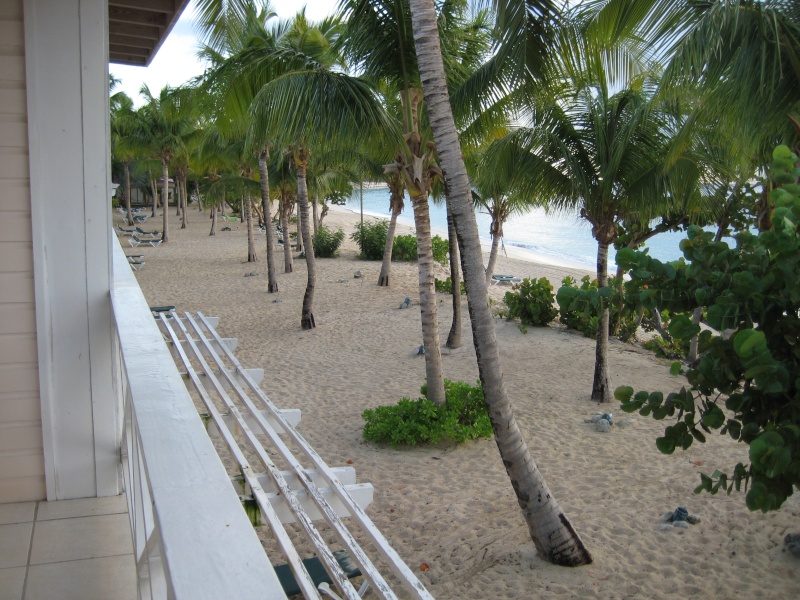 Obviously the beach and the sea are very important and one of the reasons you went on holiday anyway! As I said earlier the beach is long with rocky headlands at either side. It is sandy and is almost on two levels. The top half is flat and runs right up to the rooms. It is here that sun beds are positioned (one for everyone but not always used) and there is also a lot of shade from palm trees and permanent grass umbrellas. I personally think they could do with more umbrellas but there is always somewhere to go to avoid the direct rays of the sun. Some folk have griped about the lack of comfort of some sunbeds but I am not sure what the resort can do as they are pretty much standard to most hotels. They were fine for me.
The second level of beach slopes down to the sea and clearly this slope has been created by waves over the years. The slope is not steep in any way and the sight and sound of mainly small waves is a pleasure to me especially when going to sleep. The only down side of the beach is that it can sometimes get choppy enough for them to restrict swimming and using their non-motorised sporting equipment. When this happens they put up green/amber/red flags to let you know but it is not that often.
Sand-flies? We did not get bitten which was a first and testimony to the efforts of the resort. The only beach bites we got were from ants. Not many I hasten to add but those that are there (on the top level) sure pack a bite. Just don't sit near one of their nests which are usually close to the trees!
Like all beaches Galley Bay is open to the public however, it is far enough away from others not to attract many beach vendors who can sometimes drive holidaymakers mad with their selling techniques.The very few vendors that visit do take 'no thank you' for an answer and don't push themselves too hard. Being regulars I think they listen to the hotel management who know some guests want to buy but do not want the others pestered.
One guy who seems to base himself and his sail boat off the beach is 'Captain Sean'. His business is taking the guests on sailing, snorkeling day cruises that seem very popular. He certainly attracts more guests than the big catamarans that ply the coast and will stop off at Galley Bay if asked. Again, rarely you could see a visiting jet ski but thankfully that is rare so the peace is not shattered!  I loved this beach
The Sea:
As I said the water hear has (mainly small) waves which I think is far better than flat calm places that get too hot. Some people have even mentioned an undertow but I dispute this. Occasionally, when the warning flags are out you get a tugging at your legs when in the 'surf' and trying to get out up the slope but no way would I call it an 'undertow' which sounds far too sinister. It just means you might need to try a few times to get out without filling your costume with sand! There are a few rocks in some parts of the bay but you can easily see and avoid them.
Water Sports Centre:
Like most other resorts this hotel has an active water sports kiosk where you can book out a large range of non-motorised sporting equipment and also learn how to use it if needed. Equipment includes windsurfers, paddleboards, kayaks, sailing boats hobicats and snorkel gear. Snorkelling is not brilliant except if you go out with say Captain Sean on his boat to Cades reef.
There is an exception which is a sunken wreck near the rocks in the bay and is both large and visible under the water. The water sport guys will take you out there on a hobicat and watch over the boat and you while you swim and dive. Great  fun.
The people at the water sports centre clearly want to enjoy their job and socialise. You obviously have to go through the process of competence testing and signing of disclaimers but, once complete you are good to go. Be aware that they strongly limit activities if the wind gets up or the yellow/red flags are hoisted. In fact I think these flags have more relevance to boat hire as it can become both difficult and wet to launch the boats in rough weather. They are very safety orientated and life jackets are mandatory. They also have the almost uncanny knack of knowing exactly where you are and if you are in difficulty.
If you take out a hobicat (they have three) I suggest you sail upwind of the centre and have a look in the mini bay in the far corner. This is past the wreck and is a gorgeous scenic spot frequented by visiting yachts.
Main Guest Areas
These are in the middle section of the resort spread either side of Guest Services. Here you will find the largest of the restaurants called Sea Grape and also the most populated bar called the Tepee as this is what it is shaped like, an open sided tepee. The planked boardwalk runs along in front of and between these centres of activity. There are a number of pastel coloured rocking chairs and side tables on the boardwalk for sunset watching and relaxing with a drink and, despite them not having cushions they are pretty comfortable. Probably outdoor cushions would be impractical even though kinder on the backside!
Tepee Bar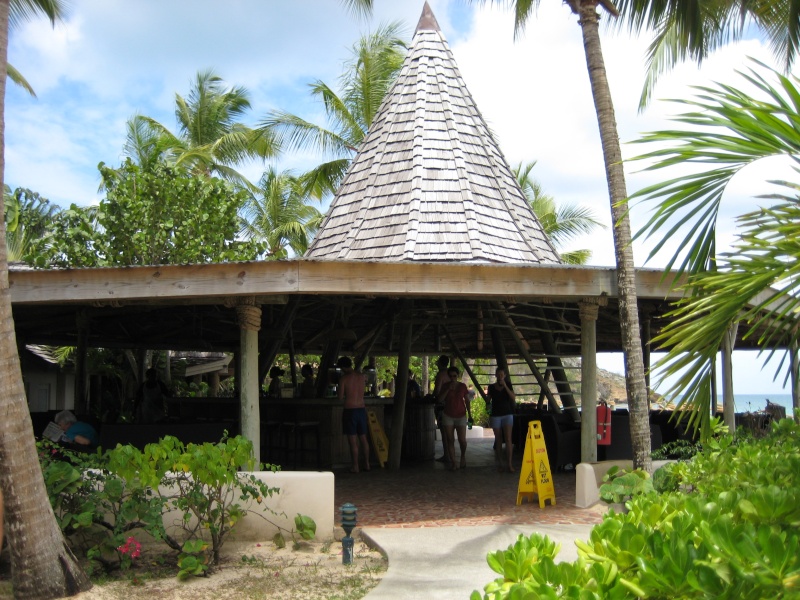 In the old days this was cramped and too small but thankfully they have done a lot of work to update it. The bar itself is shaped like a large hollowed out rectangle with bar stools on the two longest sides and it usually has two people serving the drinks and another collecting and cleaning glasses. They serve very reasonable good quality drinks including champagne and wine which mostly taste fine for casual drinking. The cocktails are extensive and unlimited served frozen or with ice, everything from a mojito to a reef runner or pina colada served with a smile and sometimes bar nibbles. Oh, by the way, they serve draft beer (Piton from St Lucia) or bottled Carib if you prefer.
On the open end to the bar are three large containers with iced water, iced tea and fruit flavoured water. These you can help yourself from and many wander up from the pool to do just that. Around the bar there is a range of four seater cane and glass tables and chairs. Some tables have ash trays (usually at the sides) or you can ask for one if you wish (behind the bar). The management were updating this furniture and I was told the new consignment was currently waiting customs clearance in the main port.
This bar seemed the main hangout to watch the sun setting over the sea. Sometimes this can be spectacular and other times disappointing depending on the cloud levels and sea haze. Around this time the staff wheel up a large lidded server containing an evening snack. Like most of the food it is good to eat and helps the sun-downers…..down!
One of the great features of Galley Bay is that it is all inclusive of food and particularly drink so do people misbehave and become overly intoxicated? I admit I saw a bit of it but nothing to my mind aggressive or annoying. Yes, some people got a bit drunk and needed to stop or go to their room and mainly that is what they did. Also the bar shuts around midnight and frankly, what with the heat, most people are too worn out by the sun to make a fuss. Mostly it was a few people having too good a time which was either entertaining or a cue for us to change tables.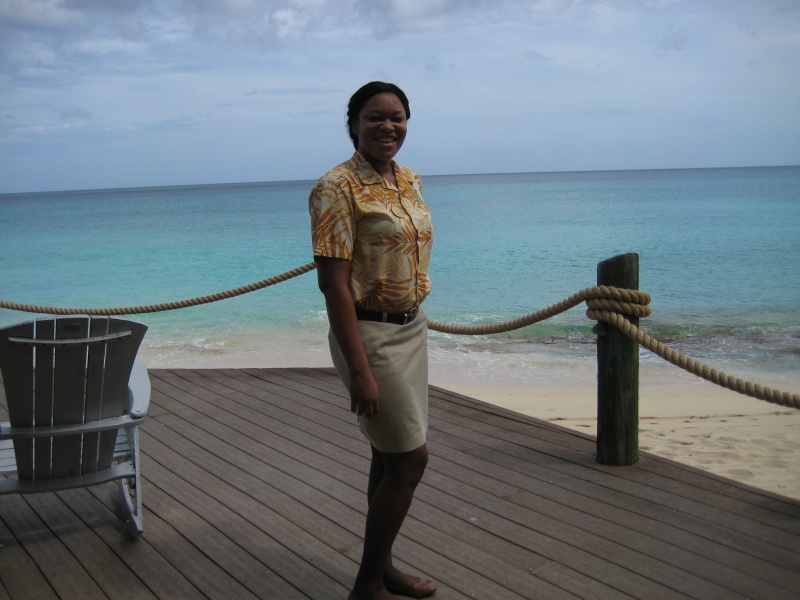 The Tepee bar was also the place to go for 'take away' drinks. Like most all-inclusives the resort does not provide large quantities of alcoholic drinks in the room as they would probably go broke if they did. Instead you can go to the bar and get them to pour a dink in the green flasks they give you on arrival. These are quite large but I have known them served pretty full if you ask nicely! Otherwise the room fridge is large enough to take a few bottles brought with you or bought at the supermarket. Despite the Tepee bar being reasonably close I rather like to sit on my room balcony with a drink while Judith enjoys one when drying her hair ready to go out so I used this service.
The Tepee staff do occasionally circuit the pool taking drinks orders but many folk just wandered up to the bar in the beachwear (with t-shirt or wrap) and got their own as it was clearly quicker and the drinks colder. At least once a day they come round with ice lollies which is a nice idea.
Sea Grape Restaurant
Sea Grape is by far the biggest and it is here that most people eat. It is the only place that serves breakfast and it also plays host to the bigger events i.e. barbecue nights etc. It is located  in a central position alongside the wooden boardwalk that spans across to the Tepee bar. The entry part contains s lounging area and bar with a small toilet next to it that has to serve guests, Tepee users and pool folk which is not so good in such a well thought out resort.
The lounge also serves as the afternoon tea area where they provide tea/coffee and ranges of sandwiches, scones, cakes and fruit to those that have space for them. Quite civilised really and particularly suits the older Brits….like me?! Like every open sided food fascility in the Caribbean you get birds flying in and out but there is little to be done about that, and besides, people like me like them!
The restaurant is at the other end with a reception desk at the entry and lots of tables and seats. It is always worth asking for a table as near the boardwalk as possible as mostly they are cooler with a sea breeze. Immediately prior to the desk is an area containing buffet and other 'help yourself' options. It is always worth pausing to check it out particularly if you are in any kind of hurry. If a table is free you are usually taken there quickly where separate wait staff will offer water and take drinks orders. If you want to see what is being served in all restaurants there is a copy of the menus at Sea Grape reception or opposite Guest services.
You will not go hungry at Galley Bay. The food is both substantial and varied and pretty good for all tastes. I think people need to remember though that this is not a top five star resort and catering for 100 people (mainly arriving within 10 minutes of each other) leaves little scope for too much imagination. The food is a mixture of tastes and types which provide a good all round experience and what you get depends on what is available on the island. The executive chef is British and works hard to keep food standards up and he is always happy to help people with allergy or dietary problems. Do not expect rapid, organised service but you do get plenty of smiles which help!
Breakfasts are great and it is easy to overindulge! The buffet (as you go in) has fruit, cereals, juices, salad, toasts and hot choices such as sausage and bacon, scrambled egg etc. Inside you can order just about any cooked combination you want as well as pancakes with numerous sauces. Service is friendly and relaxed and you never seem to be rushed. Those Brits that like Marmite can even order it here!
Lunch is a slightly lighter version of dinner in that it can be four plus courses including starters salads (buffet) mains and desserts. They serve quite a few locally created meals which are very tasty and can be quite spicy. Frankly you can eat as much or little as you want and some people go for something lighter at the' Barefoot Grill' or more elegant at 'The Gaugin'.
Dinner at the Sea Grape is often very busy depending on how many guests are staying at the resort. Again they clearly make an effort to please everyone but sometime a few cracks in the service and food standard shows at times of pressure. I think this is the time some guests need to remember they are on a laid back holiday island not in their home town/city. If you are providing what is close to mass catering you cannot expect everything to be perfect.
They have a barbecue night which can be quite fun. Again, seating is in the Sea Grape or on the boardwalk itself and an extensive buffet is lined up on one side. There was a delicious suckling pig at the end nearest the barbecue on the boardwalk although some people did not like the fact that its head was still on! The barbecue itself was the usual mix of meats and fish. If they offer you sauces with it then speak up quickly or they will take no answer as a yes. This sauce was great for me but the piri piri nearly blew my wife's head off! The meat itself was OK without being excellent or poor.
On barbecue night beware of one thing. Good entertainment is provided and this contributes to having people rush down as soon as it is open to get the best seats. If the hotel is full you can get turned away to one of the other restaurants. This happened to us in our first week which was a little annoying as we were not particularly late. They blocked a good table for us on the second week to make up for it despite grumpy looks from some other guests.
The Other Restaurants:
Gaugin
This restaurant is located at the extreme end of the property on the Sea Grape side. You enter through a small but very nice bar area and are seated in your own little area under a reed canopy. Each seating area is away from the next so it is great for privacy and not so great for socialising with those around you. I found the layout very attractive and the nearer the sea you go the better it looks.
You have to book a table here and they serve lunch and dinner which are usually a slightly higher and more bespoke version of what you get at the Sea Grape. Despite the food being an improvement on what is already a good standard it is still available to all at no extra cost.  If your room is not nearby you can call for one of the buggy transports that are available although allow a little time for this.
Ismays
The story goes that this restaurant is named after a long serving staff member and I must say it deserves the description 'fine dining'. It has a totally different feel to the place and compares favourably with all the high calibre restaurants and hotels I have visited in the Caribbean.
Again, you need to book and yes, there is a surcharge to dine there and yes, it is worth it. I fail to understand why some folk gripe about this surcharge because it is a totally different dining experience. The location (other extreme to the Gaugin) the service and the food are in another league and the surcharge is much smaller than this difference. Every guest should go there at least once.
Bare Foot Grill
This really is a one lady show. It is no more than a little shed with a counter and the lady chef turns out lovely substantial snacks/lunch from there which you can eat in your swimwear (with wrap/T-shirt) if you want. She does numerous different burgers, fajitas and snacks with plenty of fries. Everything was cooked perfectly and was produced promptly and freshly cooked. It ia a great addition for anyone that wants quick, informal tasty lunches.
Galley Bay Dress Code
Now let us get this straight. The web site says (and I quote):
Breakfast & Lunch: Shoes must be worn at all times and bathing suits are covered and dry.
Dinner: Men are required to wear collared shirts with long pants or stylish jeans. T-shirts, shorts, capri, 3/4 pants and ripped jeans are not accepted. We ask that women wear dresses, skirts, long pants or stylish tailored shorts or jeans. No short shorts or tank tops allowed.
Now for some reason this subject can be quite emotive, especially as the resort enforces it. But why?  Does this sound too harsh? I personally do not think so, in fact I find it quite reasonable if you agree a dress code is as much a state of mind as a fashion statement. People dress down and their attitude can reflect that, although I know some of you will disagree. I personally do not want to eat and drink when the folk at the next table have wet costumes, hairy armpits and acres of bare flesh on display!
Pool Area:
This is one of the most improved areas and is situated alongside the Tepee bar on the other side from the Sea Grape restaurant. It used to be pretty claustrophobic but they have greatly increased the size of the pool surrounds and put up plenty of permanent reed umbrellas that are discreetly apart from each other. Don't you just hate it when you lie on your sunbed and are able to view a close-up of your neighbours feet! It is mainly a calm, relaxed area although you sometimes get a bunch of Wahoos floating around in the water with drinks in their hands shouting across to their friends.
There are plenty of pool/beach towels in your room although they also keep a large extra supply behind the counter of the Water sports hut adjacent to the pool. The water itself is warmer than the sea and very inviting. Strangely the pool is not tiled so it can feel a bit rough under foot. It can also look a little dark because of the paint used but I understand that both these oddities are like that for 'ecological' reasons. The sunbeds are wooden, on wheels and adjustable with a decent mattress and have curved backs for comfort.
As mentioned before I found it slightly irksome that in such a spread out resort there is practically nowhere to change bathing gear. You either walk through the Tepee bar or around the front of Guest Services to find any facility. It is either that, dry in the sun or walk back to your room which can be some distance away. I noticed there is an office they could convert or perhaps do away with the underutilised bicycle hut. This lack of facilities can be quite amusing entertainment as there always seems to be someone trying to wrestle something on or off under their towels with varying degrees of success/exposure!
The Rooms
As I mentioned earlier the beach front rooms fan out either side of the central reception area, probably ¼ mile in each direction. There is a winding path leading to them with pick up/ drop off point for the buggies to pick you or your bags up. There is a croquet lawn (gear at Guest services) and a couple of 'rehydration stations' which are basically water and ice machines. The room entrances are from this side and then back directly onto the beach.
There are three types of beachside rooms, Superior, Deluxe and Premium. Probably the largest differentiator between the three types is space. We stayed in a very roomy Premium room and there are probably more of these types than any others. The resort seems to manage its space very cleverly to give everyone what they want and this means occasional upgrades are possible.
You enter through the back into quite a large hall which has the bathroom door leading off it. By anyone's standards the bathrooms are large. The one we stayed in had two basins, two showers and an enormous bath in it. It does not have air conditioning in it which is a bit of a shame but I have stayed in smaller rooms than this bathroom. We did not lose water once and the temperature remained constant which is amazing for the tropics. Water pressure was fine considering the need to conserve resources but I would not have wanted to fill that bath!
The room was equally big and split into two sections by a slightly dropped floor in the lounging area. The bed was large and a little hard and the pillows were not to my particular taste but that is not unusual. I slept well as I always do with the sound of waves in the background and a stomach full of good food and wine. There are two bedside tables with a clock radio, telephone and plenty of space for books and things like that. Also there were two enormous chest of drawers pushed together which more than housed the clothes we brought with us.  As you would expect there was  a wardrobe that also contained  a safe, iron/ironing board and suitcase stand. This took up quite a lot of space but we still got all our things in. Consider taking a few extra plastic hangers as we needed some.
The lounge area had two sofas, a dressing table and sink unit containing the fridge and tea/coffee making facilities. This included a kettle so we did not have to try making tea using the coffee machine! The fridge had a small range of beer, sodas and water as well as plenty of room to store some of your own drinks. The dressing table was well lit and there were plenty of plug sockets to accommodate hair dryers and straighteners. My wife liked this as it meant she did not have to get ready in the bathroom which got hot. It might be worthwhile bringing a travel mirror with you if you want to do the same. Electricity is 110 volts using US plugs.
There is a modern flat screen television on the wall with plenty of cable channels but we never switched it on. On the other wall was a large air conditioner with a rather complicated remote. I say complicated but what I mean is modified as a number of the commands did not work and you could not turn the temperature down below 20 degrees. I do not think it reached as low as 20 degrees the whole of our stay. We could have done with a cooler room but I never mentioned it which was stupid as I suspect, like all things, they would have tried to help.
At the end of the room there was a floor to ceiling glass wall that opened up to a lovely balcony overlooking the sand and sea. This had two comfortable loungers with a wicker table between them. This proved ideal for my wife to smoke as there is a no smoking rule in all bedrooms. We had a choice of being on the ground floor where you walk straight from bedroom to beach or upstairs where you could view the sea better and run no risk of noisy footsteps of people above.
Resort in General
The property has been around  for quite a while but still remains fresh despite the wear and tear it gets from a regularly full guest inventory. The gardens are well kept, they train well and commit themselves to all sorts of eco policies from water conservation to tortoise and turtle protection. The facilities are excellent and I have not mentioned positives like the spa, sports facilities, library, yoga etc as I sadly never visited them. My only excuse was that I was too relaxed!
For the price I paid it is the best I have stayed in. On flicking back through these notes I feel I have not given full enough credit to the people who work here. They are so damn nice! Good people are down to two major influences, their home life and their management and I think Galley Bay works on both. Antiguan people are basically friendly and kind, but they also need strong and encouraging leadership and this is where Galley Bay gets it absolutely right. Well done Galley Bay and I hope, one day, to return.