On the Tuesday night it was mine & Daryn's last night in Mallorca.  
 We were walking past Papi's Bar, when we saw Davie Thistle, (I still can't believe that he has the same surname as the team that he supports
Inverness Caledonian
Partick Thistle)  
 & Donna. They invited us for a drink as you do,  
 so with that Daryn texted Mark, who was up on the stage at The Mirlos acting like a Big Kid no doubt,  
to come along & join us.
Then Don & Deb's walked by & joined us, then Mark's Brother David & his Wife Melissa, followed by Mark. It was like a mini meet up,  
 only sad thing is Jen & Rae were not there & we had to leave before midnight,  
 otherwise Daryn would turn into a Pumpkin.  
The Band playing that night was called Hooched, who were absolutely brilliant & I would strongly recommend you to see them.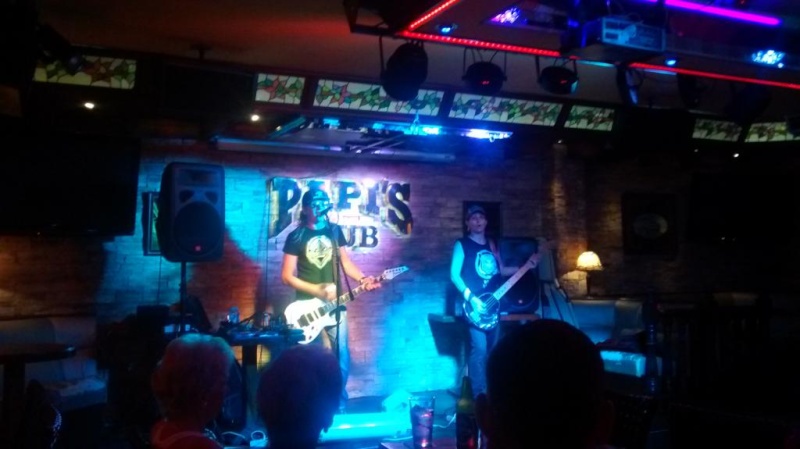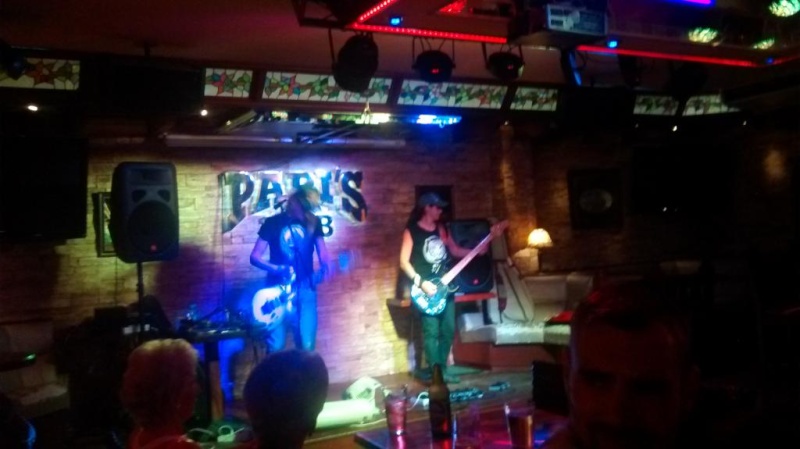 This is his FB page https://www.facebook.com/jonski.rock I actually went school with the guy, who is a bit younger than me, as he is from Kettering, my hometown & his Girlfriend, the bass player is from Desborough, about 5 miles from Kettering. His real name is Jan(Jon)Salandiak, but he is known as Jonski Rock.
He was asking the audience where they were from. There were people from Wales, Sheffield & I shouted out Kettering, he couldn't believe it. He was asking me questions about the town etc. He said that he taught a mutual friend of ours, Wayne, to play the guitar & I replied, "Is that why he is a drummer now then."  
Daryn, Davie & Donna were crying with laughter,  
 & luckily for me so was Jonski.  
TBH we all had a fabulous night, which was over too soon for myself & Daryn, so we said our sad goodbyes & left for another year.  
This is a video of them playing Sweet Child of Mine at Alexander's Bar in Magaluf.