After watching the Arsenal beat Napoli 2-0 in the Champions League at the Orion Bar, we then went off to Ruby Tuesday's to watch the Elvis Impersonator Mike Jones. Mark, Daryn & myself suitably impressed.
We said our goodbyes to Mark & Jan,
  as they were off the next morning. 
   So Daryn, Debbie, San & myself decided to have a cheeky drink,
 at a new bar just opened called Stereo at the bottom of the Strip.
It looked pretty good from the outside, but I don't think that we were the clientele that they were looking for TBH.
 Well we got taken in by one of the PR's to the bar, who said that we could get two drinks for the price of one.
  So I ordered 2 beers, thinking I was getting four, & a Bailey's for San, which came to 11 euro. But only two San Miguel's were placed in front of me, so I said to the barmaid, "I thought that it was two for one". She replied, "It is you have had you two San Miguel's", so I said, "Two more please", so another 5.50 euro, so 16.50 euro in total.
I thought, hang on a minute here, if I only bought one San Miguel it would be 5.50 euro.
 So I called the PR over to explain the prices. So I said to him, "That if I had gone in on my own without him & ordered a bottle of San Miguel, I would be charged 5.50 euro".
  "Yes", he said, "So as I went in with you, I got two bottles for 5.50 euro. I said that the Bar was taking the pi$$ at those prices",
  he said, "I know", & walked off.
My two for one bottles of San Miguel, for 5.50 euro. I won't be going back in there again, I can assure you.
Daryn enjoying his 5.50 euro bottle.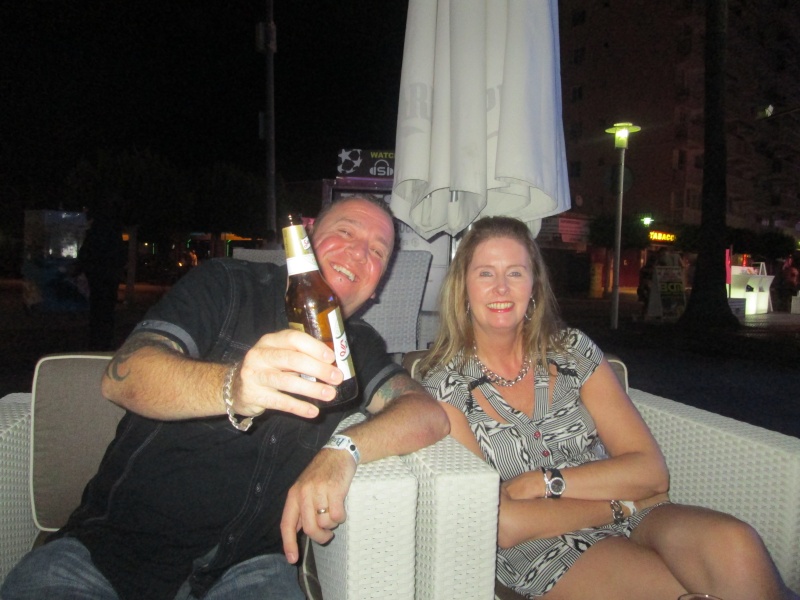 Oh well, you live & learn.