With our cases unpacked and now 3:30pm Greek time, which is two hours ahead of us, we had a stroll down to a beach restaurant which was through a camp site and near the beach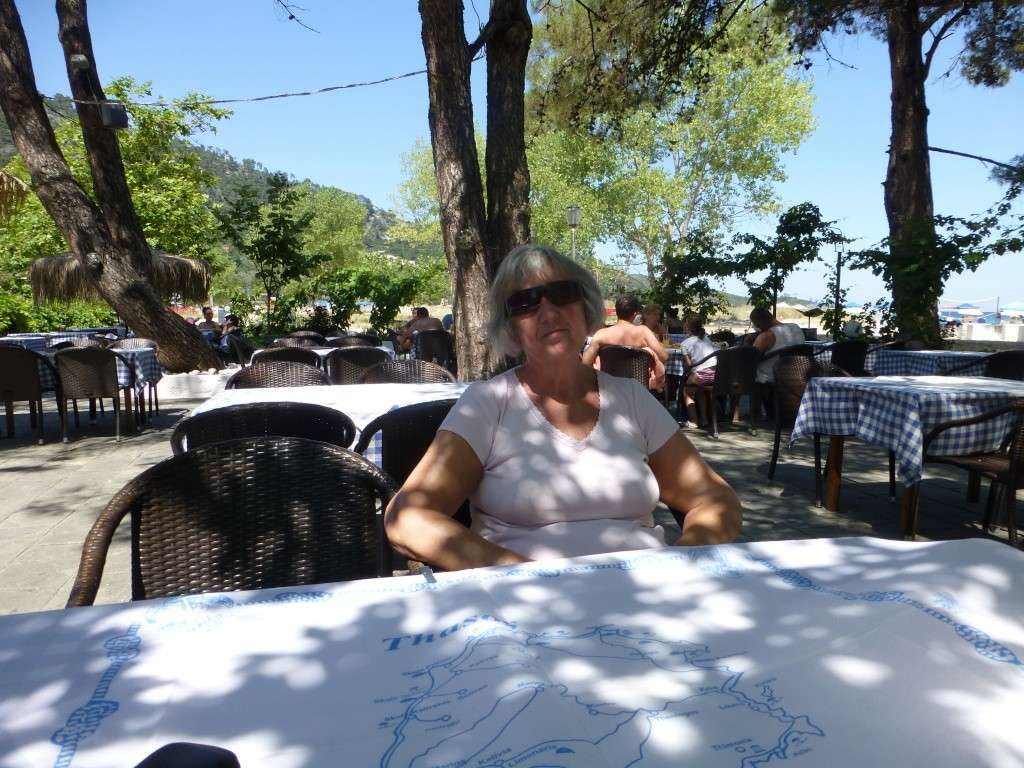 We decided to open the holiday with a greek salad each and that 1/2 litre of cool beer
Then a stroll, to see the beach, lovely almost white sand, this area was almost dunes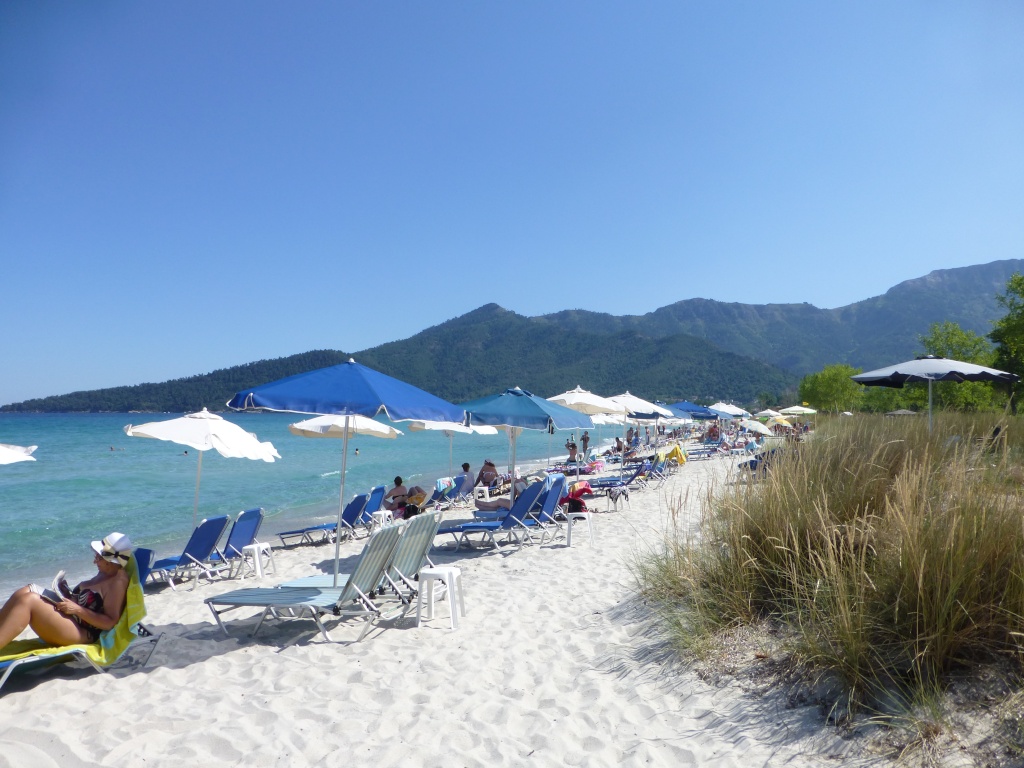 then a walk along the path to see what restaurants were available
here the sunbeds were run by the restaurants / bars and the sunbeds were free if you bought a drink / or meal
but too late for us to try the beds today
but for us time to buy a few groceries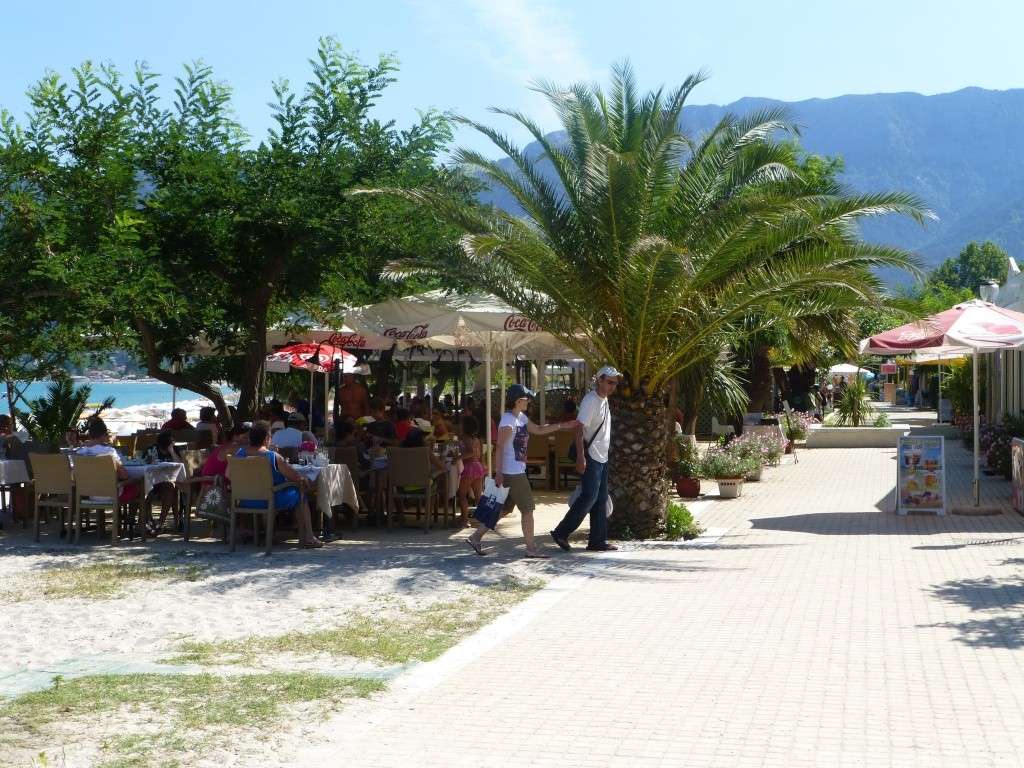 However, there seemed to be loud argument at the bus stop between some Greek people, then two guys came across the road and one smack another around the face, I just carried on photoing lol but it all died down with an elderly lady making idle threads back at them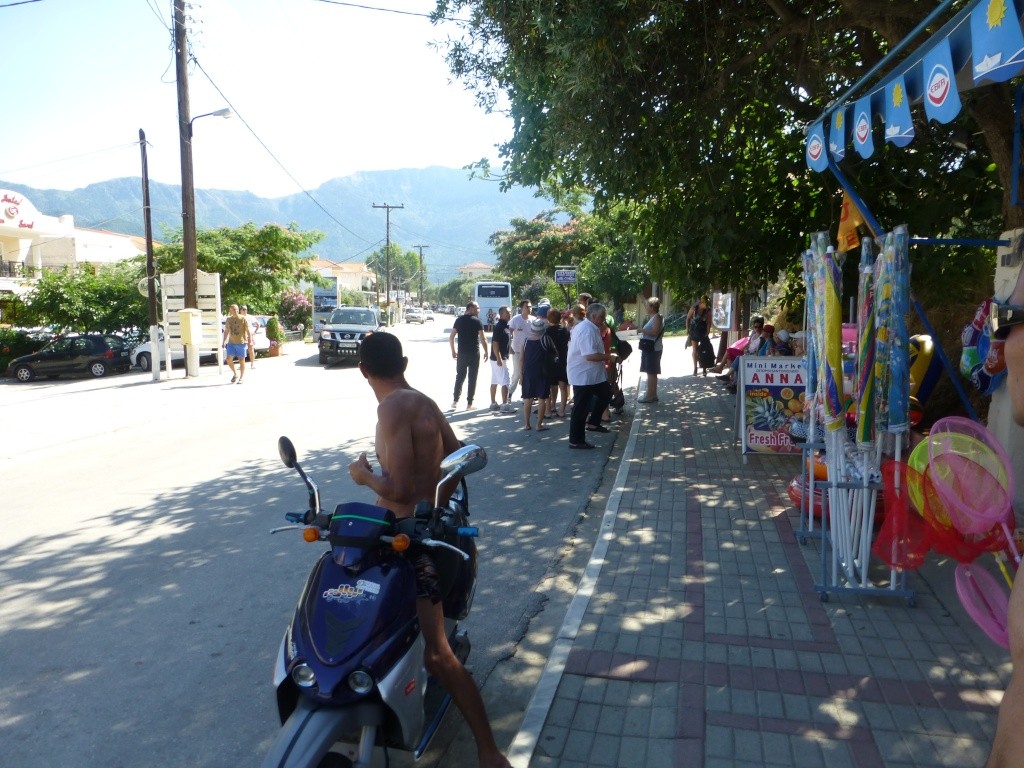 Anyway, excitement over, we got some food for breakfast for tomorrow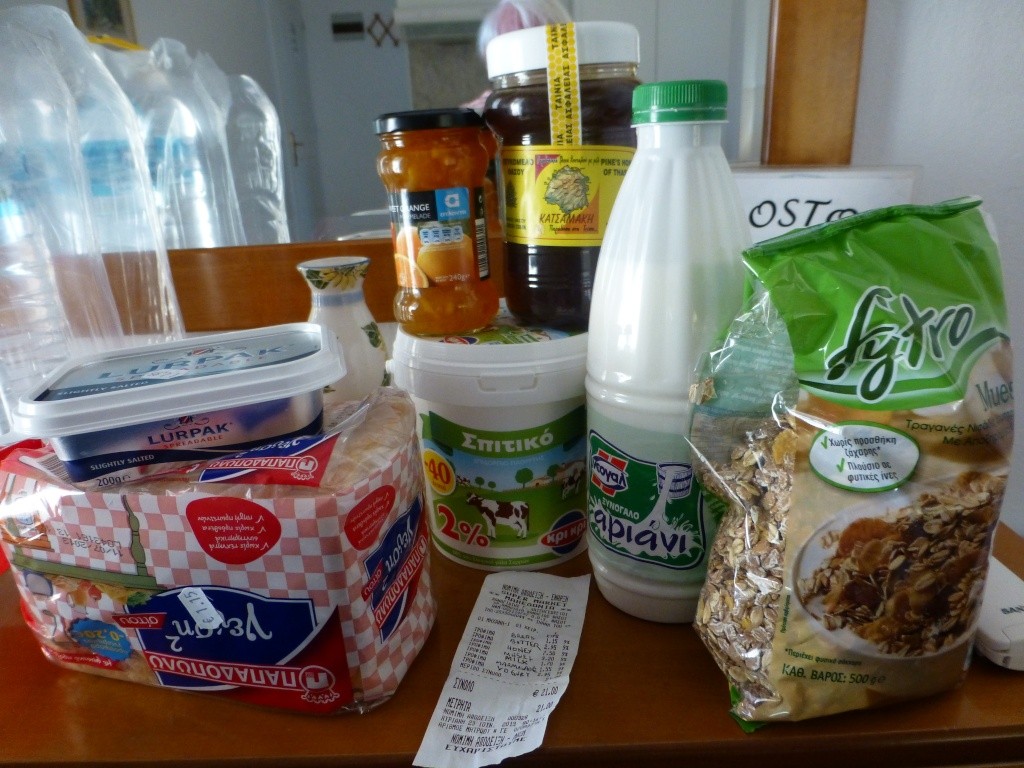 total bill for that lot was
and then back to the apartment to shower and get changed for the evening
we choose Fedra as it looked the part, with tables near the beach and about 10 minutes from our apartment
Mrs Db choosing from the menu wisely lol, just a couple of pages from it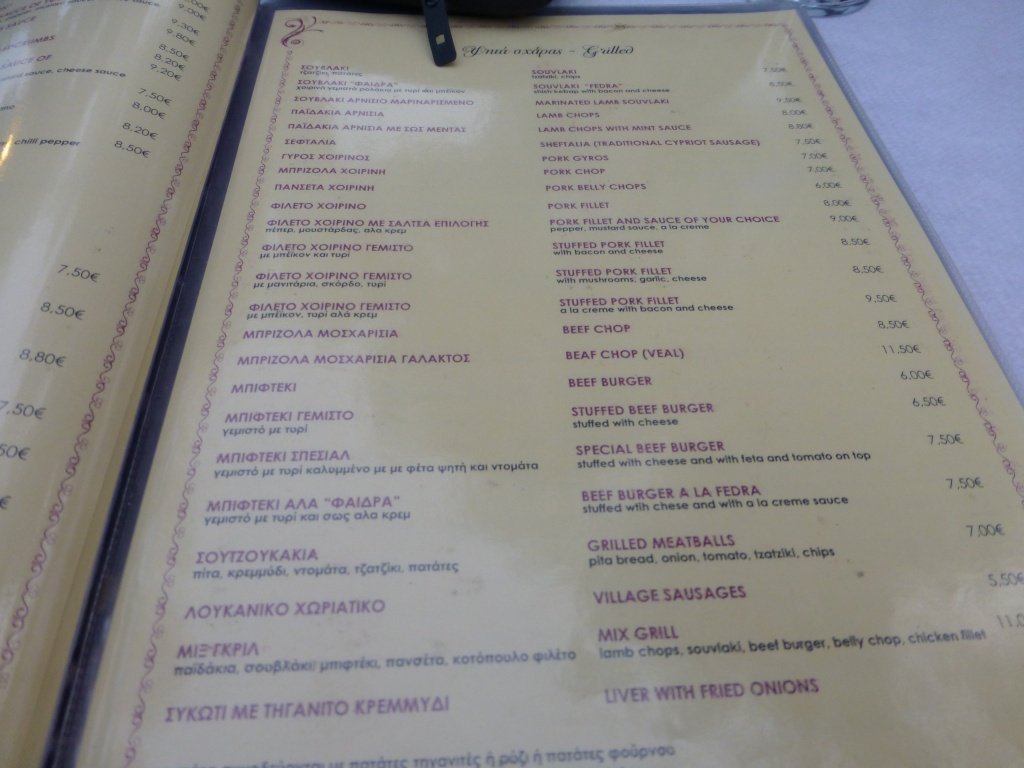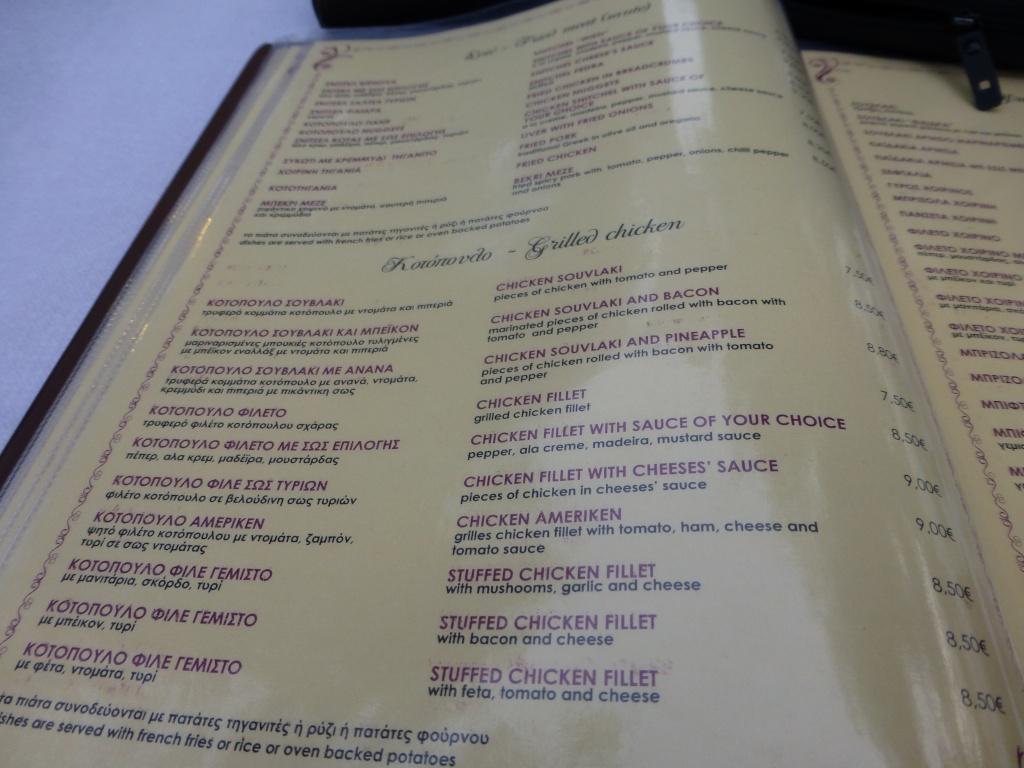 we chose a spicey cheese dip between us as a starter
I had a burger stuffed with cheese and Mrs Db had a pork steak but both meals has a mushroom sauce, so they looked the same lol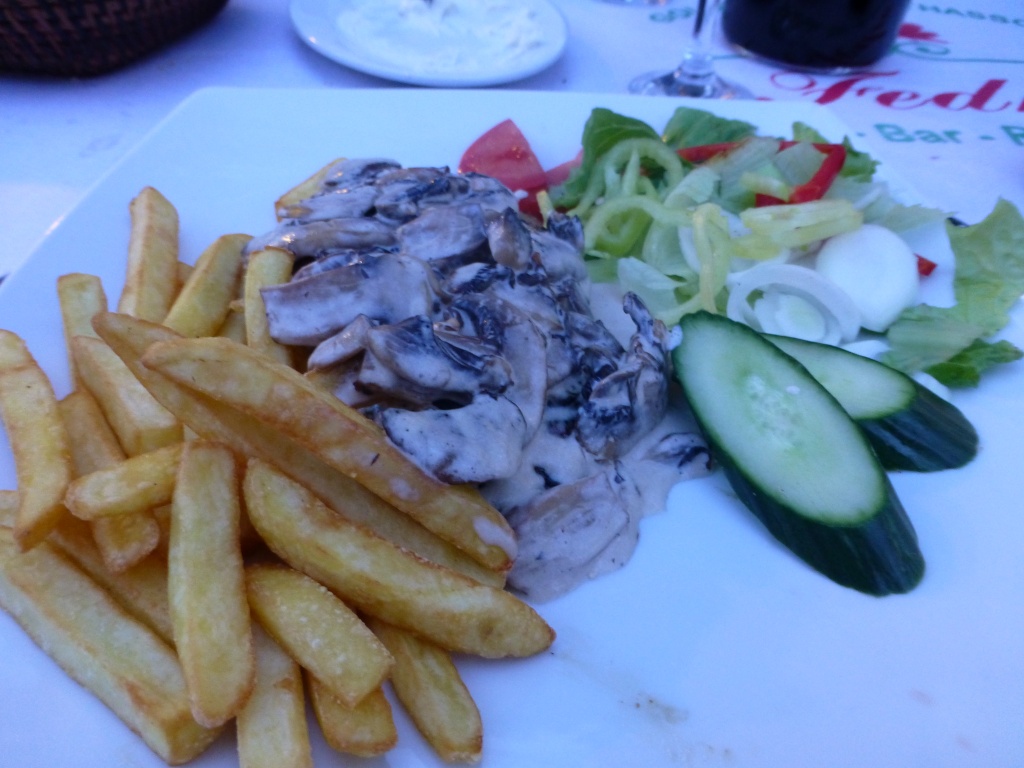 and the evening ended with a full moon shining lol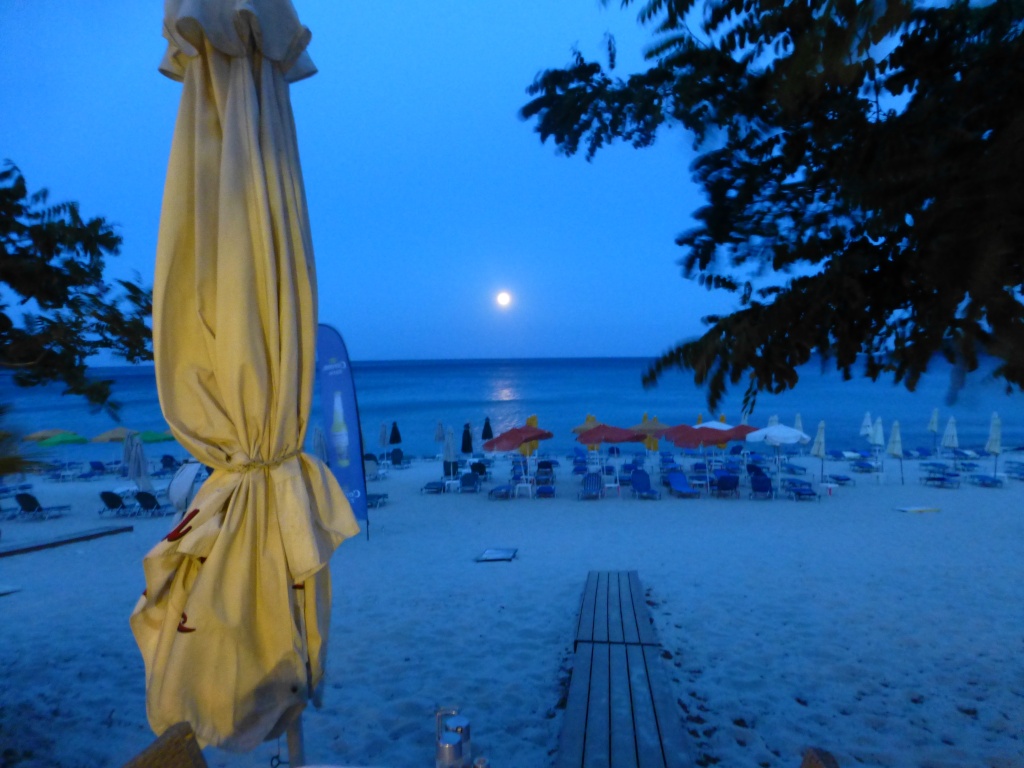 --------------------------------------------------------------------------------------------------
Day 2, Monday
so after a good night sleep aided by the air con
Mrs Db produced our Greek breakfast, we had risked buying a large jar of this Pine honey and my verdict was it tasted like honey to me, but a little bit less sweet
breakfast on the balcony was lovely in the mornings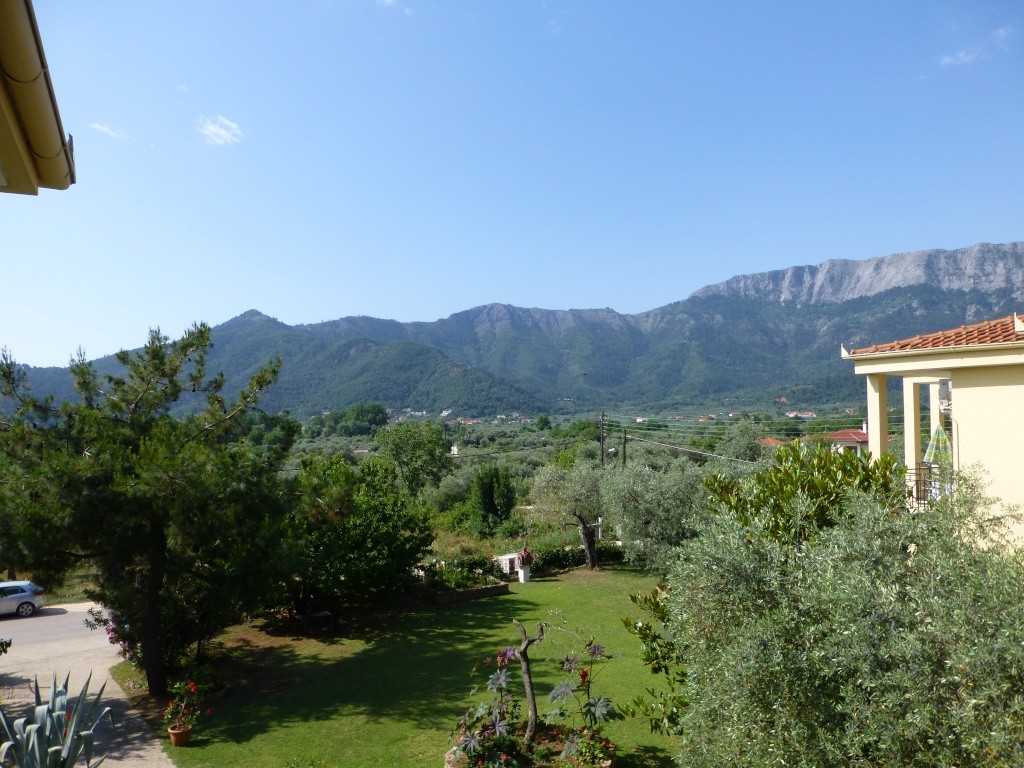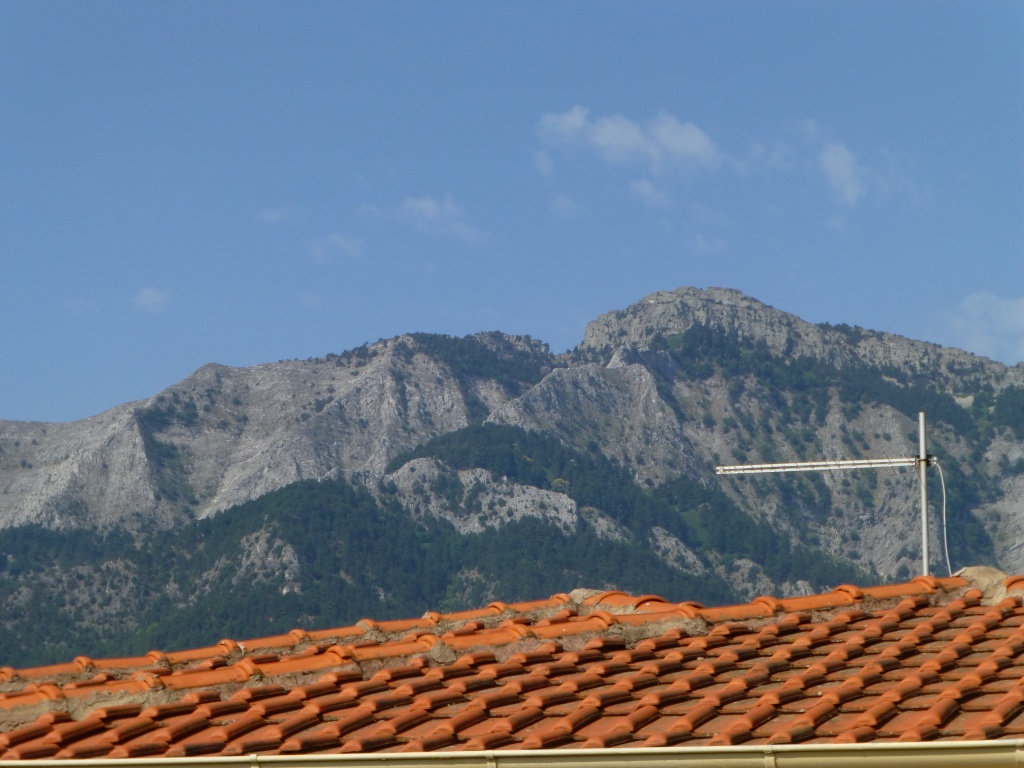 whilst Mrs Db worked out the best position to put the toaster lol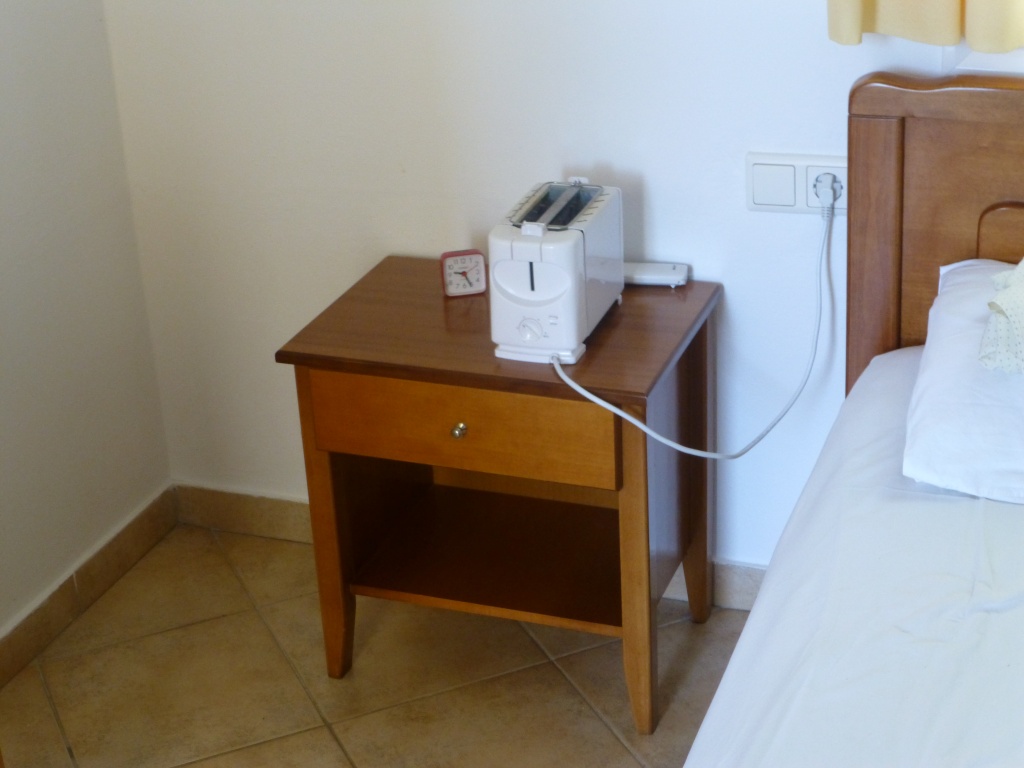 no more breakfasts lol
This mountain looks like the one in the start of Paramount Pictures
So it was the reps meeting this morning at 11:15am, so worth finding out a bit more about the place, it was being held at the Marina Hotel, another hotel in the Thomson Brochure
So we set off from the Nostos quite early, this section is probably only interesting to find your way in Golden beach from the Nostos if you go to Thassos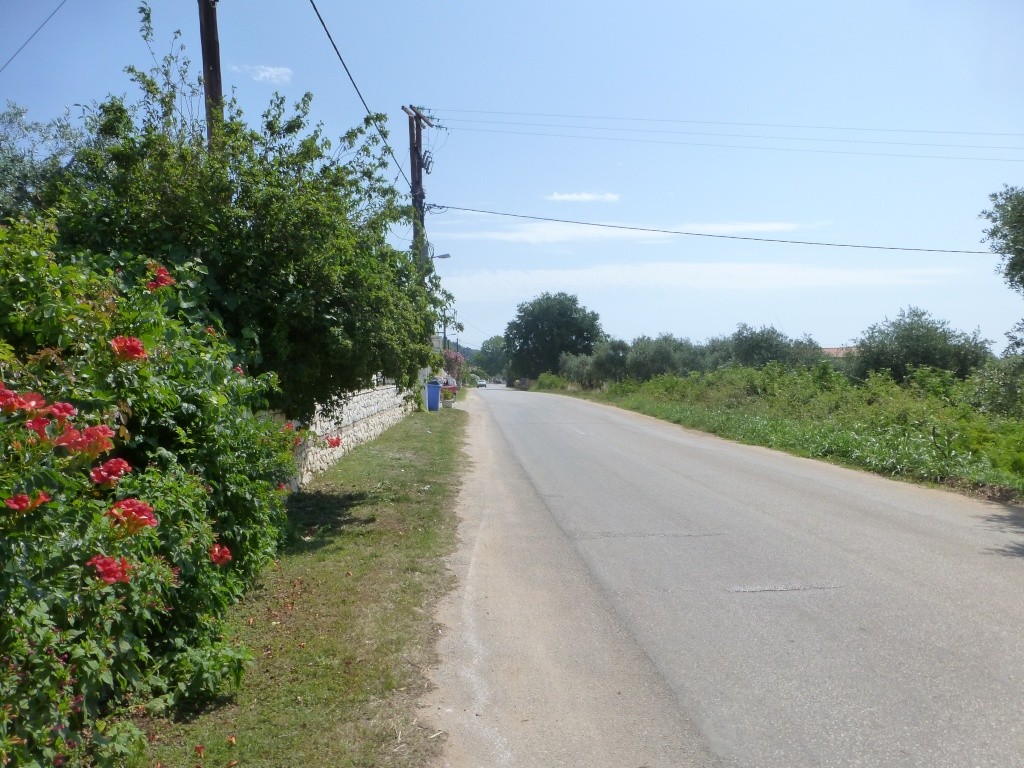 The road the first week didn't have too much traffic but there are no pavements, so one has to be careful and one morning a car did sweep passed me using that gutter edge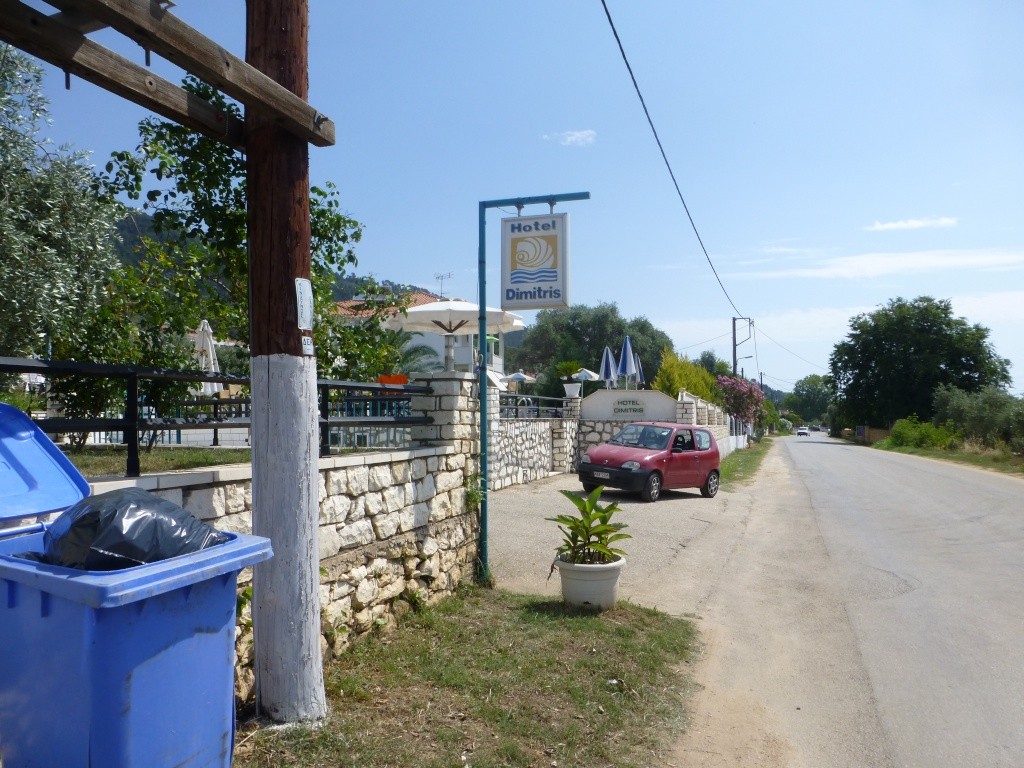 Passing the hotel called Dimtris looked quite good, next to the Nostos and had a swimming pool but is not in the brochure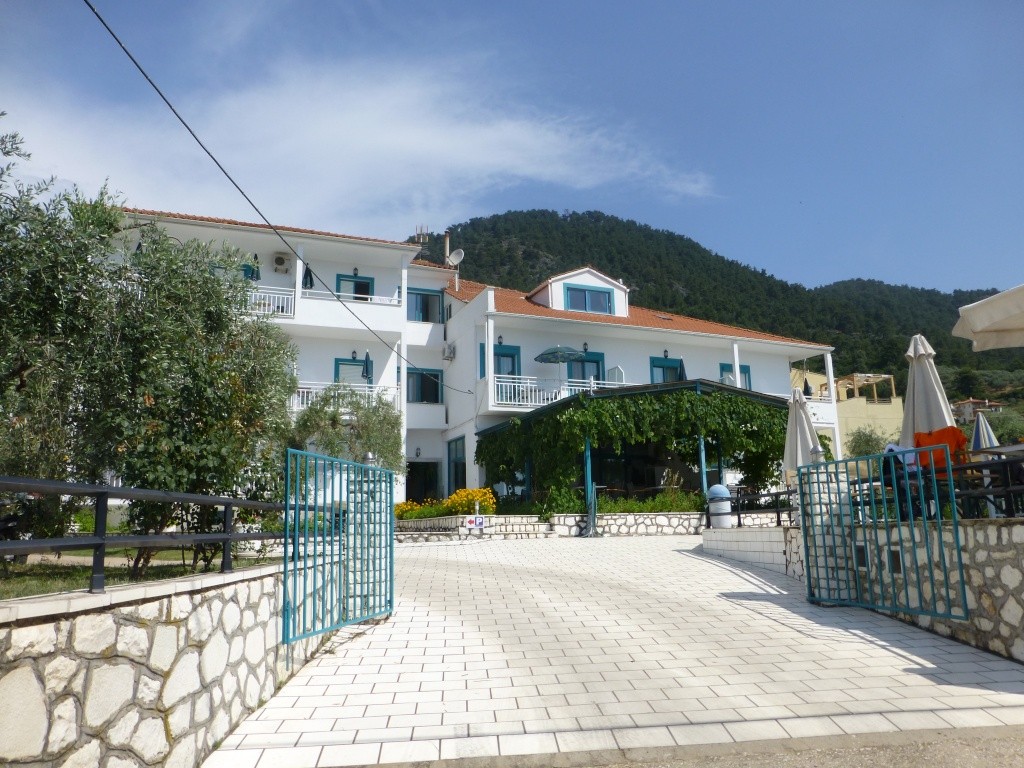 so going passed there and continuing down the road
One gets these signs with all the hotels / bars / restaurants listed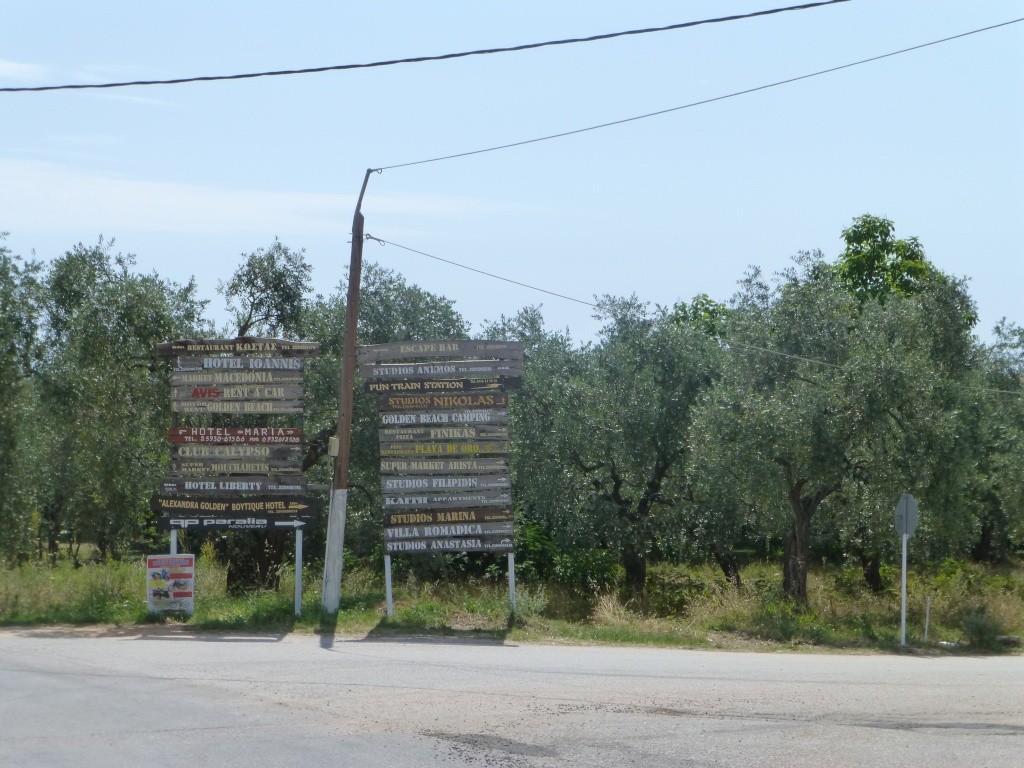 so here we take a right turn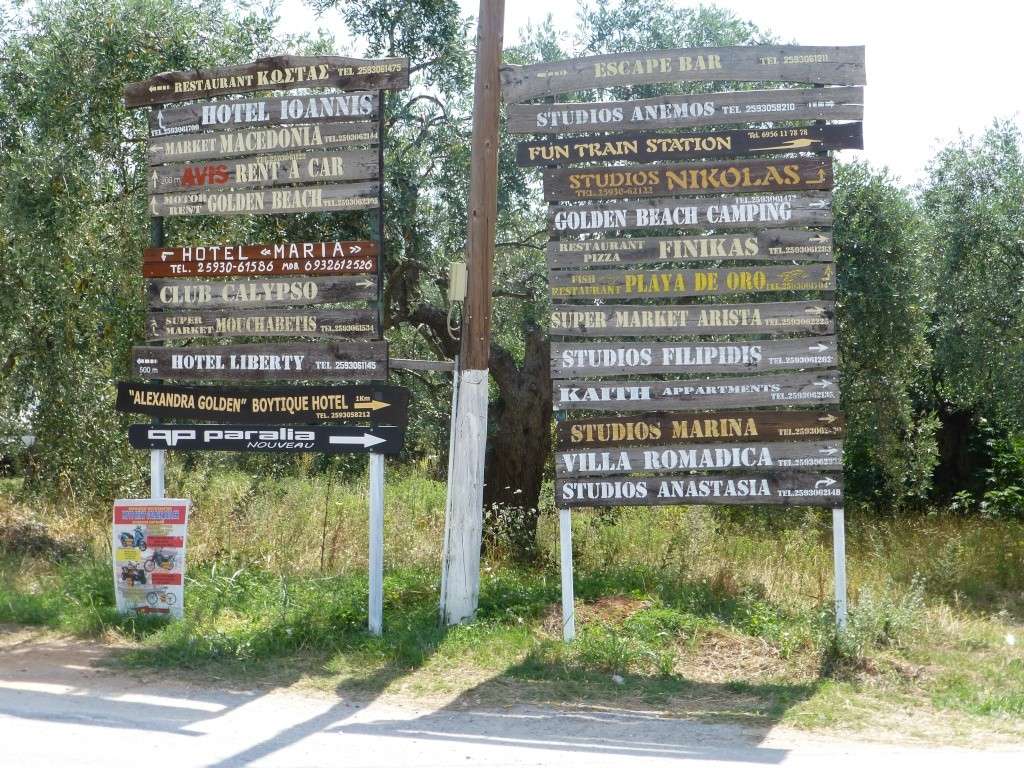 and walk 100 metres down here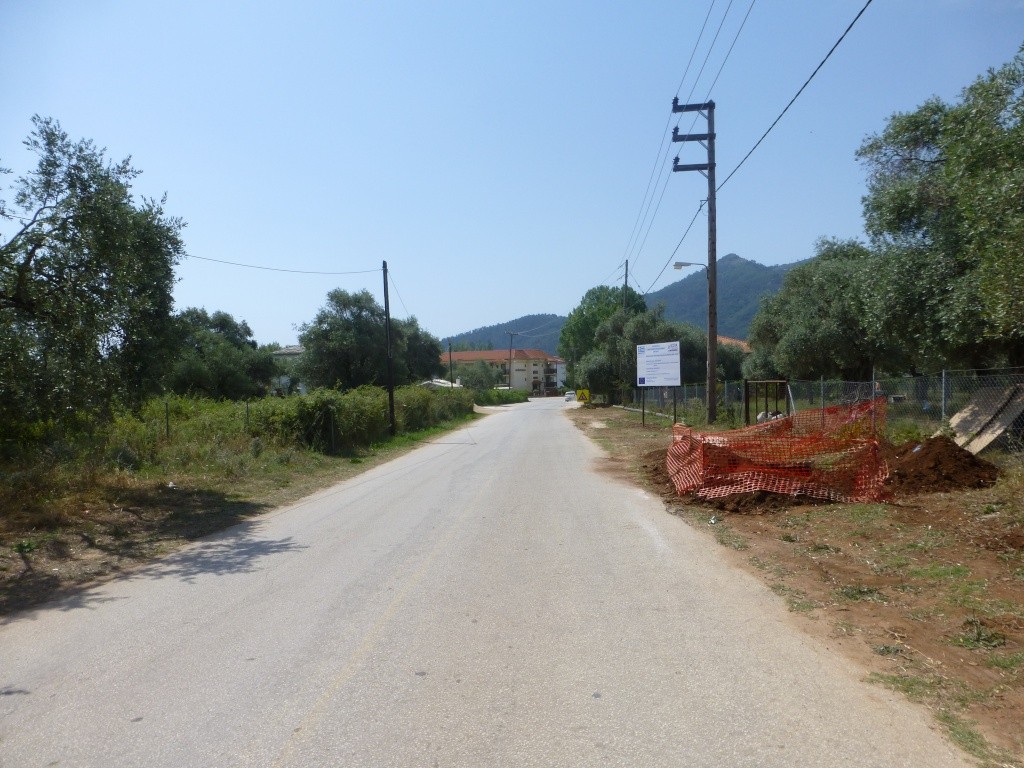 There were goats on our right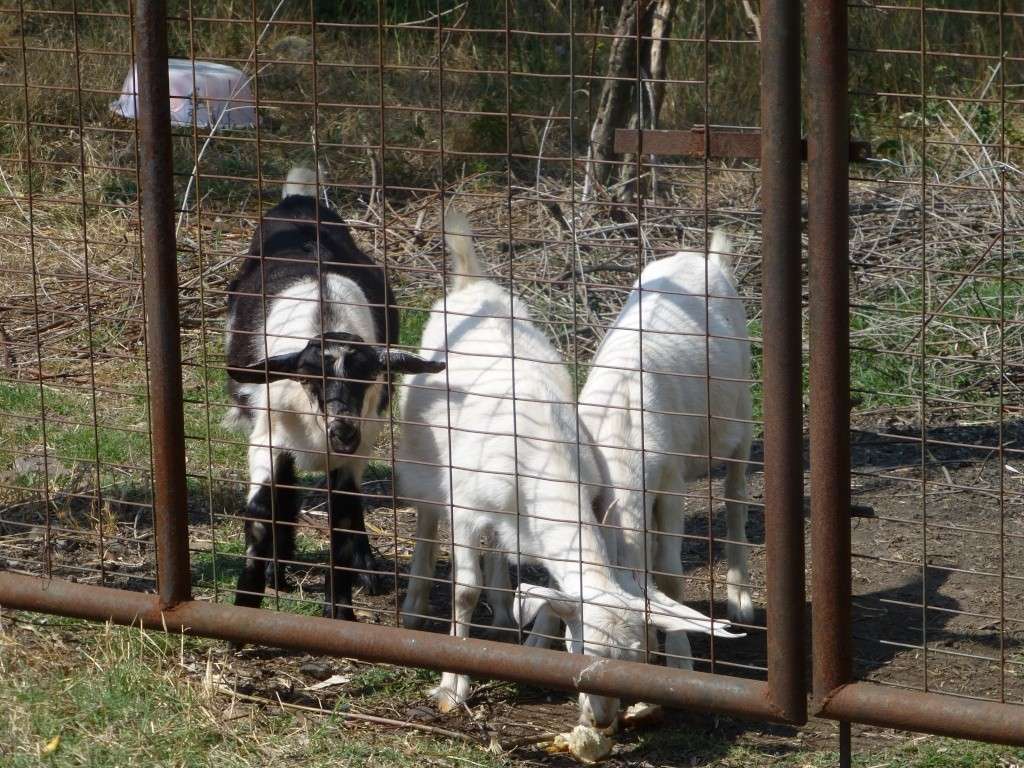 then a right turn, to see the mini train parked outside the Marina Hotel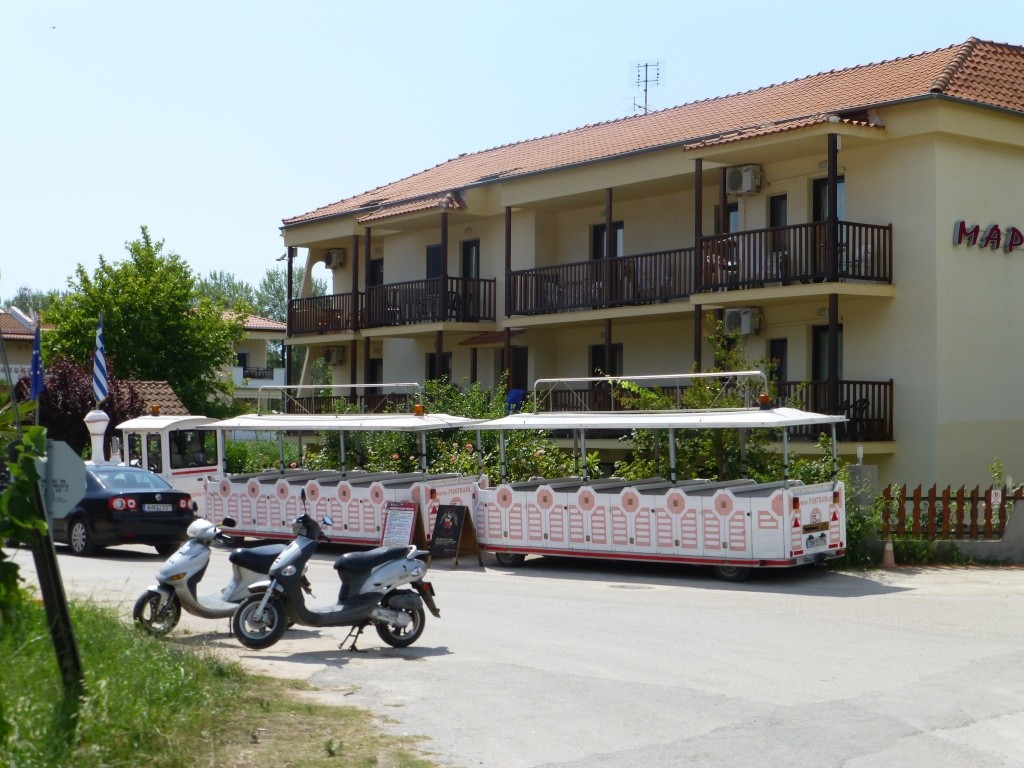 on the other side of the road the Marina Apts has a bar and swimming pool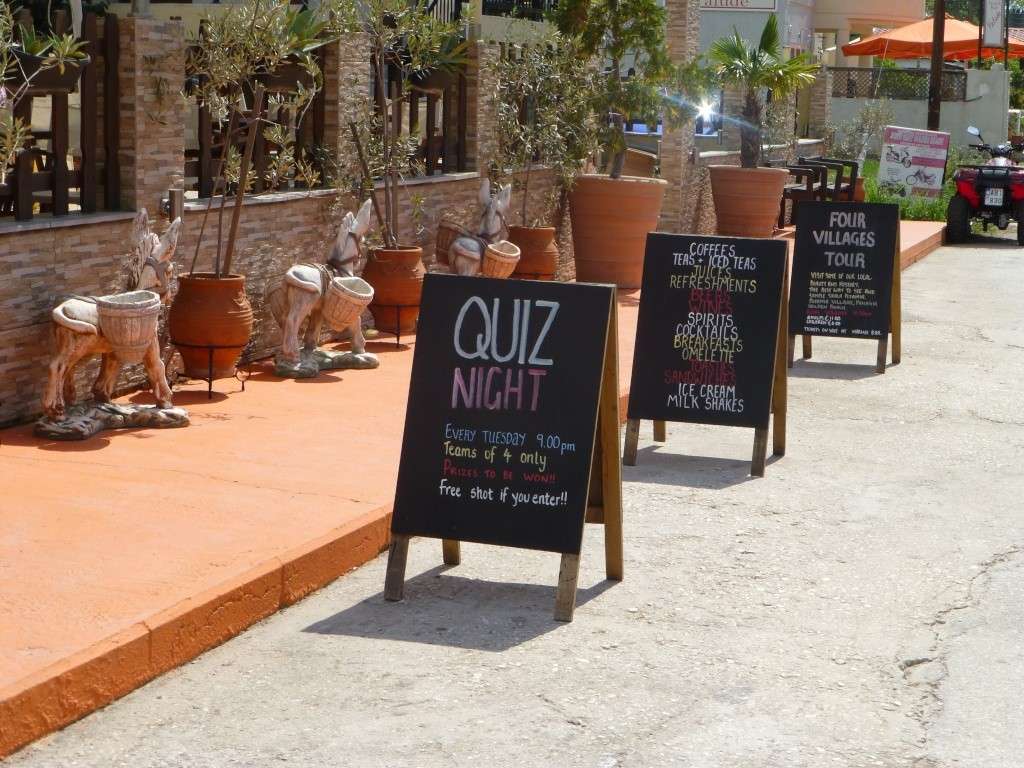 we were early, so we had a beer, as you do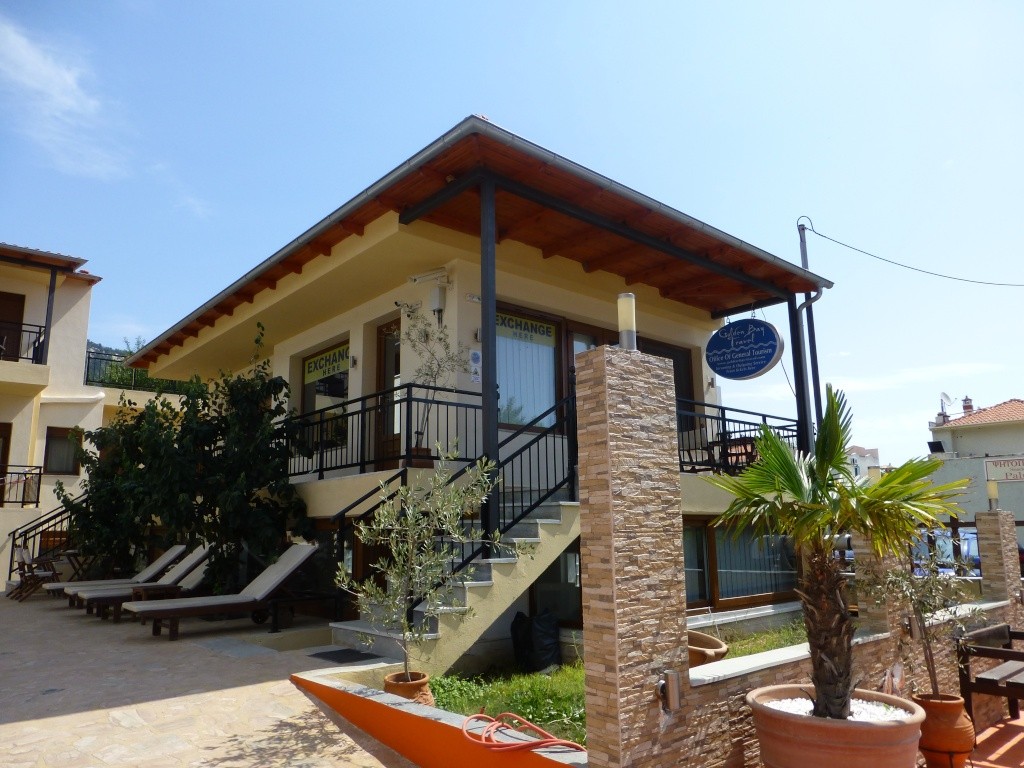 So the rep arrived and told us that he had worked on the little train opposite for 3 years and had some affection for it and now lives on the Island. The train leaves each evening at around 7:30pm and travels to the other end of Golden Beach and the resort there is called Skala Potamia, it costs 4 euro's (That is the return included which wasn't mentioned and the last return to Golden Beach is 11pm).
Skala Potamia was said to be the real Shirley Valentine place with chairs on the water side, the journey takes about 15 /20 minutes. Mrs Db and I said, "we would do that trip to let you know our opinions on the place".
The little train also does a trip to visit 4 villages for 11 euro's, however, one of the villages is Golden Beach itself, it lasts all day and sounded really good value, so we signed up for that straight away. Full report on that one
Buses were cheap but we didn't have a timetable and apparently they stop running early evening. However I found the timetable written down at the supermarket
There is a water taxi that leaves Golden Beach harbour at 4:30pm and goes to Thassos Town, just the one way for 5 euro's but you would probably need a taxi back costing 18 euro's, if you could share a cab, it would be cheaper of course.
There was various trips around the Island for around 49 euros, the road around the Island is just over a 100 km, so hiring a car would be ok for a few days but you could end up wondering what to do with it for much longer.
The exchange place, here opposite the Marina Apts is not yet functioning but the rep did tell me the bigger supermarket in Golden beach did exchange, I did confirm this, as I spoke with the supermarket owner afterwards, who seemed to give a fair rate but probably no better than at home.
Now ATM's, there is no ATM in Golden Beach you have to go to Skala Potamia and hike to the back of town, a fair walk. However, at some point, we needed to do that, as I had a preloaded card. I did notice an exchange place in Skala Potamia but all will come to light when we visit there on the mini train trip.
Now Thassos is a mountainous area with the resorts all at the bottom, so one is not far from a mountain, one of the trips available is to go up to the top of the highest mountain by a 4x4 jeep to get a 360 deg view of the island, it cost 69 euro's and last 8/9 hours going up brown trouser roads. Now that was a challenge and I mulled it over for half the holiday with Mrs Db, what happened comes later
The Islands main industry is marble, a lot of it is exported to the far east for the building of Palaces, it apparently keep the heat out. Huge hunks of the mountain side have been cut out to process this demand.
Pirates used to raid and land on Golden Beach in the 17th century and any settlers by the shore got attacked and a lot of the people moved to the mountain areas to avoid them.
The Romans had a big presence in Thassos and I understand there is a coliseum there with a lion pit. Apparently the first Roman Gynmasium was built on Thassos but has never been found, good for a hunt lol. Also gold has been taken from the mountains and Cleopatra was said to have taken her wines from Thassos, probably not the red I had last night though.
On a lighter note, the rep said that the baker calls at the Nostos every morning and sells delicious cheese pies
So with the meeting now finished, we asked how one got to Skala Potamia walking and after a slightly confusing reply we had a wander in the heat, and carried on down the road to look for the said directions
at the bottom of this road is the Golden beach campsite and beyond the beach and sea but there are other areas to get down to the sea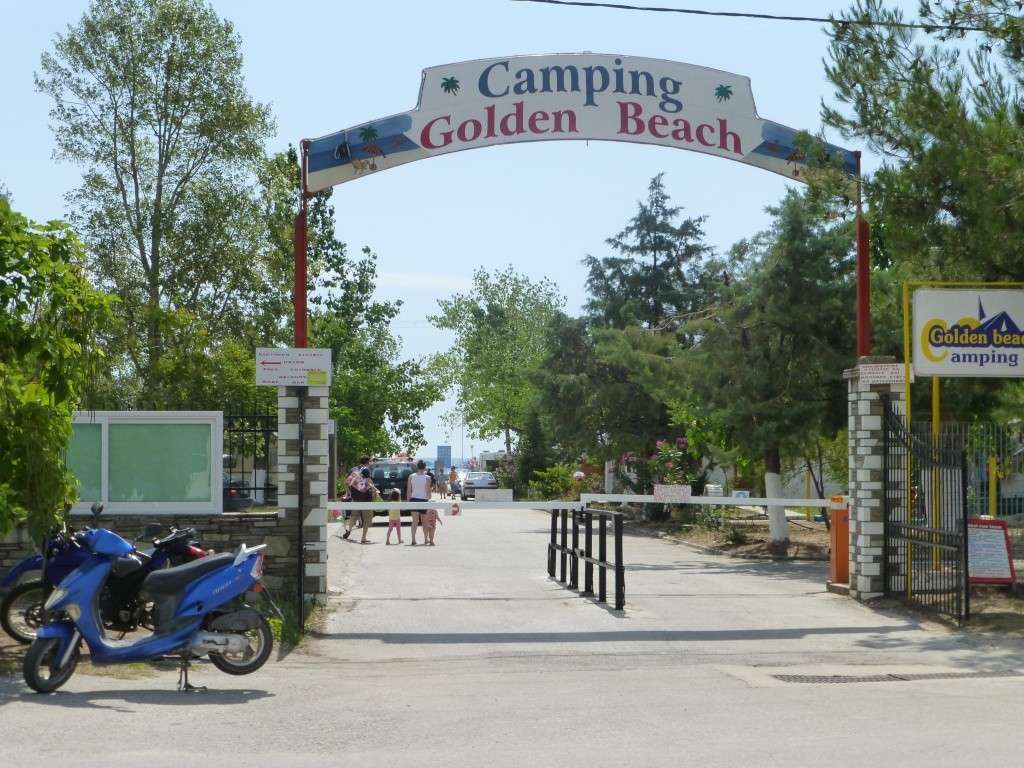 so at the campsite we turned right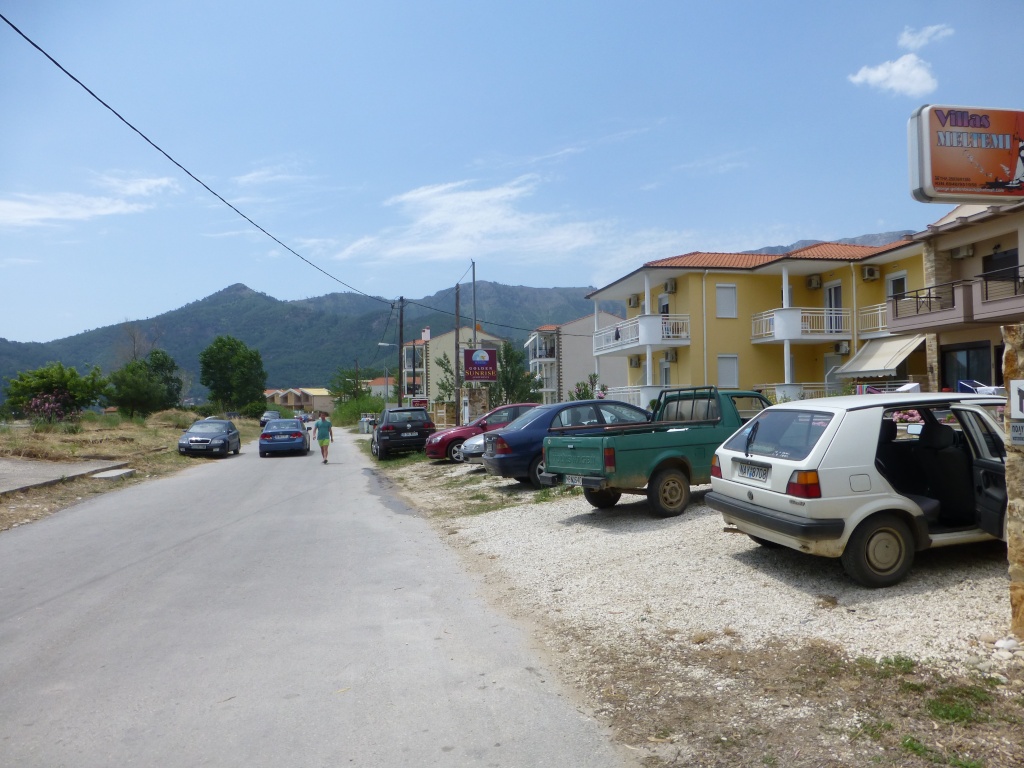 we ended up going around the Alexander Boutique Hotel and coming to some stepping stone across a river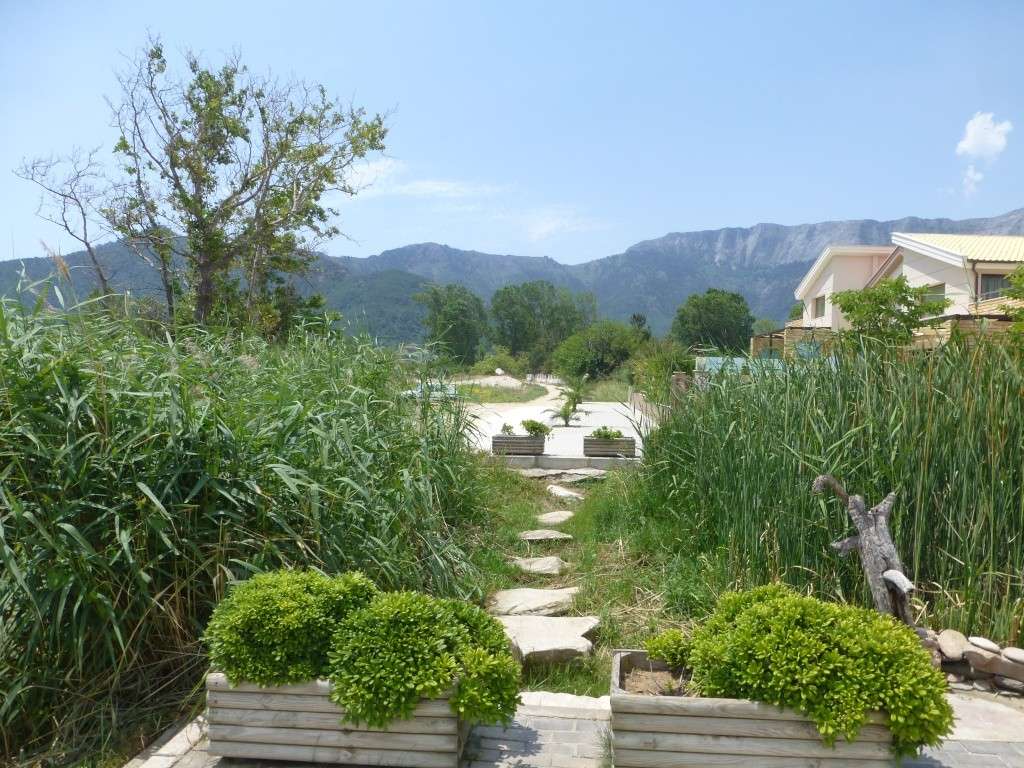 not sure whether there were aligators in there, we called it a day and decided to go back for lunch
The restaurant we selected had a menu fixed to the table but it turned out they didn't have half the stuff and we had to go over to the counter to see what was available that day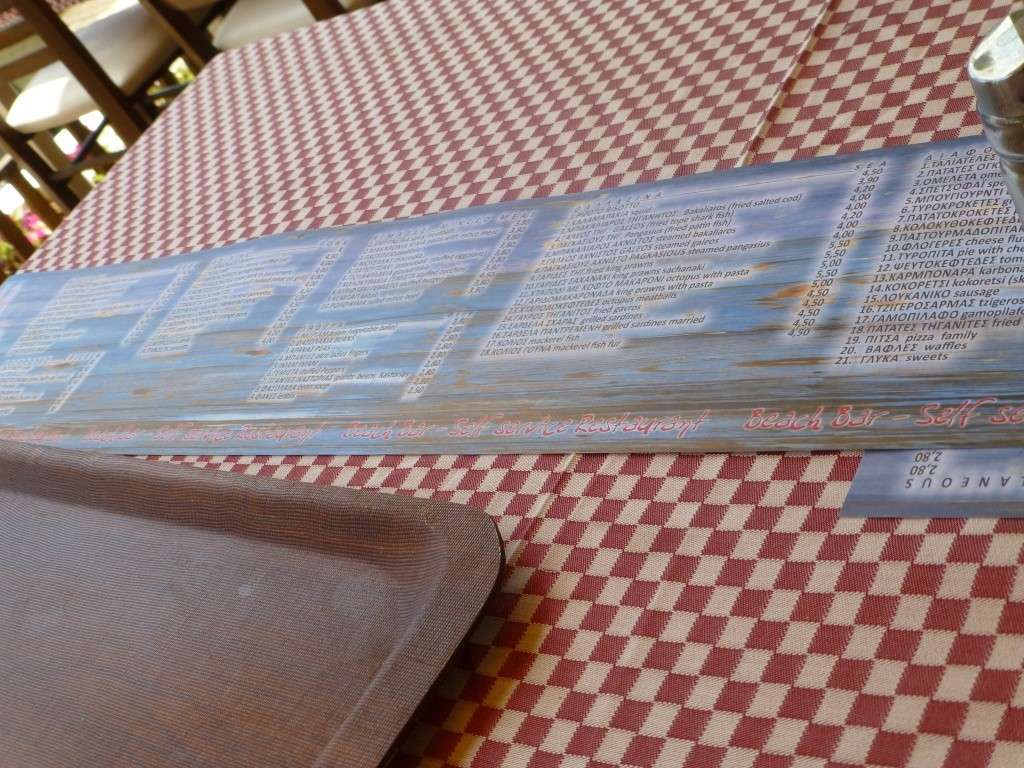 Oh can't be bothered we'll have another Greek salad lol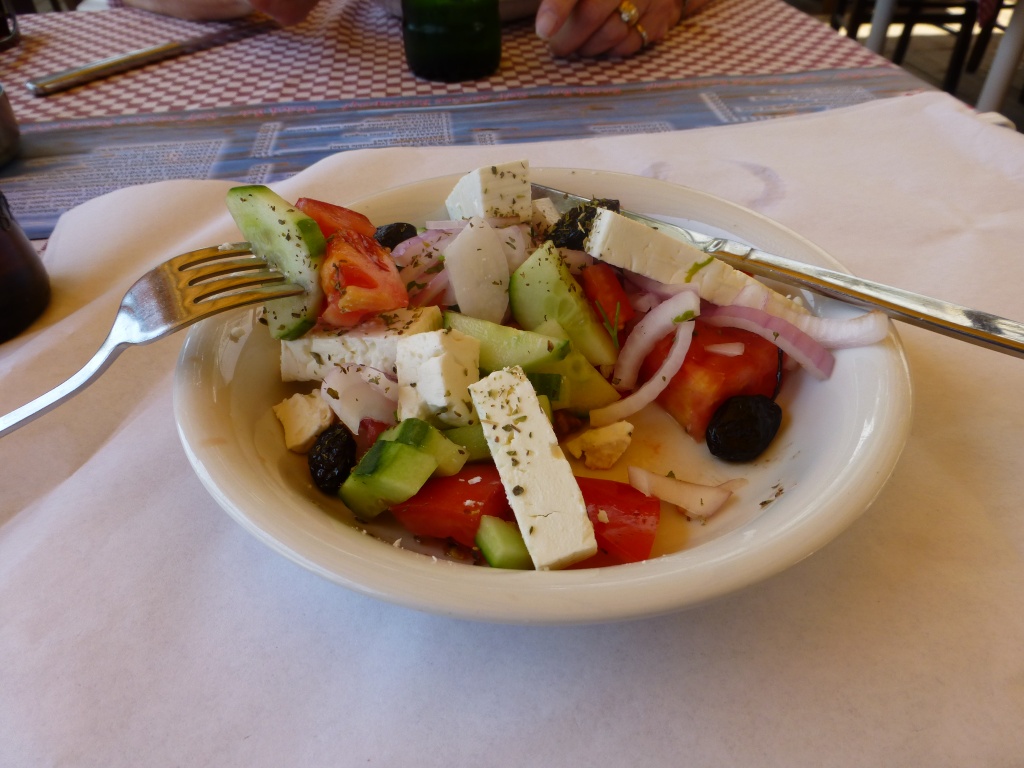 so having eaten in there, we qualified for free sunbeds but we had to pick their ones but all was clearly marked
This system suited us because we would always have lunch somewhere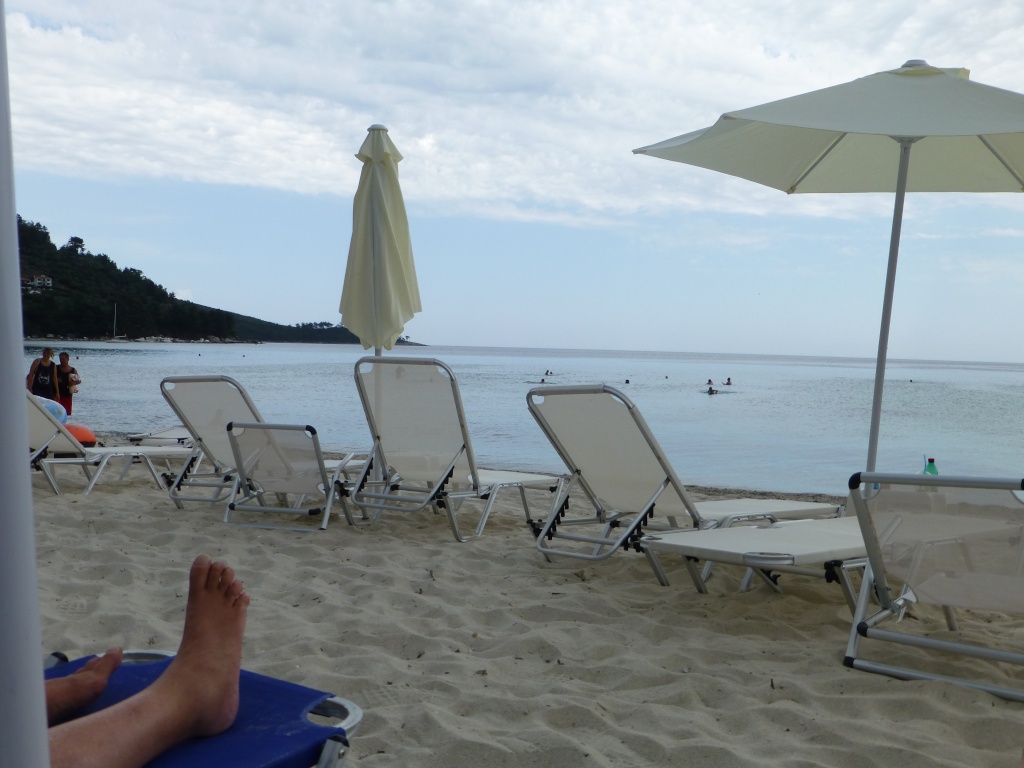 but within minutes it had clouded over and started to rain :o
So it was back to the apartments for a cup of tea, or in my case a beer. I chatted to an English guy who spends 4 months of the summer out here and he asked me, if he had missed any good weather back home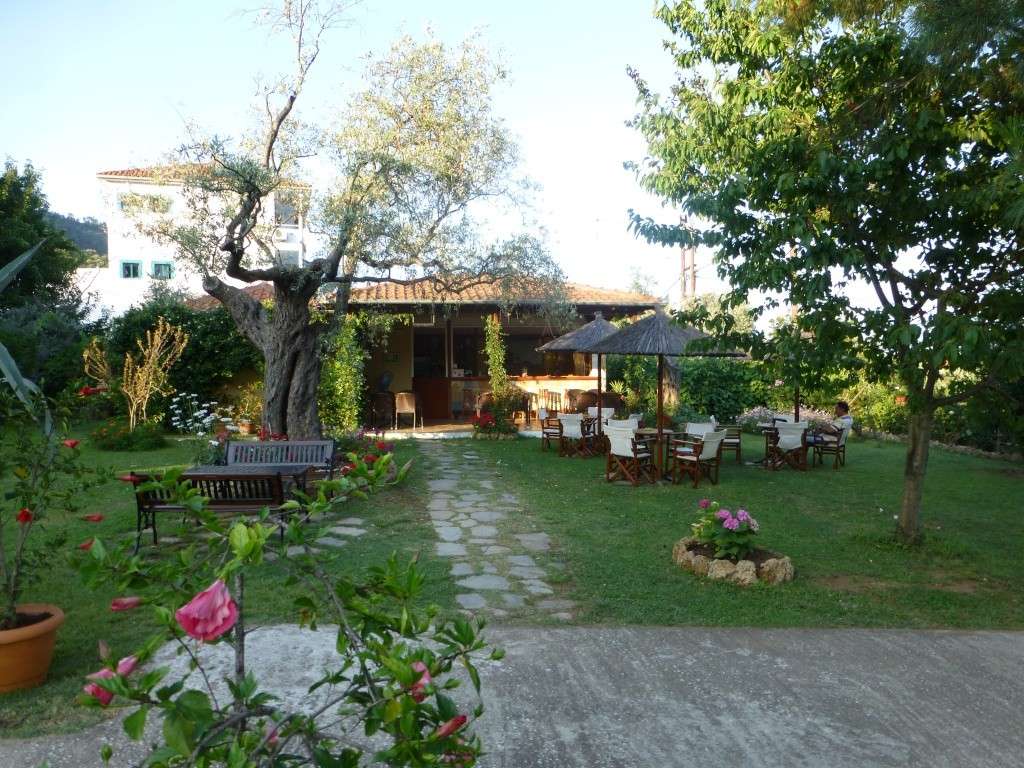 It was evening and I had spotted this place for a meal, it's real name is Anavlion but is known as the wedding cake, I can't imagine why lol
This place was sheer luxury for modest prices, house wine was the dearest at 8.80 euro's a litre
their house red IMO was better than their white but both very drinkable lol
we decided to share a starter, something we don't normally order but first we were given this for a dip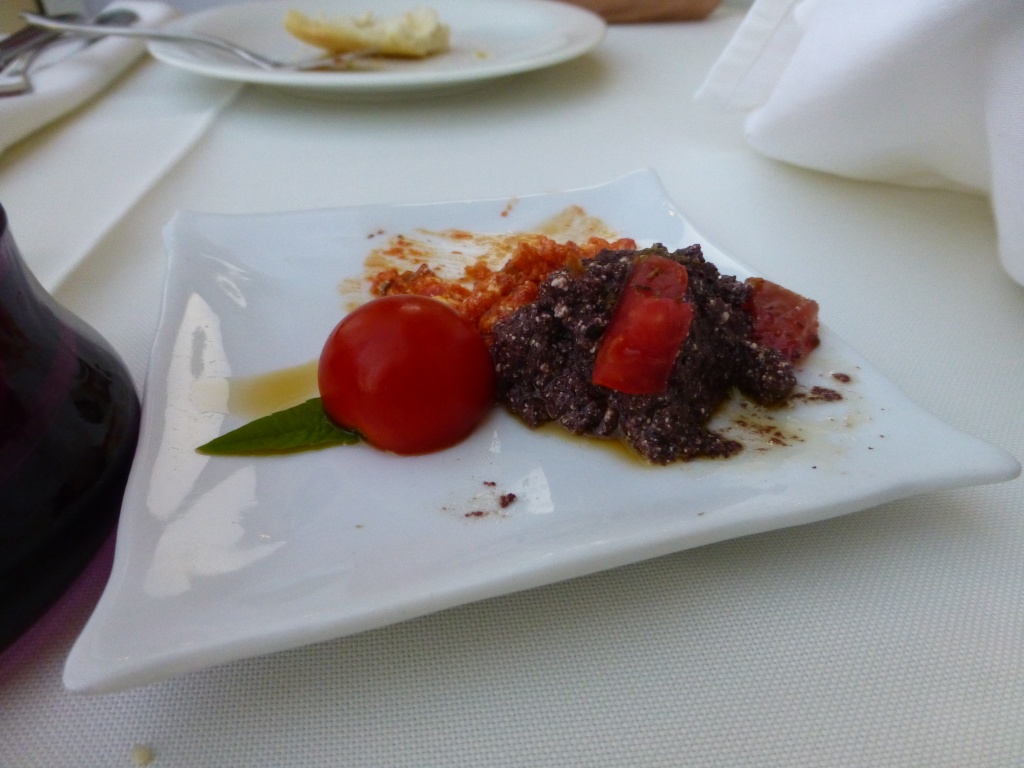 Then came the starter, it was 3 big pancakes filled with cheese and ham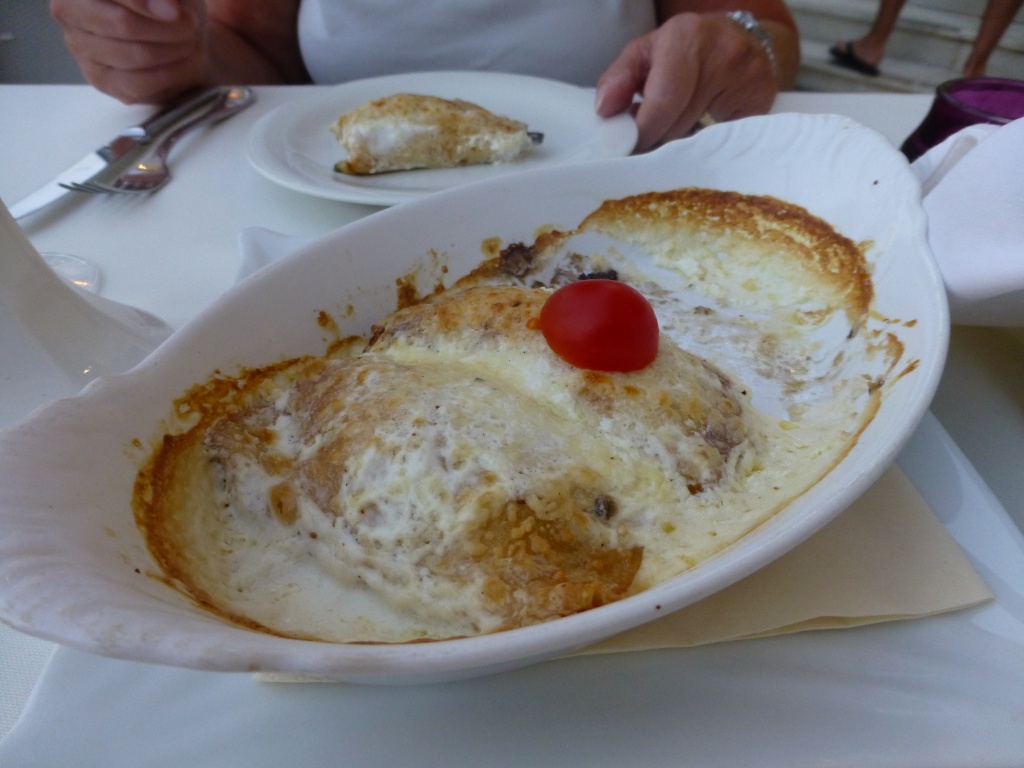 I order Beef stamna, i know this picture doesn't do it justice but the beef, cheese and potatoes melted in my mouth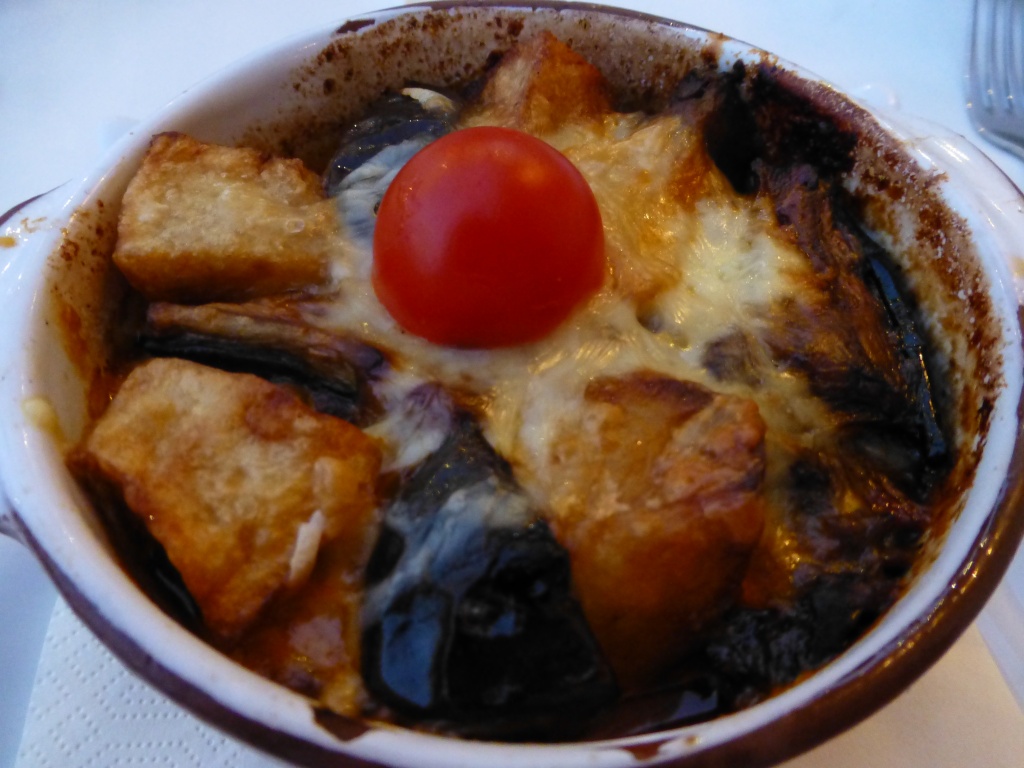 Mrs Db had lamb kleftiko, which she said was lovely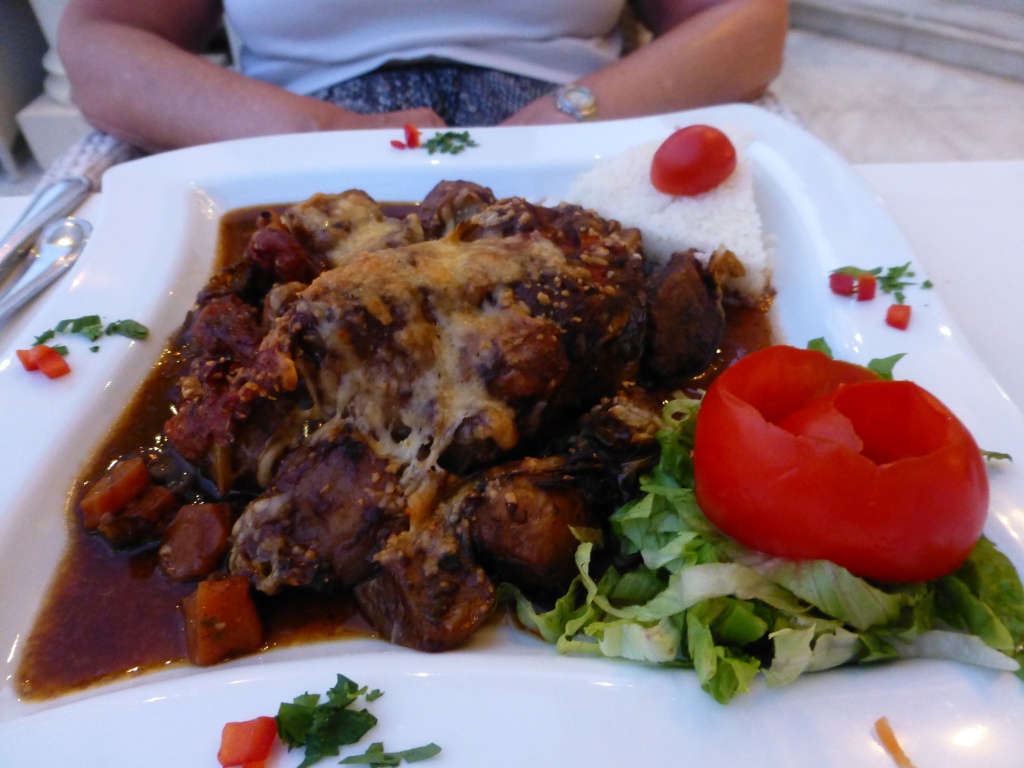 Then we were given a free trifle each to finish, service was brilliant, proper tablecloths and serviettes, a wonderful evening ended with coffee on our balcony
------------------------------------------------------------------------------------------------
Day 3, Tuesday
The next morning I woke up early, it was 6:11am, must be all those siestas lol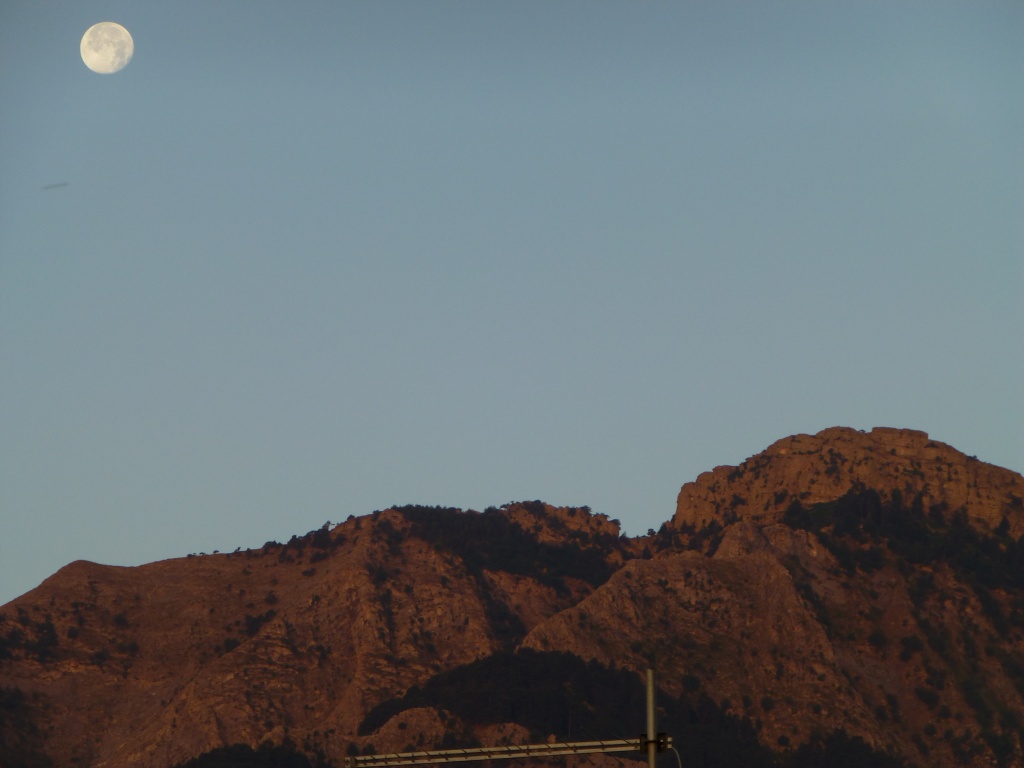 I sat on the balcony watching the sun shining on the mountain side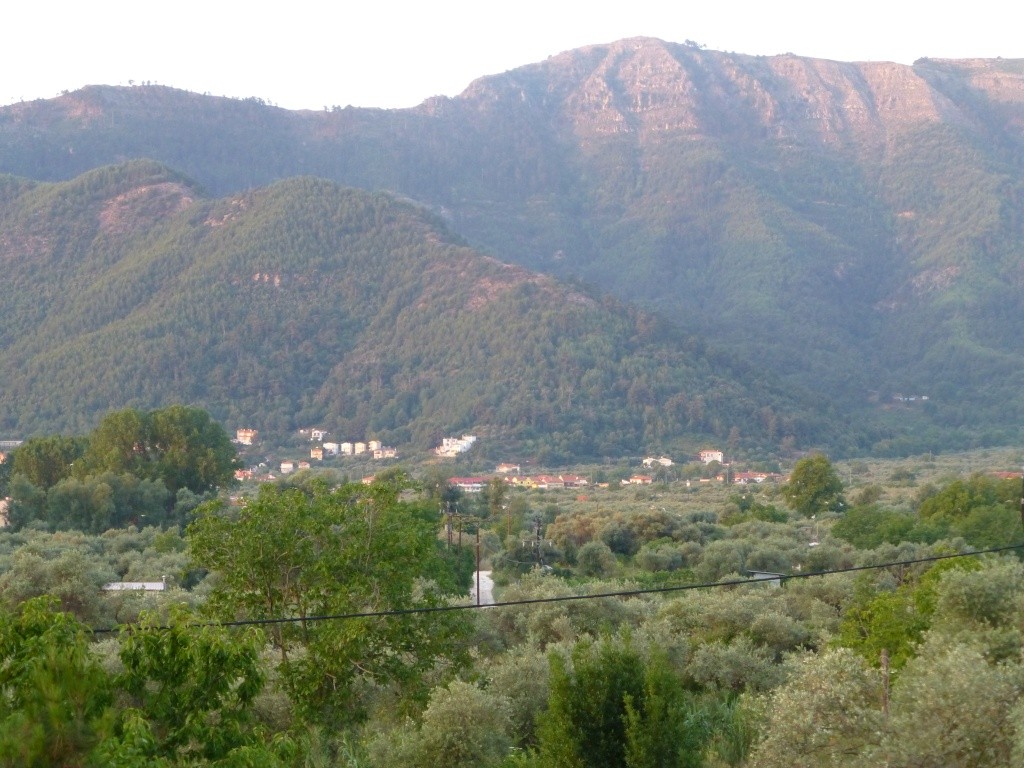 and the moon losing it's colour, as it slipped down behind the mountain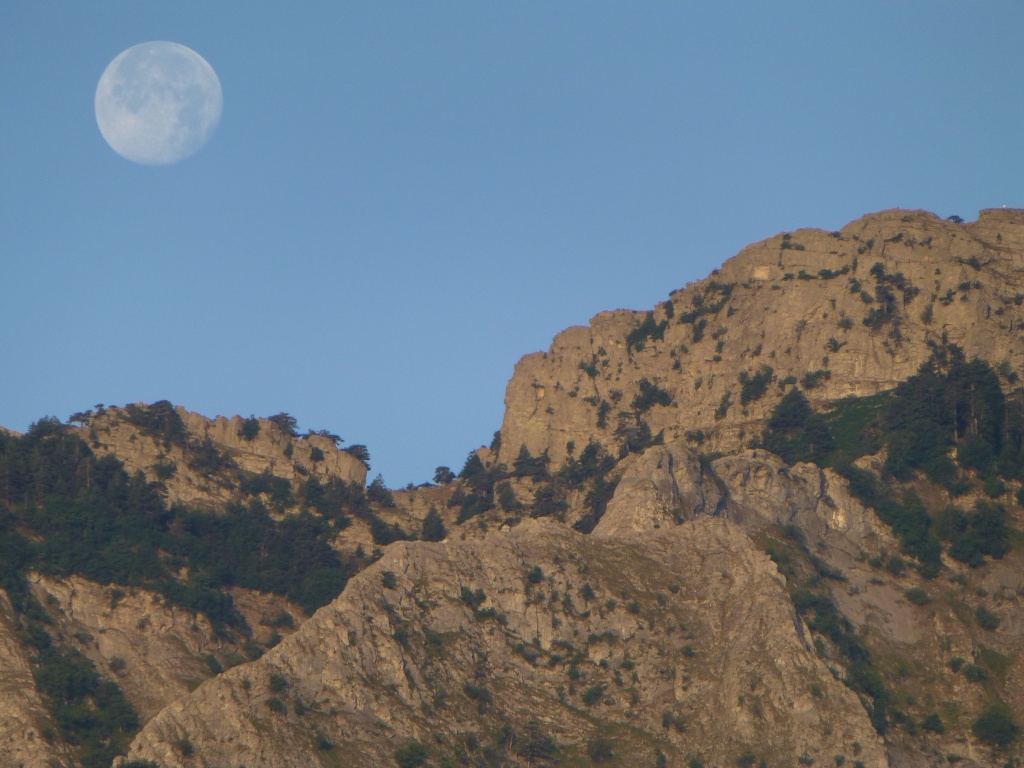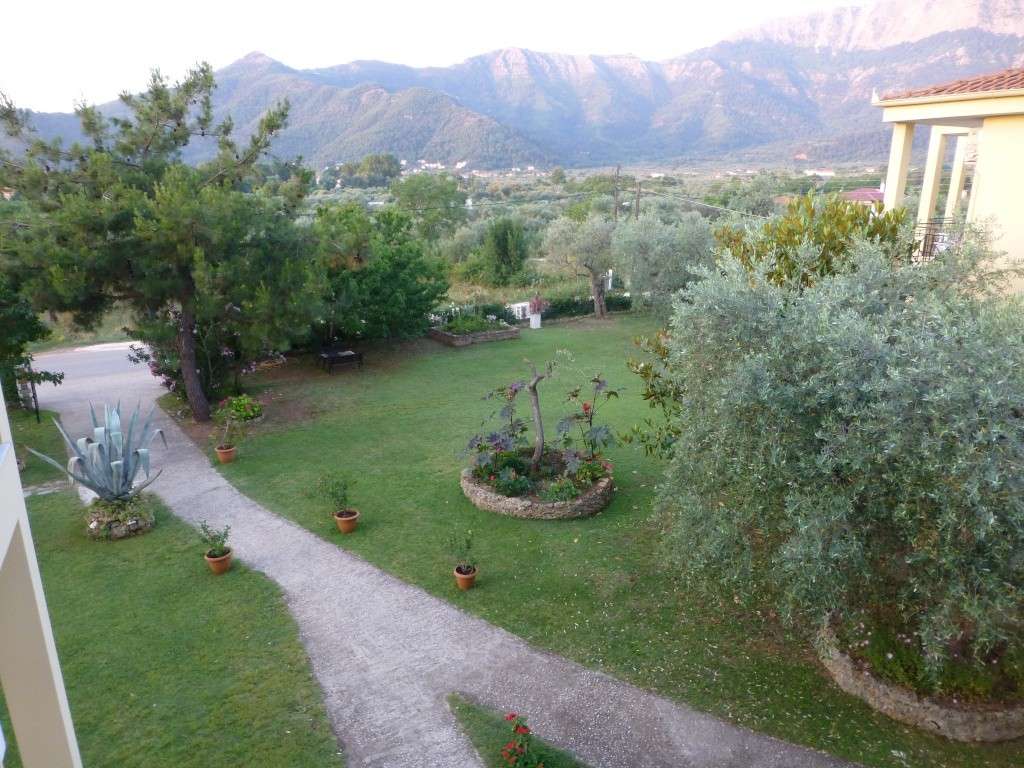 soon it was breakfast time, I was waiting for the horn of the baker man, as Mrs Db said I could have one of his cheese pies today
he's here, he's here lol
please sir, two of your finest cheese pies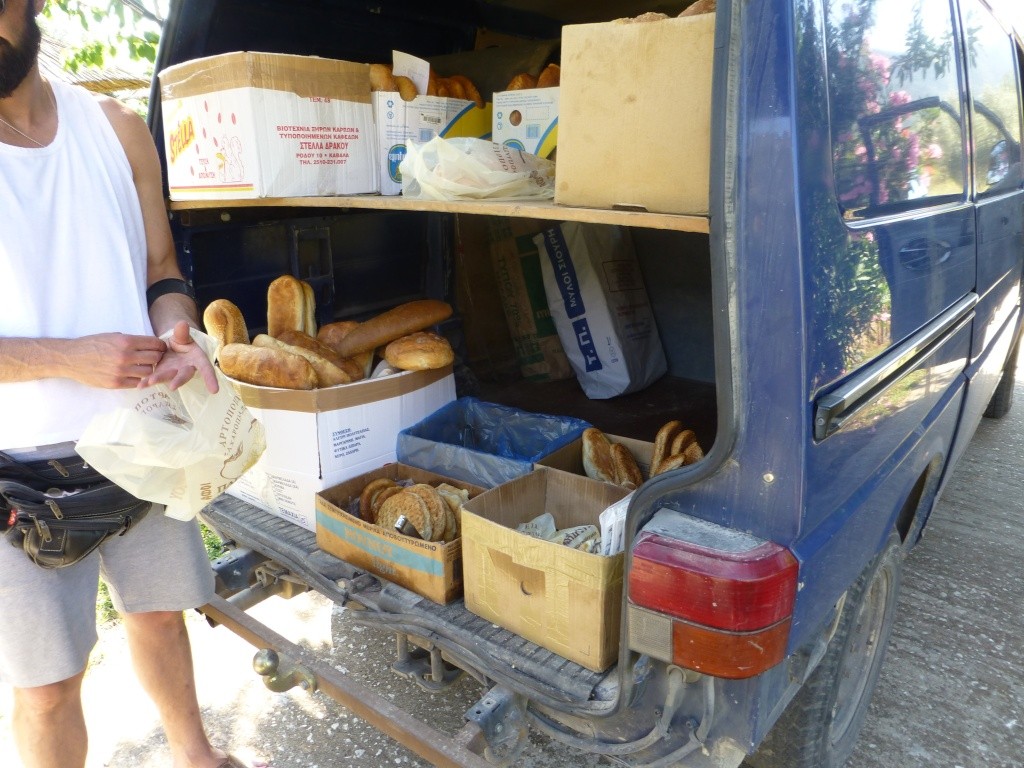 Mrs Db said they were too big for breakfast and I should have half, but they were lovely, all piped inside with feta cheese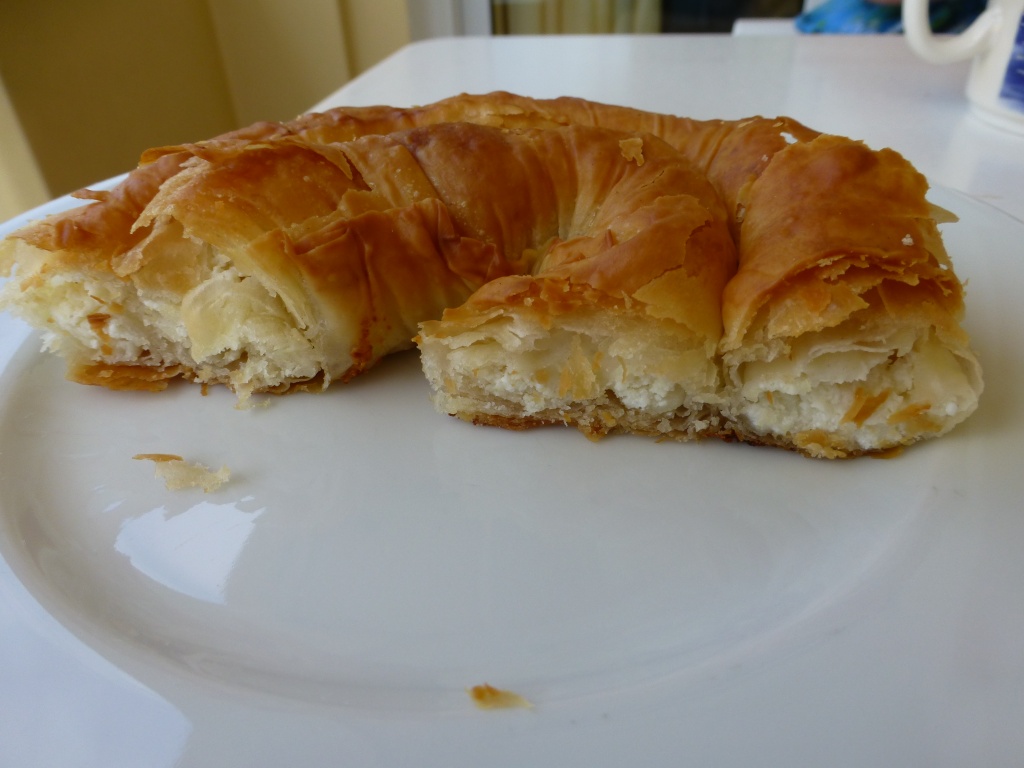 Then it was time for the beach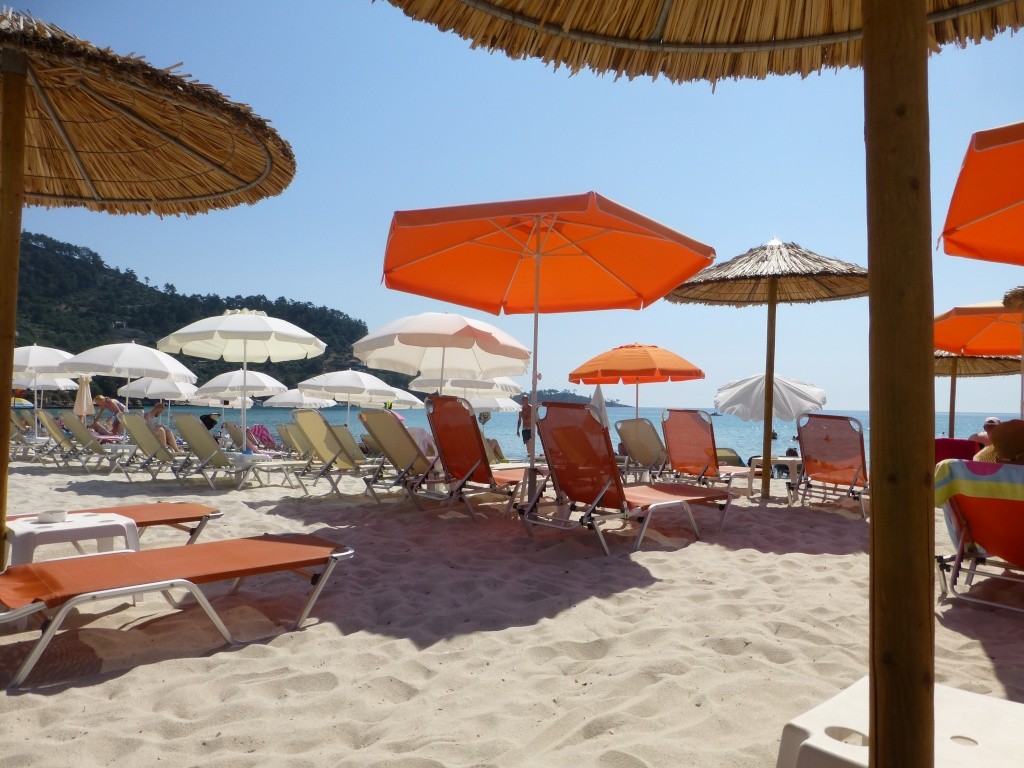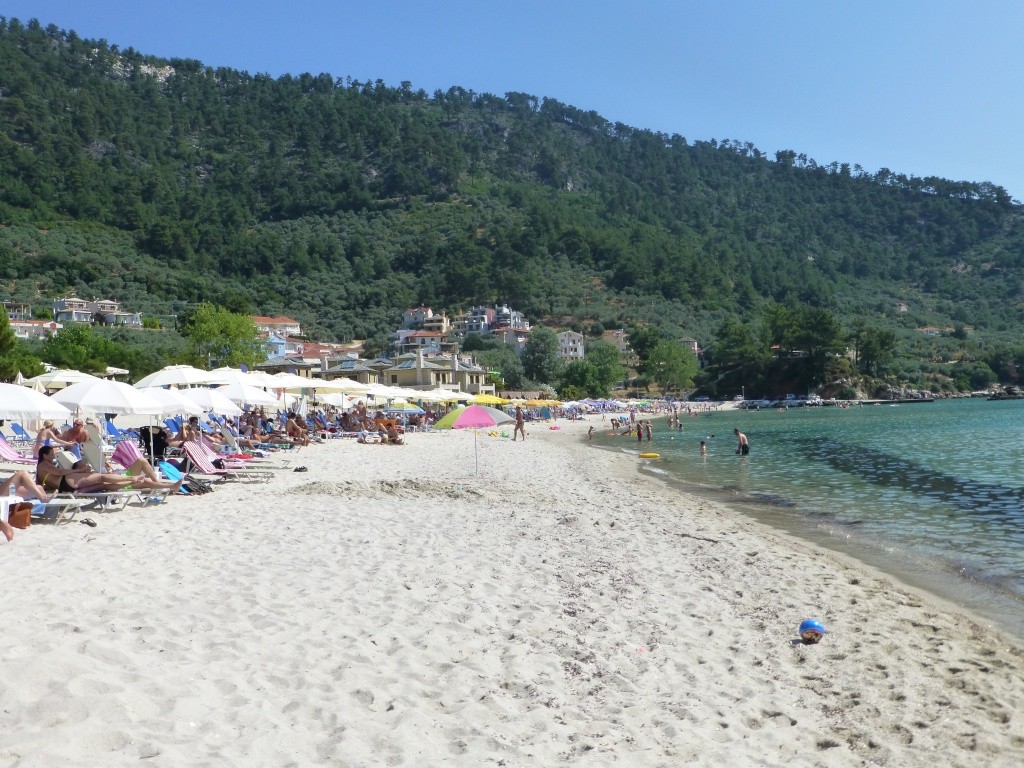 your not going to tempt me with one of those doughnuts yet lol
soon it was lunchtime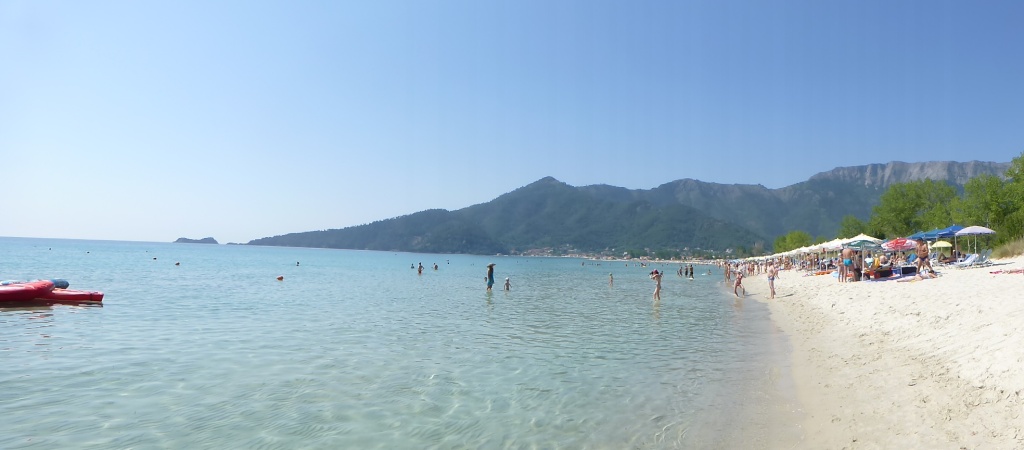 so a snack up at the restaurant
oh egg in this salad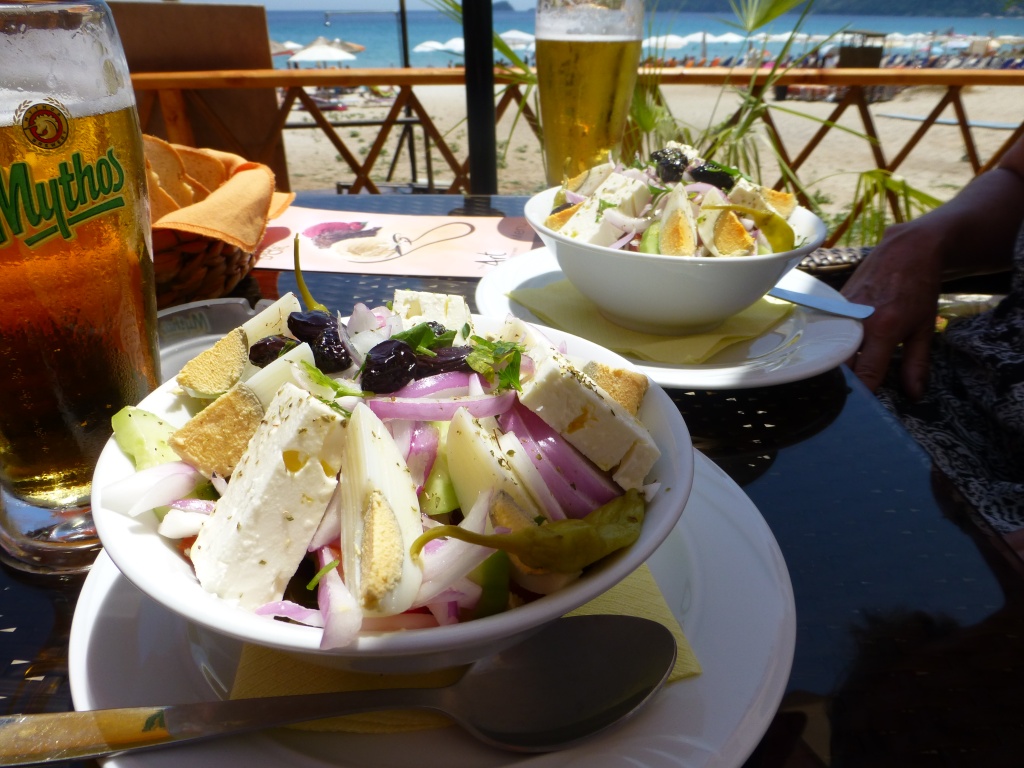 and of course, two beers
and much of the same for the afternoon but this evening we would take the train into Skala Potamia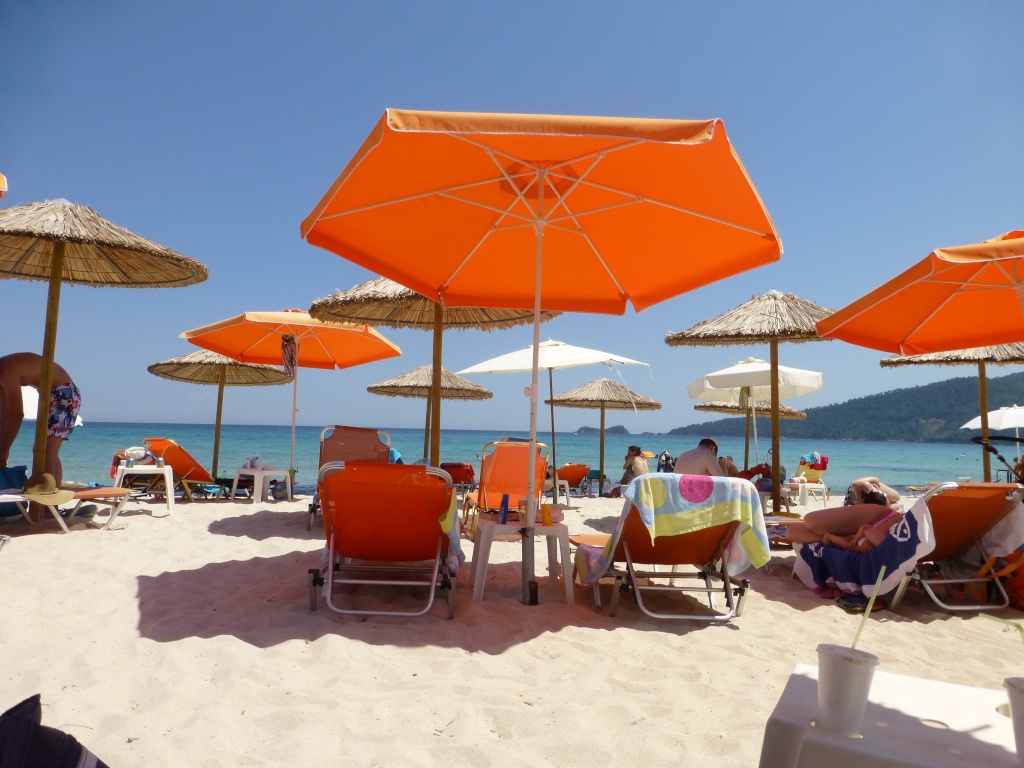 Some photos in the apartment gardens that are not really part of the story but perhaps should go in the hotel section bit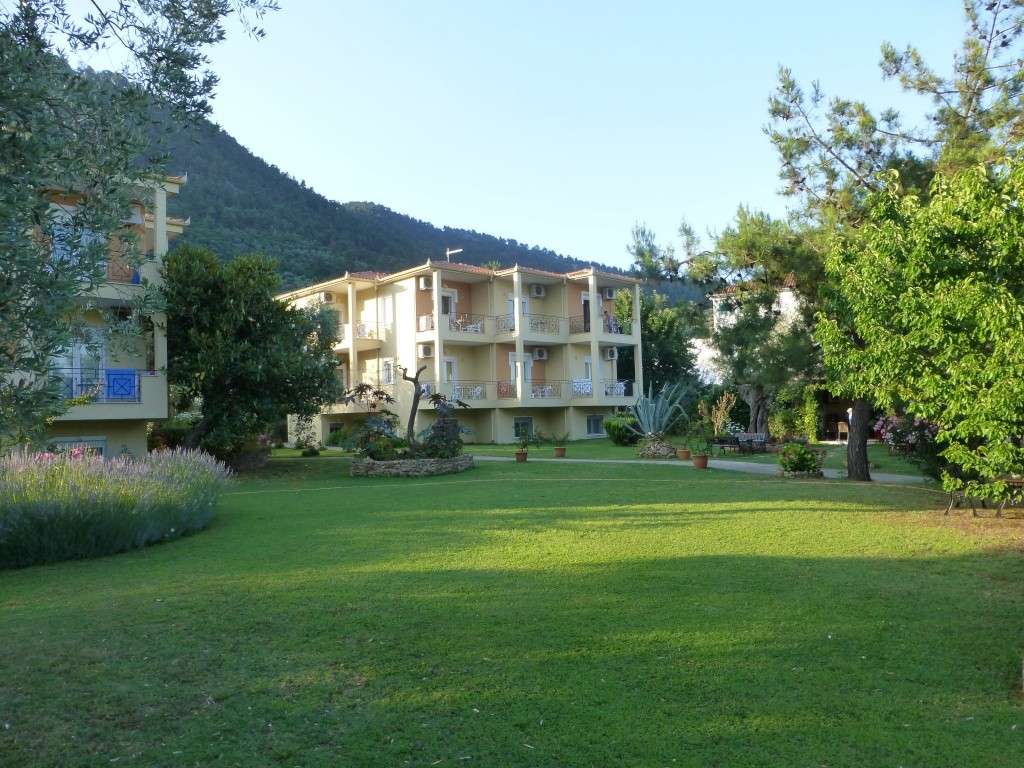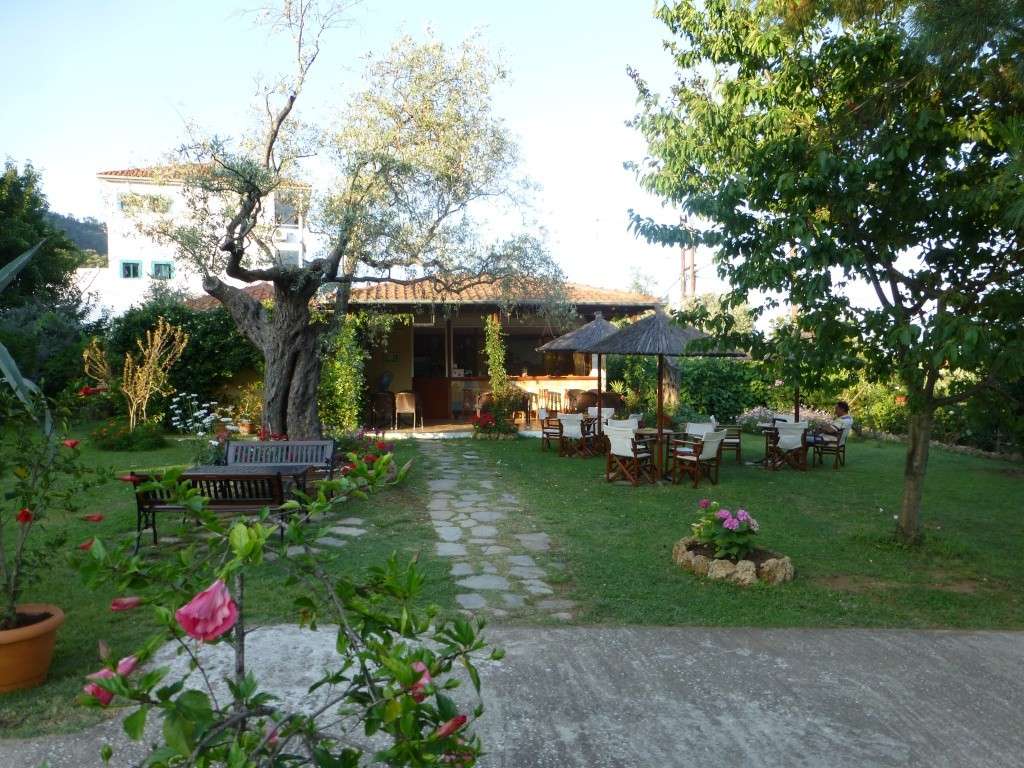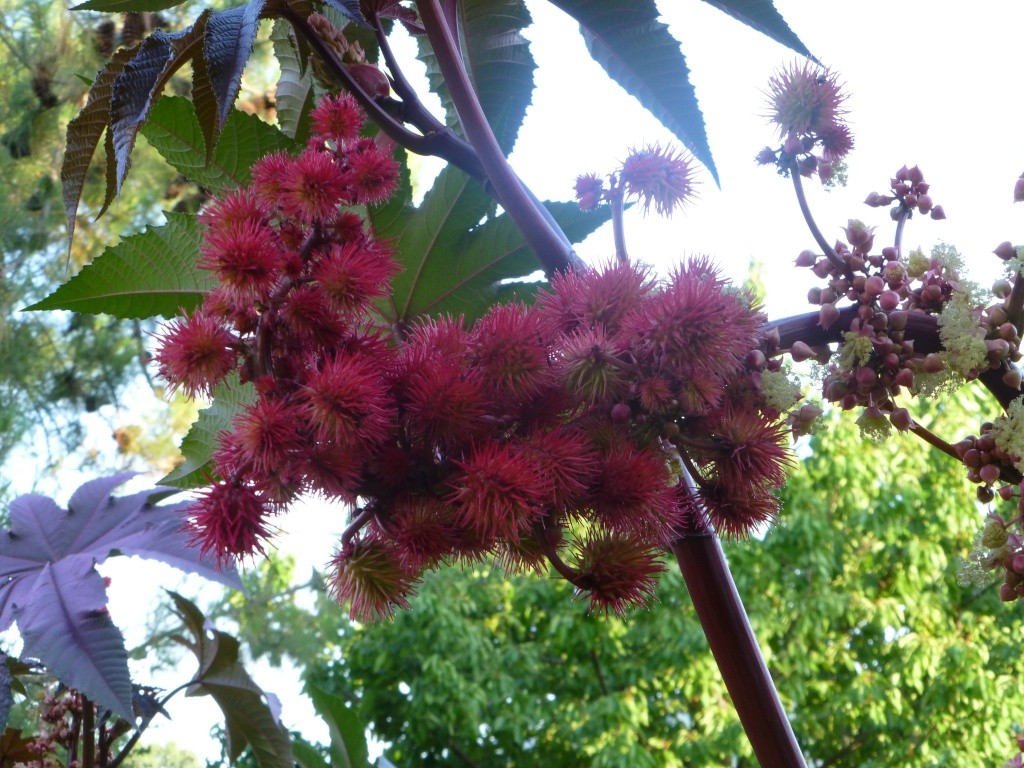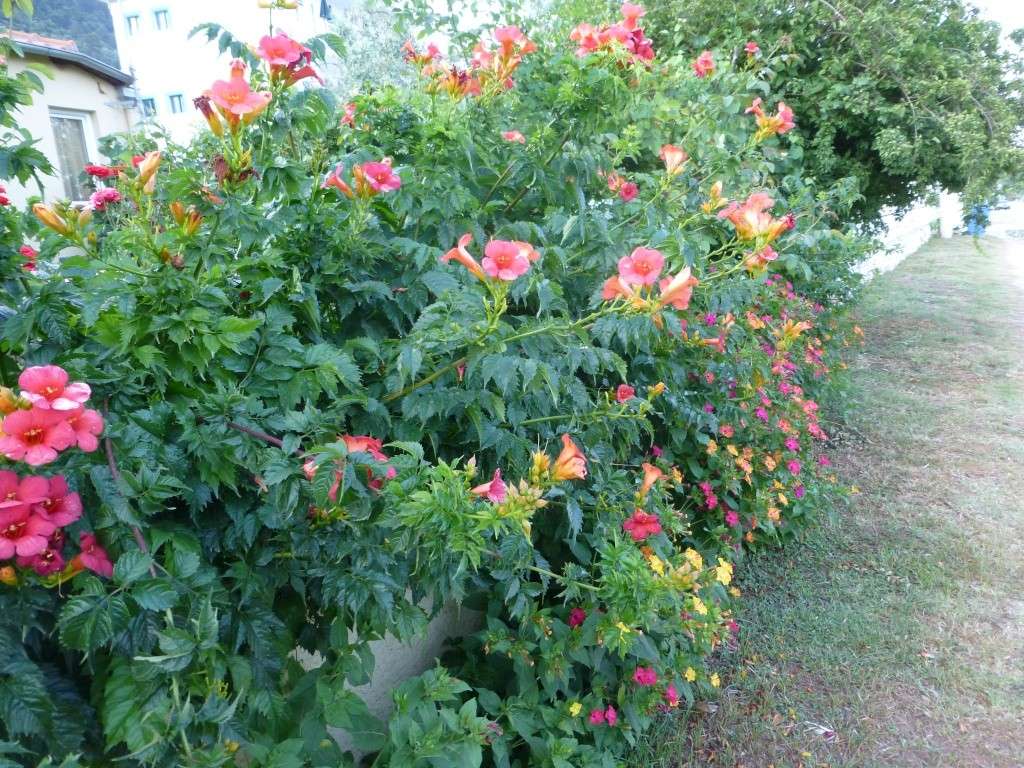 some of the beautiful butterflies out there, some you just couldn't photograph as they didn't stay still long enough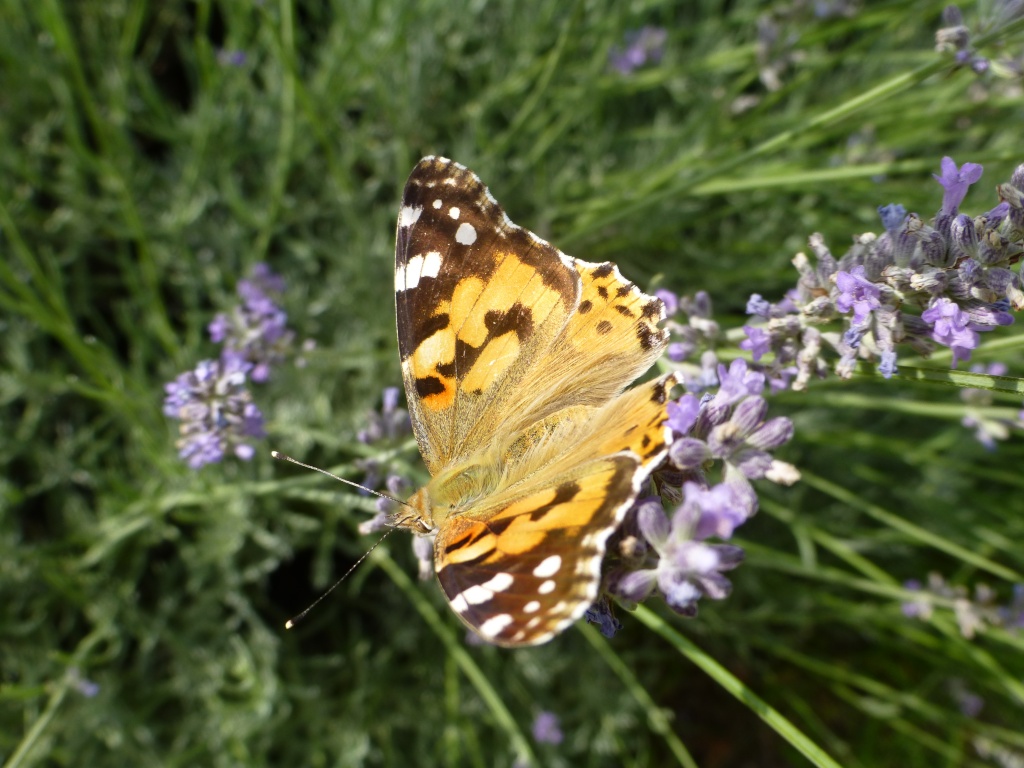 I think mainly due to the heat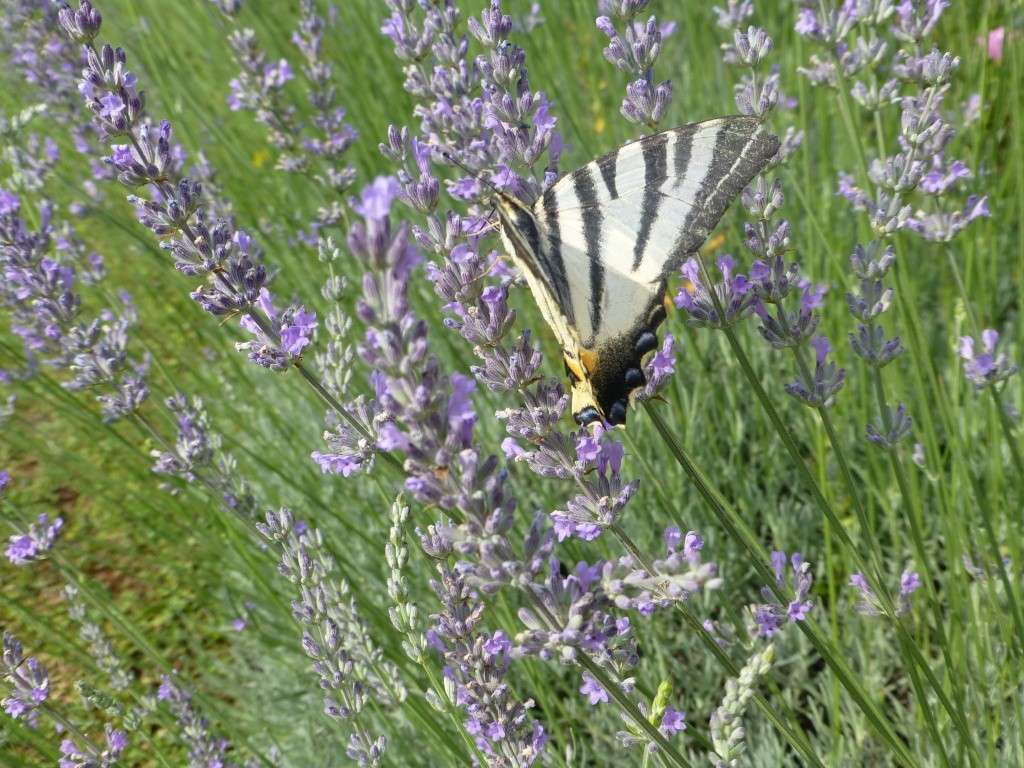 It was evening and we needed a trip to Skala Potamia, mainly to check that the one ATm in the whole of the resort would give us cash from my preloaded card. We had a torch as many people had said they walked back in the dark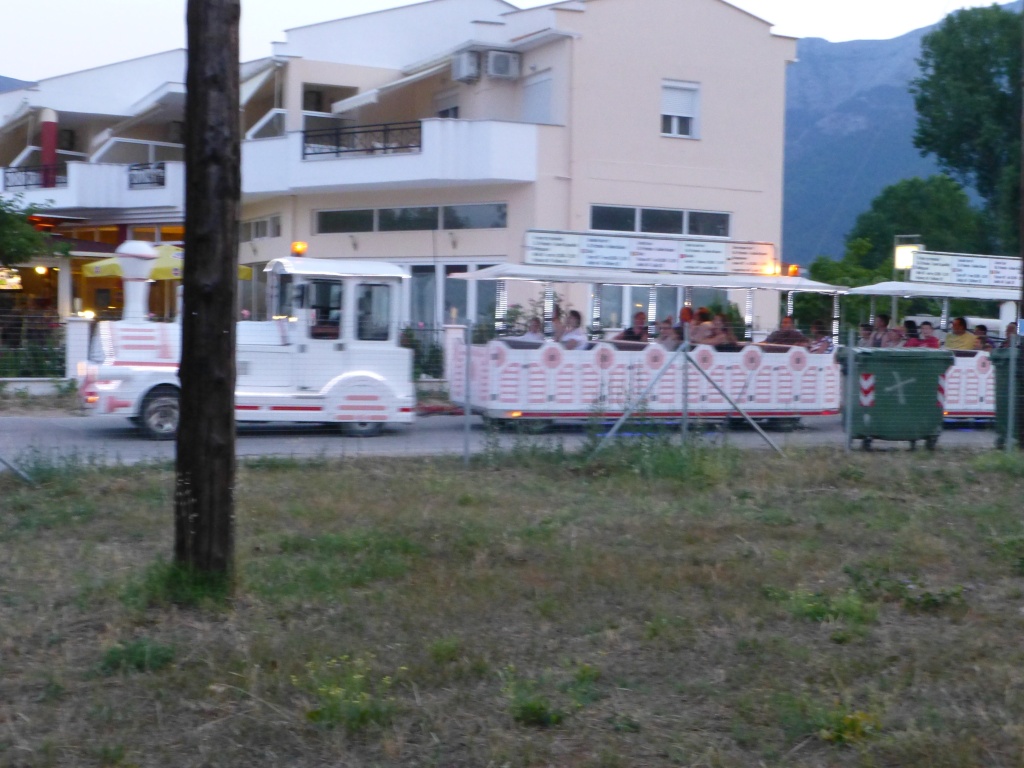 The driver was a real friendly guy and he said if you are coming back with me, the last train is 11:00pm but if i'm late wait for me. We were told to keep our 4 euro tickets for the return journey
We got in the front seat lol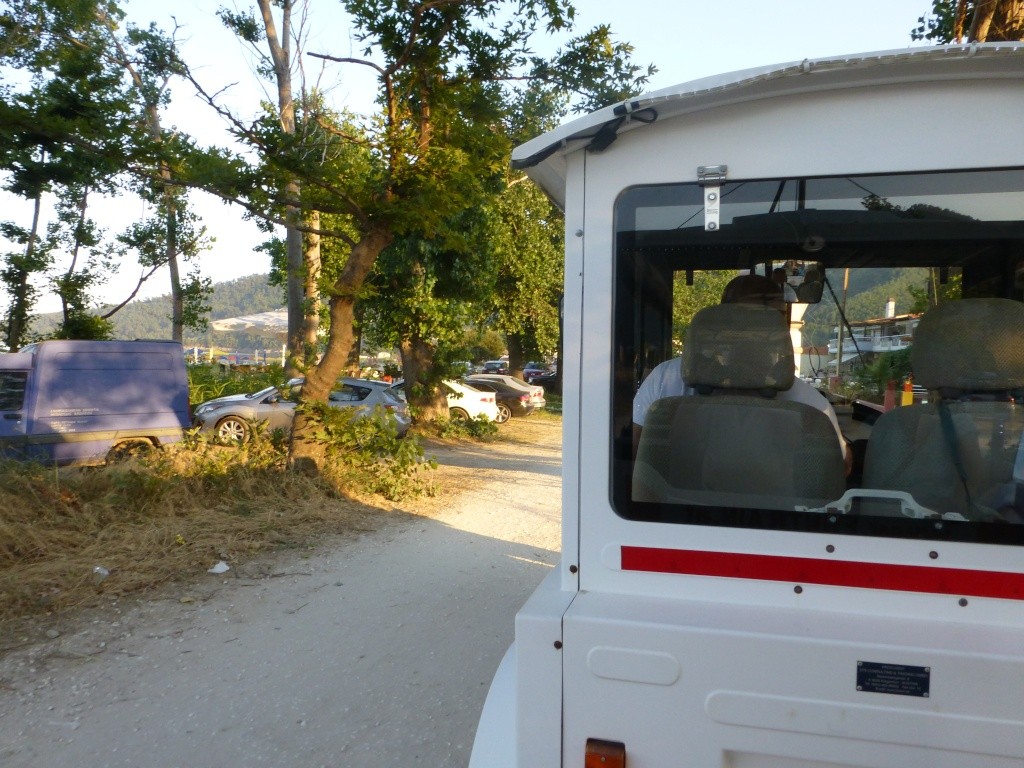 The train first took to the road but after a while curved it's way around to the promenade and beach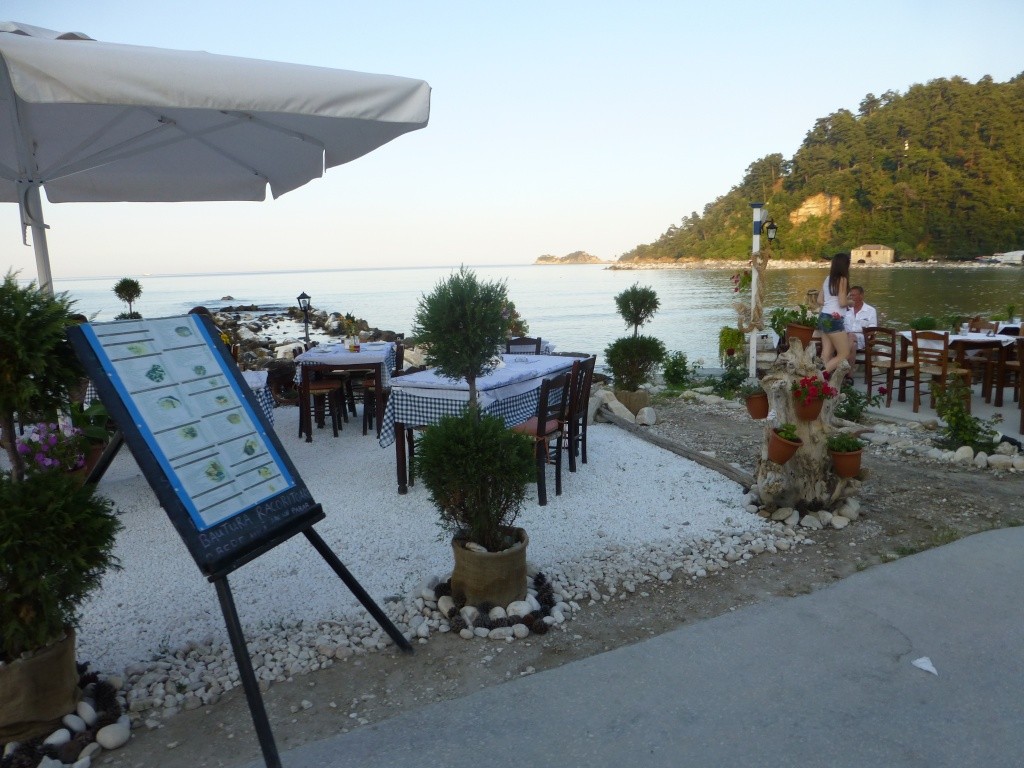 we were astonished by what we saw, there must be a 100 Shirley Valentine restaurants there with what seemed every Greek family owning a restaurant. The beach had changed from sand to pebbles over a long stretch and then back to sand but was difficult taking pictures from the train but don't worry Delboy does go back to walk the full length of the bay on a later sortie.
The train chuffs and hoot and rings it bell all down the promenade and everybody waves. The train stopped at the end next to the harbour. First impressions were that Golden Beach and Skala Potamia are like chalk and cheese but my next task was to get some money.
I saw a sign indicating an ATm and confirmed with the driver it was up this road. Stay on the train if you like but I thanked him thinking it was just up the hill. It turned out to be about a kilometre away lol
The place to me, seemed to have a German feel to it with Chalet type hotels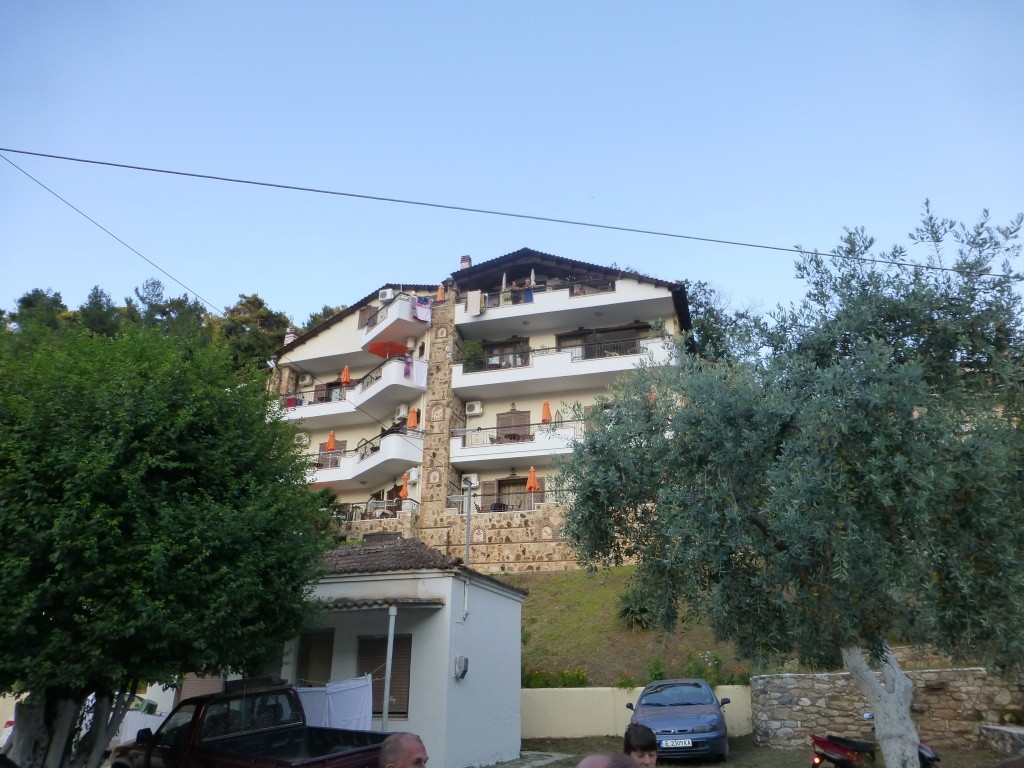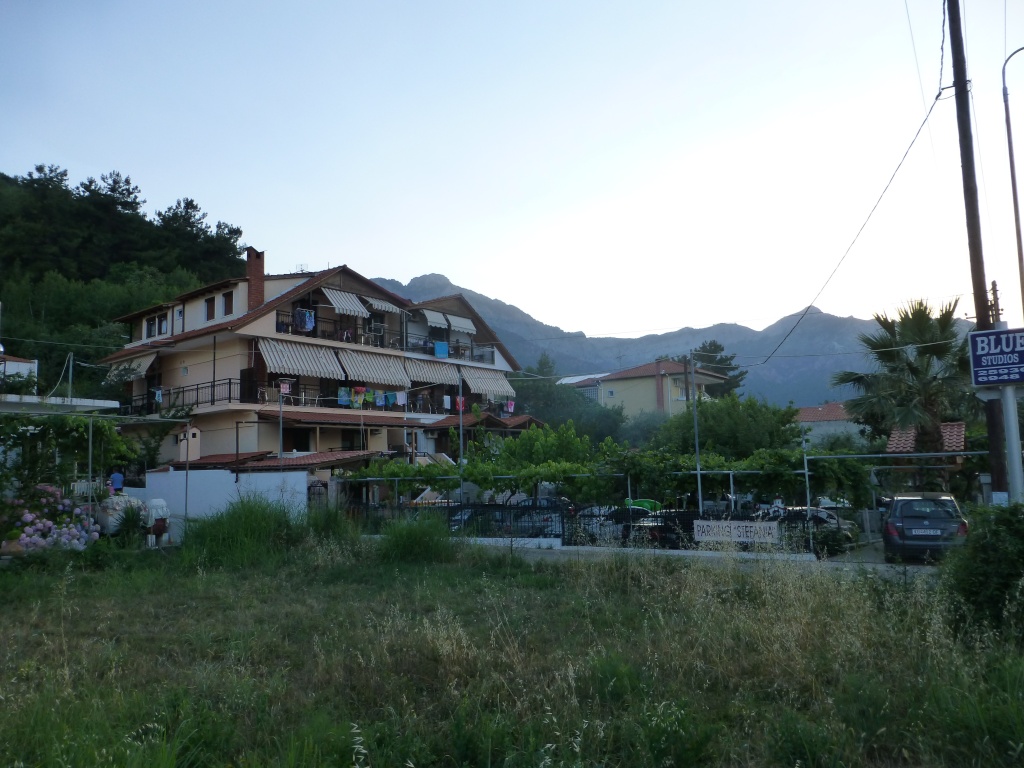 but at last we found it, in the middle of nowhere and I got some cash and the the little train chuffed passed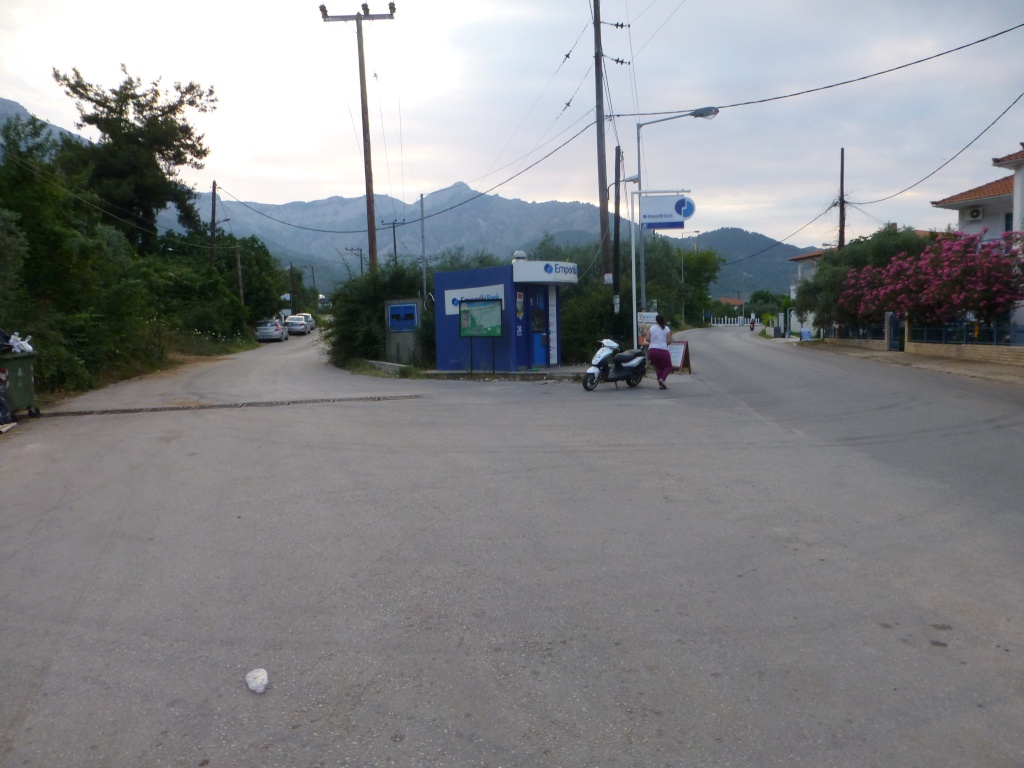 So now it was a hike back to the harbour to take some more shots before it got too dark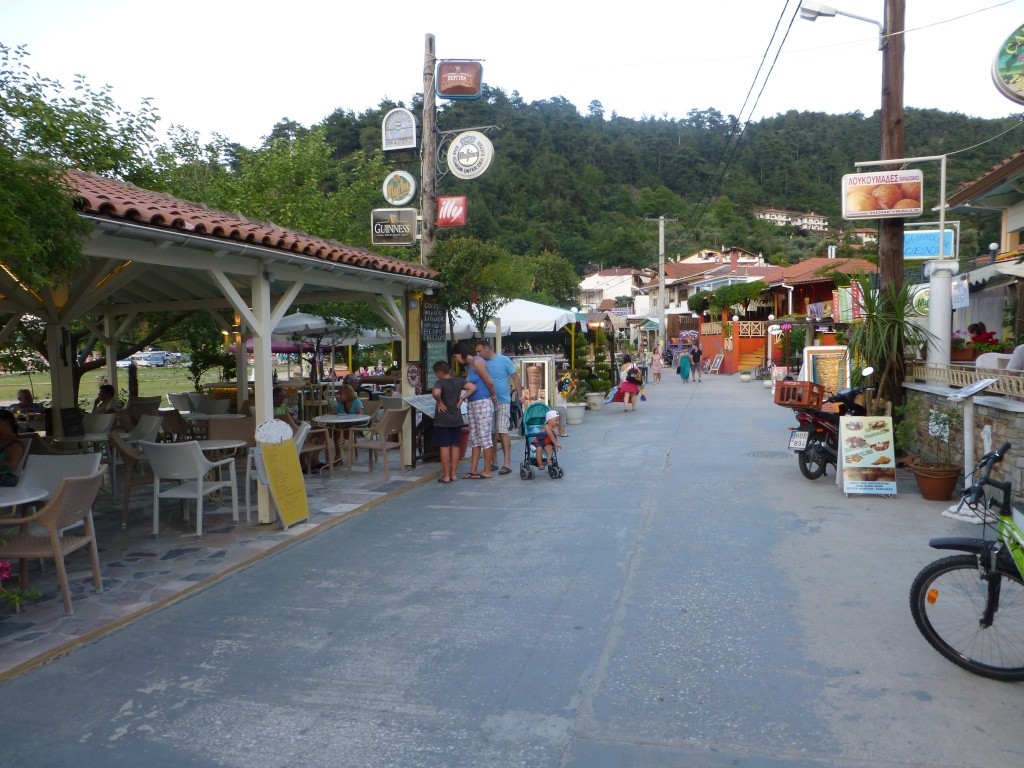 a nice serene harbour
wait a minute, what are those dodgems doing there lol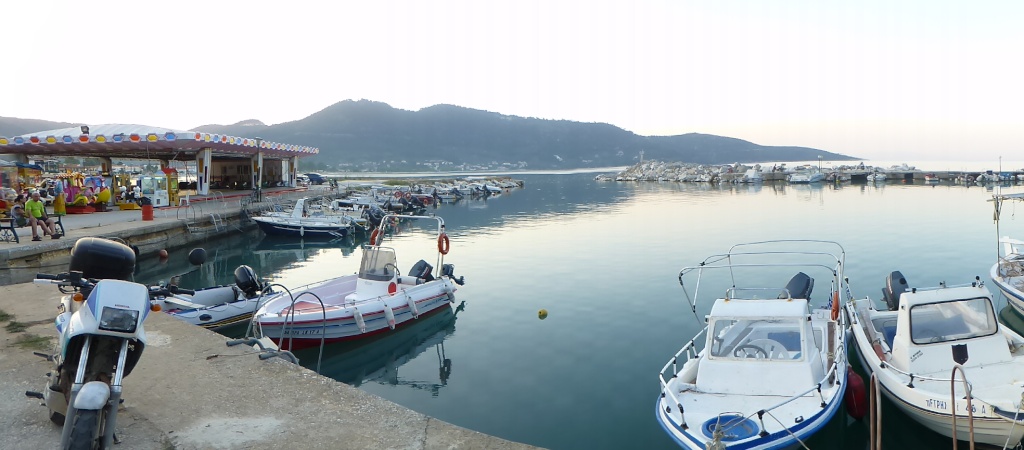 down at the harbour end it is sandy and there are plenty of restaurants/ bars on the edge of a wide beach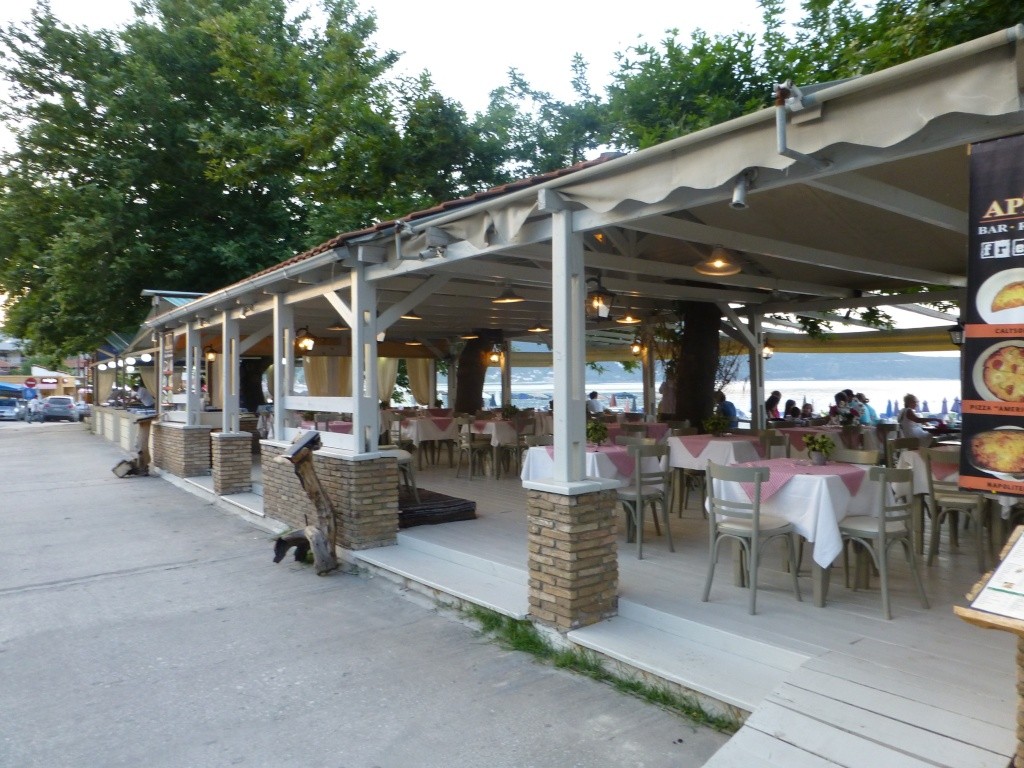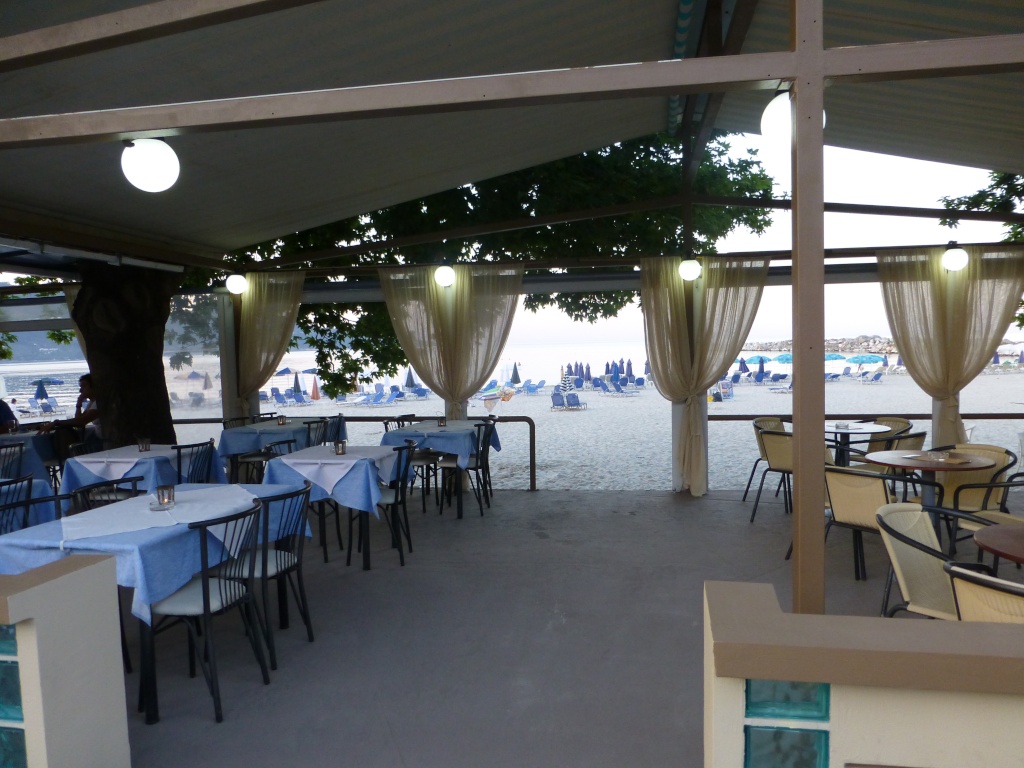 a lady sells roasted corn on the cob as a cheap meal
as one gets further from the harbour end, the Shirley Valentine restaurants start to appear and my imagination ran wild, as I thought of a chorus of a 1000 waiters saying to their clientele, "My brother has a small boat, I take you around the island tomorrow, yes?"
but for us, we wanted to just eat and headed back towards the harbour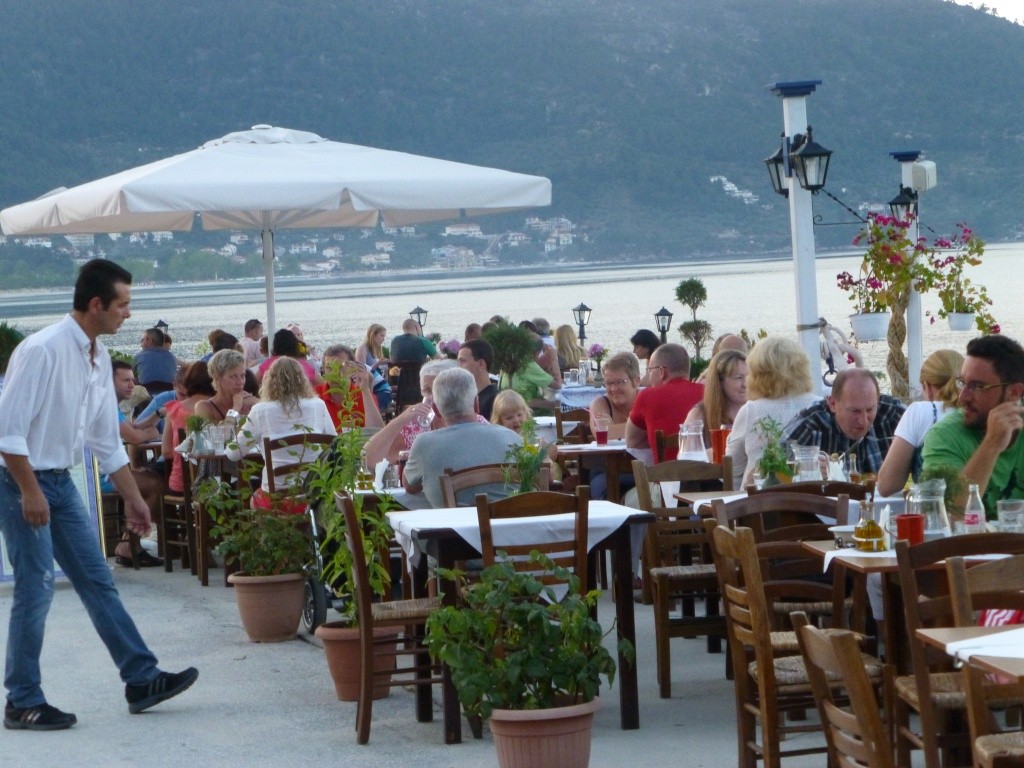 Is there such a film for the men, "My sister has a small boat, I take you around the island tomorrow,yes?"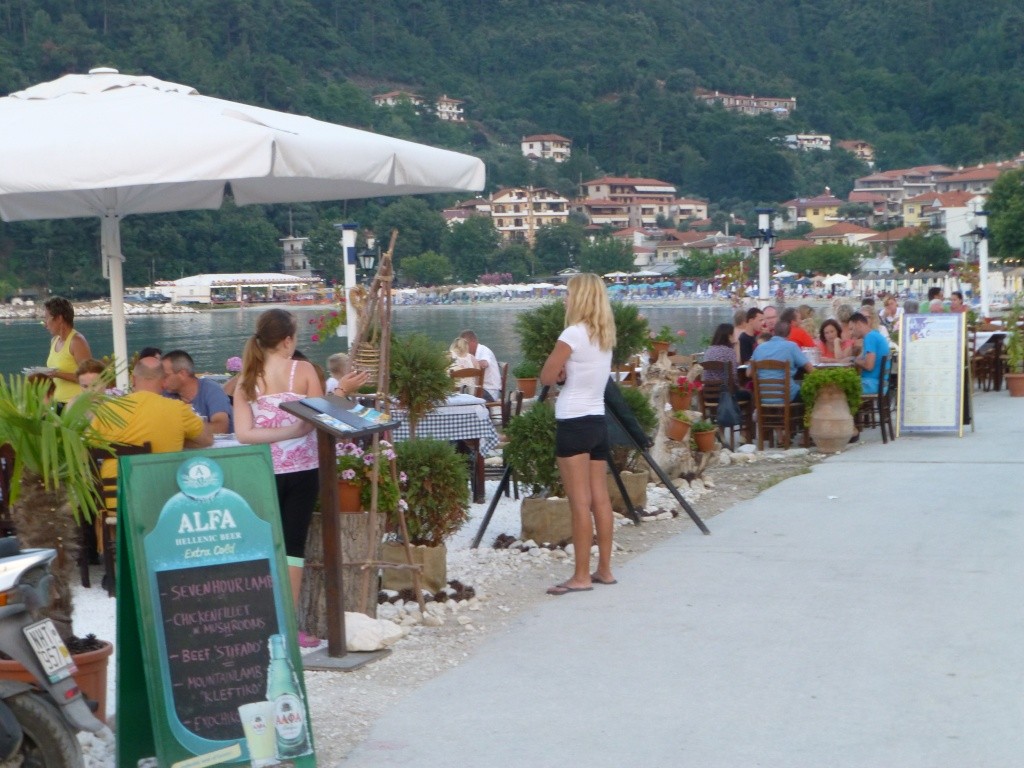 but we ended up in this restaurant, I rated it the 2nd best meal and the best house white wine of the holiday, I would buy it in Tesco's, it was that good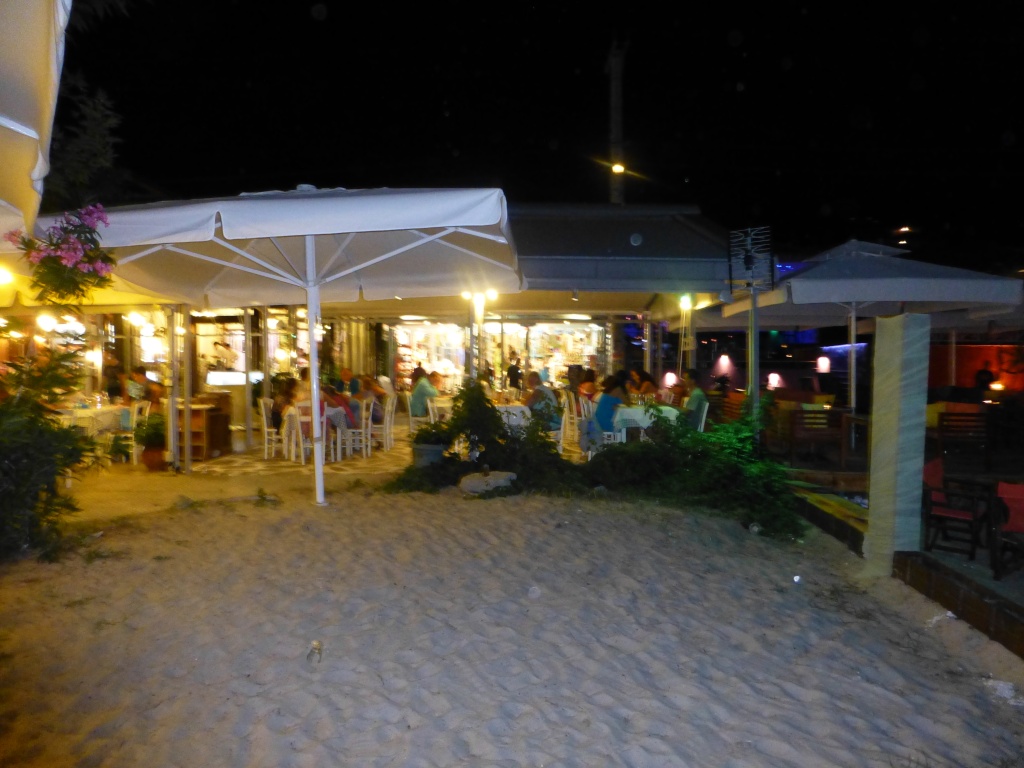 I picked the chicken stuffed with bacon and cheese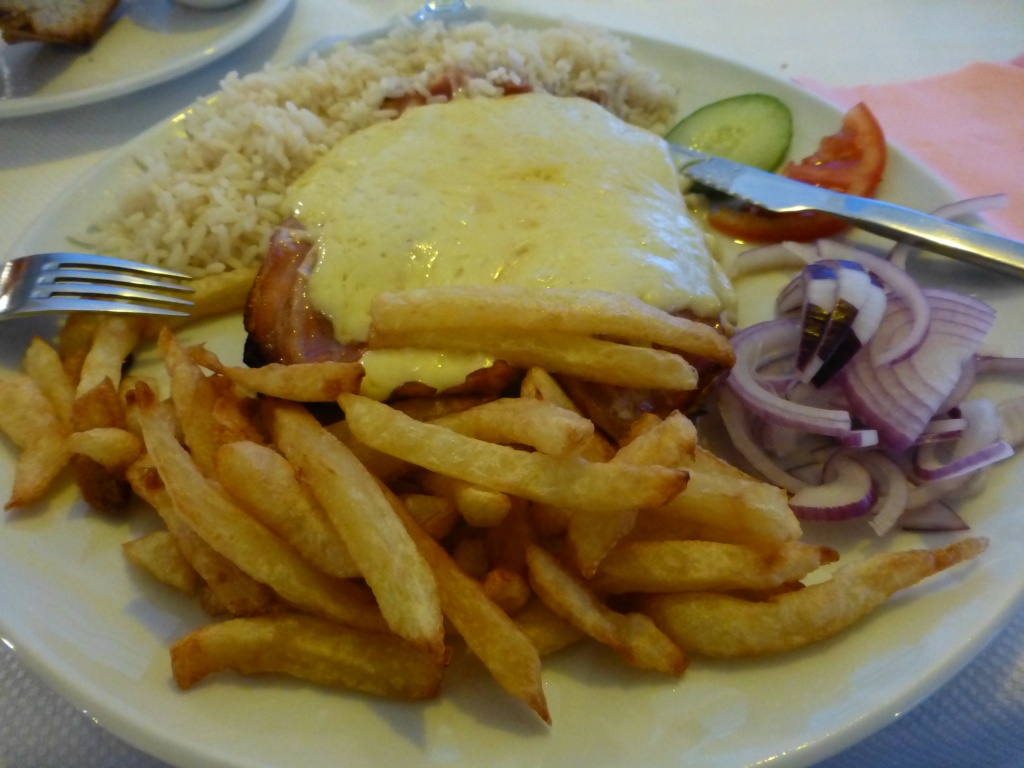 mrs Db had pork fillet medallions both meals were delicious
we sipped wine until the wee hours of 11 o'clock until we saw the little flashing yellow lights of the train weaving it's way along the promenade and it was time to go.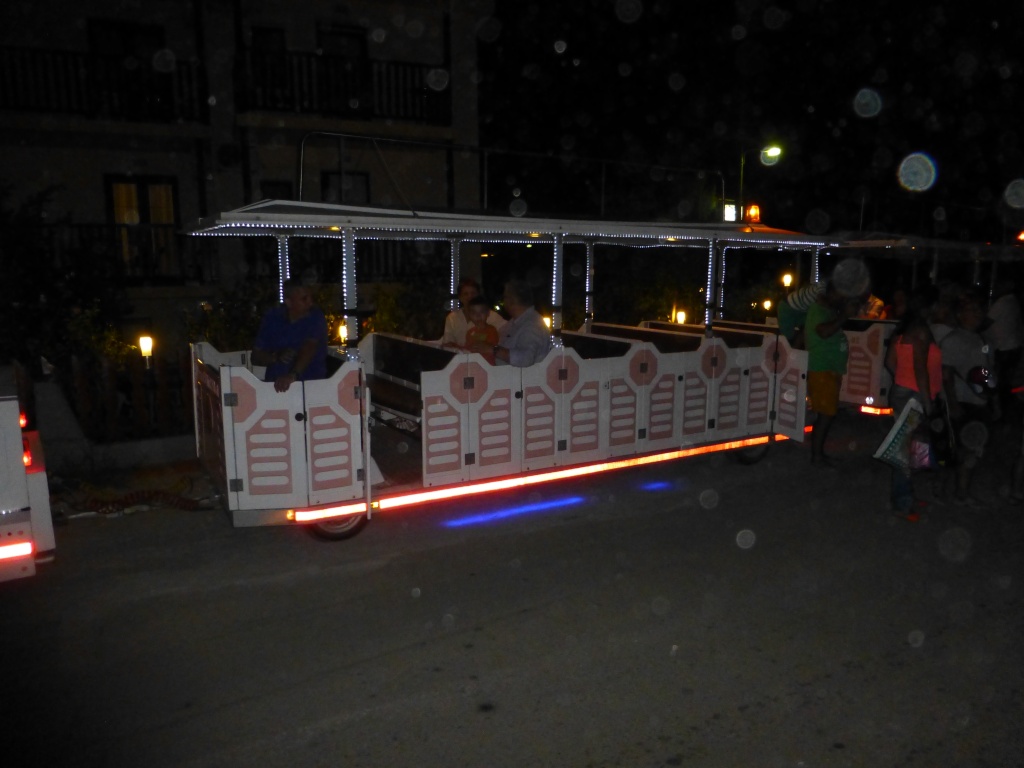 but we just missed the front seat lol
a nice evening
with the train passing by the ATm on it's route on the way home lol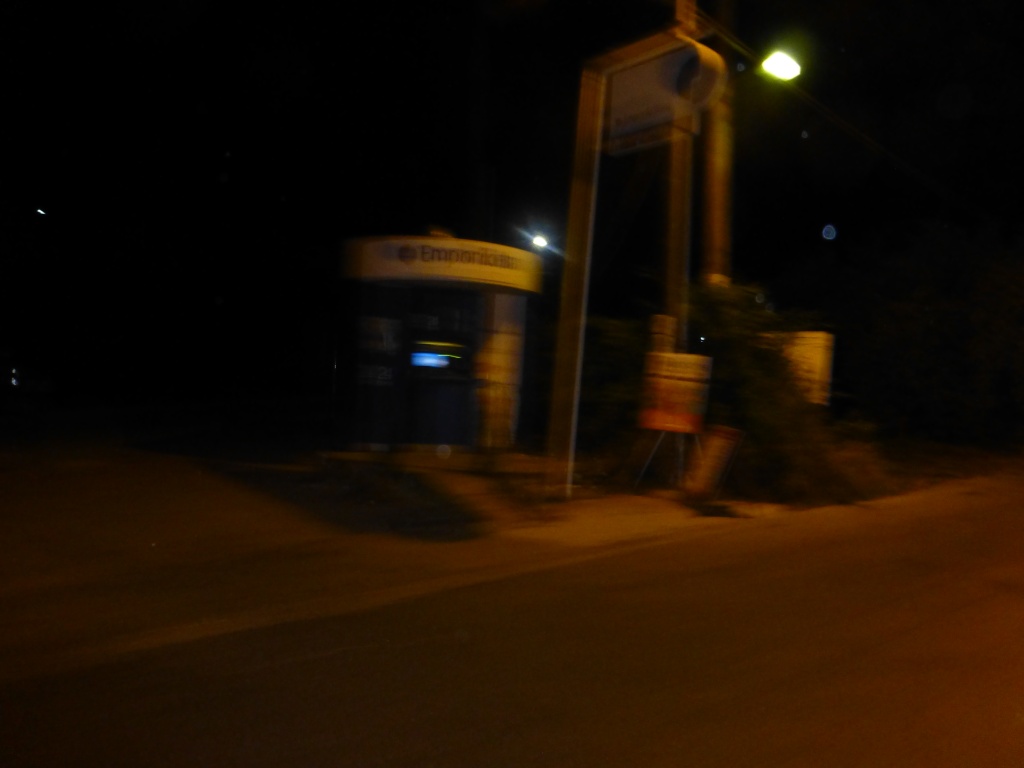 -----------------------------------------------------------------------------------------------
Day 4, Wednesday
It was a lovely morning again and we were establishing our little area of the beach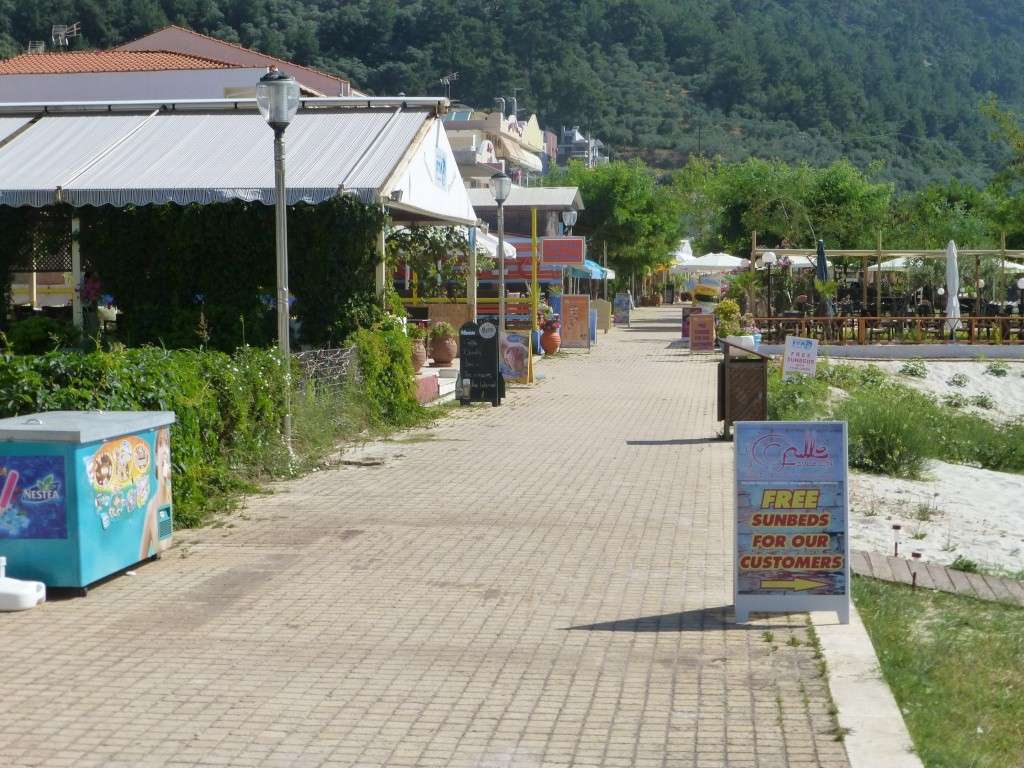 whilst Mrs Db got settled on the beach I had a little walk down to the harbour in the corner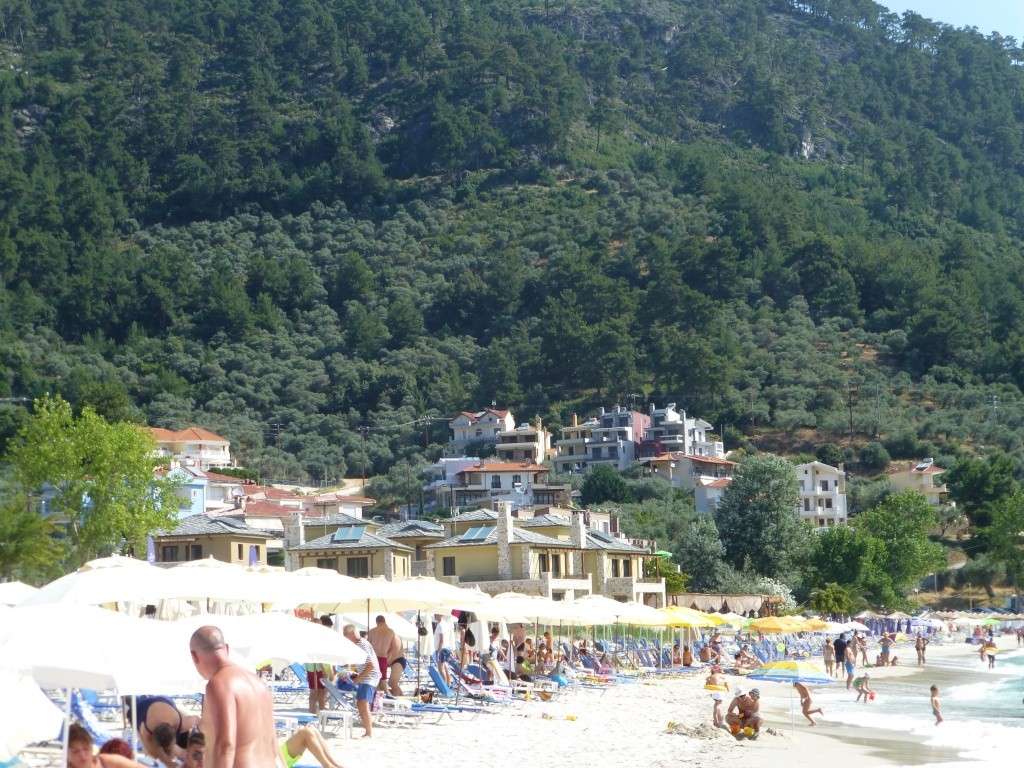 passing a few restaurants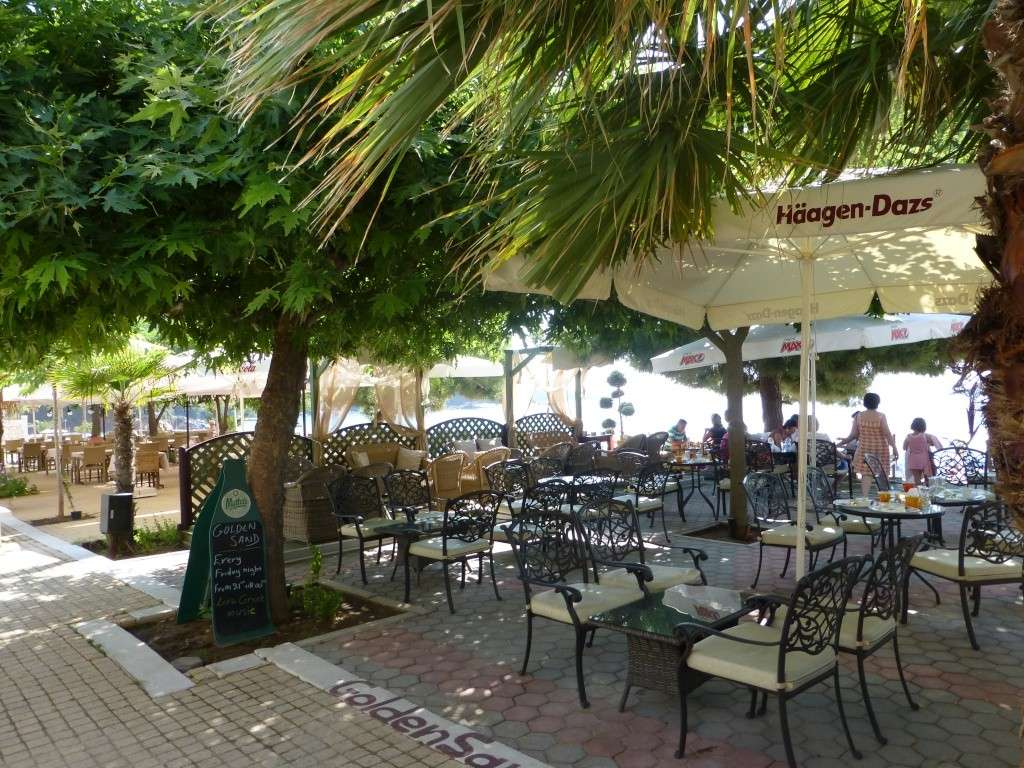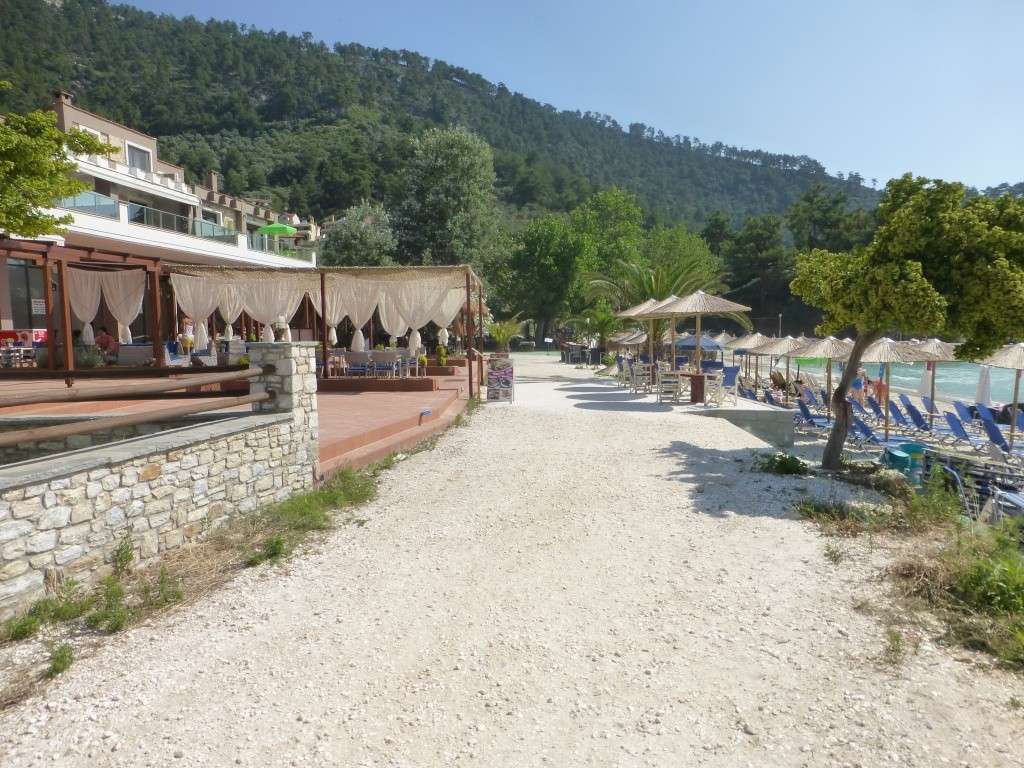 now down at the far end of Golden beach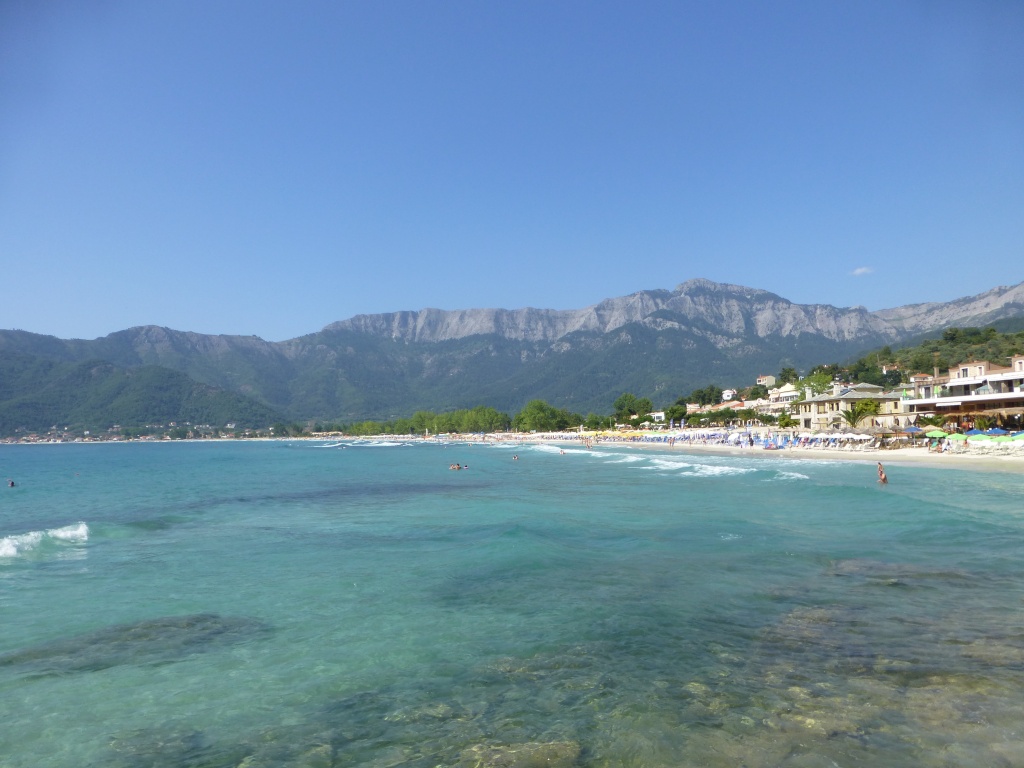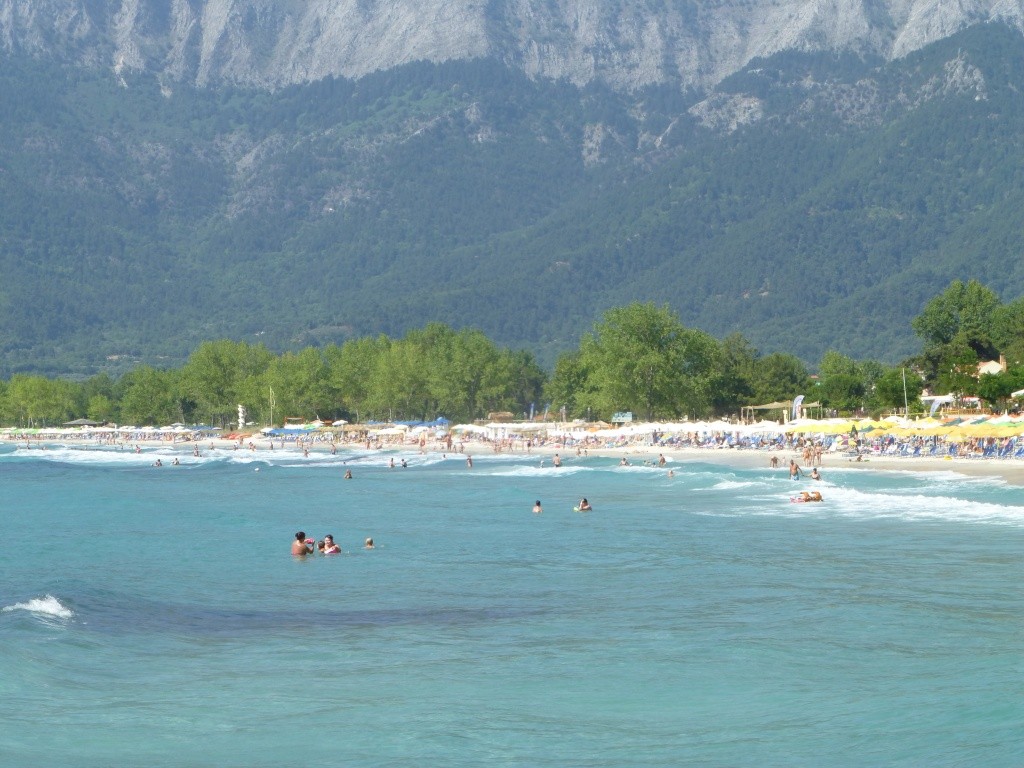 so now up at Vigli restaurant which has surperb views over the beach
I noticed they did a 60s/ 70s night on Friday which I thought might be interesting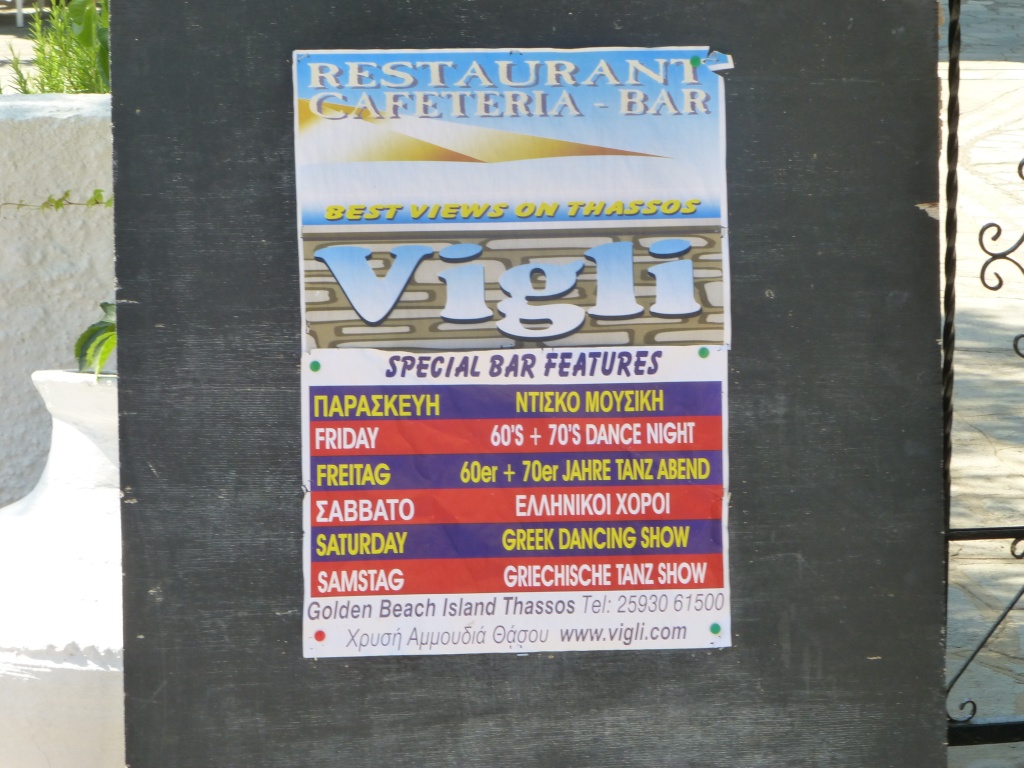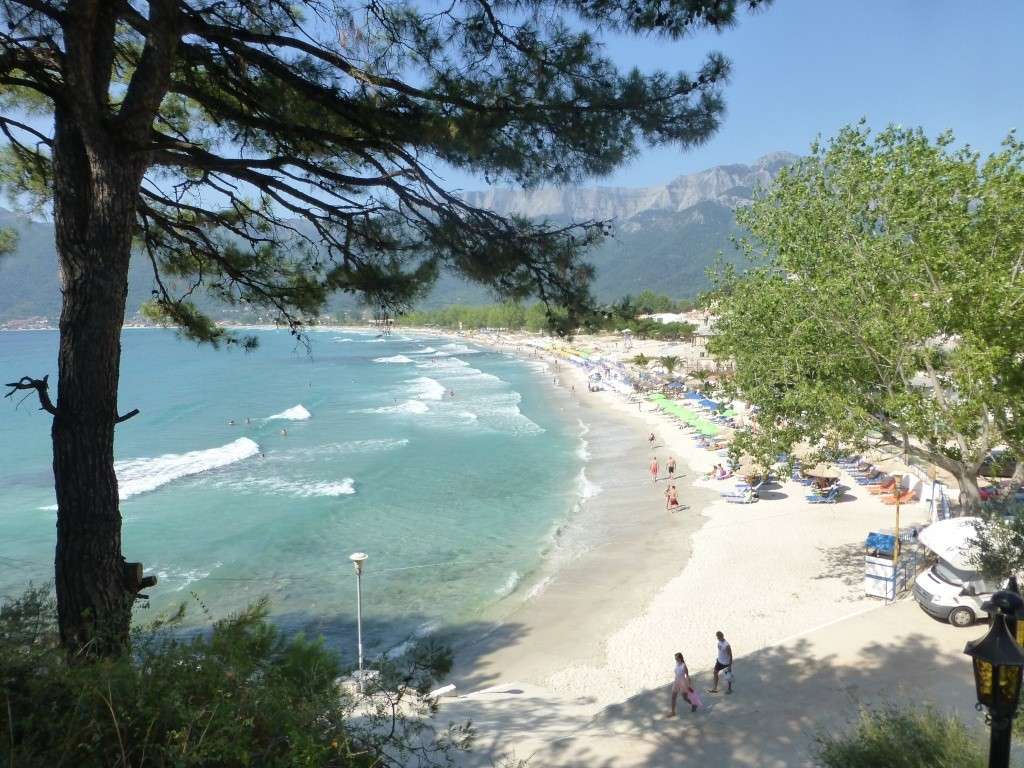 after an 8 minute walk I was approaching the little harbour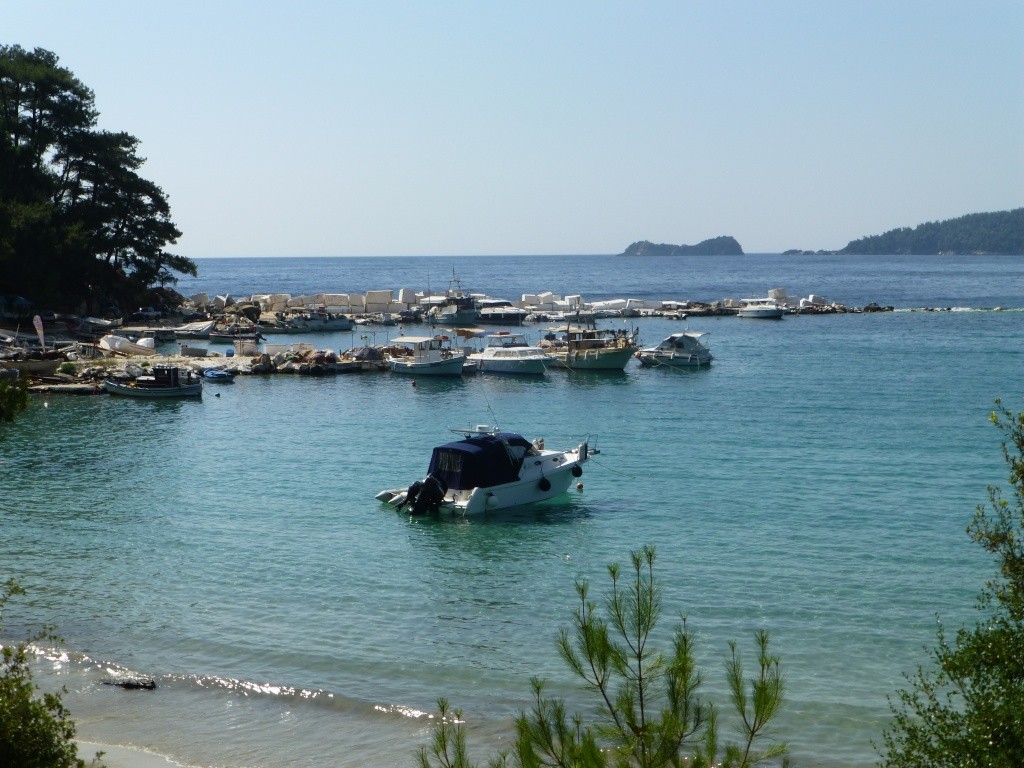 It wasn't a very affluent harbour, with what appear to be elderly people, may be ex fisherman living in caravans and small places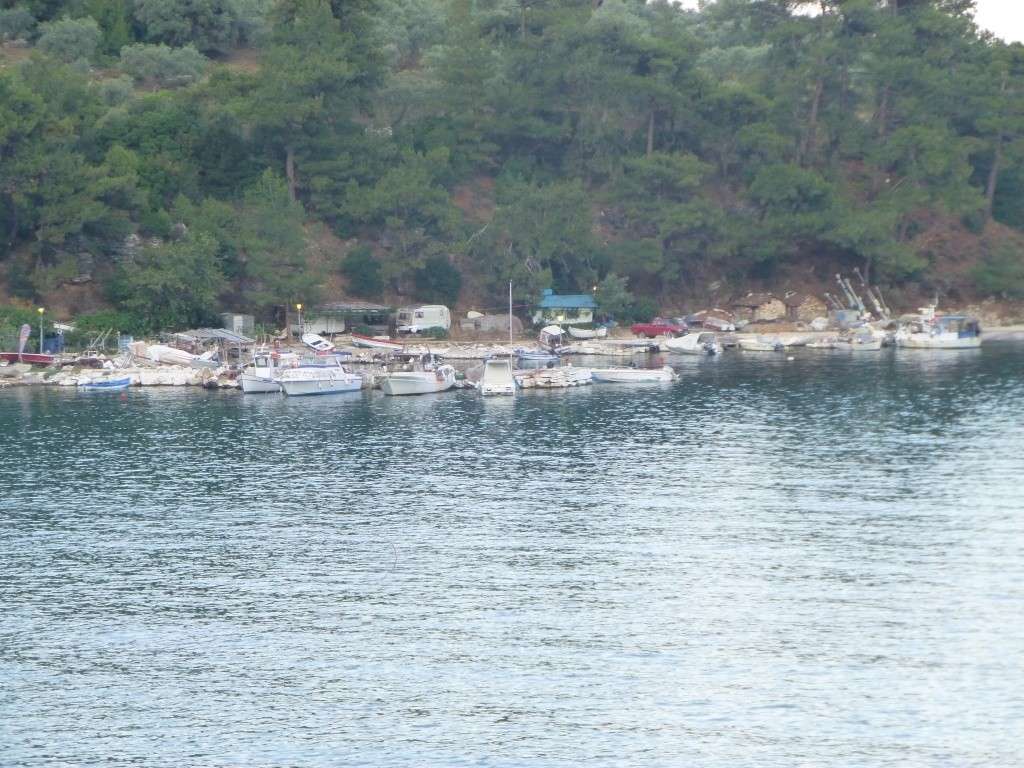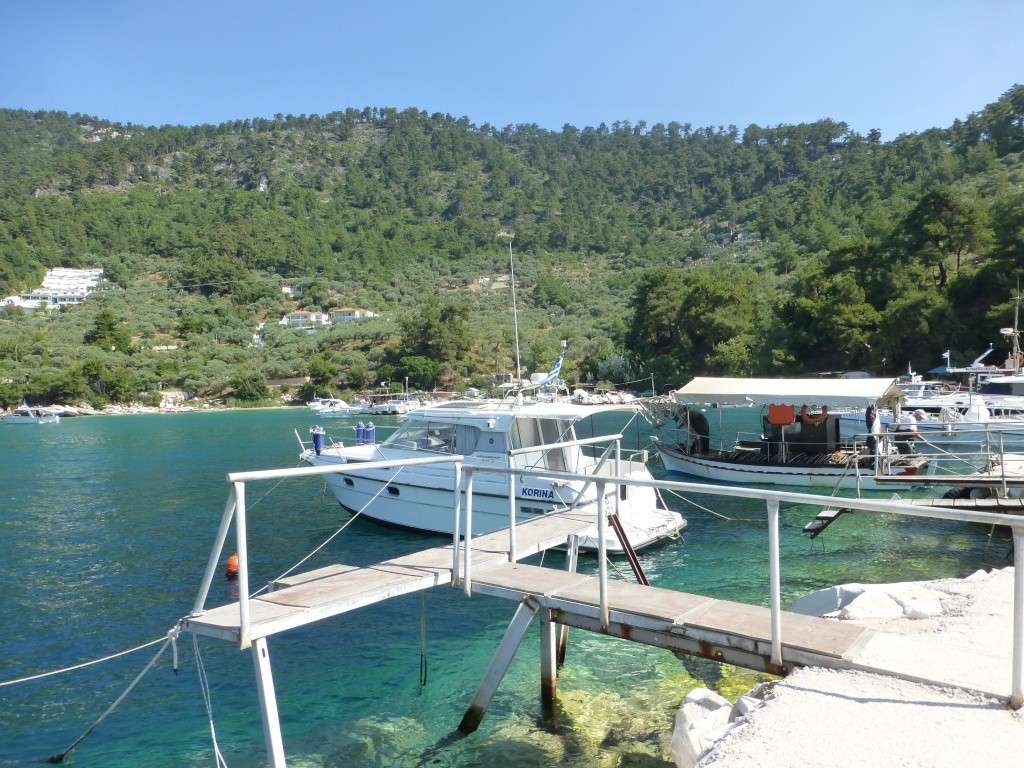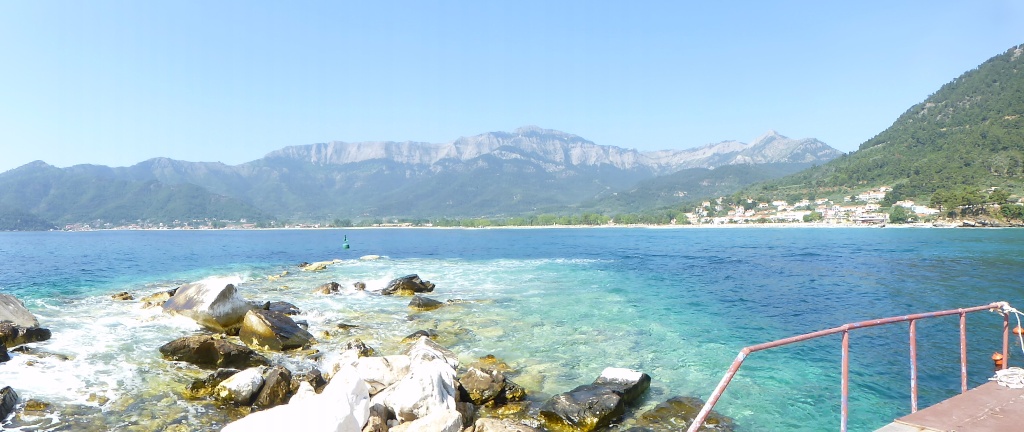 wait a minute, these blocks are solid Marble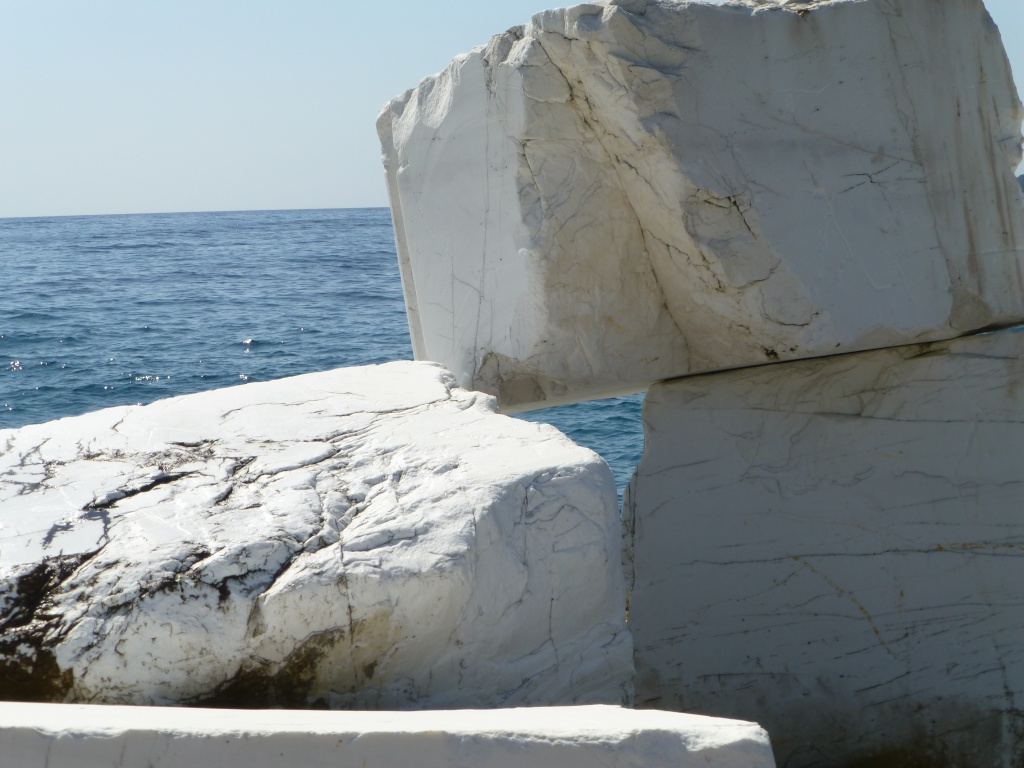 here I am being being asked to pay a £1000 for a slice of this to make a fireplace and they are blocking the harbour with it lol
These are marble chippings going to the boat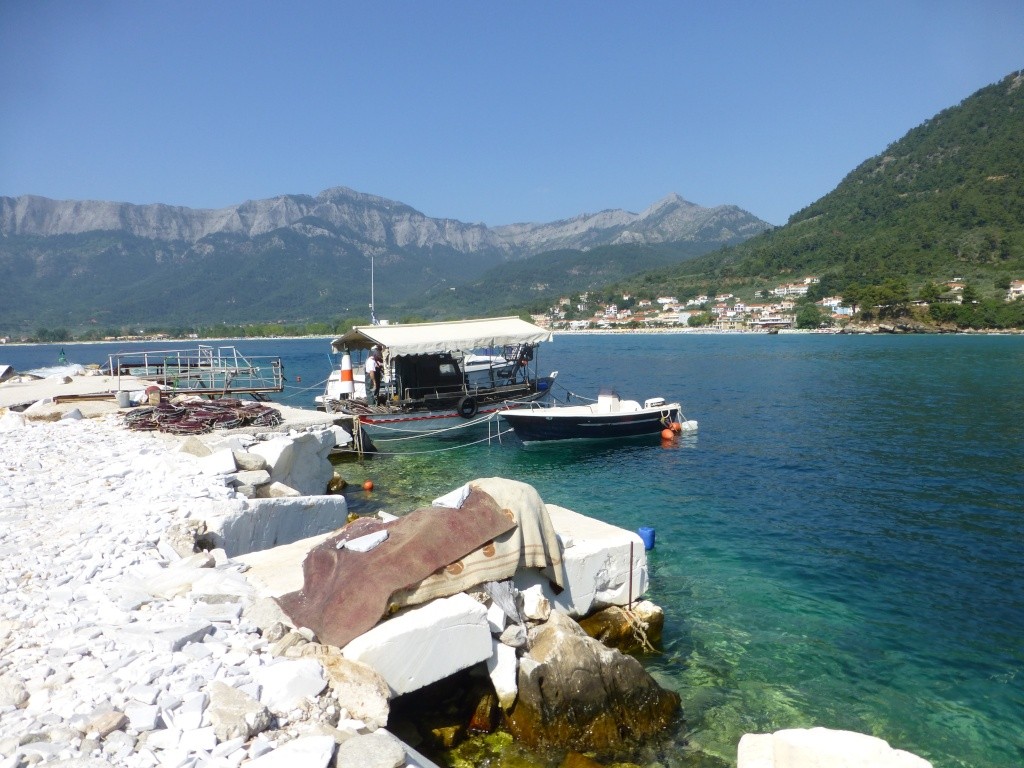 This is where the Captain Zeus's boat docks that does the boat trips for 30 euro's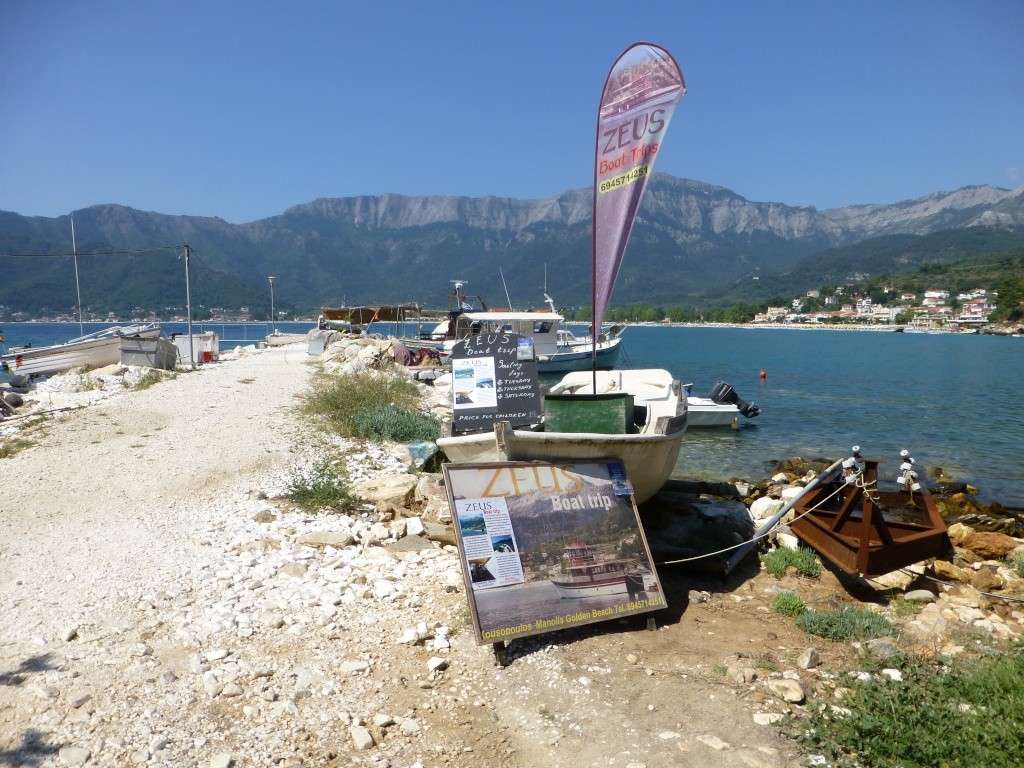 but time to hit the road back to Mrs Db
They say the streets of London were paved with gold, these were paved with marble lol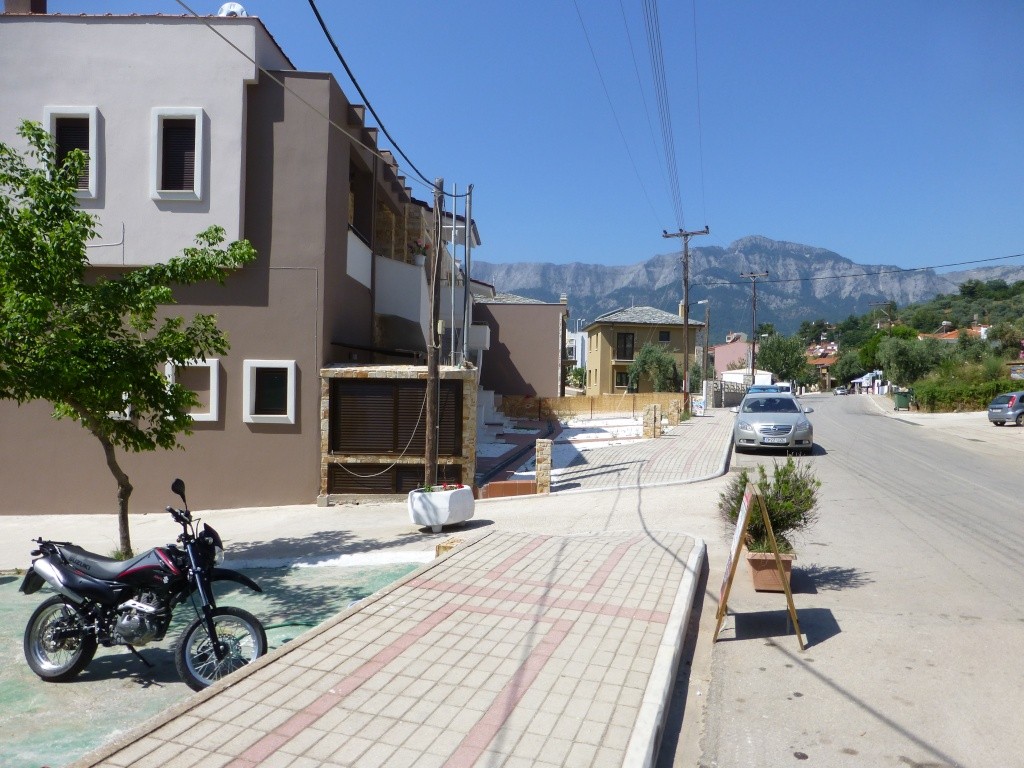 so back with Mrs Db and having a pint on the beach was a novelty for us but we could get in the swing of this lol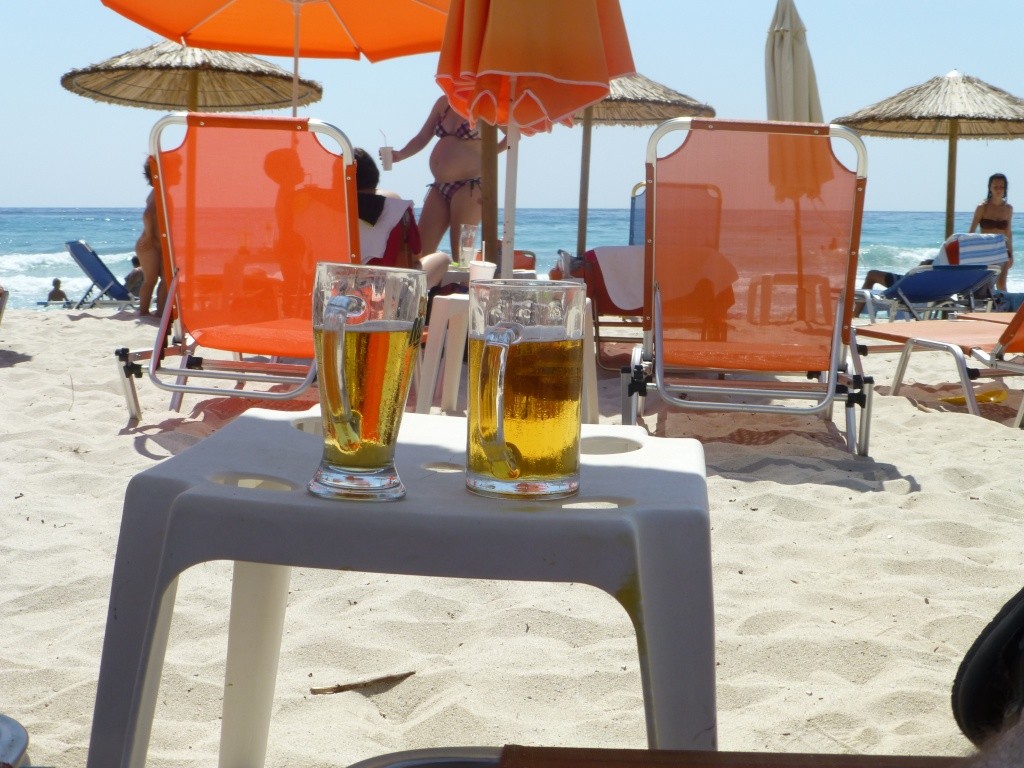 I was good today, avoiding both the baker and doughnut man and doing all that exercise
but ended up with an Italian Job
Mrs Db always the sensible one
later after a nice afternoon, it was time for another shop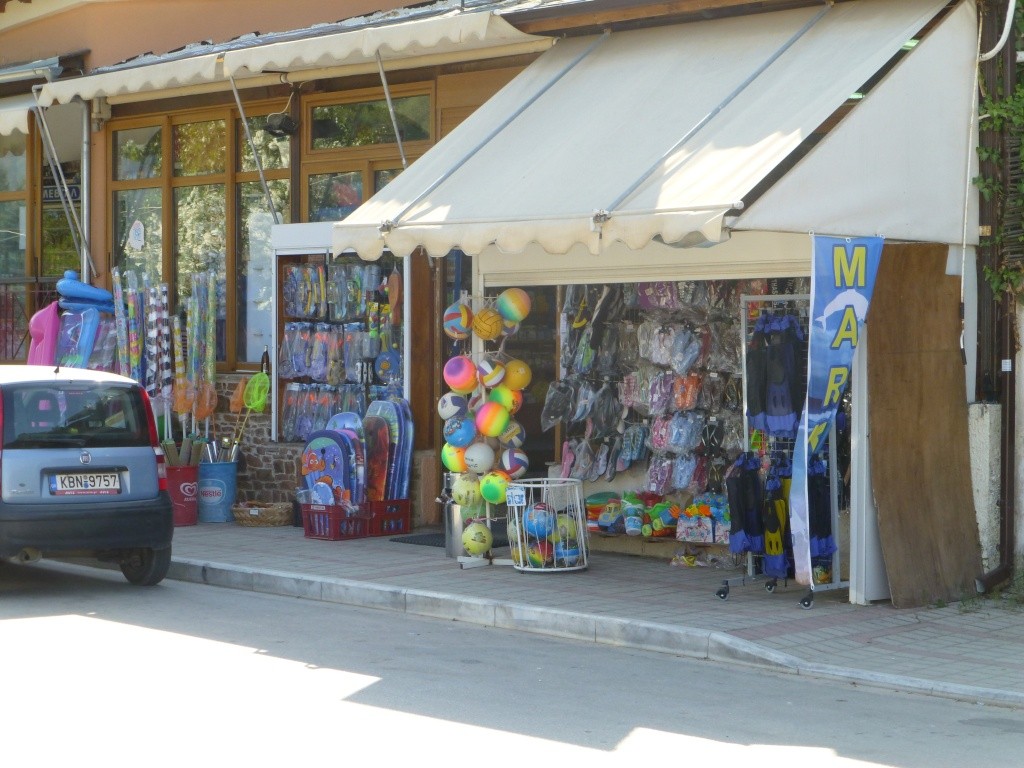 Notice a bog roll, this is where we anticipated our empty roll wouldn't be replenished and we were right lol
it was evening and I had suggested trying Vigli's the restaurant I spotted on my walk, however, I forgot to tell Mrs Db that the entrance up was like the last scene in the Mama Mia film leading up to the church lol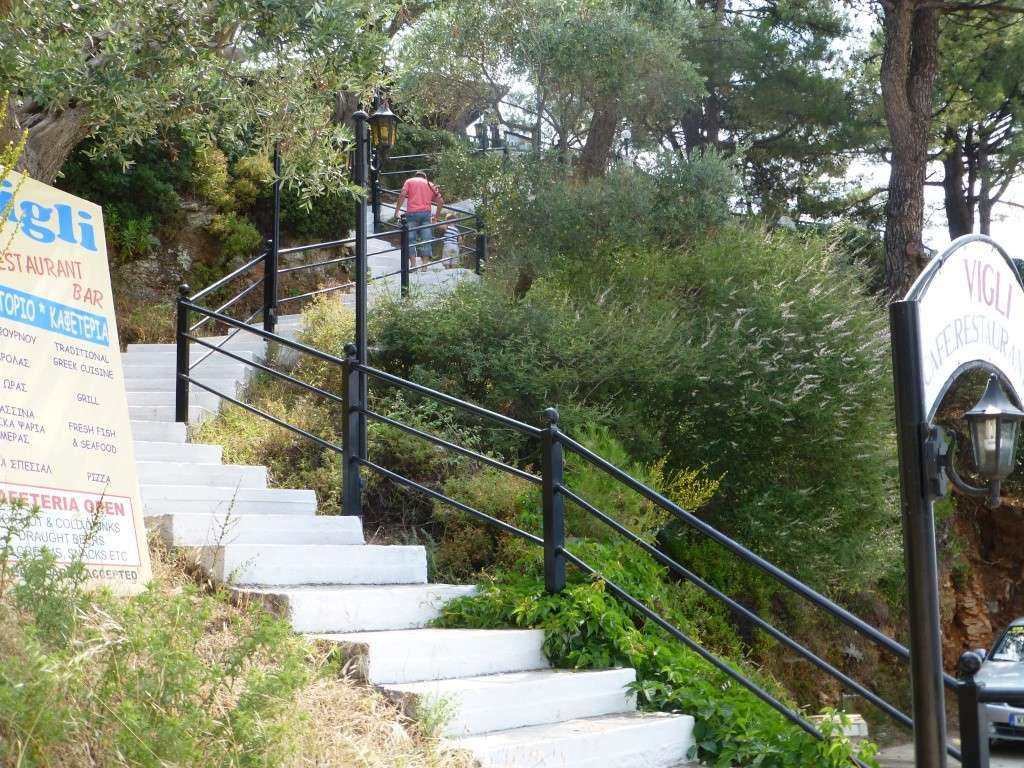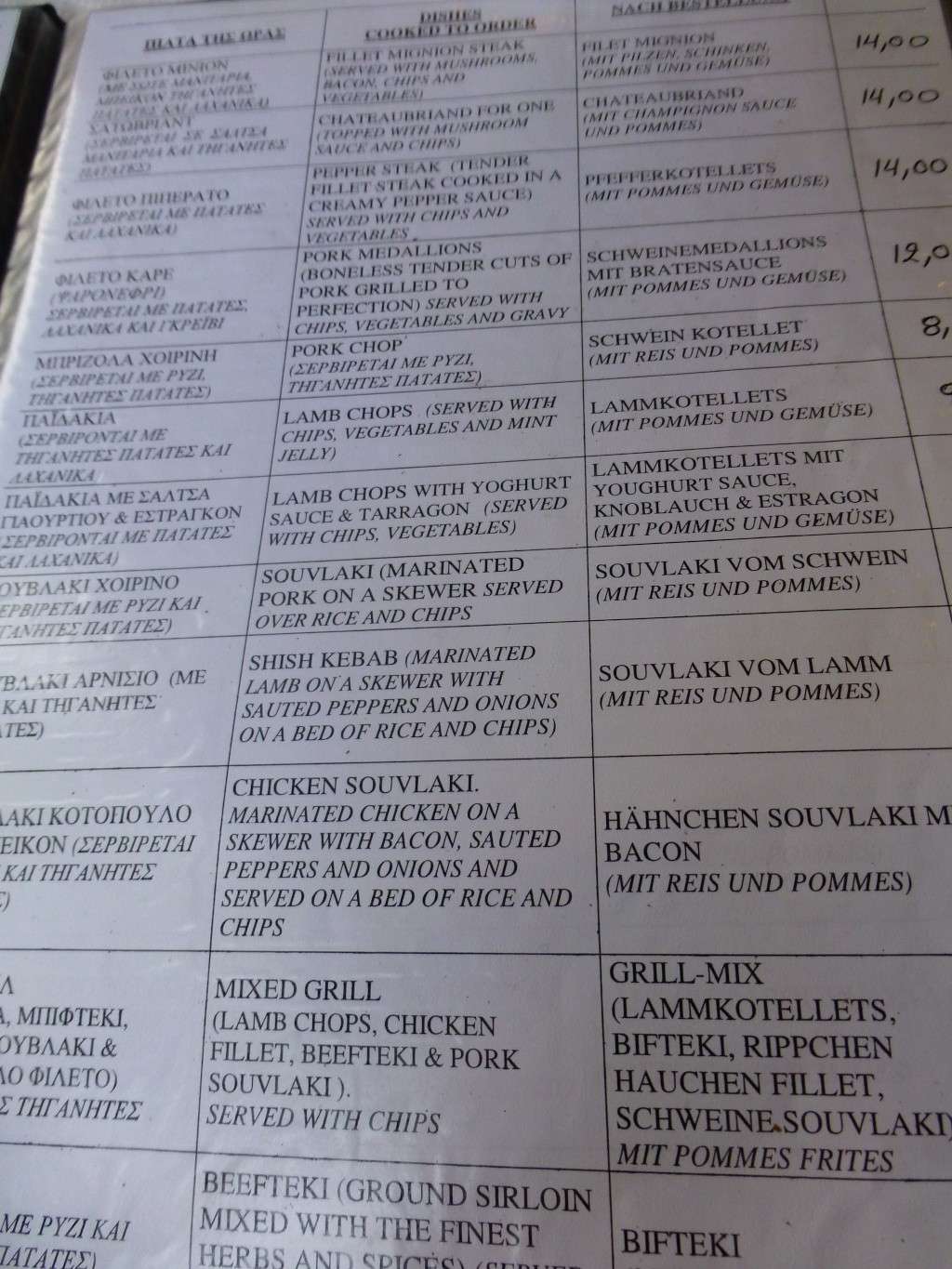 I chose a curry but would have rated it high but it was so mild, milder than a Korma but really it was good with nuts, raisins and other things along with the chicken
Mrs Db had mousaka and a salad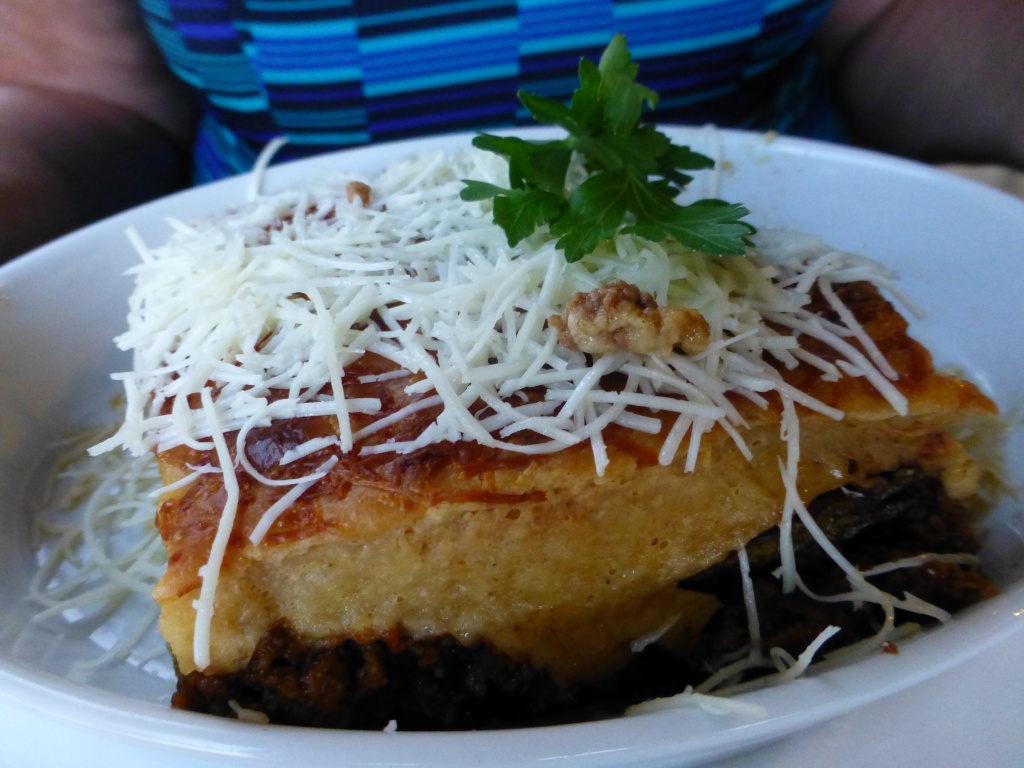 and we had a lovely evening and thought we would return to experience the 60s /70s night
----------------------------------------------------------------------------------------------
Day 5, Thursday
Another lovely morning
and Mrs Db get into our position on the beach
meanwhile should delboy return next year he has a look at other Thomson accommodations, the first was the Emerald
City
oh sorry I mean't Emerald hotel, some on TA regard the journey up to the hotel, as Cardiac hill
The hotel is high on the hill here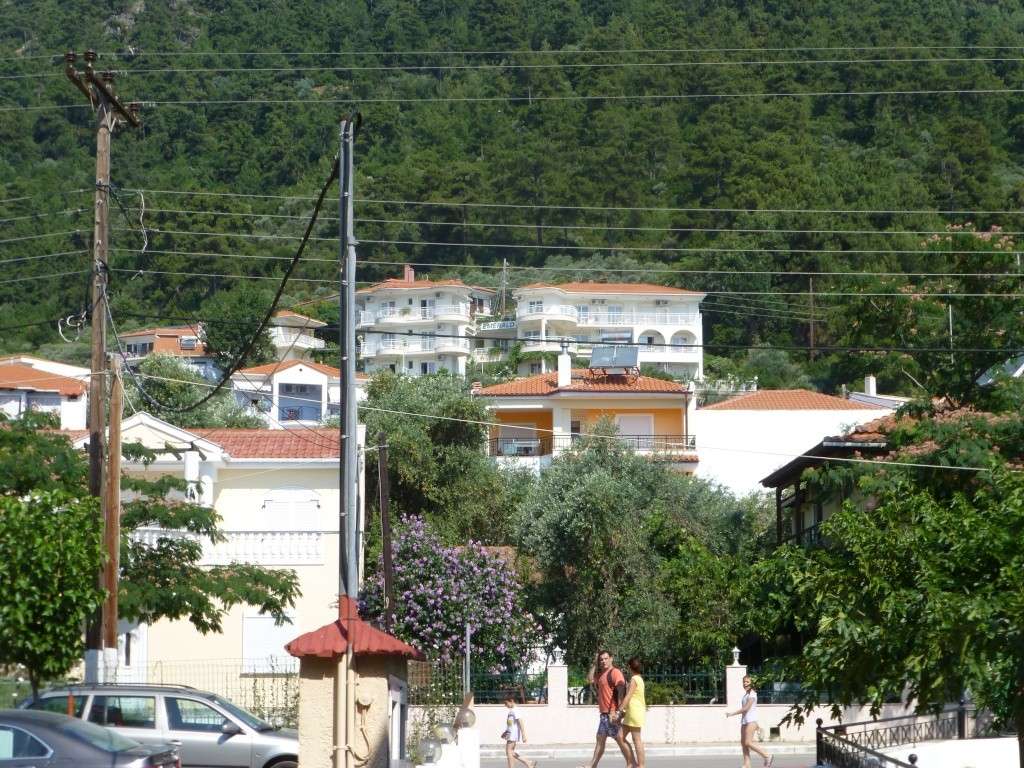 200m the signs says
well I obviously dont have the brains doing this but do have the courage but will Dorothy and the tinman attempt it and what a better way for the tinman to find if he had a heart by attempting cardiac hill lol
well the photo doesn't quite give the steepness of the hill, but you can get an idea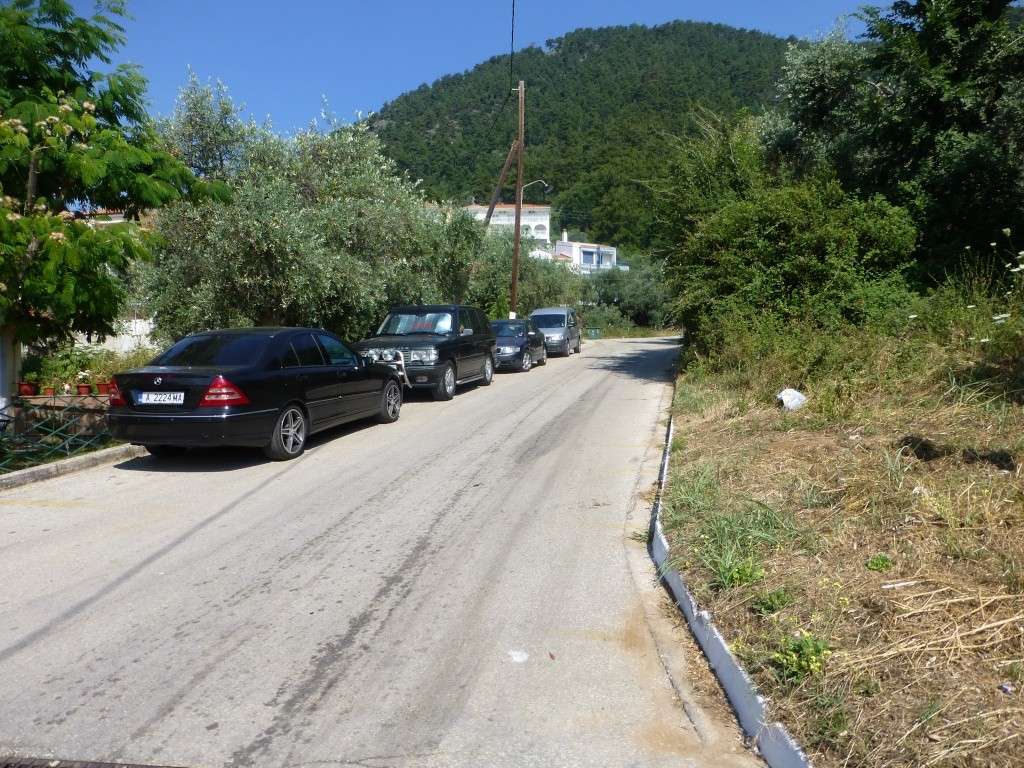 however, one has the next part to come around the bend to the right lol
and continuing
getting near the top but there is a left turn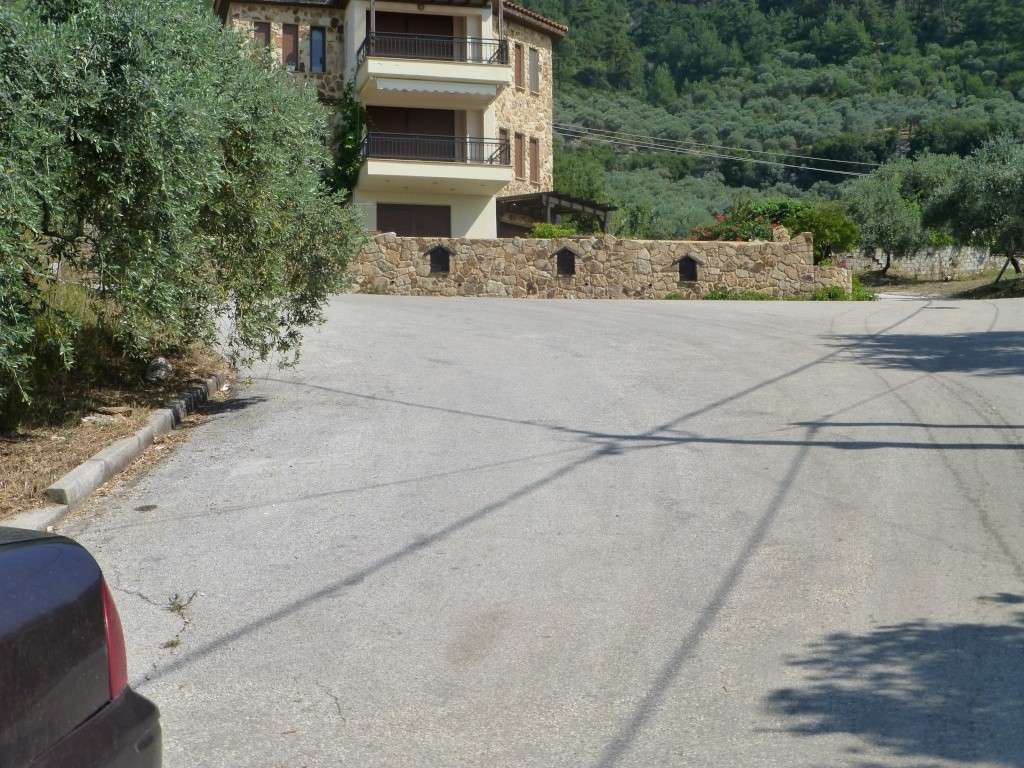 being to blow a bit now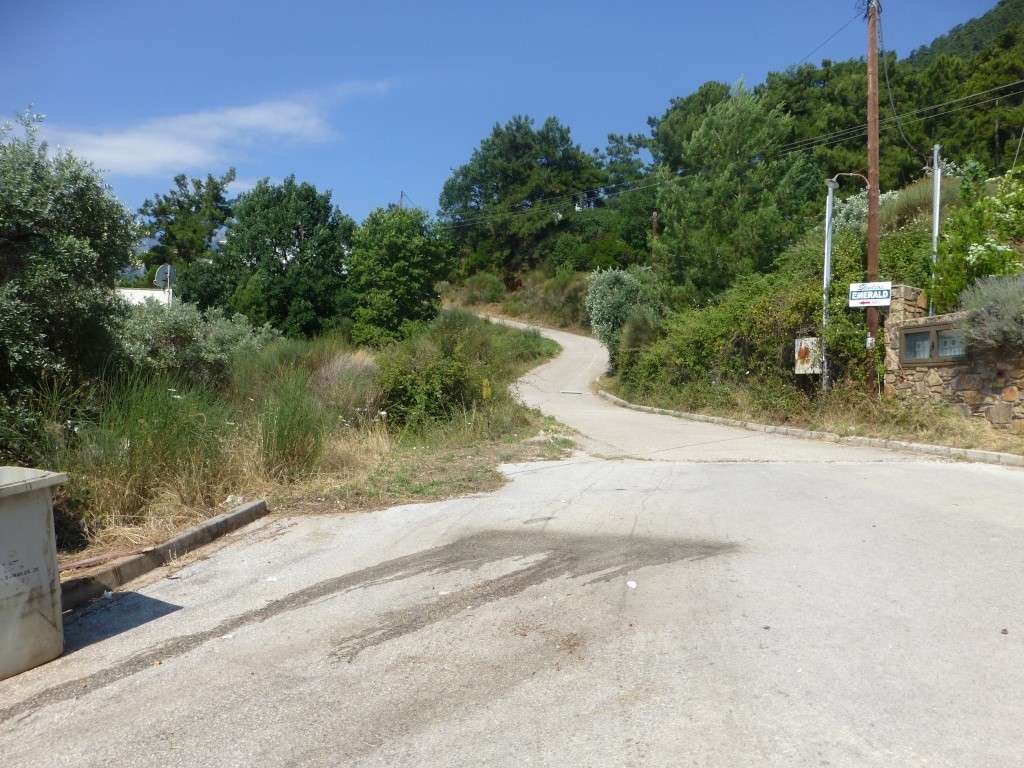 up the final part now lol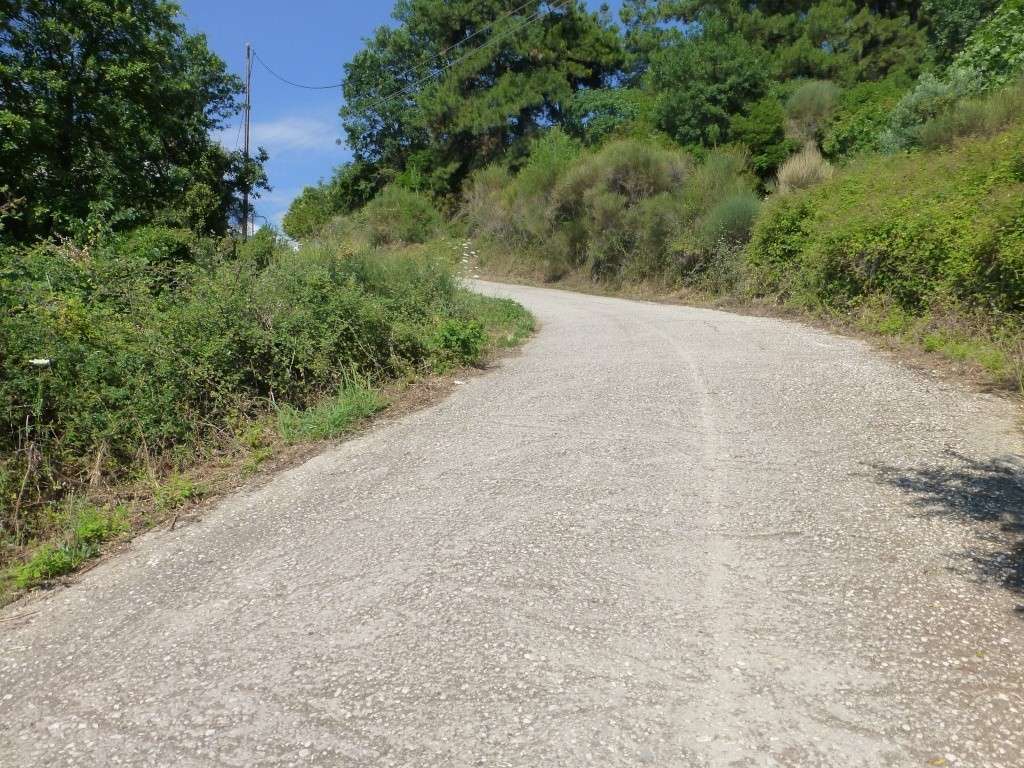 just going round into the hotel grounds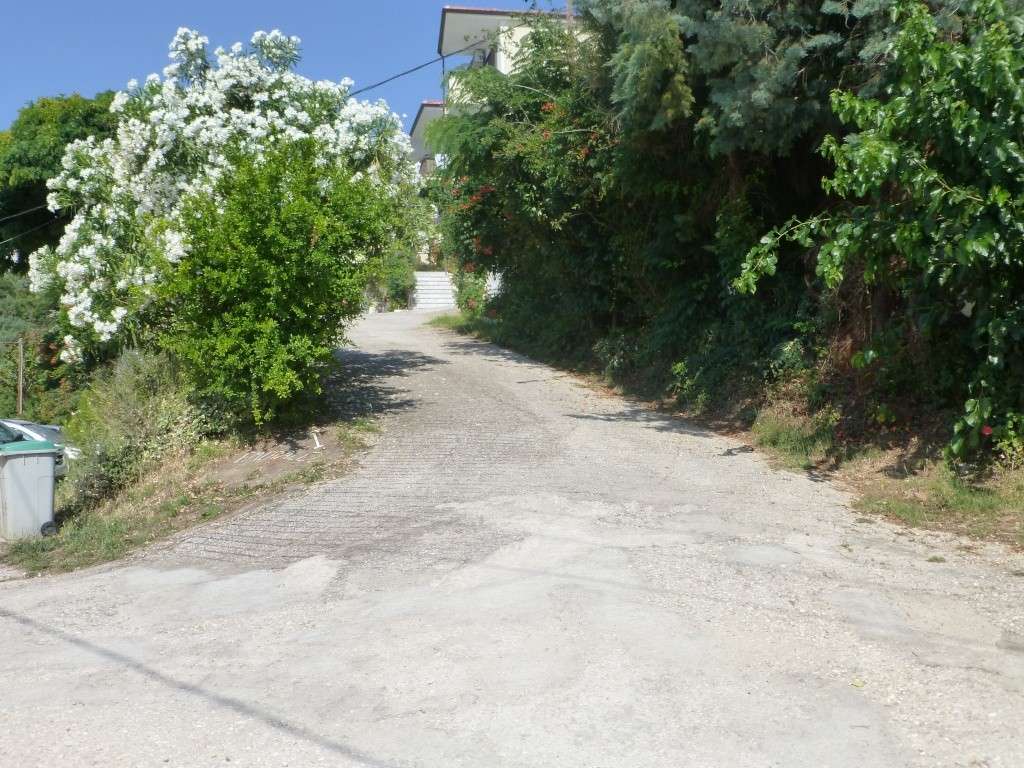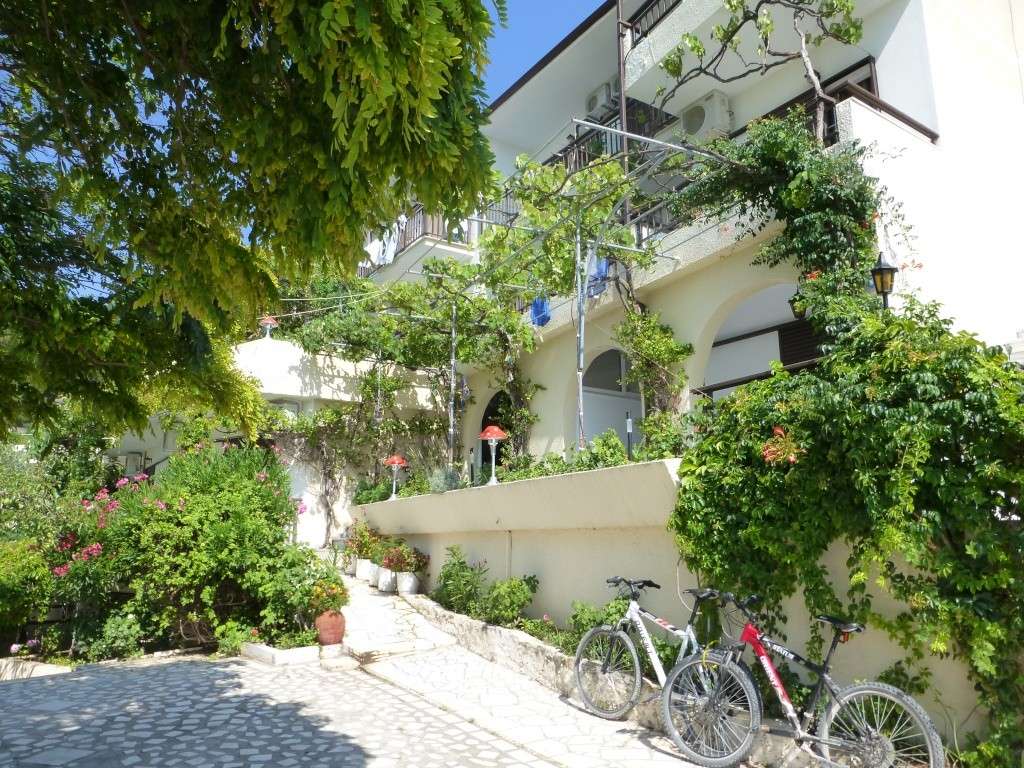 oh still a last bit up hill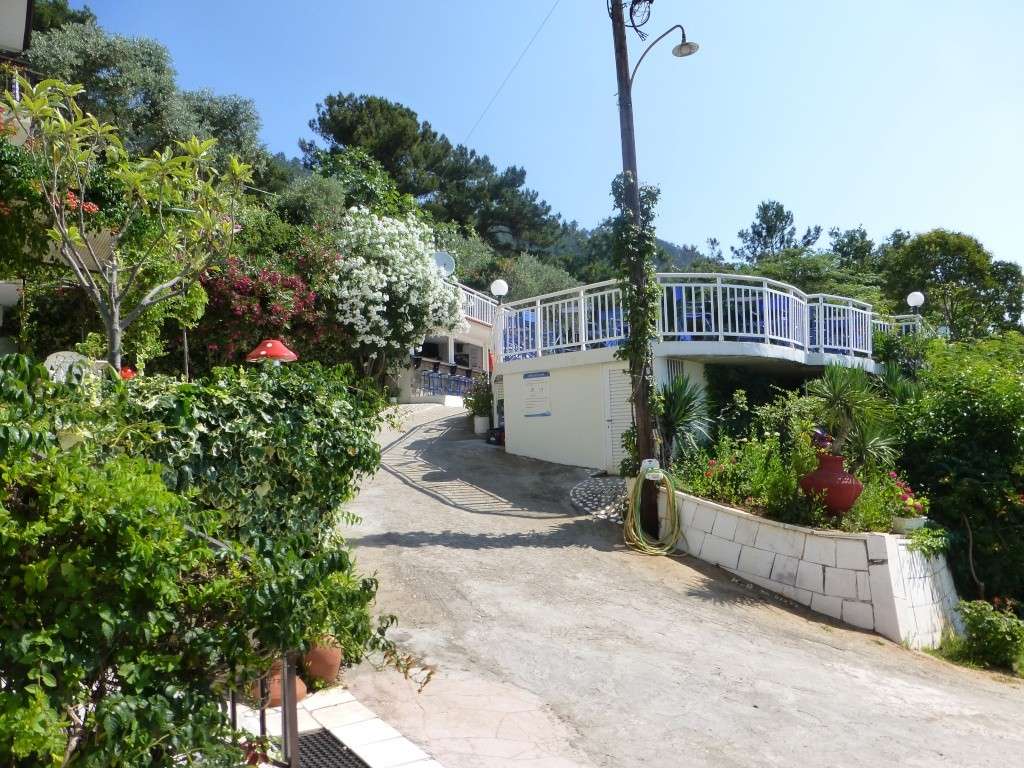 so here we are at the top, it has a small bar and a swimming pool, with chairbeds to use if required. I spoke to the ladies at the bar saying I may be interested next year and I was able to look around and take pictures
there was nobody by the pool, which is a good sign, as people are making the effort to go down to the sea
the accommodation is higher that this, as Im on ground level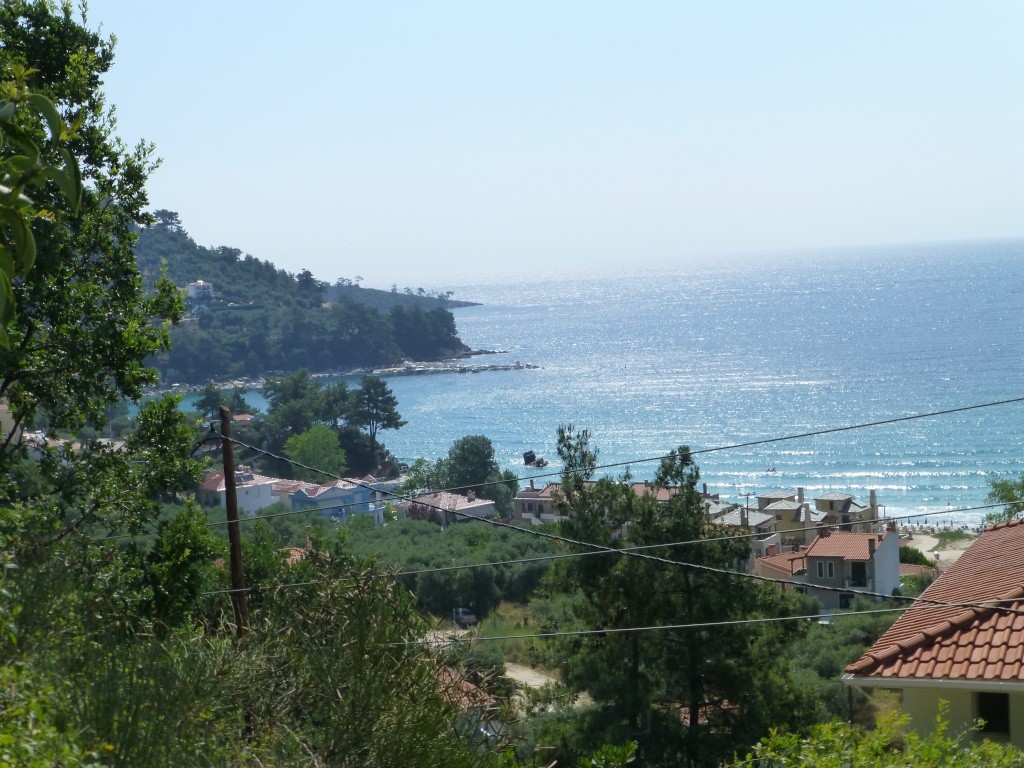 people staying there tell me they have views that are not blocked by these buildings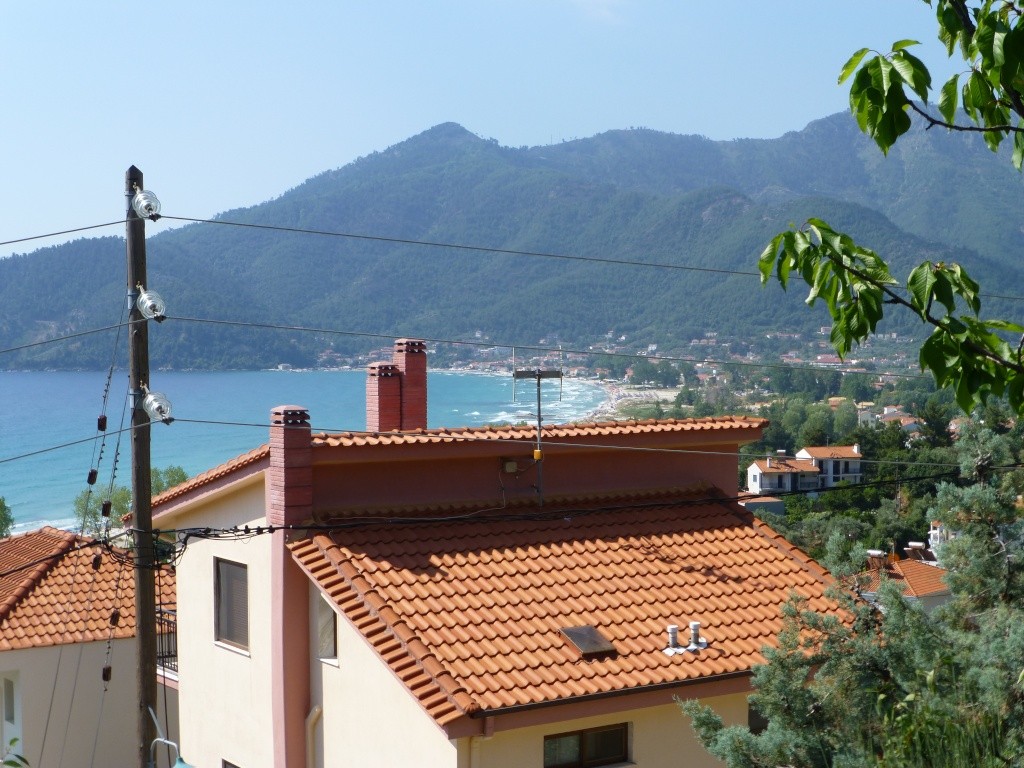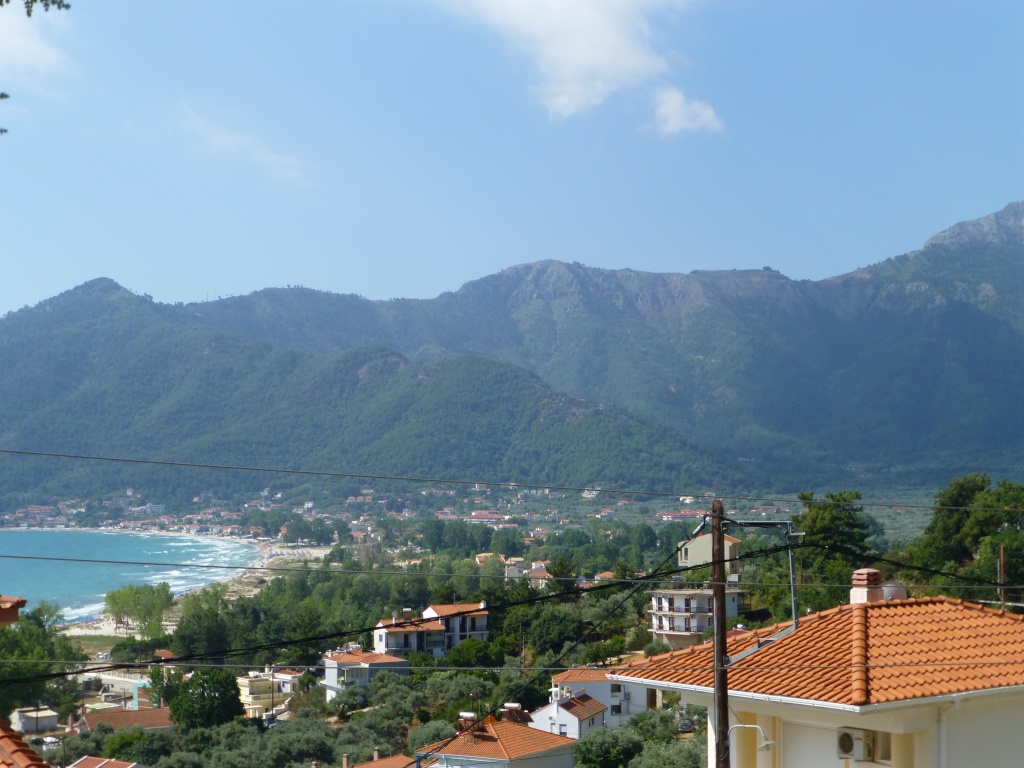 two couples staying there told me their rooms were also small, so much so that they were looking at a way of booking an Emerald suite, a new block down below which is not available to Thomsons
The new suite block is just down below, so they would be prepared to do the hill again, if they had bigger and newer accommodation.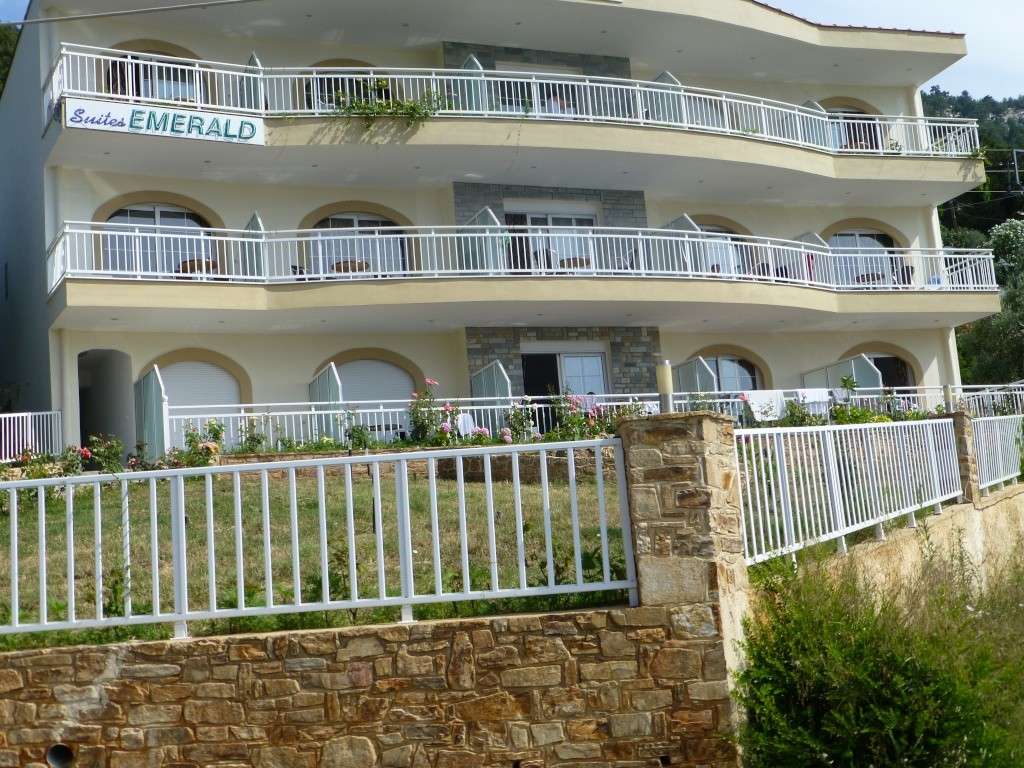 There is a slightly less severe hill to take a bit off the up route but after Mrs Db attempted it, we decided it was a no, doing that hill twice a day in the heat for what sounded a lesser room was not for us and I would need a beer each time to do it lol
well now back with Mrs Db, I had avoided the cheese pie man and the doughnut man, due to an ever expanding waistline
but it was lunch time, I'll just have something light today, a club sandwich, oh my god, it didn't say on the menu it came with chips lol
anyway, I'll start cutting out some of the dinners on here, as I'll never finish this holiday lol and you end up as fat as me reading it
I will do the relevent ones from now on but no meal was bad
------------------------------------------------------------------------------------------------
Day 6, Friday
With Mrs Db comfortable on the beach I decided to have a look at the Blue Bay Hotel another on the Thomson brochure. It has had one of only 8 tourist awards for the Island but gets mixed reviews on TA. It also has the webcam fixed on Golden Beach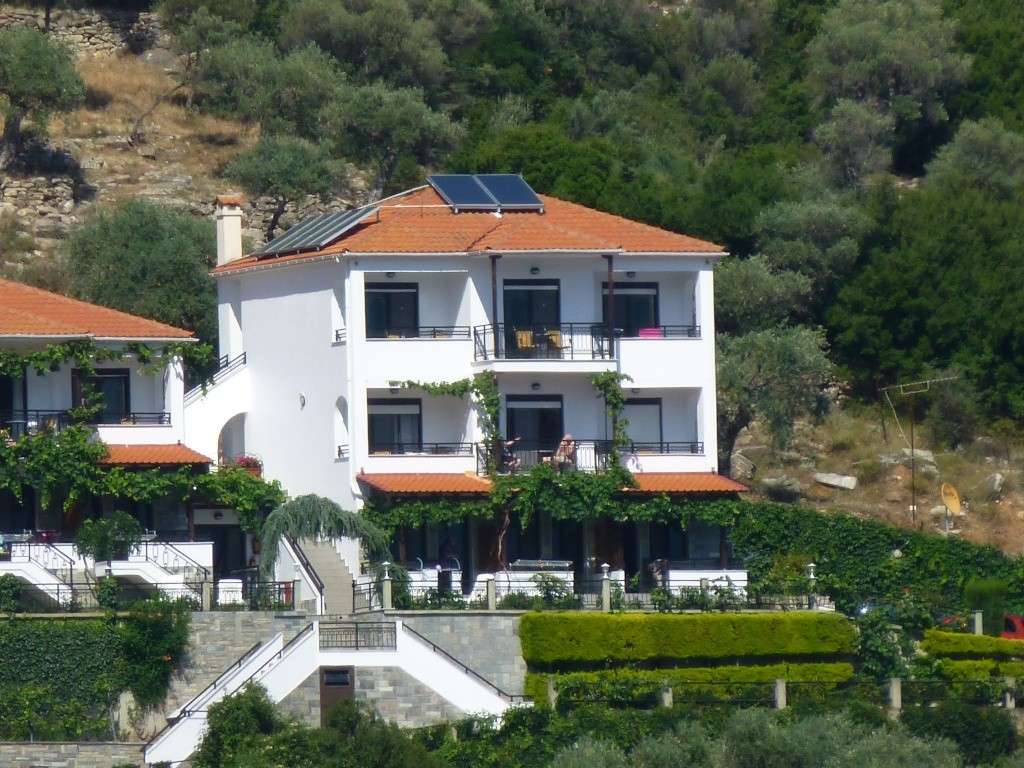 I started my walk at The Vigli restaurant, the nearest restaurant to them at the end of Golden Beach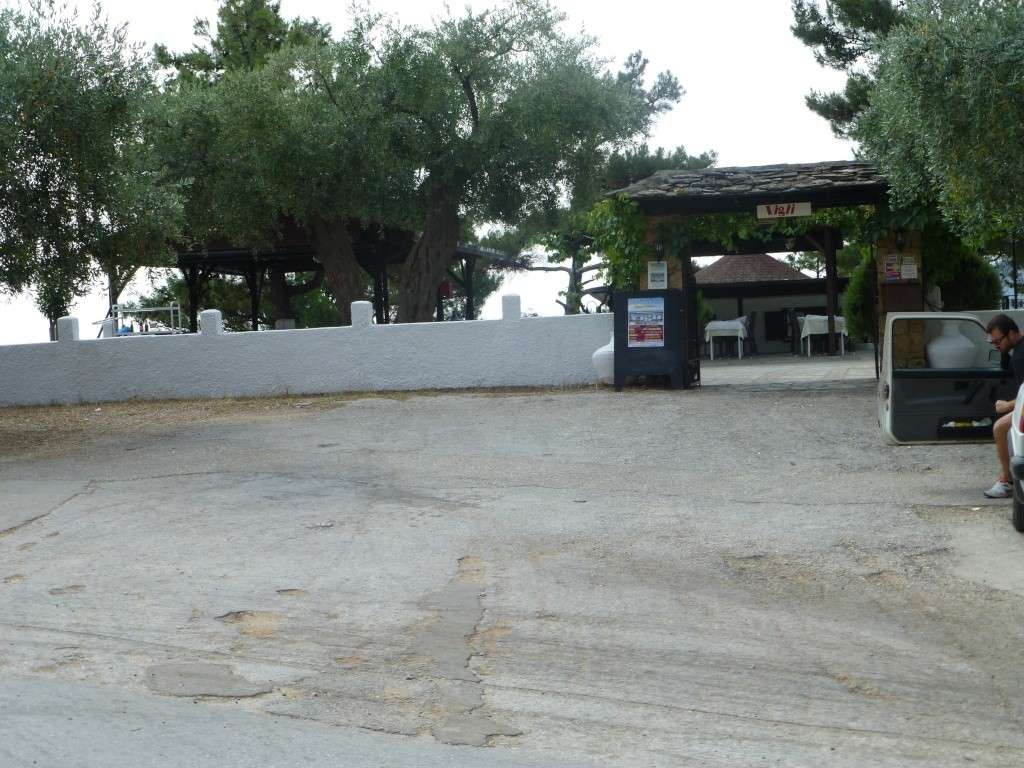 and got to this sign in 8 mins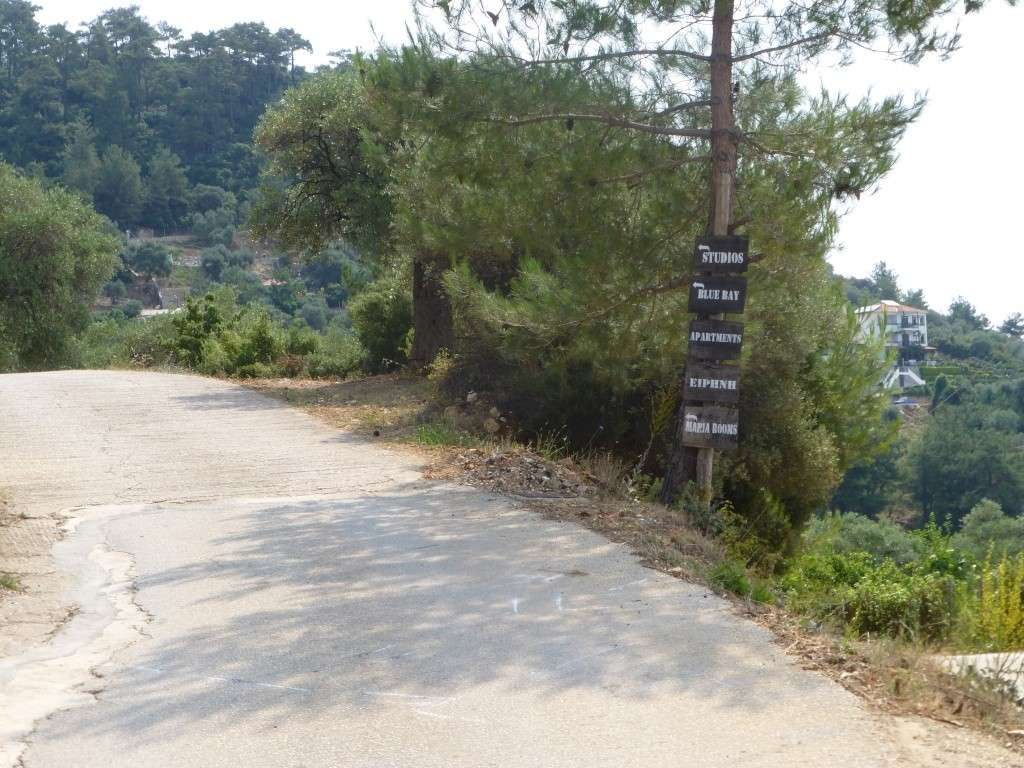 but going up and down roads not as severe as the Emerald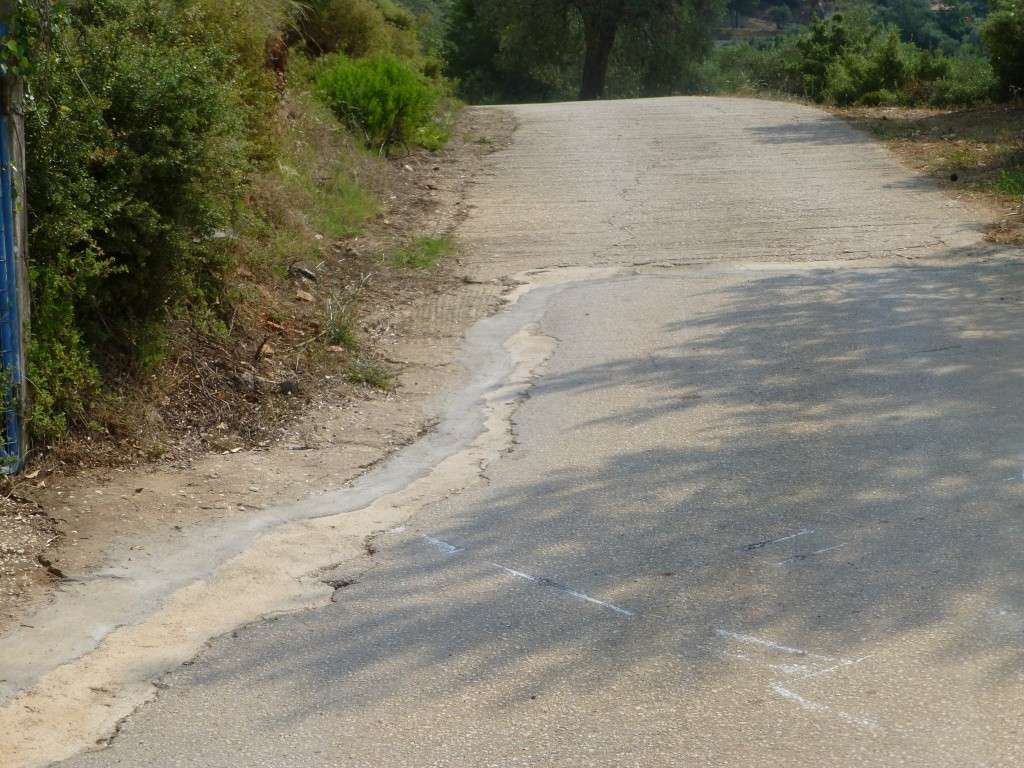 It took me 12 minutes walking up to get to the hotel and restaurants further in town would add to the walk.
The views were good though

So Delboy goes up and asks to look around, which was no problem
no swimming pool that I could see of
The entrance going down a staircase to the road below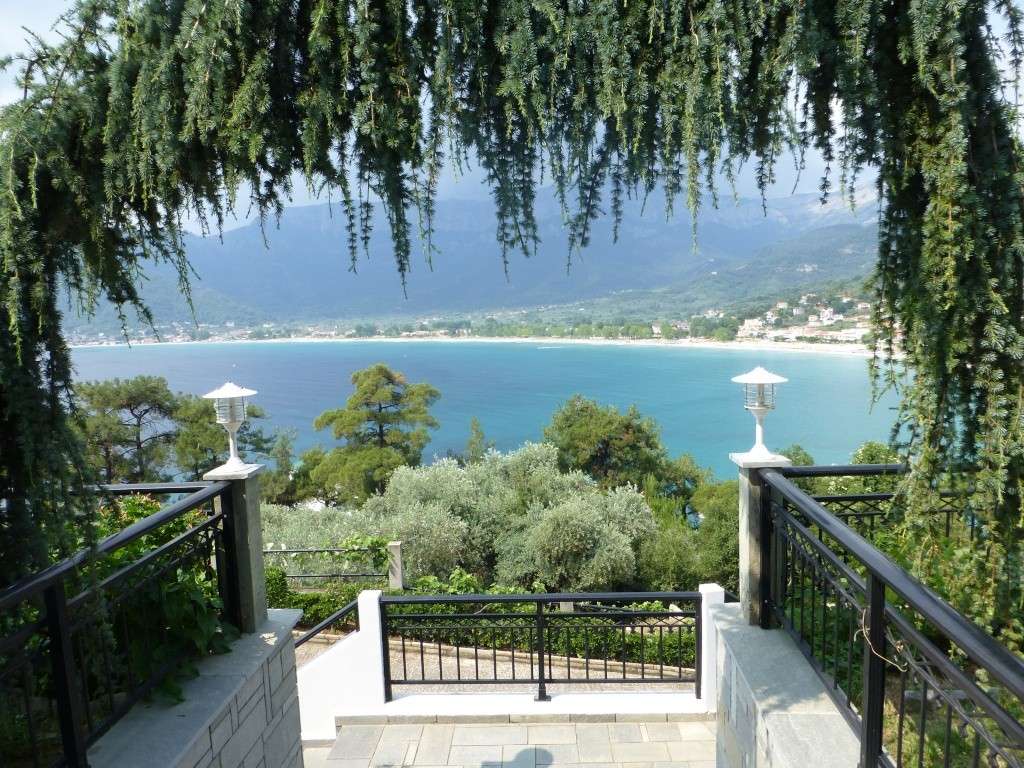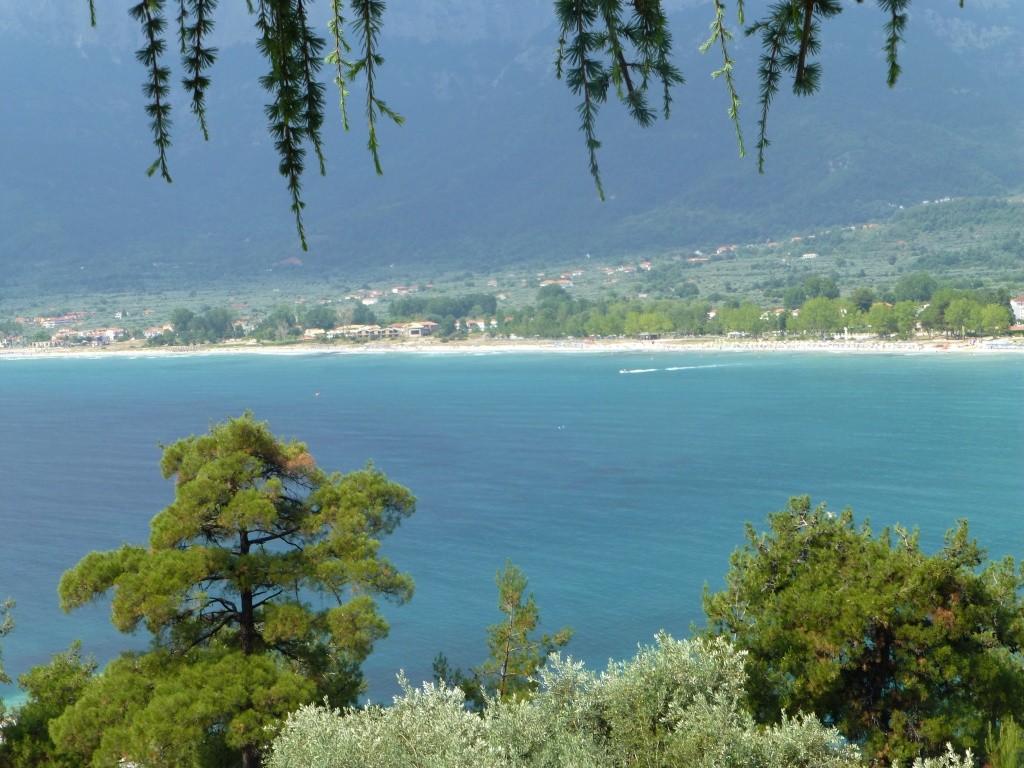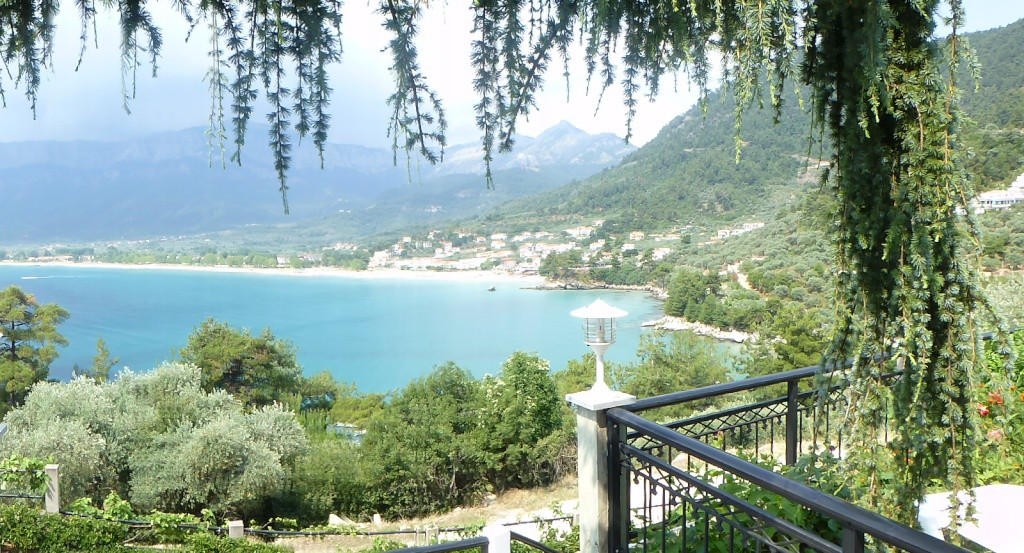 The harbour is just below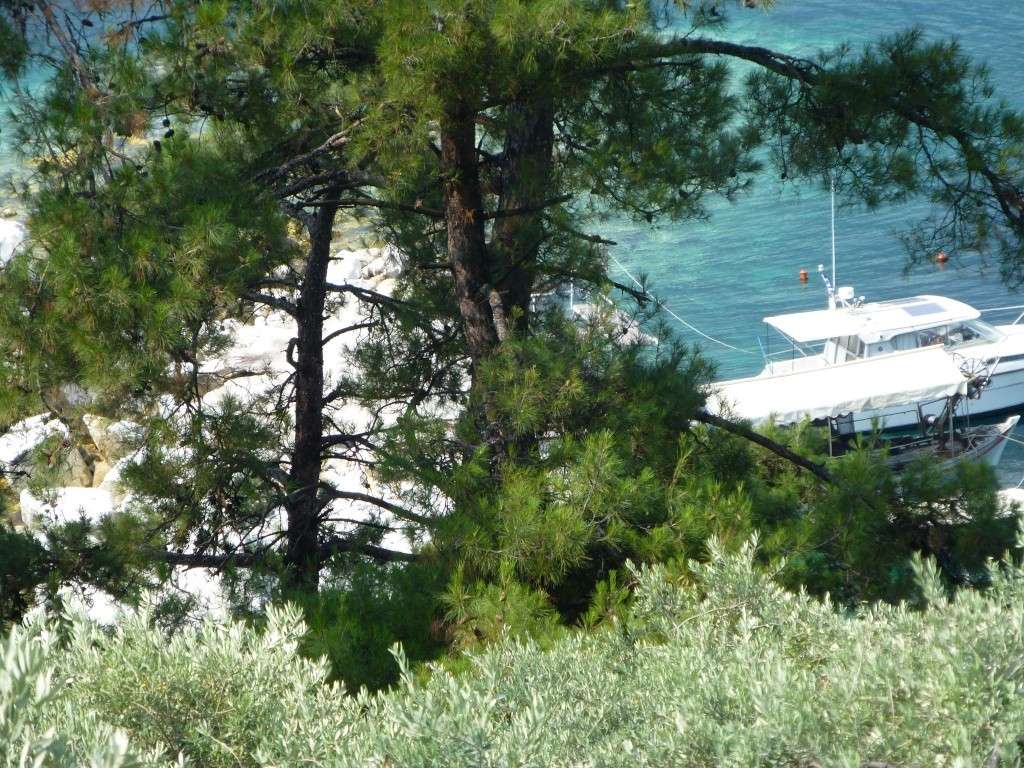 There was a bar area, two couples were relaxing in chairs looking at the nice views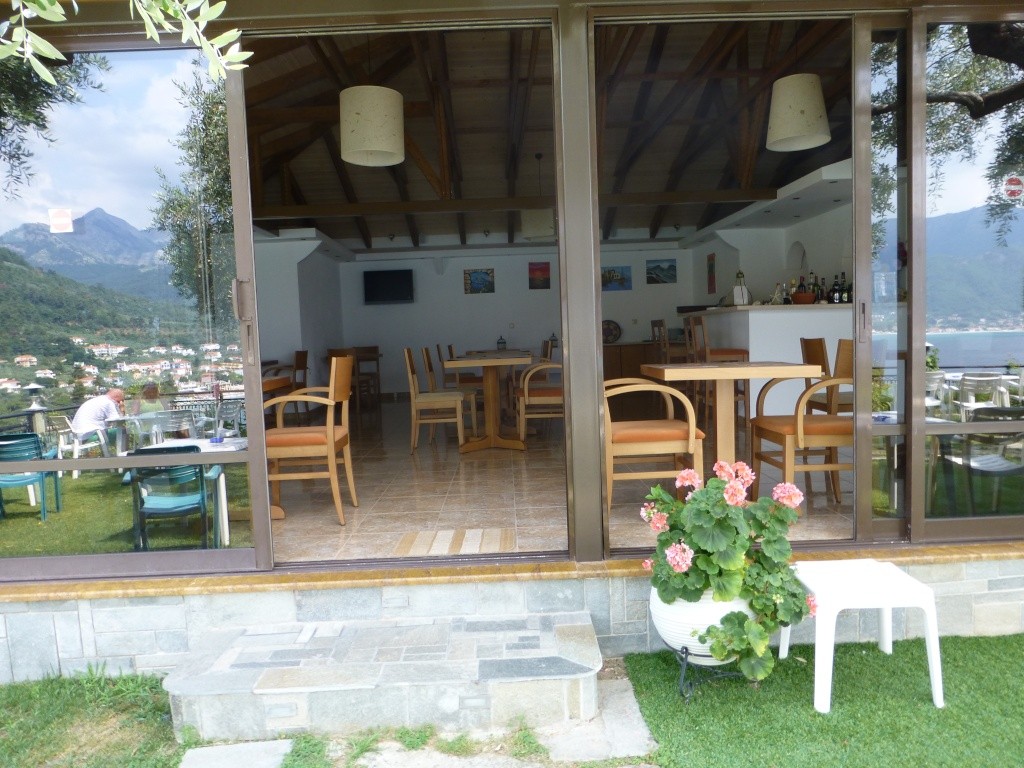 after discussions with Mrs Db afterwards we thought the hill would be a long drag for us twice a day
Couldn't see where the webcam was but I spotted the road changed to dirt and continued around to another bay lol
hunks of free marble here lol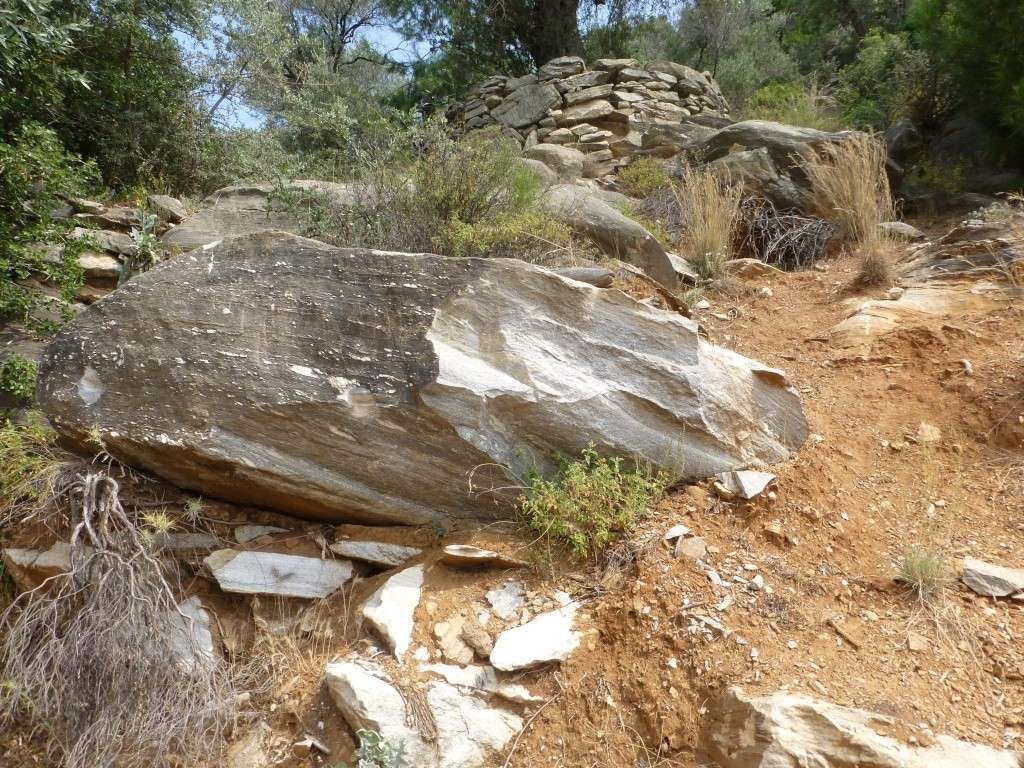 funny enough, I found out it was called Blue Bay lol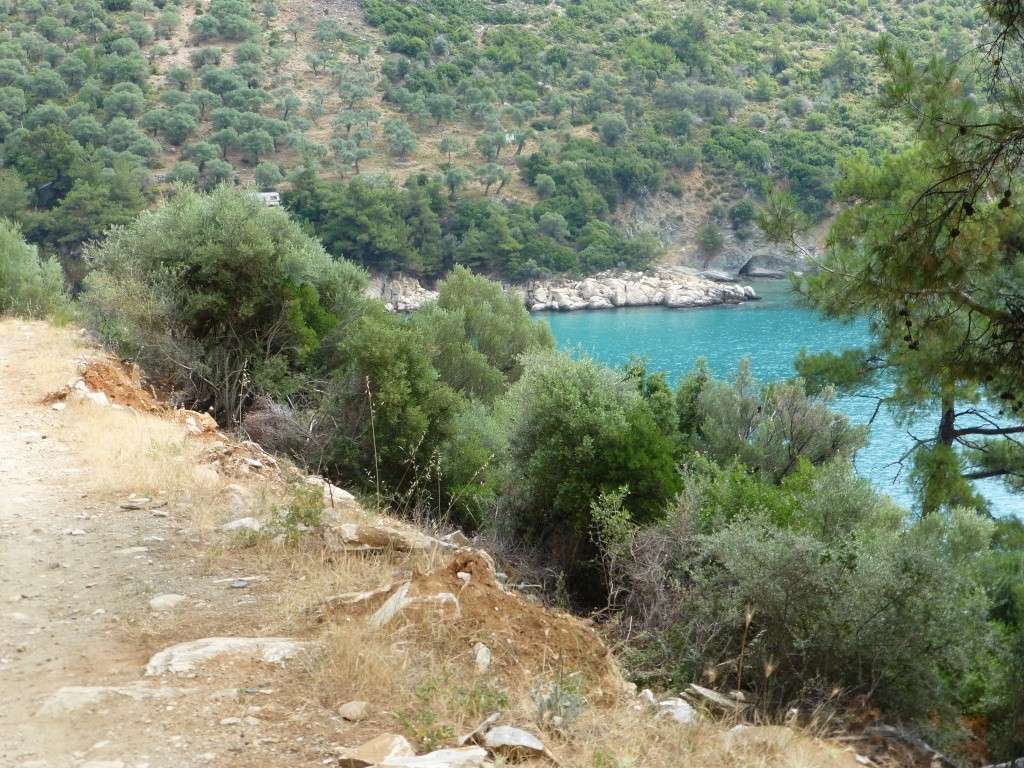 however, someone has built a house right at the cliff edge virtually cutting it off, apart from a very narrow pathway of about 2ft lol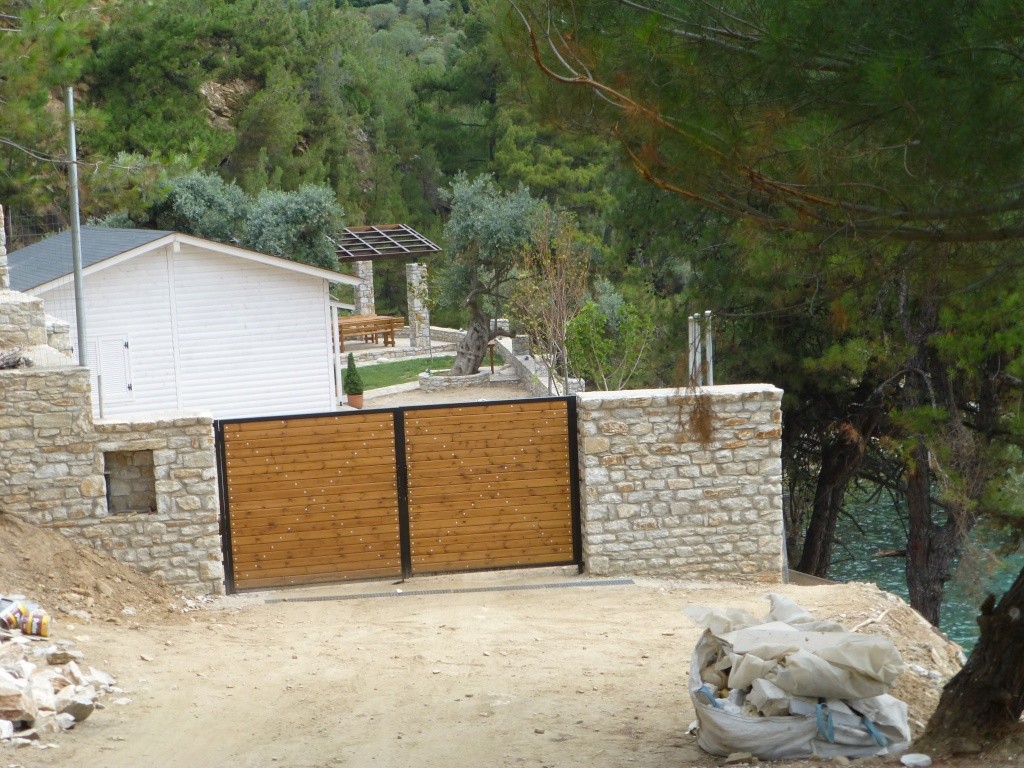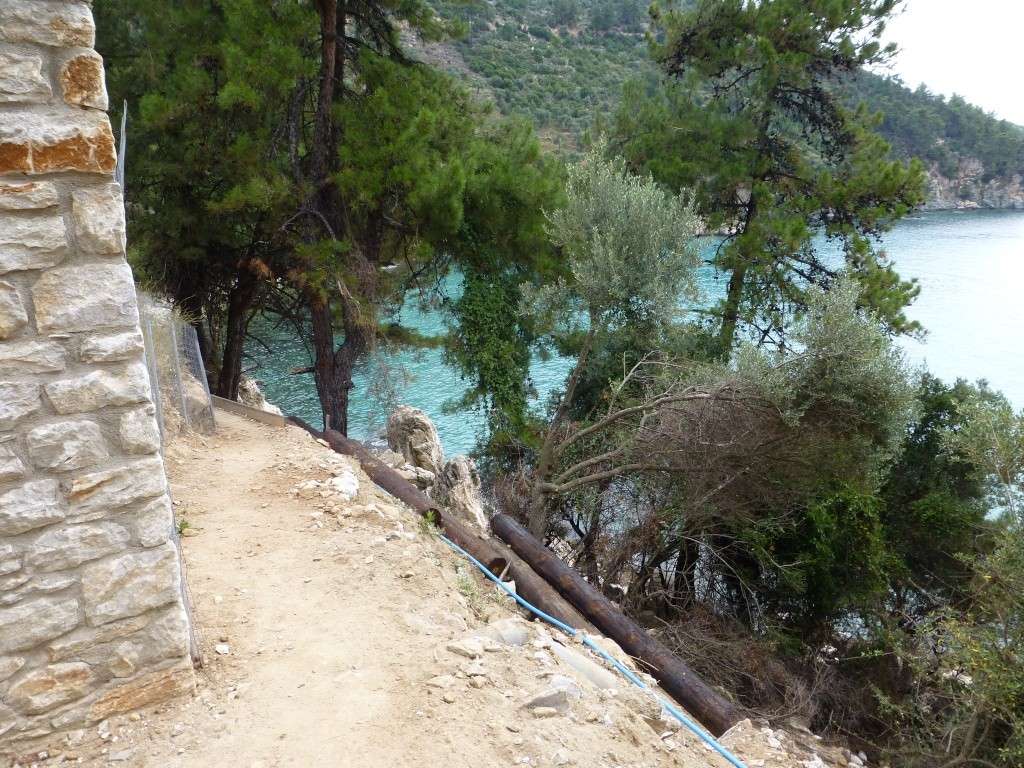 this narrow path down didn't seem too bad lol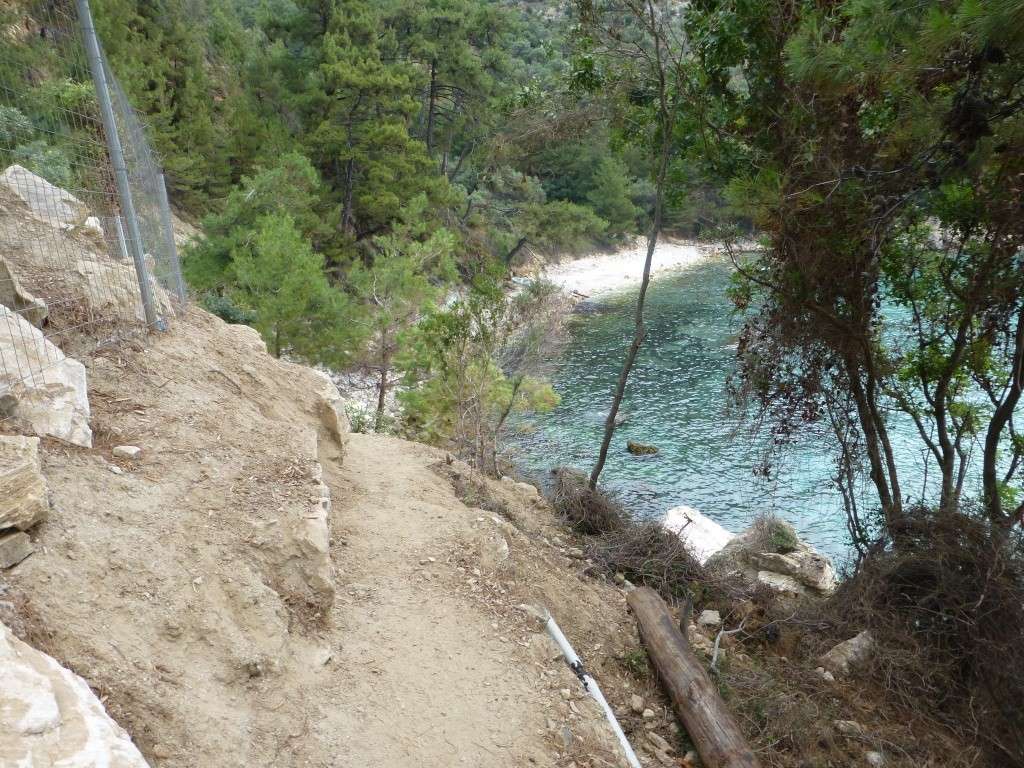 but coming back, I had to put my camera in my pocket to have both hands free around one part, I think I would have to have left Mrs Db there if she had come along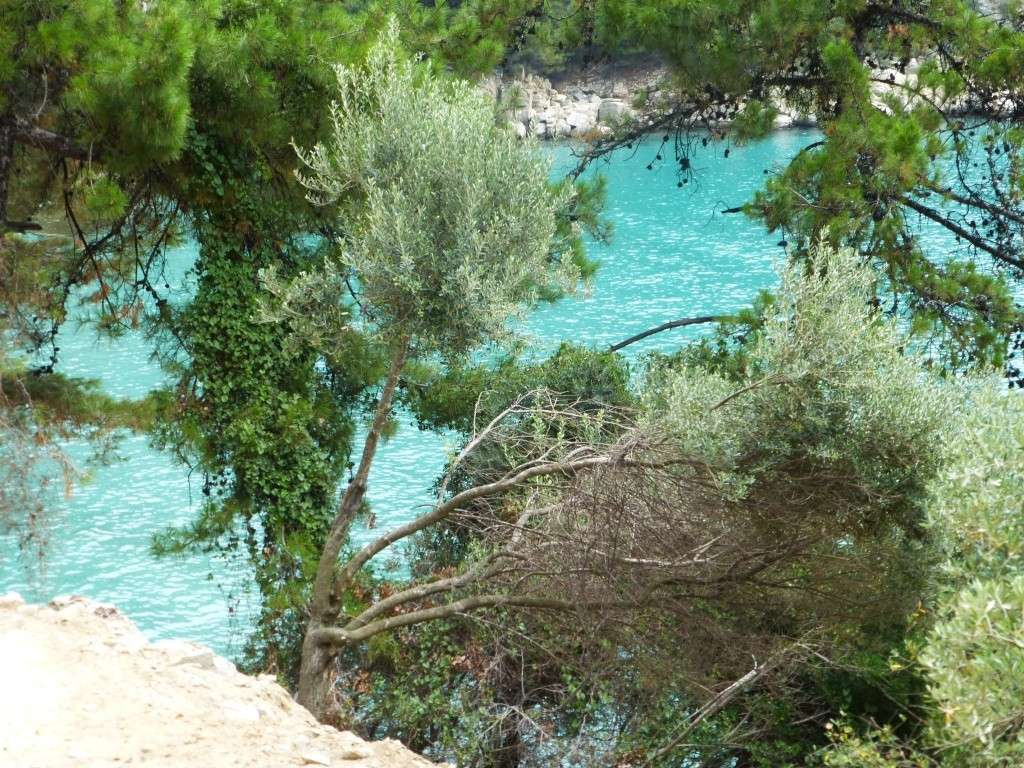 anyway I was now off back to Mrs Db on the beach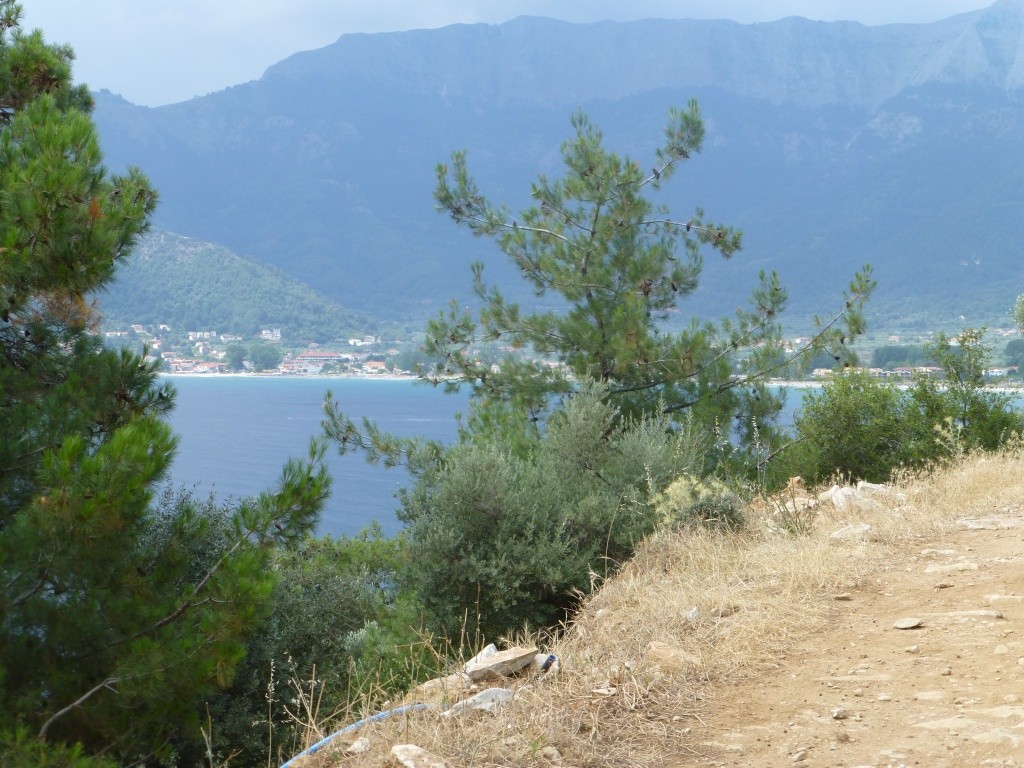 and a well deserved burger, what no chips ??, what is it with these restaurants that give chips with a club sandwich but not with a burger lol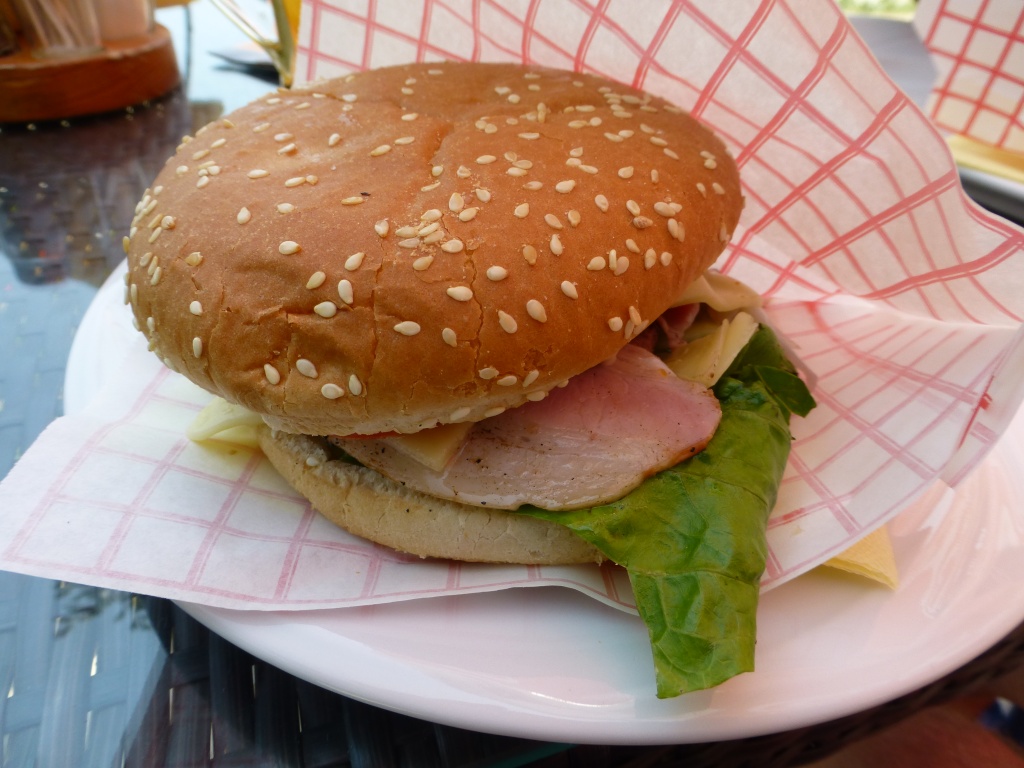 Well it was evening at the Vigli's disco night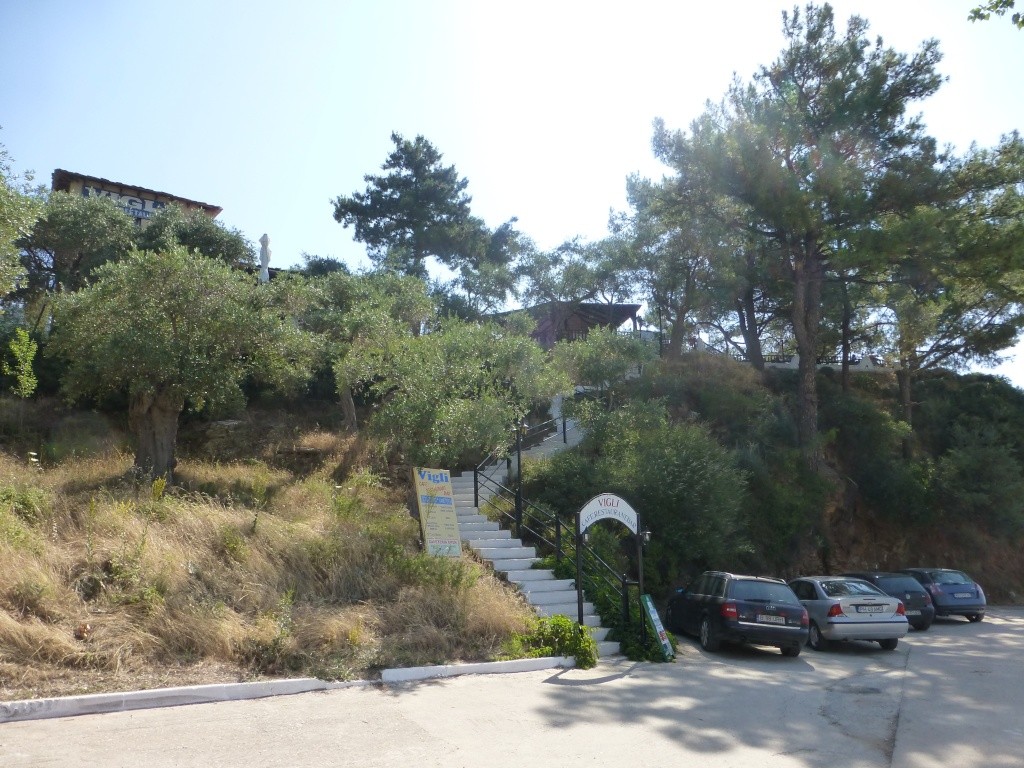 we weren't sure how it would work out but the restaurant was full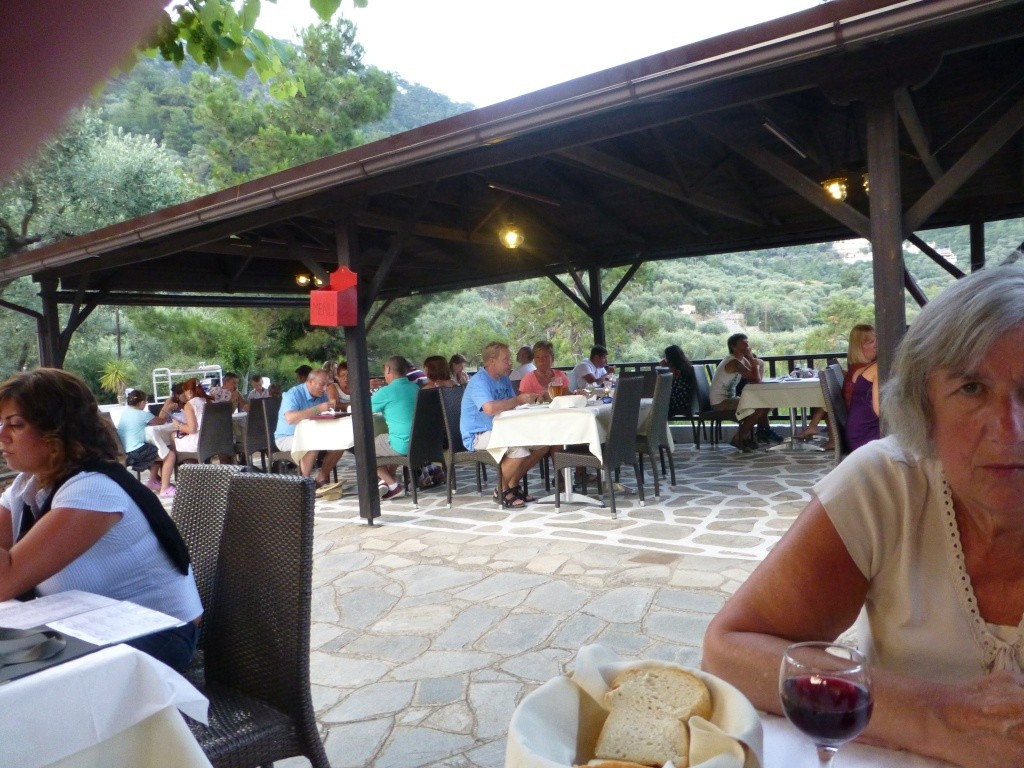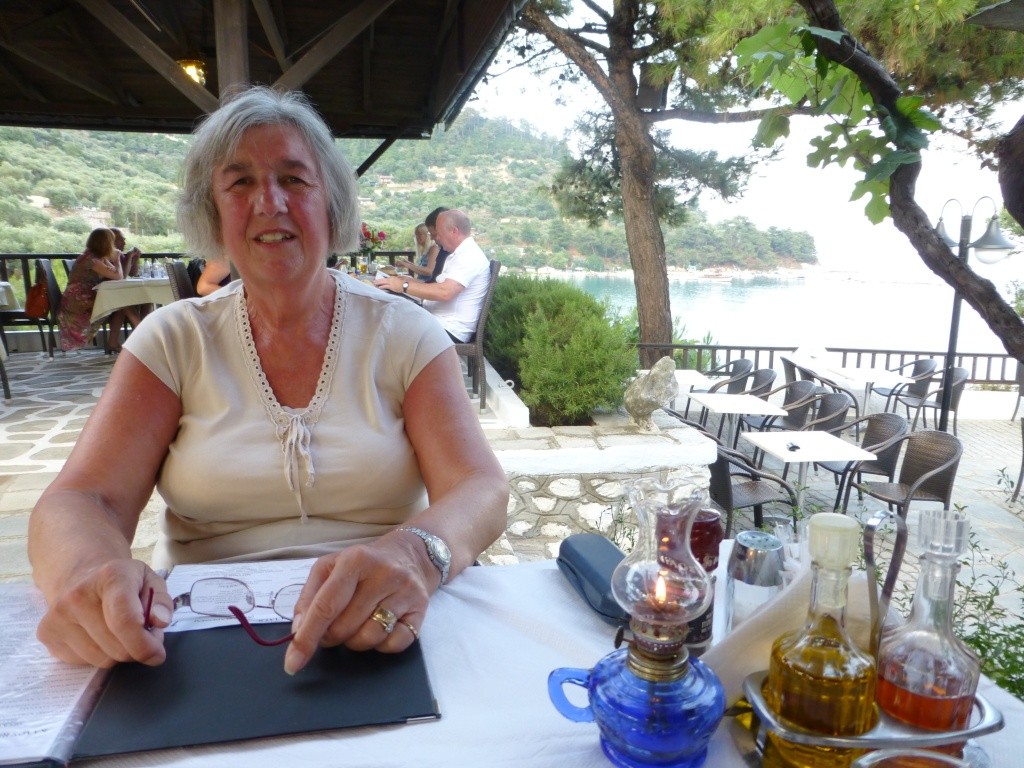 a few menu's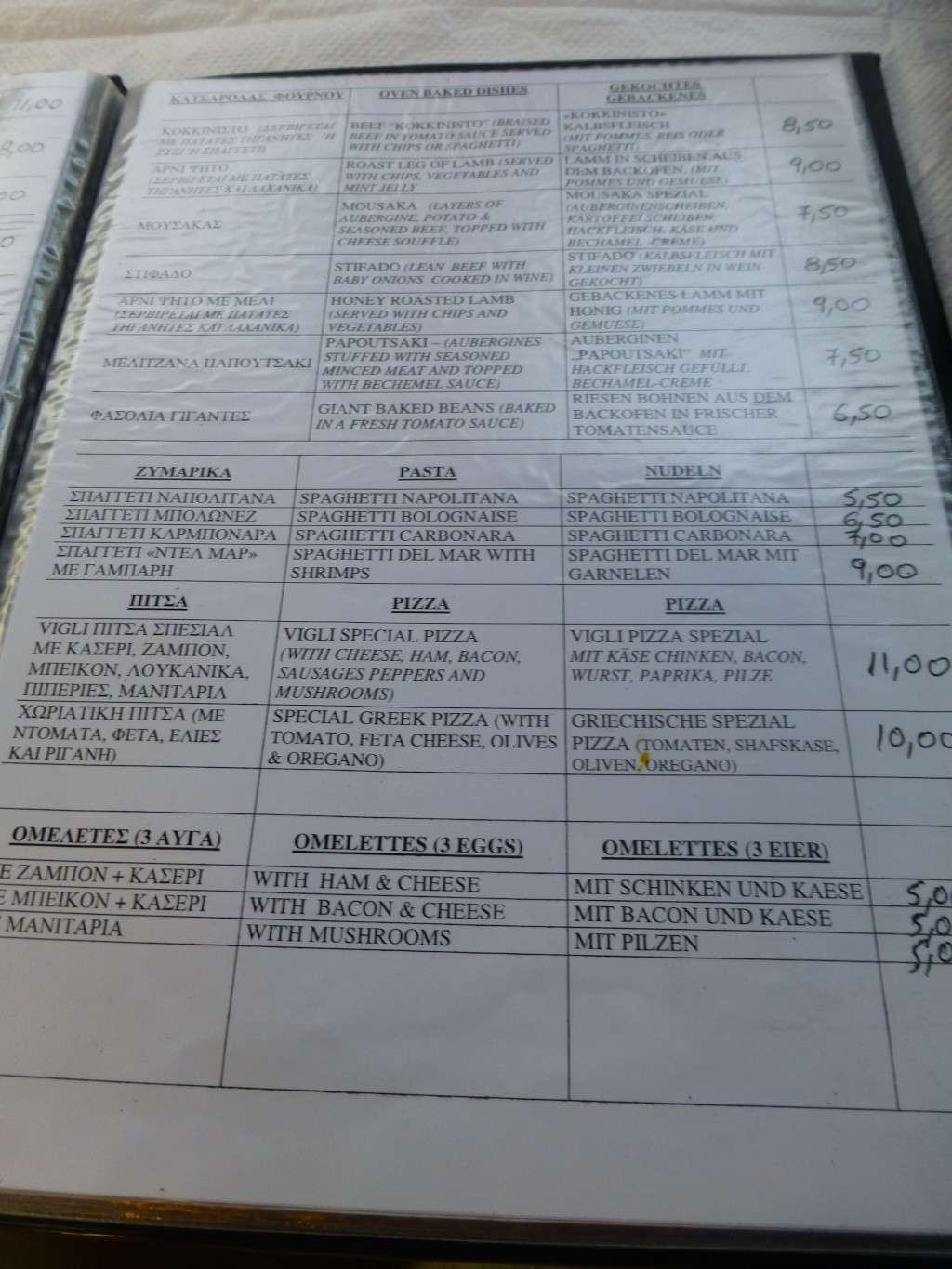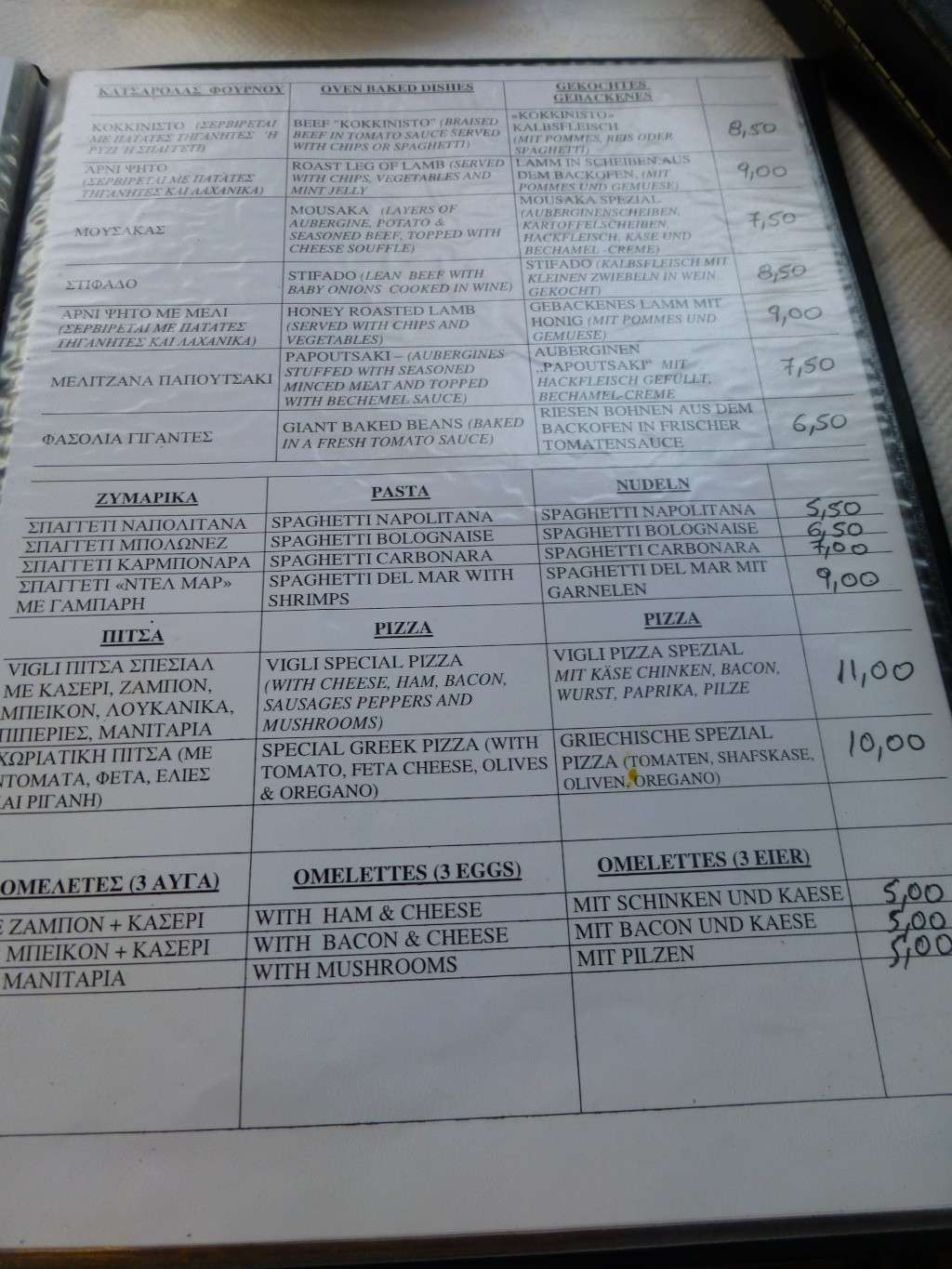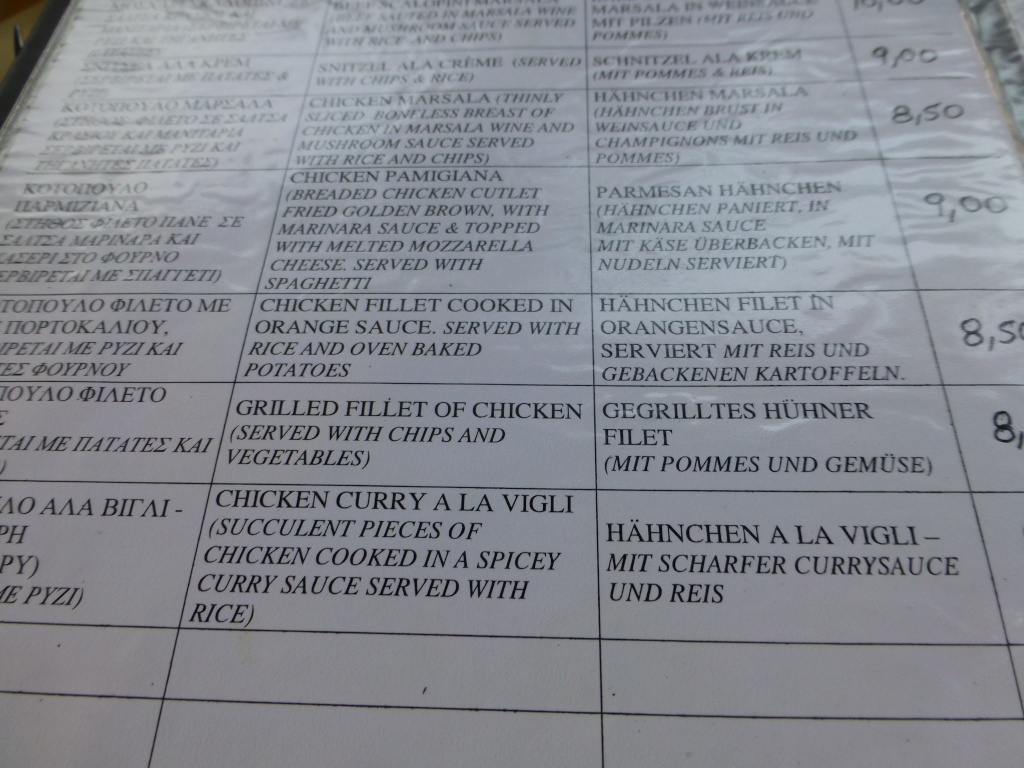 I had lamb chops with a yogurt and mint sauce
not sure what Mrs Db had, she can't remember lol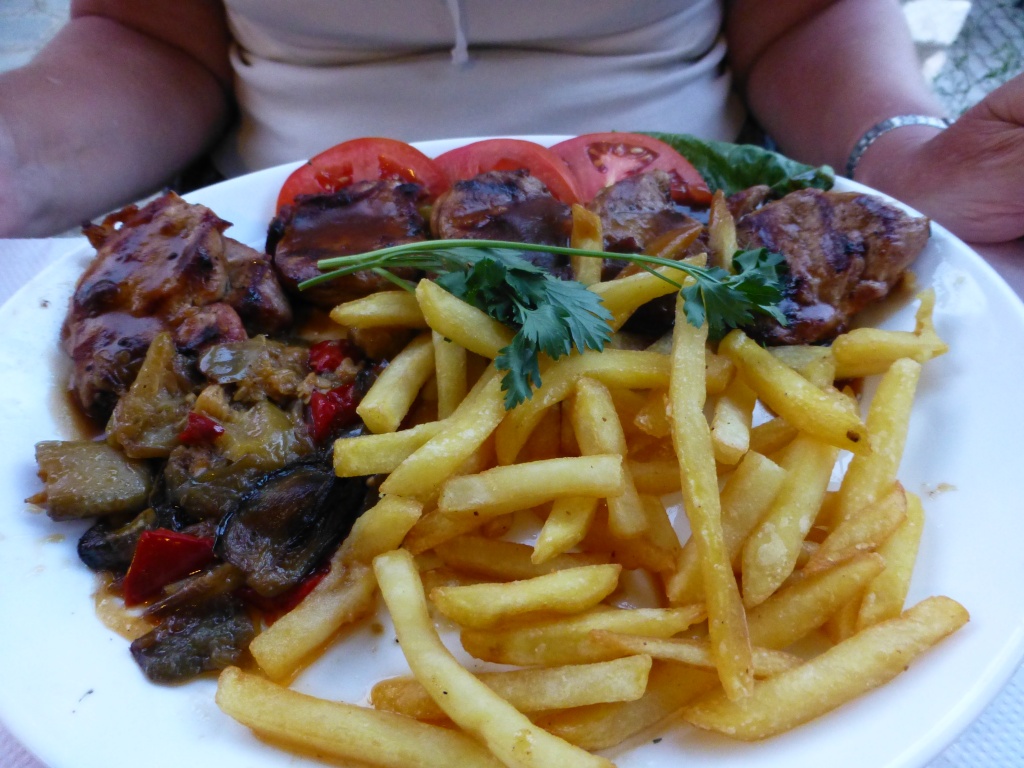 but she was happy, music of the 60s/ 70s was playing quietly in the background. The evening continued, oh Tobacco Road, now who played that was it The Who, no says Mrs Db, well the Nashville teens just came into my head, that's them replied Mrs Db,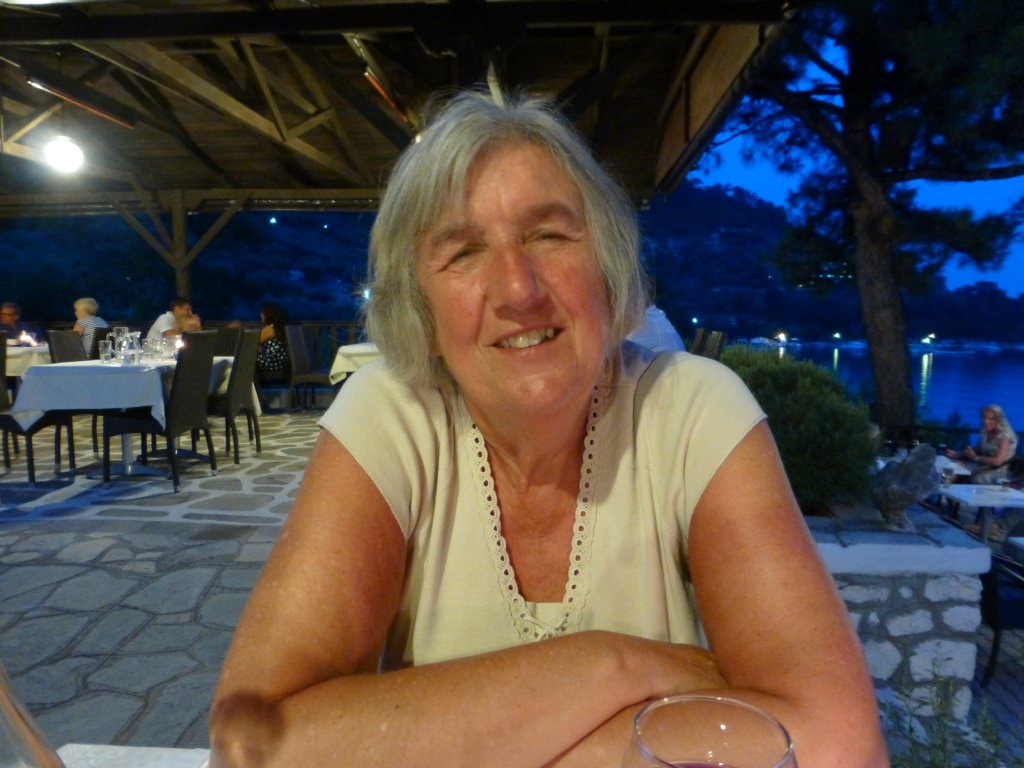 so the wine and dinners were over and music went up a level, we went down a few stairs to join others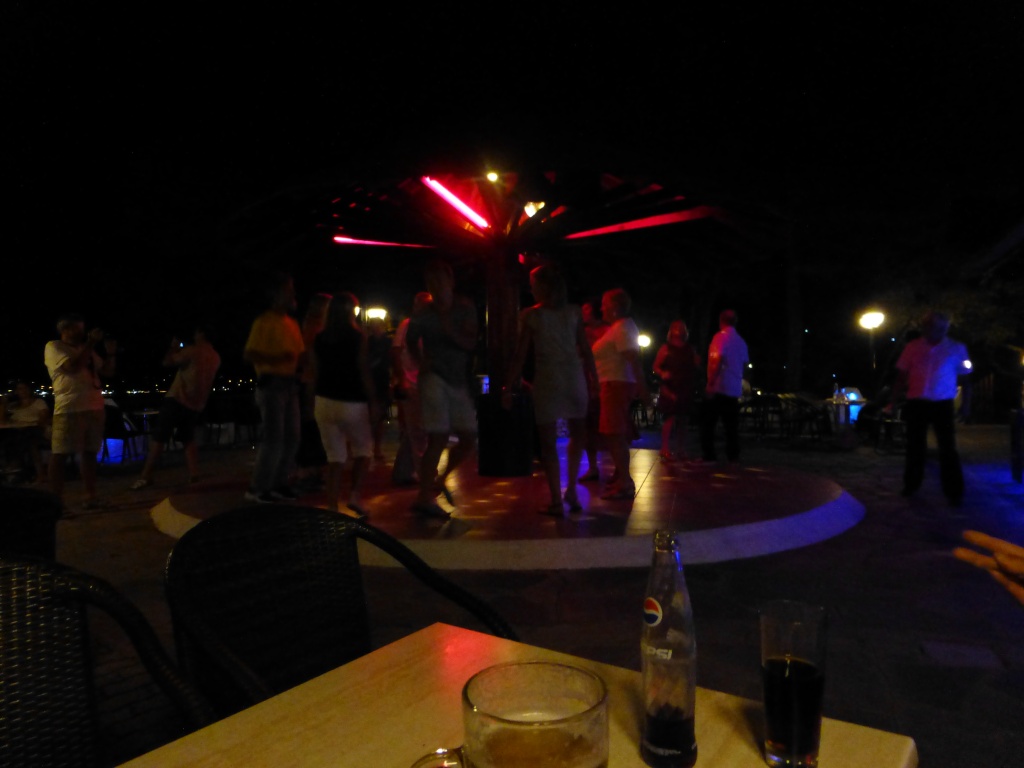 soon the lights were on and a member of staff mixed his records lol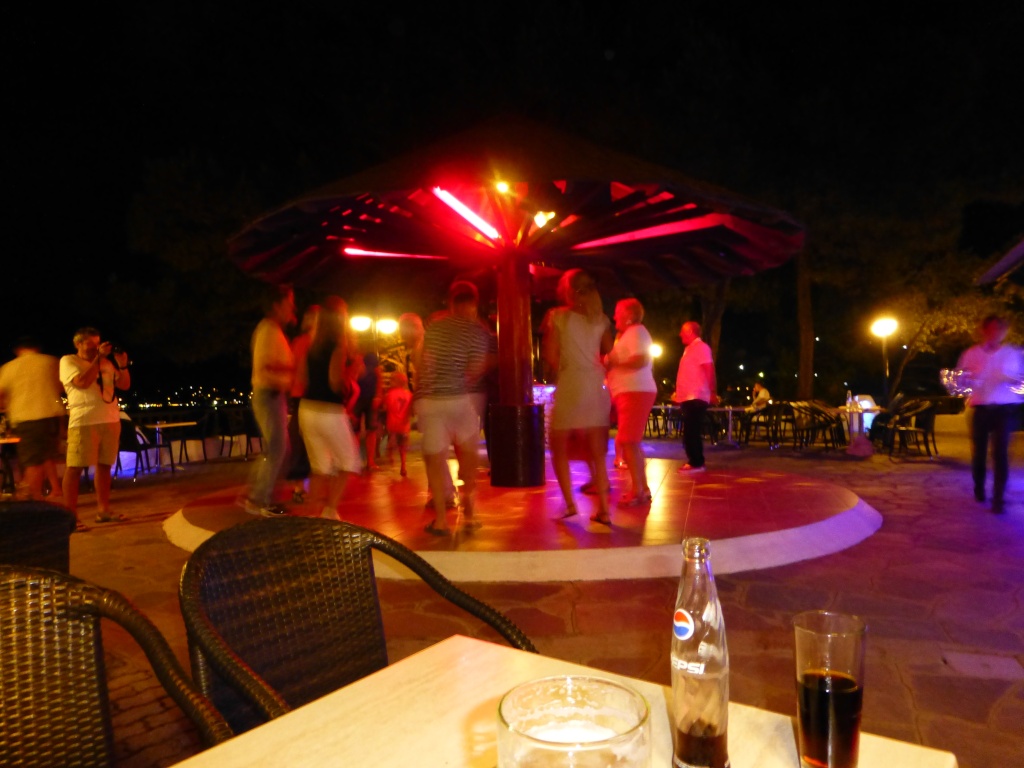 "Now was that freddie and the dreams", I didn't like him, said Mrs Db, do you remember the Hollies at the Legion, 6s 6d to get in. Conversations went on way passed 11:30, so we decided to call a day, having had a very nice evening, leaving the others bopping away lol