The train was packed, 4 to a seat lol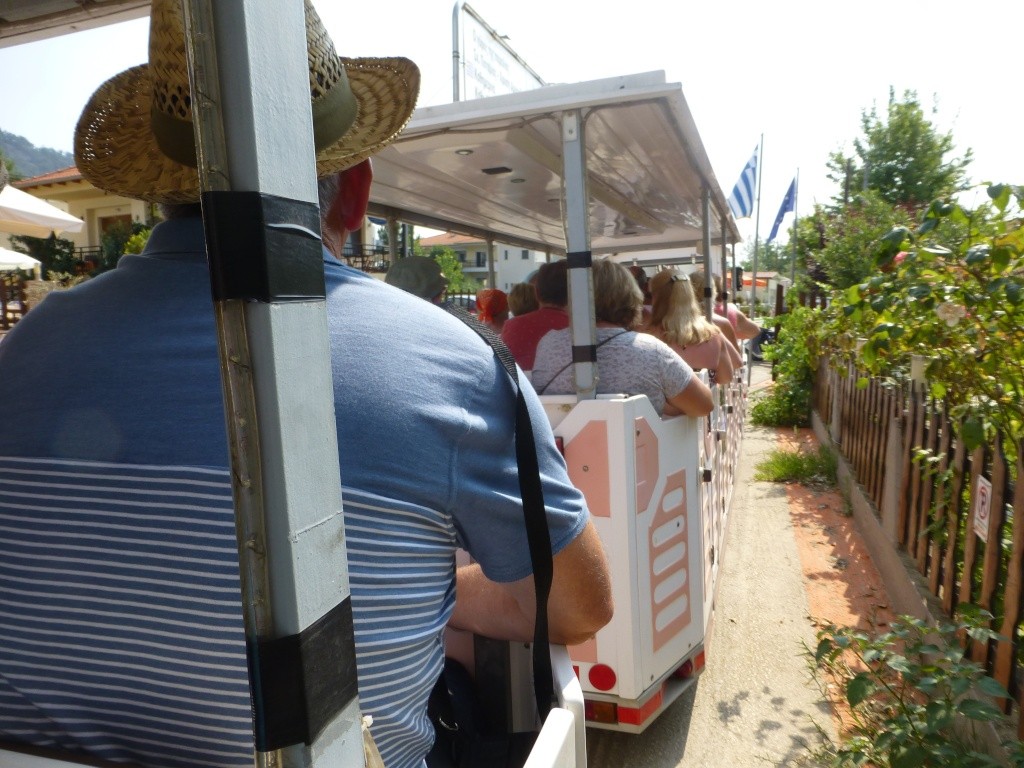 and we headed out to the resort of Skala Potamia lol
everyone was waving but I was on the wrong side for the sea
you can see the beach has change to pebbles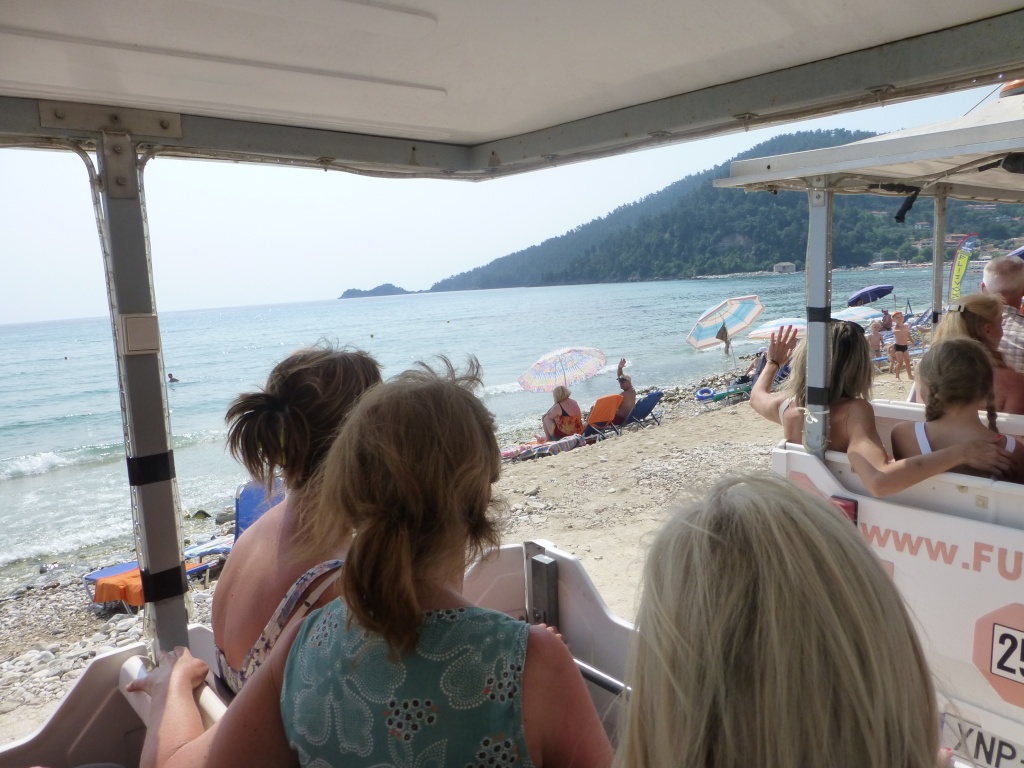 I suppose you could call this the quiet Shirley Valentine's end of Skala Potamia
we ended up at the far end next to the harbour, where we had been a previous night and now we have a 40 minute stop to walk around, notice here it's gone back to sand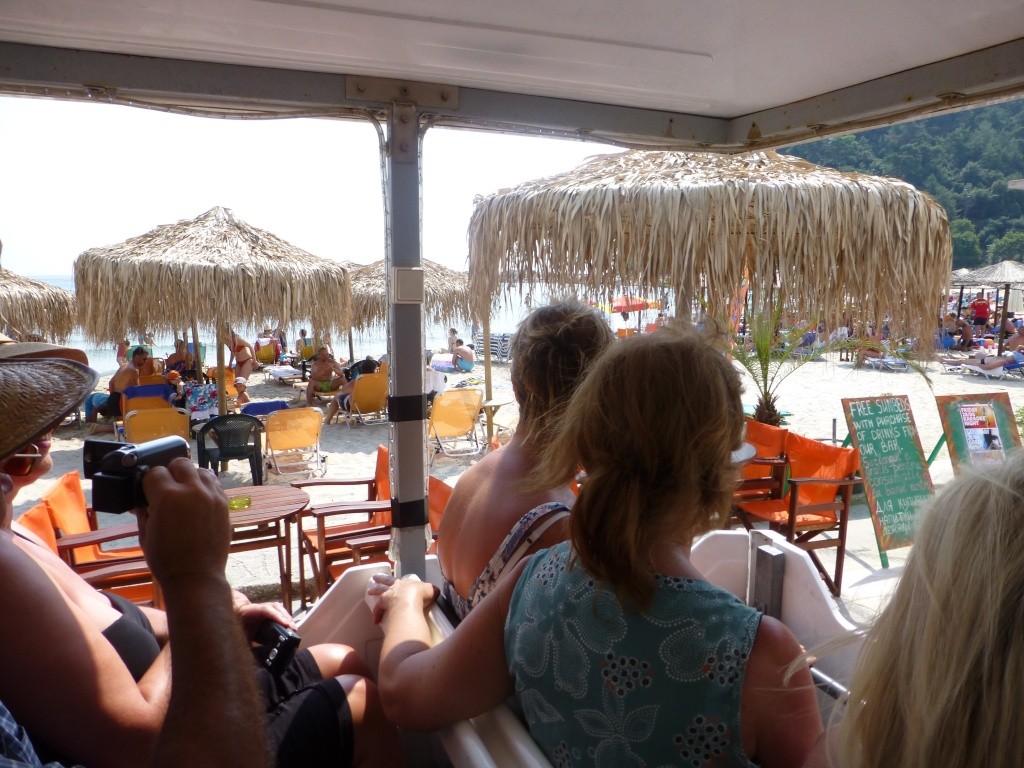 Our guide was a very knowledgable person, who fell in love with Thassos a number of years ago and he said, he has become a member of many families who often drop cheese, bread and other things on his doorstep, they are such lovely people.
whilst others went off, I stayed with a few who listened to his stories, the villlage above this resort is called Potamia, there is also another village which is hidden in the mountains called Pangia which we will be visiting.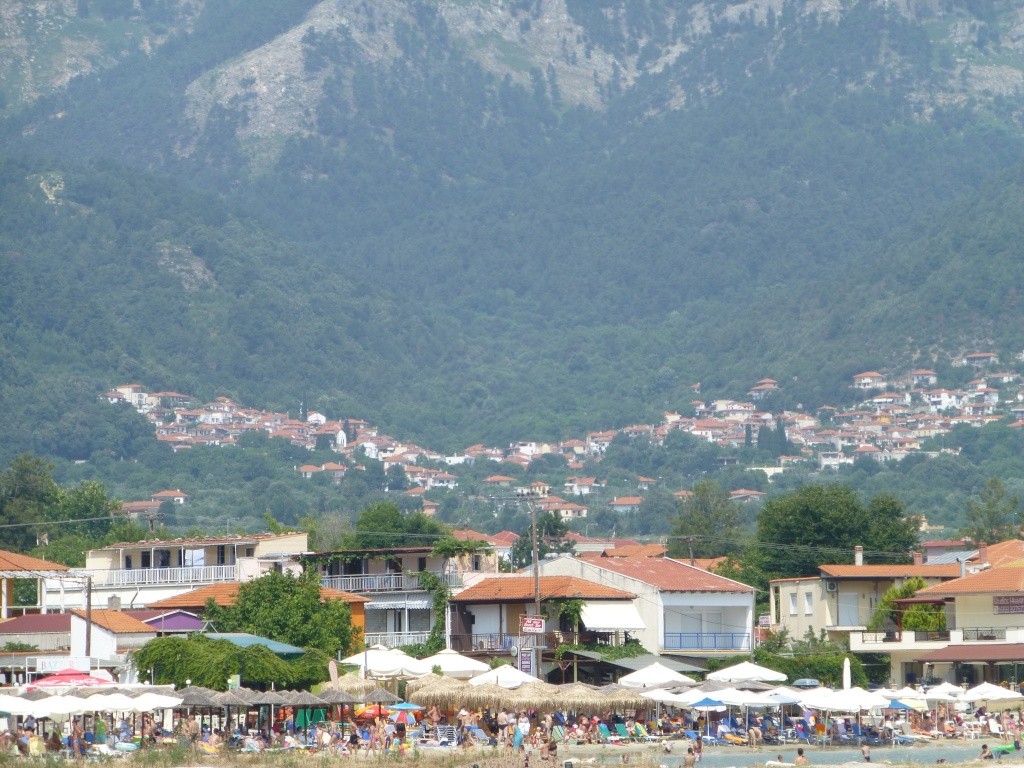 The stories of pirates raiding the shores causing the people to seek refuge in the mountains and the Romans having occupation there. There was gold in the mountains and probably still is, he told us of a friend that decided to look for gold down crevices in the mountains. His friend was lowered on ropes but when he reached the bottom there were hundreds of skeletons, he believed that in the early days that bodies were thrown down in sacrifices. So they decided to seal the crevice up. Thassos was a god in their beliefs.
Also quite startling that the Greek Government had put Golden beach up for sale to the highest bidder to raise part of their  total of 40 billion debt. German TV has broadcast this and villagers had a protest march. After further investigations by me, I was told by another that it was the campsite which runs 200m along the beach being sold. Any AI opening would destroy the restaurants / bars
Our next stop was a funny no honey farm where Thassos honey is made, some of the bees collect lavender blossom or pine
They have this machine that strips the honey from the comb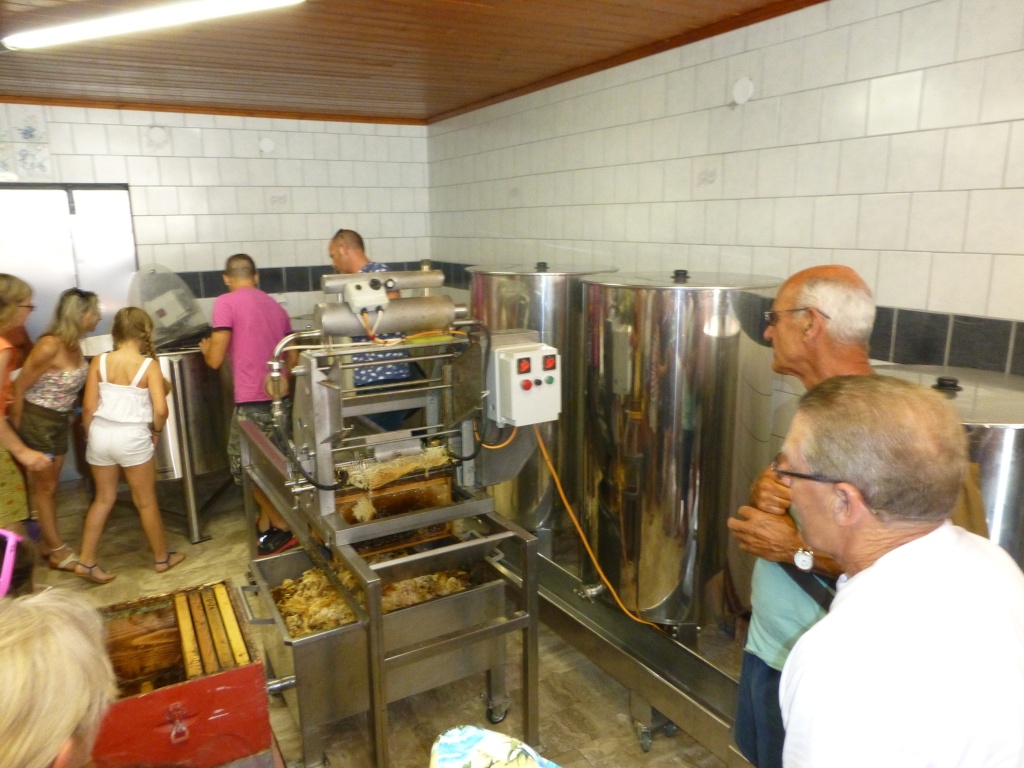 Then collected and spun in this drum  
then the pure honey is forced through these tubes to waiting vats and held for 5 days before bottling.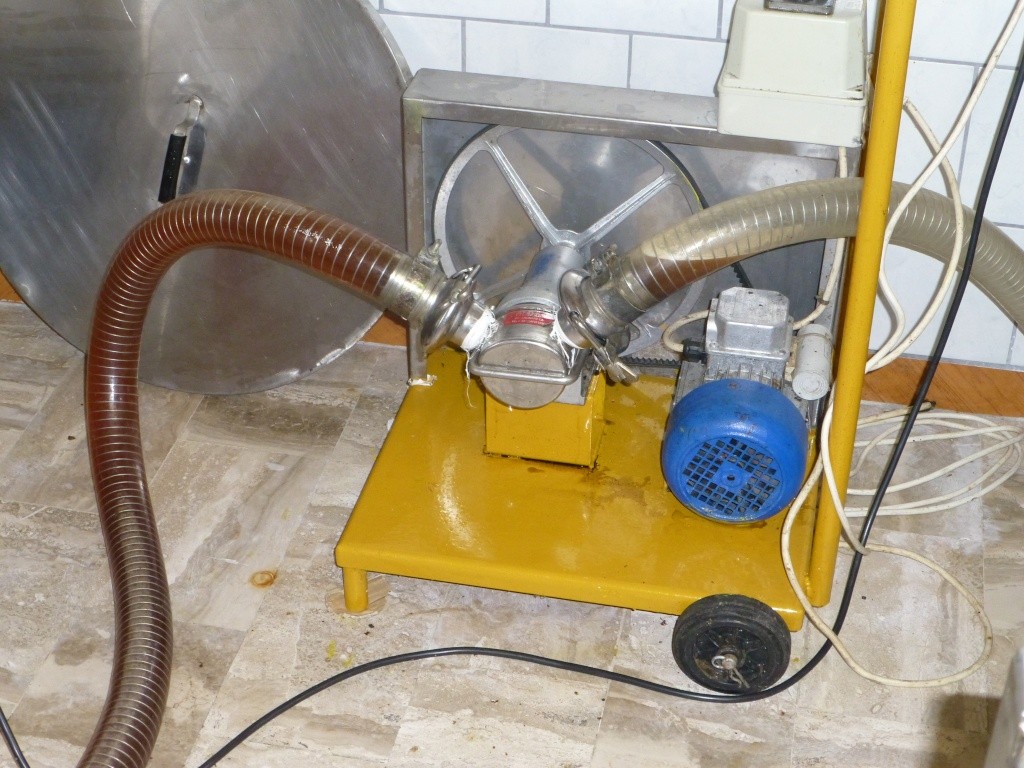 The Pine honey, mixed with walnuts that they grow, is said to have the same effects as viagra and you can buy a jar, or if your flying home with it, I suggest to buy it in the tins, said the guide. Hmm might get some of that, is it in blue jars, hang on, that shelf is empty  
, plenty of the lavender stuff left. Oh I have a small jar lol, what a sales pitch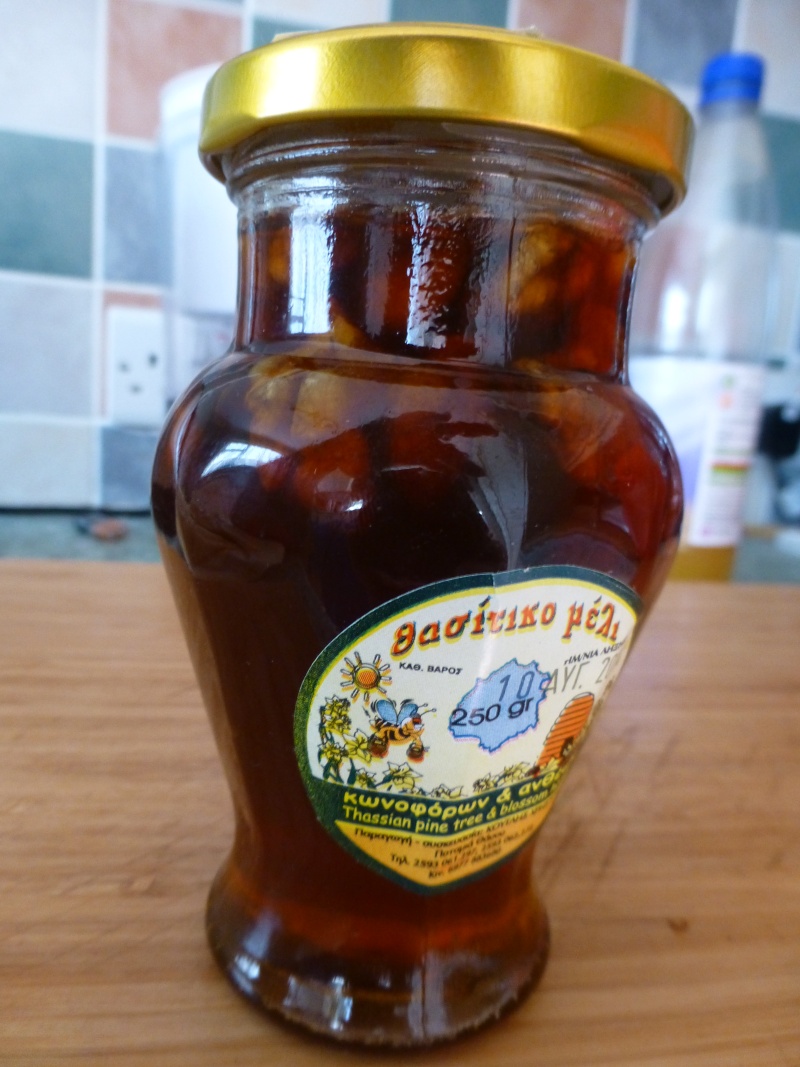 Then it was on to the village of Potamia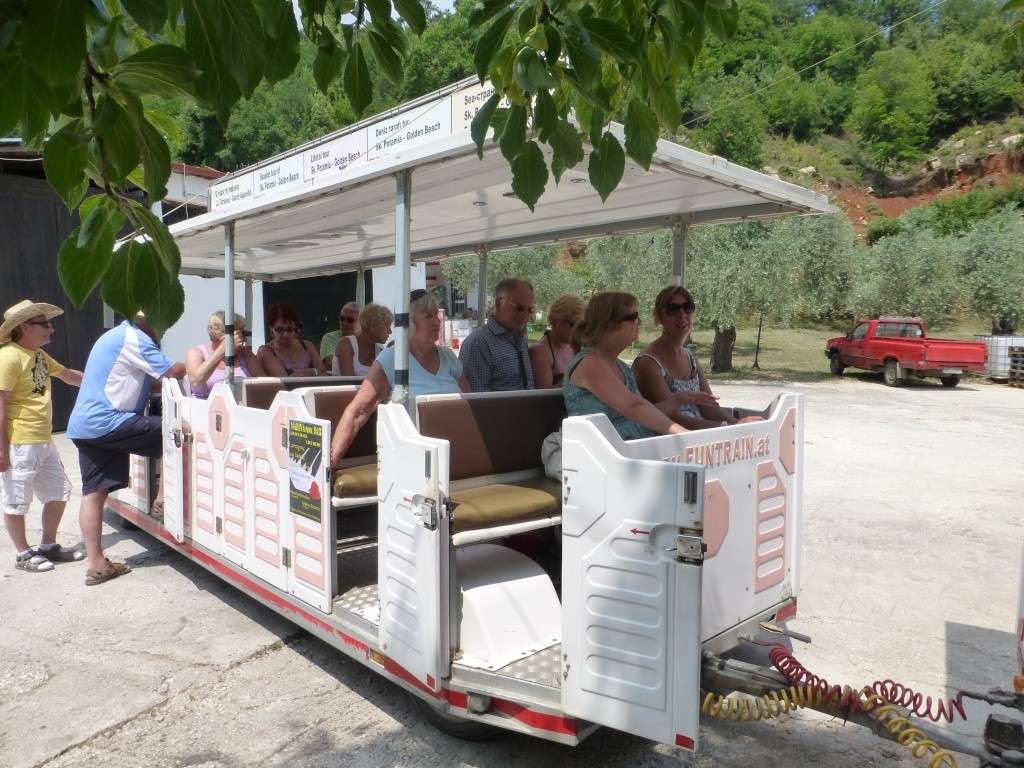 They have 2 churches one Gregorian and the other Greek Julian, one works 13 days behind the other and therefore one church doesn't believe we have arrived in Greece yet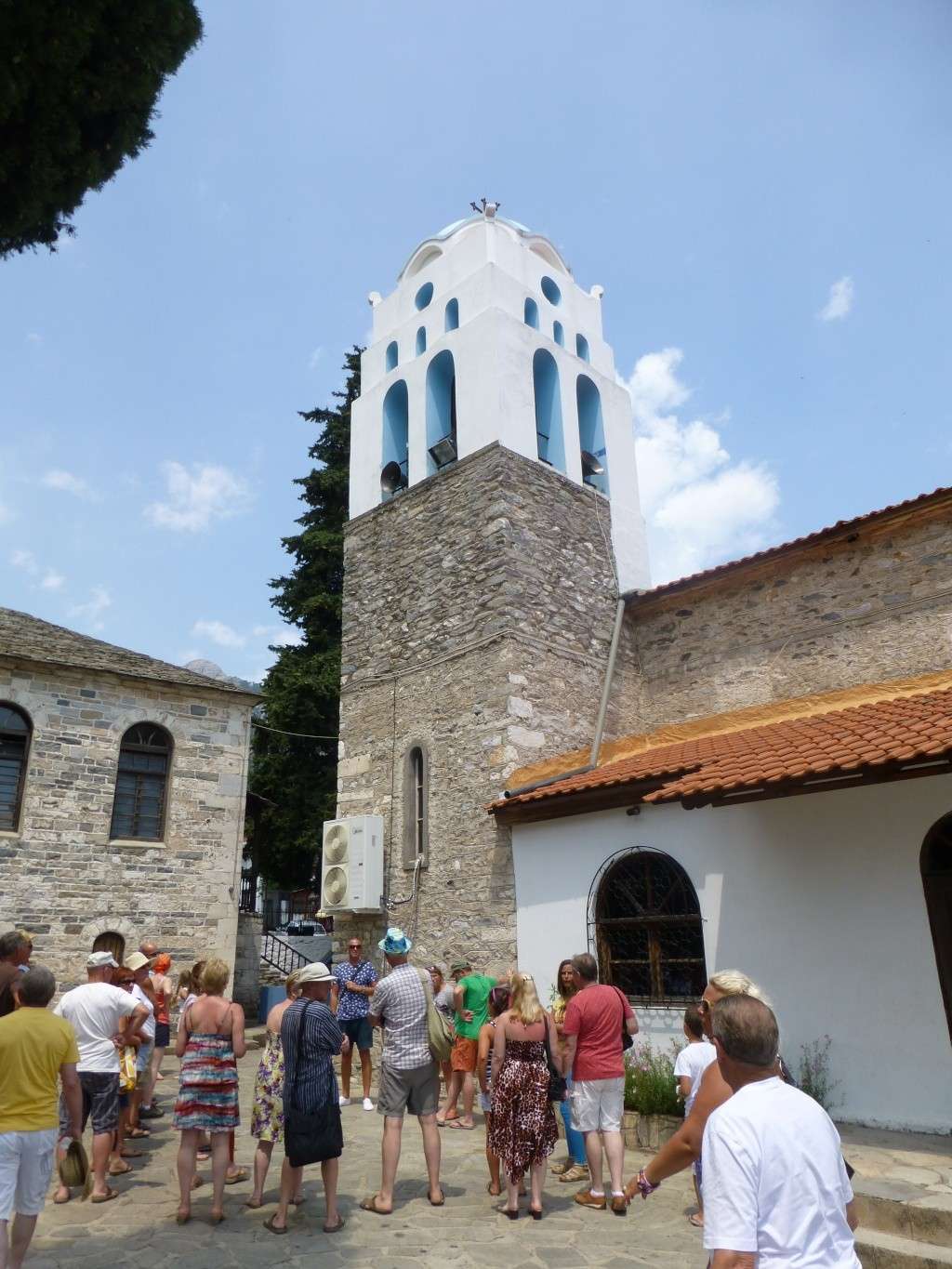 We then went into a museum dedicated to the artist / scupturer Polygnotos Vagis, who was one of the few survivors of the Titanic and before he died, he donated his works to Potamia, it was and extra euro to go in.
just two examples I thought were the best (what do I know) lol
we were shown around the village, where existing houses must be repaired in the same roof style of old
here's one I made earlier lol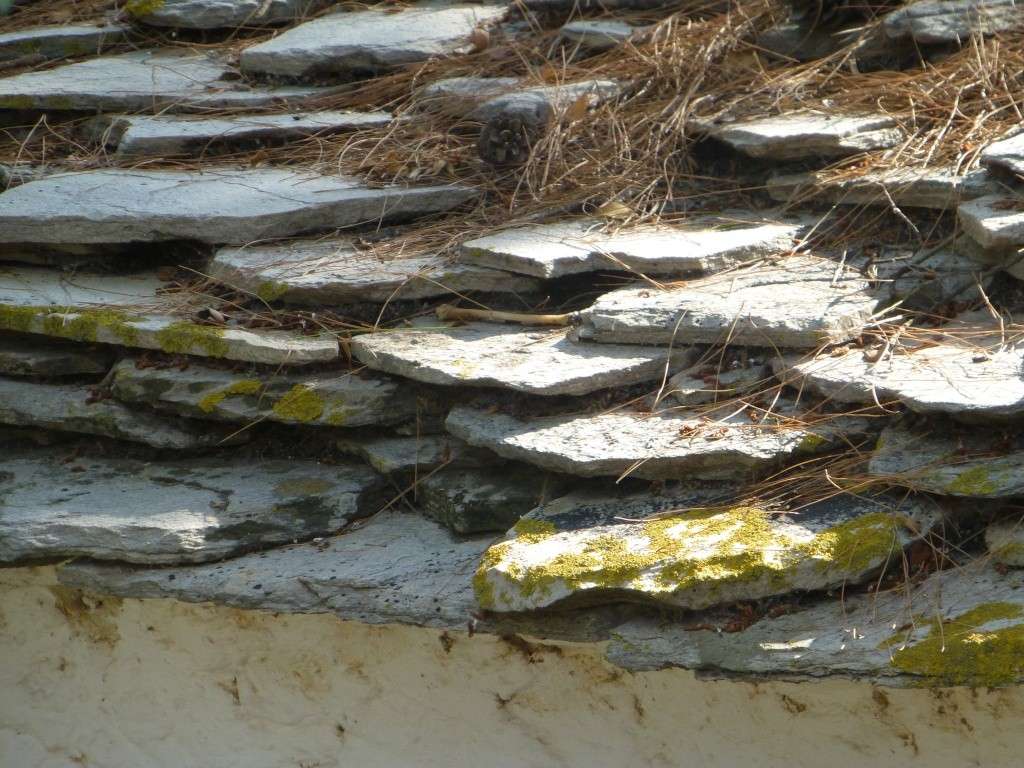 soon it was time for another break of 40 minutes, just long enough for a drink
"Ladies", said the guide, "I am afraid there is no toilets in the restaurants, just holes in the ground, just squat down and think of England". lol
Well that pleased Mrs Db, who was desperate but after she came out it was true. I just tied a knot in mine lol
After a coke, another couple came up from the first cafe which we found was full. The lady laughed to Mrs Db and said I went in the toilet all worried, when he told me that and found it was a proper toilet. Her husband said, "I told you he was joking" but Mrs Db explained what she had just experienced, I think it's called toilet humour lol
Then it was on to Pangia with views in the mountains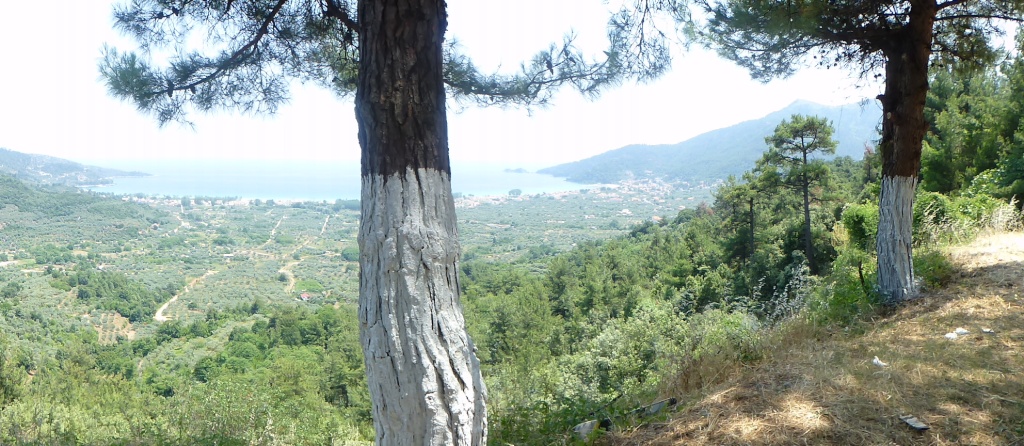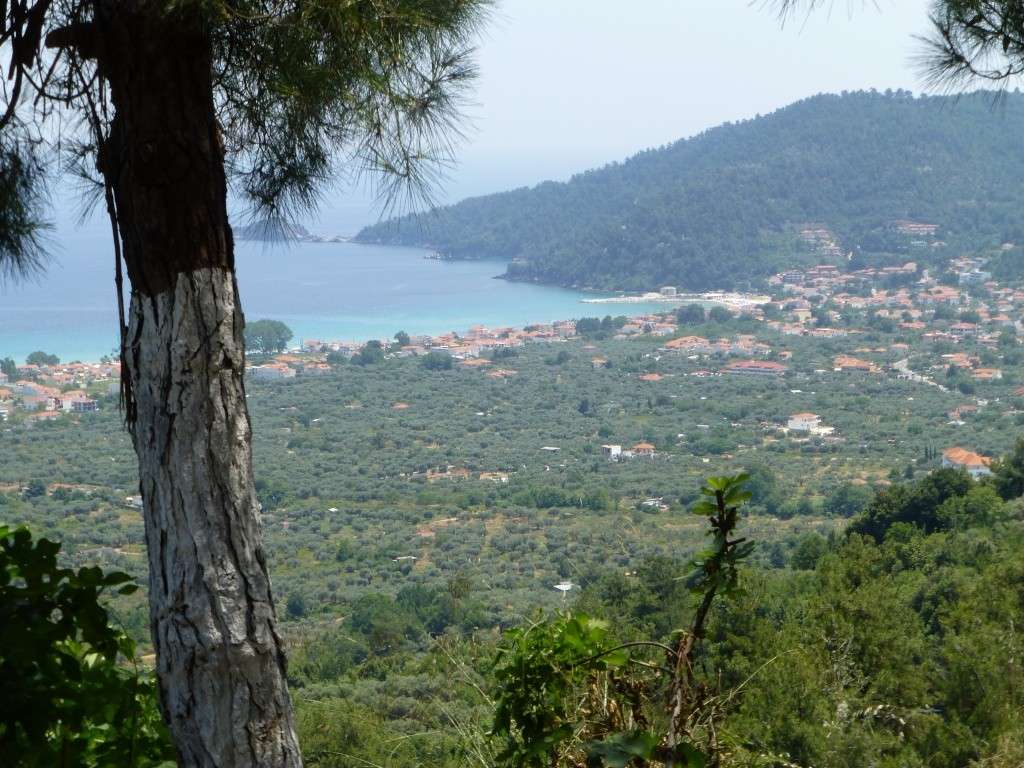 arriving at Pangia, we were taken to the olive oil factory started up in 1915 and run by the same family, we got a demonstration of the old equipment used, which was driven by a stream and at one point, they produced the most olive oil in the whole of Greece using the old style apparatus. All the olives are collected and crushed in November and December and they take 10% of the crop as payment.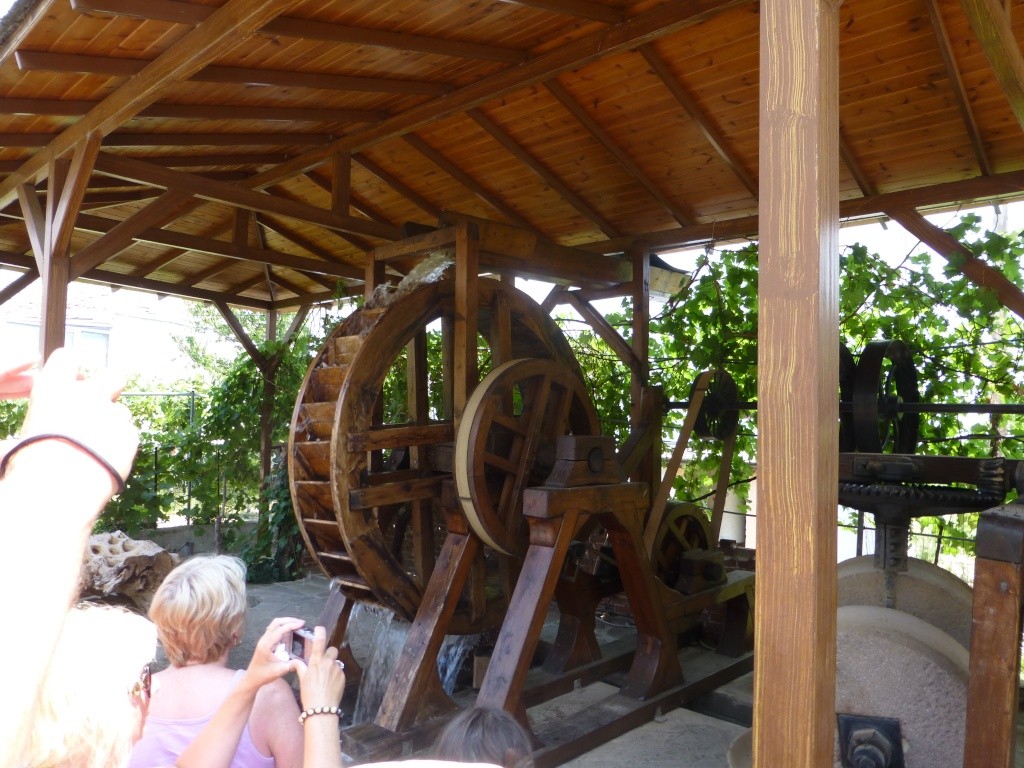 We were given a talk on what is pure virgin oil and others that are made from a second pressing. :shock:It's good for the heart and everything else, he sounded a bit like the doctor from the wild west on a chuck wagon, sell the miracle cure for everything. What with the honey and the olive oil, did Greeks live forever lol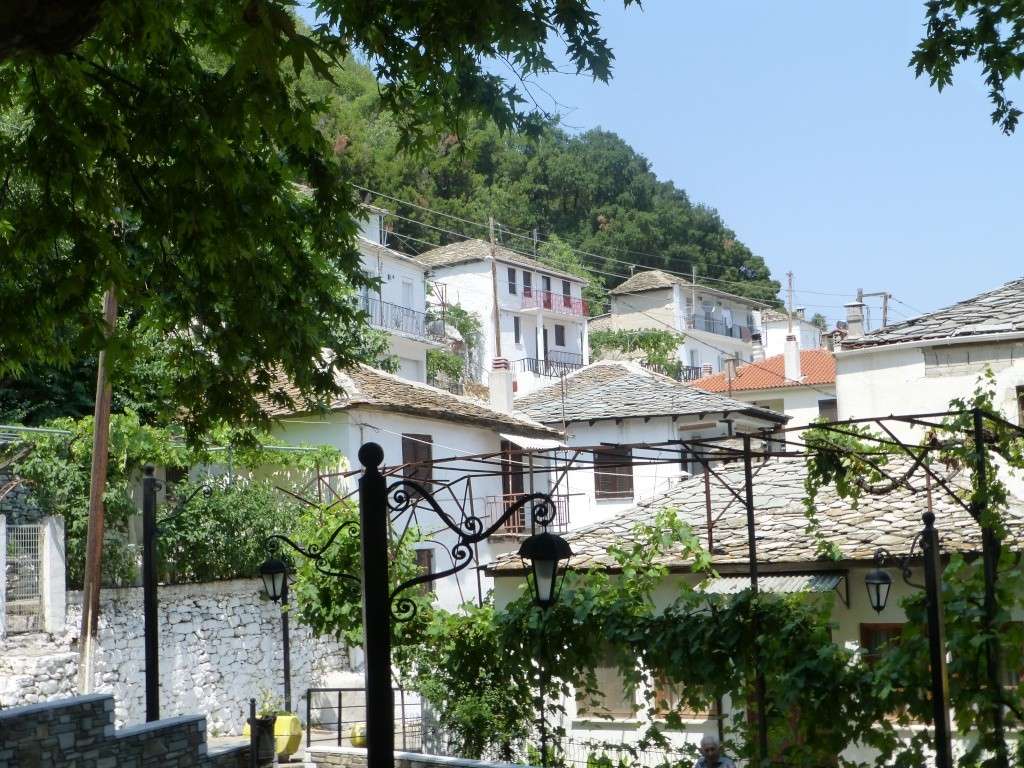 Then afterwards, we went up to a shack where a little old lady in black was distilling 90% Chickaroo (a neat sort of Ouzo), she had a guard dog but it wandered off lol. Samples were had but probably not of the 90% and you could buy it, it was like aniseed
Then we visited the Kissing fountain, it is said, any lady that drinks the water will become pregnant, so I steer Mrs Db away from that and showed her the outlet pipes lol (or you will return to Thassos was their get out clause) lol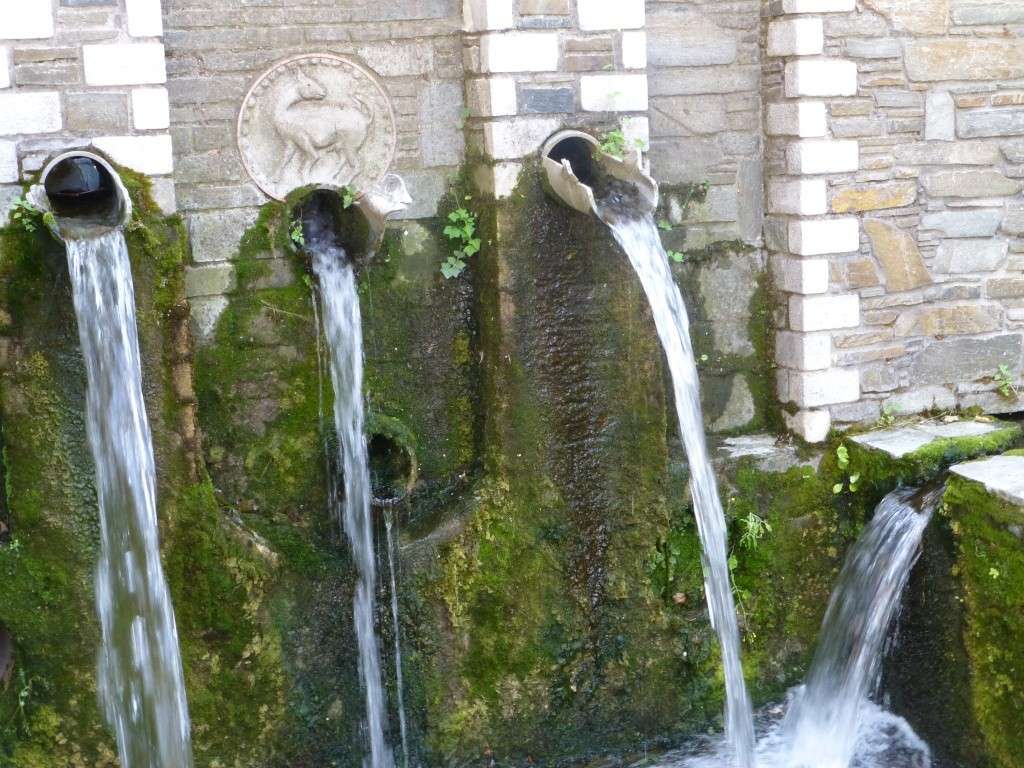 at last it was time for lunch of an hour at 3pm
so I had a tuna salad
and the restaurant had proper loos  
and finally the trip home at 4pm, a very enjoyable day