We decided for another shot at the Old Town. So instead of walking we decided to get the train to the escalator, as it was just about to leave from a stop opposite our Apartments, which was rather handy.
It was quite expensive for 1 stop at 2.50 euro each,
, & it was 4 euro for the whole trip. There are 4 stops on the whole route, but what the hell we are on holiday. Especially as the taxi back from the Old Town to the Apartments, was only 4.60 euro for the 4 of us.
Me, Brenda & Brian sitting on the train.
We went down the escalator again to the Square & found a bar that was playing live music. Luckily they had an overhead heater on, so that was a bonus, as the wind was blowing a hoolie again.
It was a rock cover band called BacalHendrix Power Trio, that
rock &
rolls off the tongue doesn't it.
But despite their name, they were very good.
It was getting colder by the minute so we got up & went across the Square to a bar called the Bank, as they had a live group on, called The Flat Band, & it was inside in the warm.
The 3 of us crossing the Square to the Bank Bar, San was on photo duty again.
Brenda enjoying the band & the warmth in the Bar. The prices were quite reasonable as it was a live music venue, we paid just over 21 euro for a round of drinks, which was a Vodka & Coke, 2 pints & a Tia Maria & lemonade.
They were a 4 piece covers band, who were very good, & got the place bouncing.
Especially these 3 holidaymaker's, they look like they were having a great time.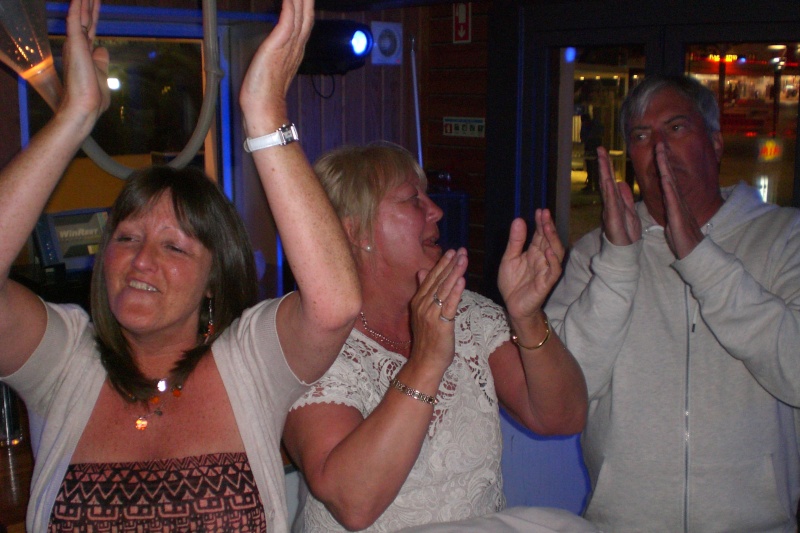 We got a taxi back to another Bar near the Apartment called Angelus Bar, where we had a nightcap. The Taxi driver was a bit of a character & thought that he was Michael Schumacher, but he was always in control.
San had a Calypso Coffee, me & Bren had a Voddie & coke, & Brian had a La Mumba, (hot chocolate & brandy, if you didn't know), that you can see in the background.
All in all, I think that we enjoyed the Old Town more than the Strip, in answer to Yozef's question. But the wind did put us off a bit where ever we went.