Yozef told me that a mate of his from Newport, the said Johnny Hooper, plays his Saxophone in & around Albufeira. Well he has his own Bistro Bar in the town, just about 5 minutes walk from our Apartment.
We met him on the Thursday at his bar, & he said that he had a night of food & music on the Friday, but alas, he was sold out, which was great for him,
but a shame for us.
This is me & Johnny on the Thursday afternoon at his Bar. Johnny said that either he went out with Yozef's sister, or Yozef went out with Johnny's sister, we couldn't remember which way round it was, please let me know Yozef!!
He told us that he had a Sunday Lunch do on this week, with live music by Martin Jonathan, a Guitarist/Singer,
so we should come along. So a shame we missed out on his Friday night, we decided to go as it was between 12pm & 4pm. We duly arrived & sat down to a Sunday Lunch of either Pork, Lamb or Beef.
I had Pork, Brenda had Lamb, Brian had Sausage, Mash & Peas & San had Pate & chips.
Believe it or not Yozef, there was another Johnny Hooper sitting at the Bar, here he is, in the light blue & white striped shirt, with his wife, this isn't another one that you know is it mate?
Brian chilling out in the sun listening to Martin, with Johnny Hooper in the background in his jumper, which he said he only took off in August.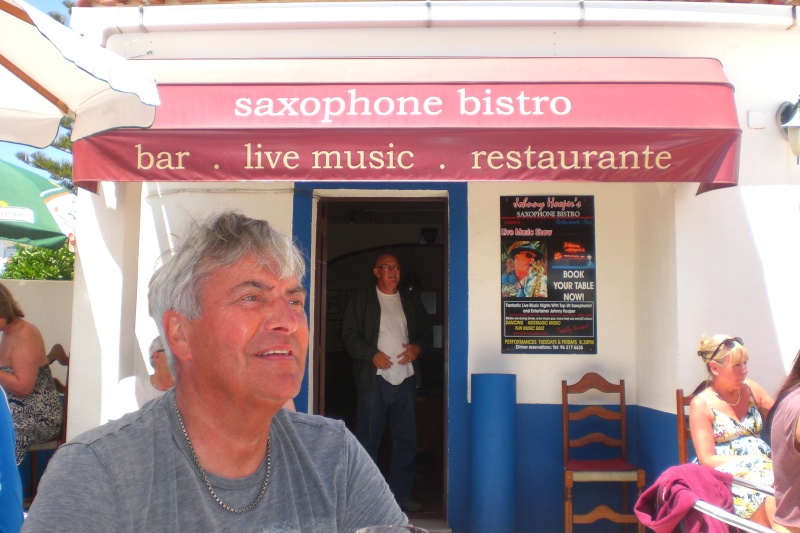 Brenda & Brian both now chilling out to the music after our Lunch.
Me & San chilling out as well, with Martin in the background.
A couple of part video's now of Martin singing his versions of well known songs. This 1st one is The Street's of London, by Ralph McTell.
This short clip is Yellow by Coldplay.
Then Johnny got up, minus his jumper, with his Saxophone & they did a rendition of Johnny B Goode, how apt. I hope that the video does it justice, as it was brilliant live.
They also got me & San to join in on the percussion side of the songs. We are going to start our own Tambourine band in Albufeira soon.
Both guys had CD's to sell, these were Johnny's that was put on every table.
We had 4 Dinners,
a shared Dessert,
3 jugs of Sangria,
3 Lagers,
2 Ports,
& 2 Wines,
& the bill came to just under 110 euro.
But TBH, you didn't mind paying it, as we had a great 4 hours of Food, Fun, Sun & Music.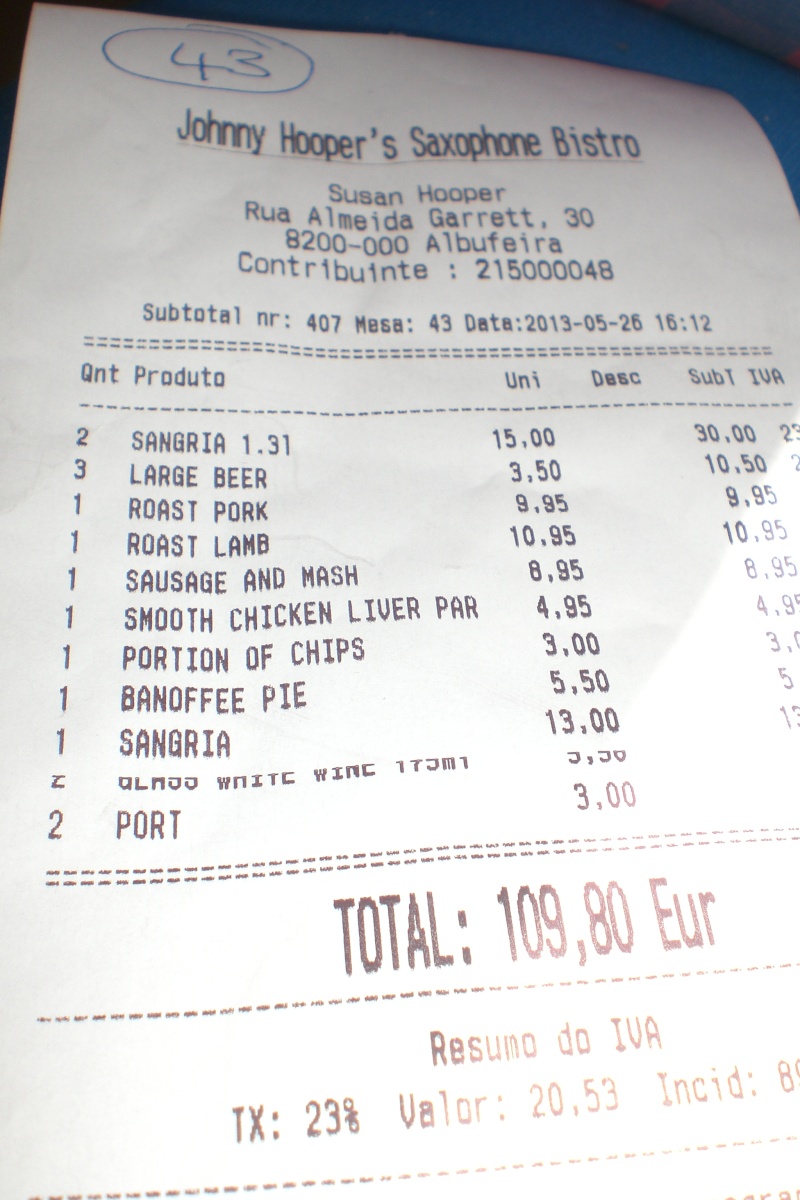 San, Brenda & Brian outside of Johnny's Bar just as we were leaving.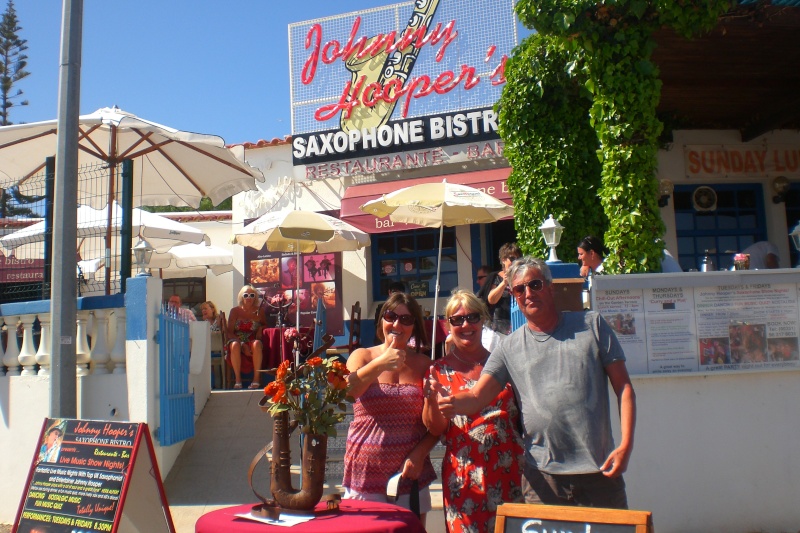 We would definitely go back to his Bar again, would have been good on the Friday, & thoroughly recommend it to anybody who goes out there. A great afternoon was had by all.