In 2003 we decided to go abroad for Christmas, we had done it before in Tenerife and enjoyed it but the price for Christmas in the Canaries was getting excessive.
We had left it late and when I started looking there were some good last minute bargains to be had to the Costa Del Sol. We eventually booked a late deal 5 star guaranteed break with Thomson. Now Thomson only had two 5 star properties in their Costa Del Sol brochure so we knew it would be one or the other and we were not bothered which. It appeared many people had booked last minute deals many opting for the 5 star premium option hoping to get the one in Fuengirola as it was nobody got off our bus at that hotel in Fuengirola (I can't help thinking it was mentioned in the offer as a sales tactic) so we all ended up at the 5 star Andalicia Princess close to Estepona. A lot of people had hoped to get the other hotel as the Andalicia Princess was quite quiet and isolated for many people's taste. As it turned out not many people had chosen this hotel because of its isolation and they had filled it with many who had booked the last minute bargain basement allocation on arrival type holidays.
We loved the Andalicia Princess although it was a bit isolated with only a couple of bars and restaurants within walking distance it was easy enough to get a bus/taxi into Estepona proper or Marbella/Puerto Banus. At that time there was loads of development in the area and was mostly nearing completion so I would expect to see much more in the way of bars and restaurants.
For us the hotel was perfect for a Christmas break it was extremely nice with large rooms spread out over large landscaped gardens in two storey accommodation blocks. The public areas, pool and gardens were spotlessly kept. The reception and bar/dining areas were also extremely nice. We found the staff extremely nice and helpful at all times but some of the other residents were unhappy with the staff, however this was mainly due to them being rude and disrespectful to the staff. We struck up a good rapport with the head waiter and he treated us very well often serving us while he left others to wait until he was ready. To be honest I was saddened by the complete lack of respect shown by some of the guests which really made my blood boil. The head waiter was a very proud man and I could see the real anger in him at the way he was spoken to by some of the low-life scum that were staying there.
The food there was great with breakfast and evening meals being buffet style apart from Christmas day when it was a sit down "Gala Dinner". The buffet meals were very good with great choice and quality of food with a good selection of Spanish dishes as well as the usual fare. The gala dinner was quite nice as well with all the staff serving the guests at large tables. Aperitifs wine coffee and a liqueur were all provided gratis. The dinner finished about 10 to allow the staff to spend some time with their families on Christmas day so the bar was shut as well which nearly caused a riot with the scum element even though everyone else was fully aware of the fact the bar was shutting. Especially since it had shut early the day before as it is traditional for the Spanish to spend time together on Christmas Eve. Us and a few others had purchased a couple of bottles of wine from the bar and retired to the lounge area for a glass and a bit of banter.
We took the bus to Marbella a couple of times and it was strange to be walking down the street in shorts and a t-shirt with Christmas carols playing. Marbella and Puerto Banus were nice enough, good for shopping if your credit card could take the heat. We also took the bus to Estepona which was very nice indeed. There are quite a lot of hotels on the edge of town but the town itself is nice and unspoilt, the beach was very good with a marina at one end and the centre of town at the other.
The weather we had was much better than we expected with blue skies all the time, a couple of days were a bit windy which made it chillier but in general it was fine. The temperatures were about 16-20 degrees C from about 10 am until 4 pm cooling down to about 10-12 degrees c at night. We spent a few days sunbathing in the warmer part of the day. Unfortunately we didn't take enough jumpers etc for evening so ended up buying over there, luckily the sales had started.
The only cloud we saw was on the day we went to Gibraltar. It was an early start for the bus pick up and I was feeling a bit under the weather the previous day we had lunch in Marbella and I had grilled Sardines and I couldn't help think they were to blame. I wasn't feeling sick or have the trots but I felt rather unwell. As we headed towards Gibraltar we could see it was shrouded in a veil of cloud. When we arrived it was grey and cold but we did all the tourist things and then we were left for 3 hours to have a look around. To be honest it is a bit of a dump not what I expected at all. The streets are full of tacky shops competing for the tourist pound. They are mostly tobacco shops alcohol shops and electrical goods shops and once to you have seen one you have seen them all. I spent 3 miserable hours freeing and feeling awful. I was very glad to get back to our hotel that evening. I suppose it is one of those trips that everybody does once and for most once is enough.
The only evening we ate out of the hotel was the night we got back from Gibraltar, we had noticed a small local restaurant that specialized in roast suckling pig and it had to be ordered the day before so I felt obliged to go that night. We were given a plate of tapas as a starter when we arrived which we ate and I nearly died when I saw the roast suckling pig being wheeled out on a trolley it was about quarter a pig and was accompanied by a huge selection of vegetables rice potatoes and salad. I tried my best but could hardly eat any of it which was as shame as it is one of my favorite dishes. I think the owner/chef felt insulted but I was really unwell. Mrs. H did her best to make a dent in the mountain of food but seemed to make little impression. We sat and I had a couple of hierbas to try and settle myself but I still felt awful so we asked for the bill. For the second time that night I nearly died. The suckling pig was advertised for 2 people minimum 37 Euros what we didn't realize was that was 37 Euros per person. I hadn't taken too much money with me just enough to last the night or so I thought. We just had enough on us to pay the bill which came to almost 100 Euros with wine coffees and drinks we had nothing to leave as a tip so we handed over the plate and made a hasty exit.
The Andalucia Princess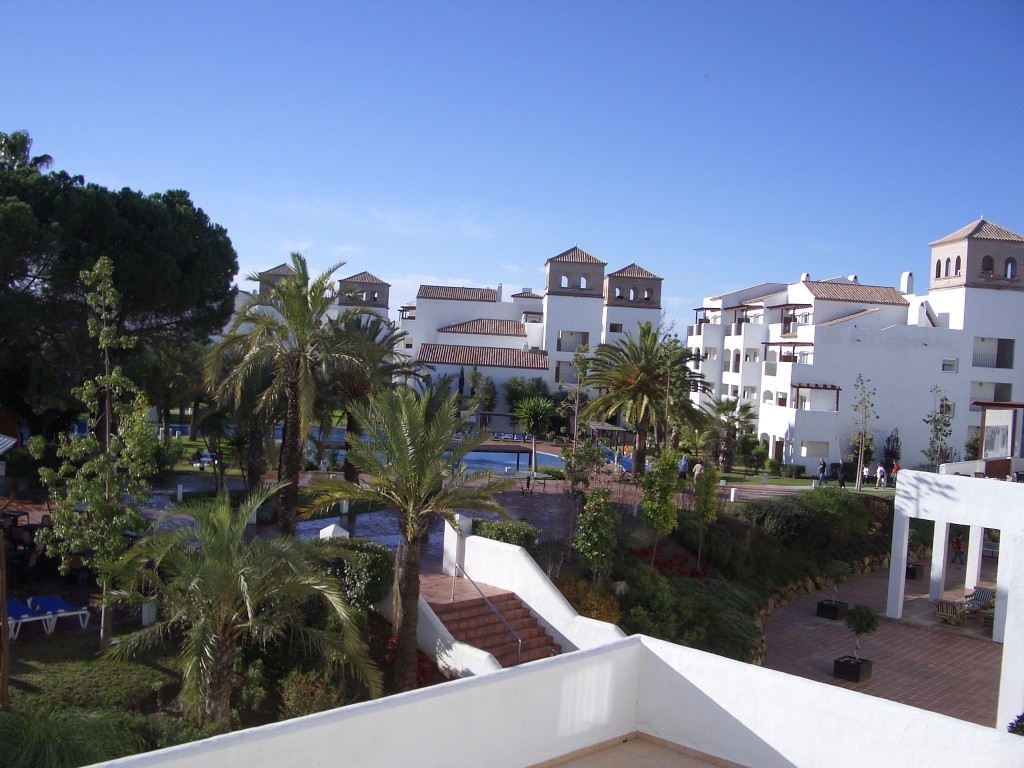 Me enjoying a pint in a small bar not far from the hotel, it was popular with many hotel guests as the drink prices were cheap.
There were loads of new developmeyts being built in the area most of them expensive appartment complexes like this one
You could walk along the coast in both directions but it was at that time a bit isolated
One of many beacon towers where fires were lit to warn of Moorish invaders.
Marbella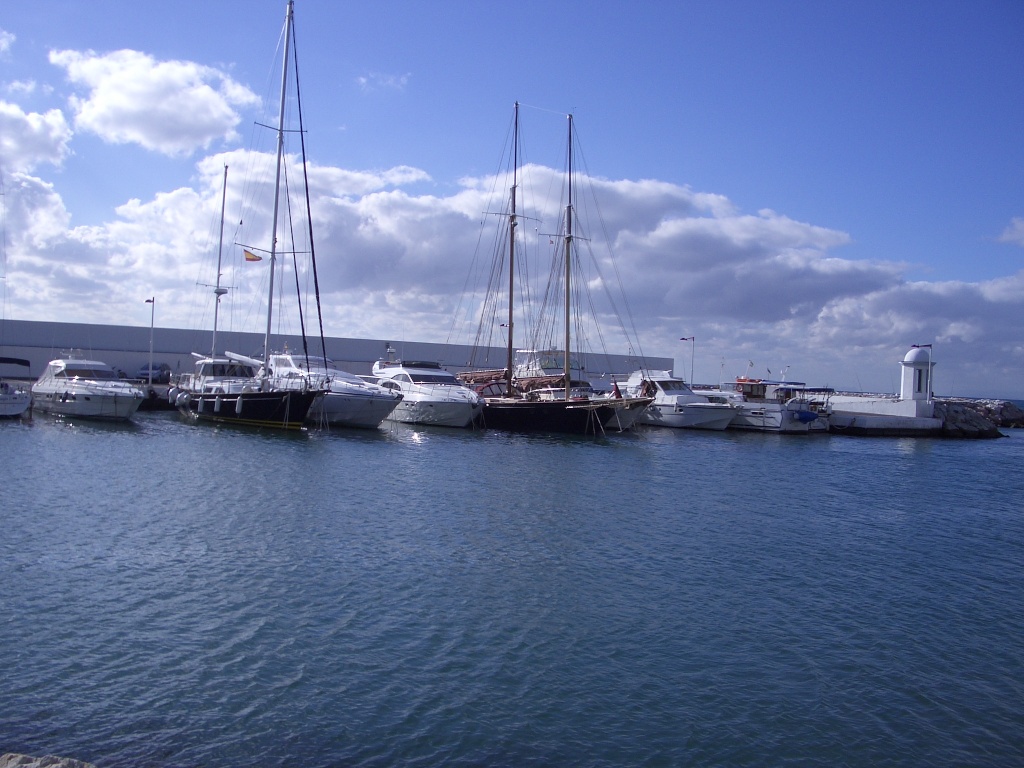 Estepona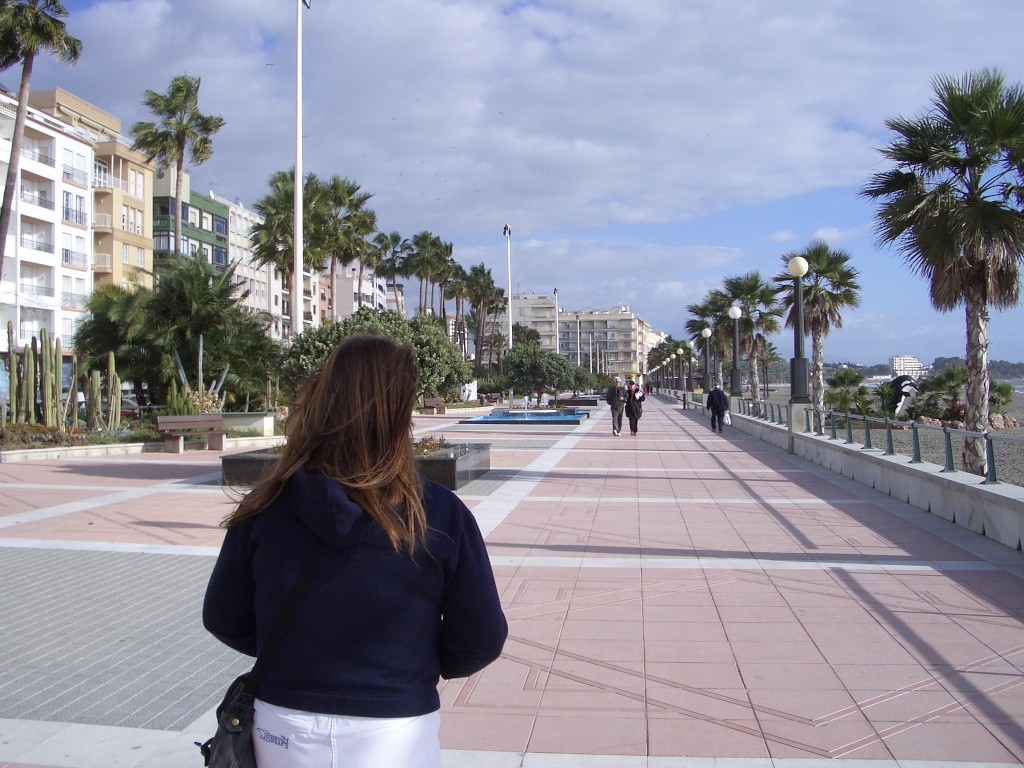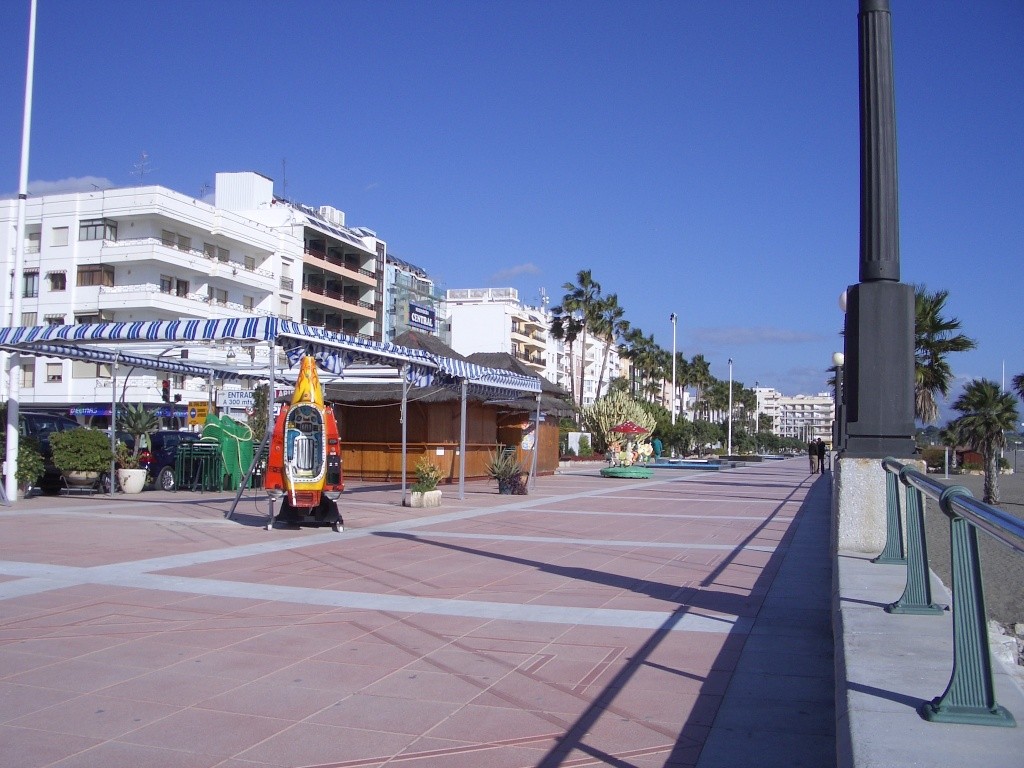 All the local people were wearing heavy coats buttoned up to the neck we were in t-shirt and shorts

Only took a couple of pics in Gibraltar here are a couple of cheeky monkeys