Agios Gordios 2006
Agios Gordios is a small village/town 20miles south west of Corfu Town. In 2006 Mrs Delboy and I booked Villa Stavroula a self catering apartment holiday with Sunvil. On arrival, the coach had to stop at the top end of Agios Gordios as it was too narrow for the coach to manoeuvre down the road; a small open van took our luggage to the apartment and we walked behind.
The apartment was nicely furnished by Greek standards. Everything was new, there were two apartments available in the brochure and both were owned by a Greek lady who often holidayed there herself and also owned the flat upstairs.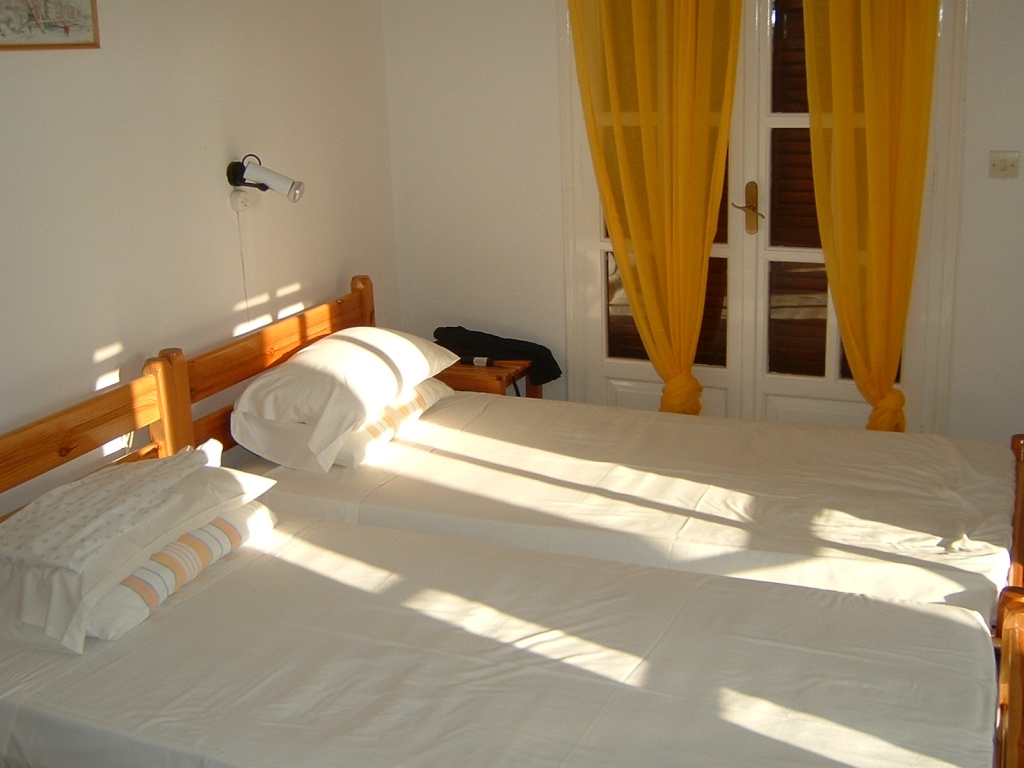 It was down a small lane off of the road and had its own garden but not much of a view. The terraces of the apartments were west facing, which was nice in the mornings but very hot in the evenings.
In Greece you pay for air conditioning and it was then 4 euro's, the rate of exchange was then 130 euro's to the £.
The village road leading to the beach had taverns and shops down both sides of the street.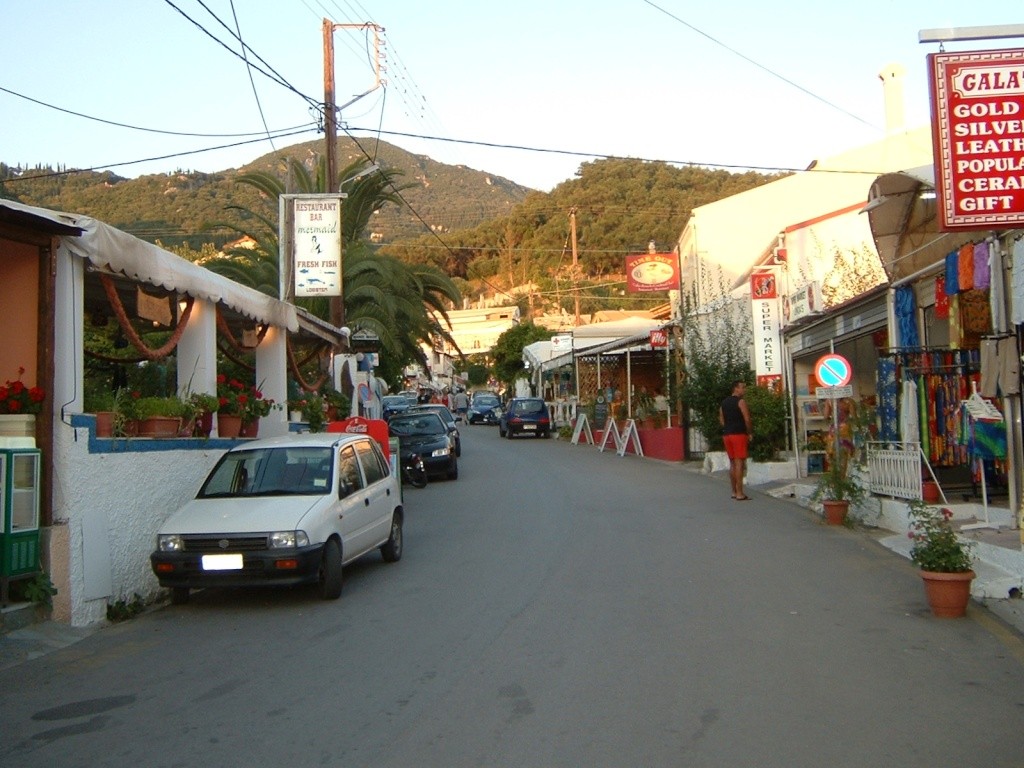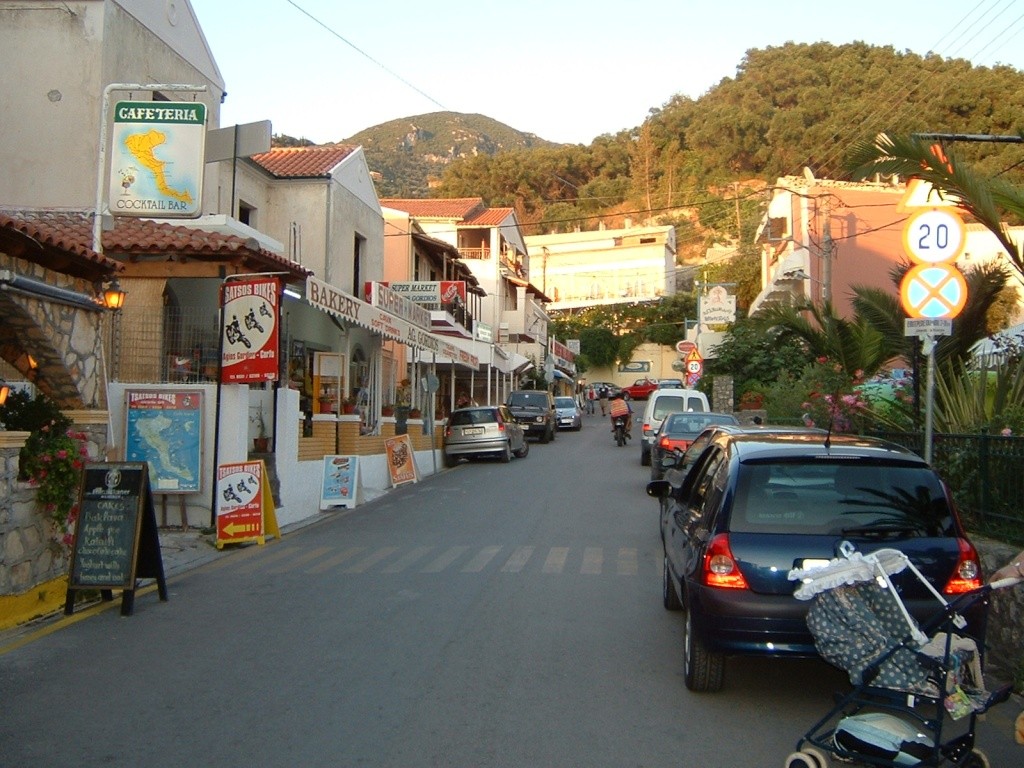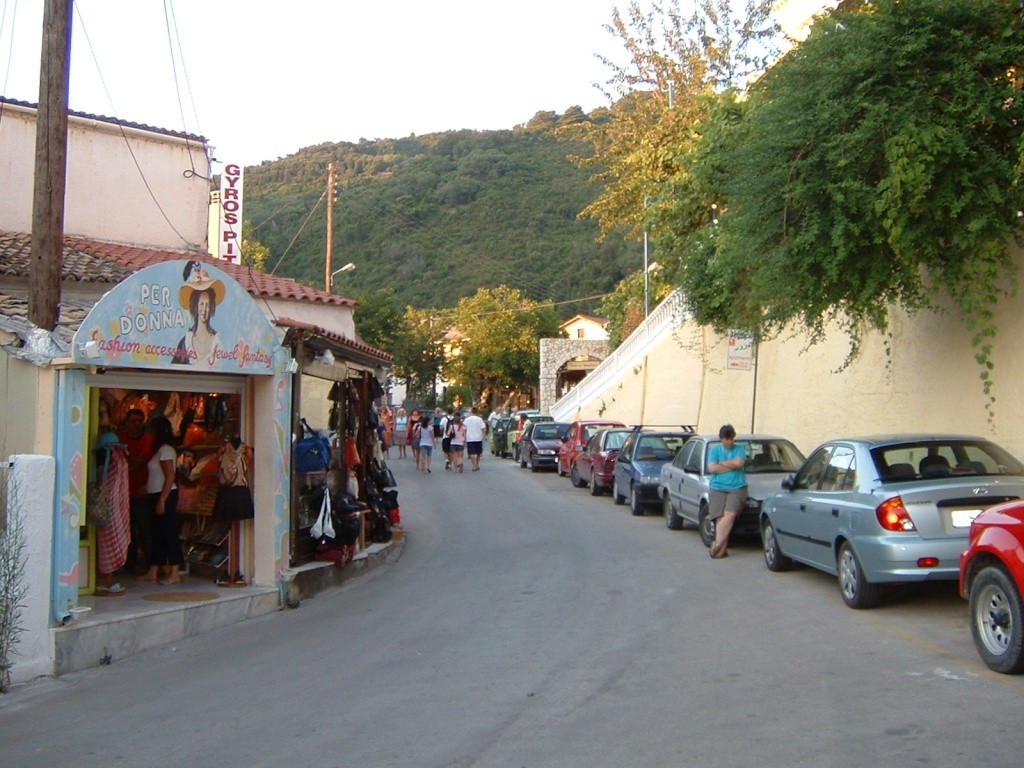 The sandy beach was also bordered by various taverns. A boardwalk ran along the back of the beach to make walking a bit easier for walking to the restaurants in the evening.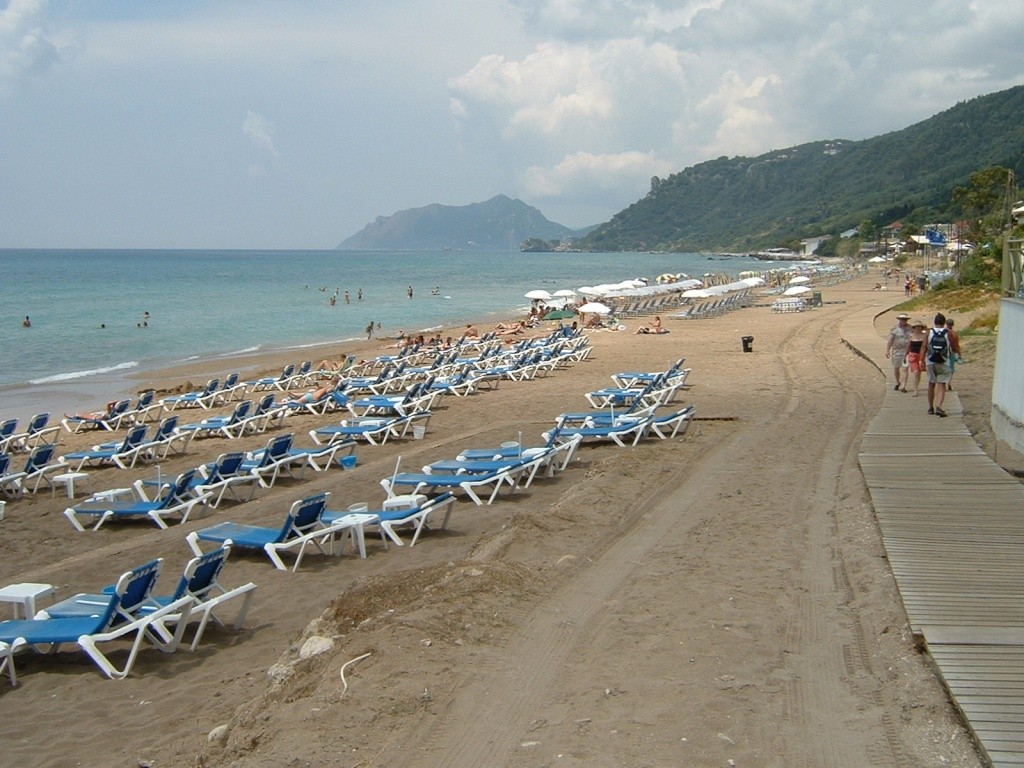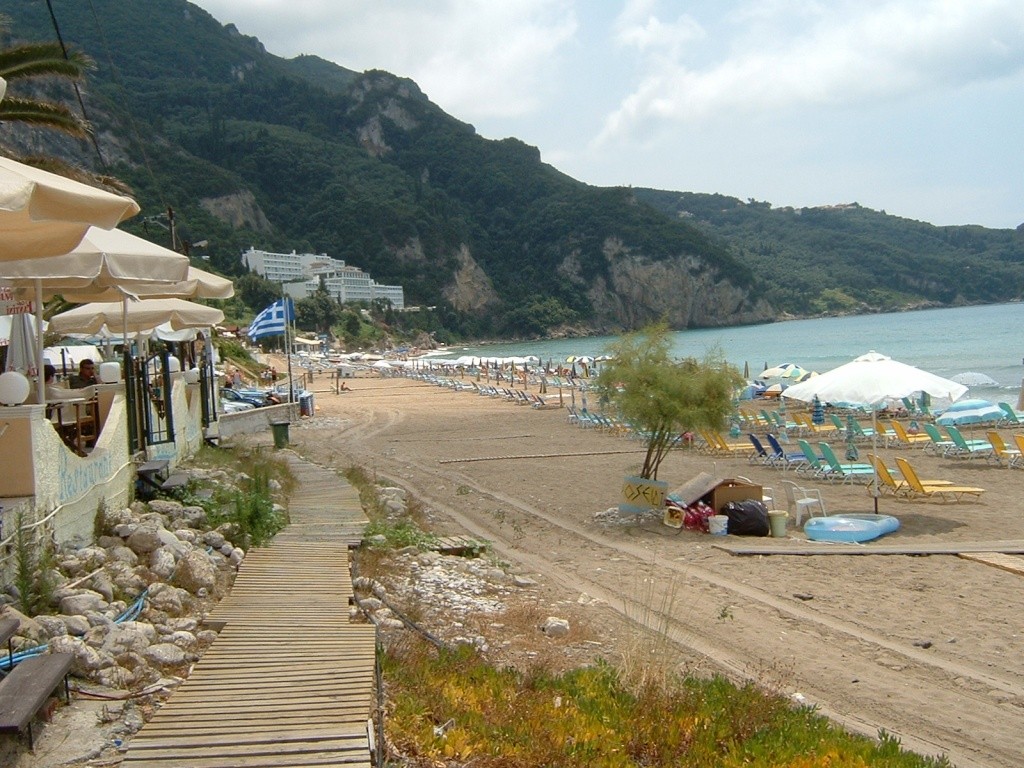 There was plenty of beach space and we never felt it was overcrowded. Chair beds and a parasol were 6 euro's but at the far end of the beach near a Thomson Package hotel they were 7 euro's.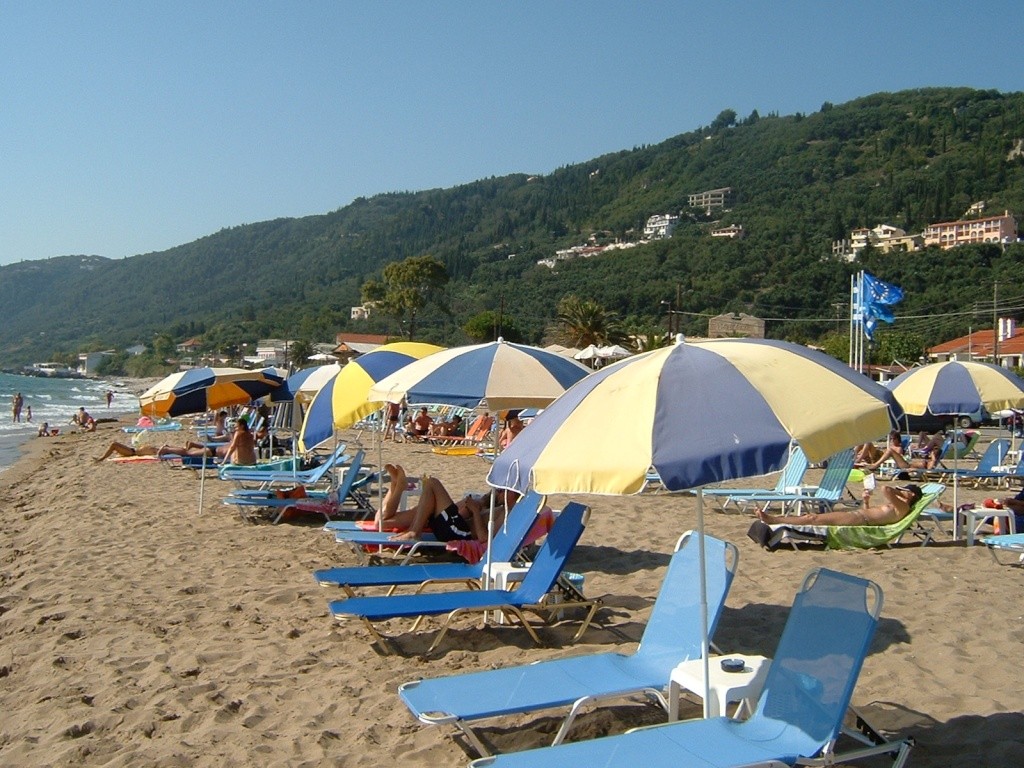 I did have a look inside the Thomson hotel grounds
I won't go on about prices but will say that meals were of average prices in Agios Gordios in comparison with other Greek islands but cheaper than Corfu Town itself. Most of the tavern's sold their house wine in bottles which does tend to make it dearer and bottles started at around 10 euro's, so two meals and wine was in the region of 26/30 euro's.
Our favourite Tavern was Sebastian's at the top of the road they also had a TV to watch the World Cup matches.
Other bars televised the World Cup and we regularly went to one bar and watched the matches with other English Fans. When England finally lost we were all devastated and the bar owner kept saying, "I'm so sorry, so sorry".
Only one restaurant gave me a poor meal which I returned and it was replaced with a better one and given apologies.
Lunchtimes we ate regularly at the Litho Rock Tavern and they were please to see us.
As an anecdote a seagull fell into our garden during the early part of our holiday and it had an injured foot and could not fly, so we called it Beckham, as he too had a leg injury at that time. I kept going out to buy him pilchards and left 4 tins for the next residents with a note and apparently, I'm told on good authority, it flew off after we left.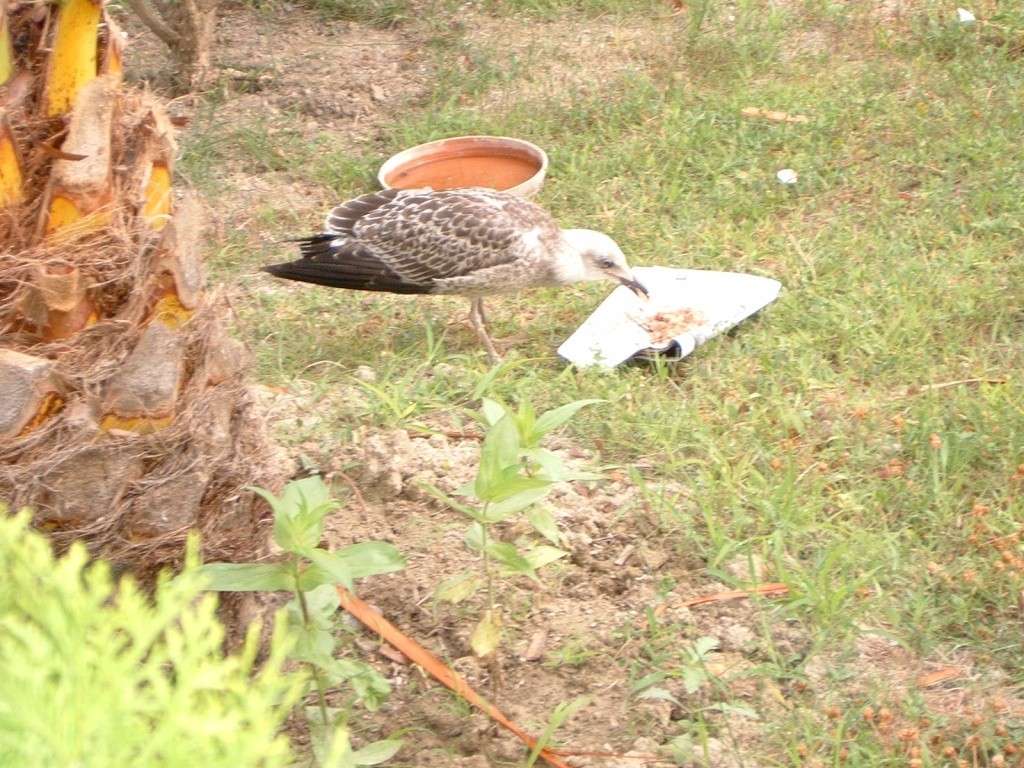 Summing up it's a place for sunbathers and diner's that watch the world go by.